As the leaves begin to change color and prepare to fall, we are looking ahead to the upcoming holidays. Many homeschoolers take the time to include holiday themed studies into their days. Thanksgiving is a big one. I have curated a Thanksgiving book list of some of the very best to help you do just that. Or maybe you just want to have some of them around to read at bedtime or during times when your kids free read.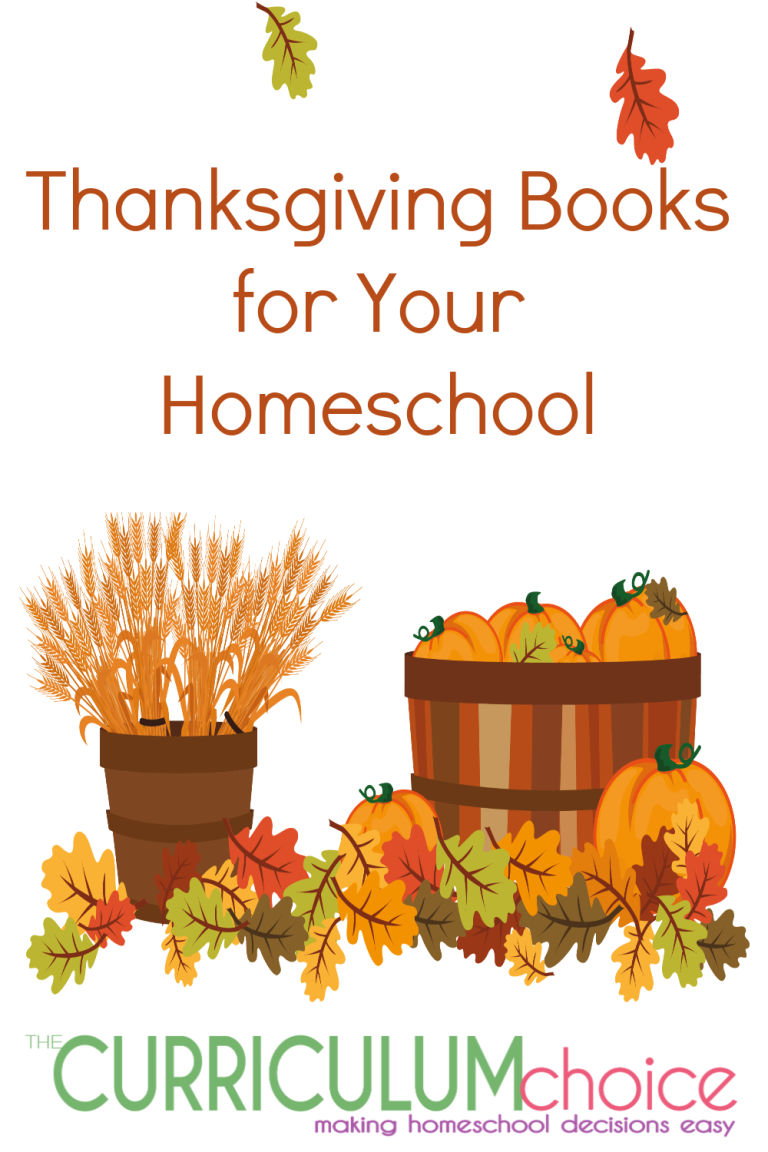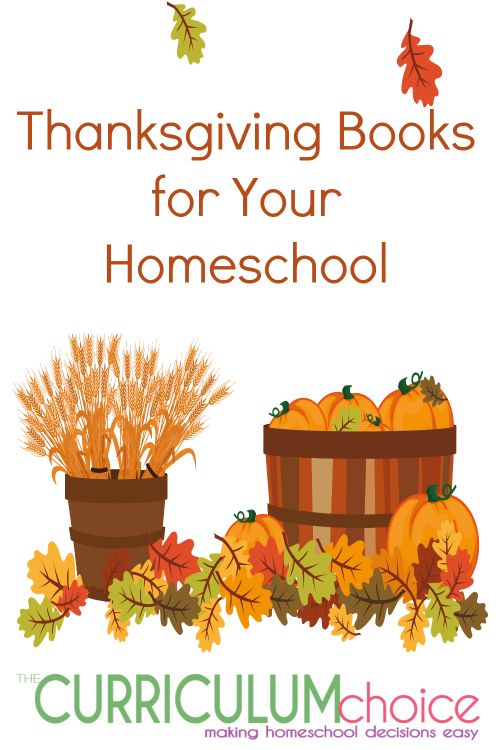 Disclaimer: Affiliate links are used on this website. Please see our disclosure policy for more details.
Thanksgiving Book List for Your Homeschool
Whether you are wanting a silly story, a classic, or something hands-on to do, this list of Thanksgiving Books for Your Homeschool is sure to have something you'll love to add to your collection! It's a perfect addition to your homeschool studies this fall.
Our Thanksgiving book list has everything you need to celebrate the season.
Thanksgiving Stories to Engage and Delight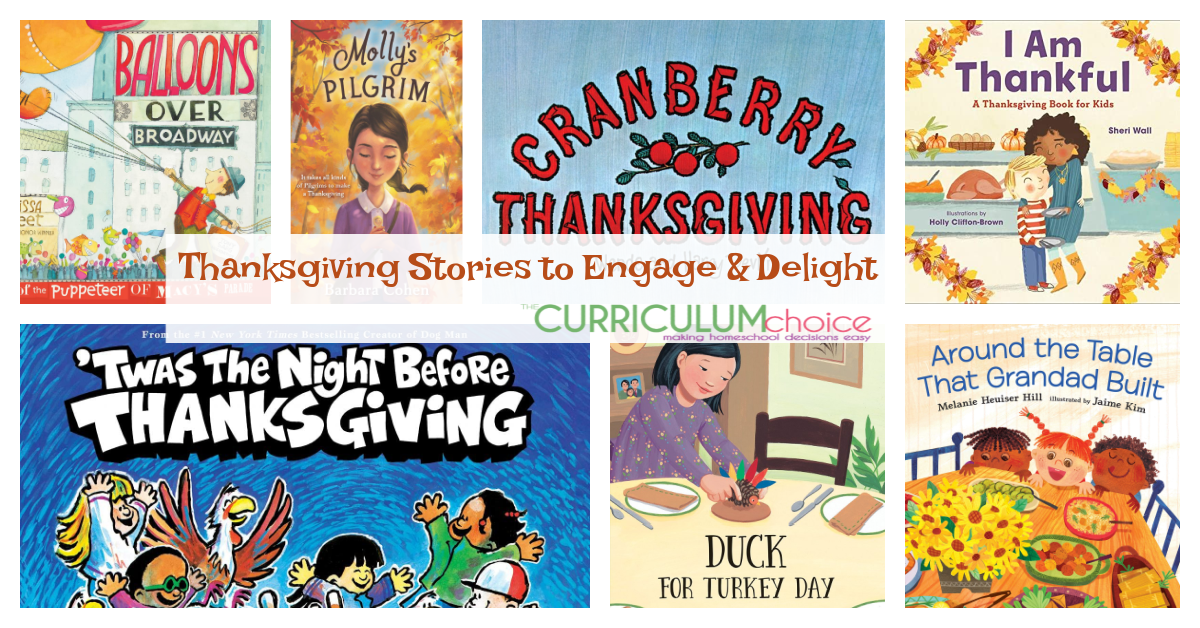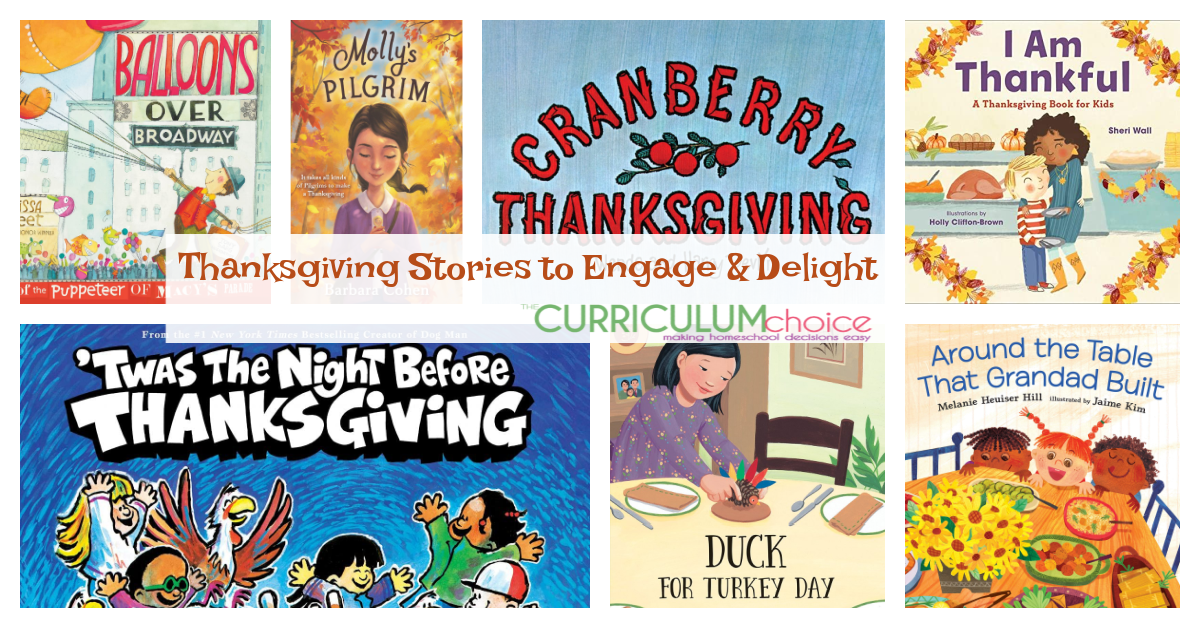 Balloons Over Broadway: The True Story of the Puppeteer of Macy's Parade by Melissa Sweeet – this historical book celebrates Tony Sarg, the puppeteer who first developed the Macy's Thanksgiving Day Parade's giant floats in the 1920s. It also highlights the the tremendous effort it takes to get those larger-than-life balloons onto the streets of New York every year.
Duck for Turkey Day by Jacqueline Jules – Many families have their own Thanksgiving traditions. Duck for Turkey Day highlights a Vietnamese American family's celebrations. Instead of having the typical turkey, Tuyet and her family p duck. Duck for Turkey Day underlines the fact that there's no one way to celebrate the holiday.
Molly's Pilgrim by Barbara Cohen – is about a young Russian Jewish girl in her first year in the United States after moving in the early 20th century. Her classmates in her rural school make fun of Molly's Yiddish accent. At the same time, Molly feels more and more distant from her old life. During the lead-up to Thanksgiving, Molly comes to identify with the story of the Pilgrims, who also came to America to practice their religion freely. This book is perfect for elementary school students.
Around the Table That Grandad Built by Melanie Heuiser Hill – A diverse group of family and friends gathers for a meal, and each person brings a contribution with special meaning. Though it's not specifically about a Thanksgiving meal, this tale captures the spirit of the holiday.
'Twas the Night Before Thanksgiving by Dav Pilky – On the day before Thanksgiving, a group of children visit a turkey farm and meet Farmer Mack Nuggett and his coop of cockerels. The children and turkeys giggle and gobble, and everything is gravy. As the trip comes to an end, the children leave the farm with full hearts — and bulging bellies — reminding people and poultry alike that there is much to be thankful for. Also check out the Lines of Time FREE Printable Activity to go along with this book.
I Am Thankful by Sheri Wall – This book follows three different families and shows how each of them celebrates the holiday. There are also suggestions in the back for how to keep the spirit of gratitude going even when the book is closed.
Cranberry Thanksgiving by Wende and Harry Devlin – When Maggie is allowed to invite a guest to Thanksgiving dinner, she picks Mr. Whiskers, much to her grandmother's dismay — she's afraid he'll steal the recipe for her famed cranberry bread. This book is a classic, going all the way back to 1971 — and, yes, it does include the recipe!
Non-Fiction and Educational Thanksgiving Titles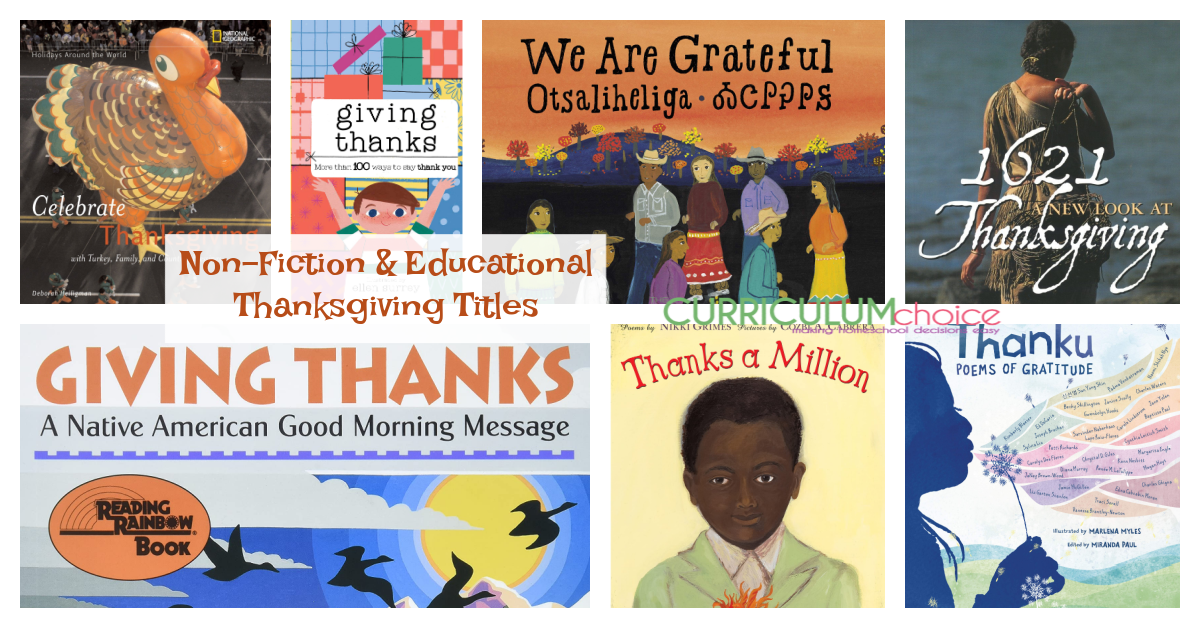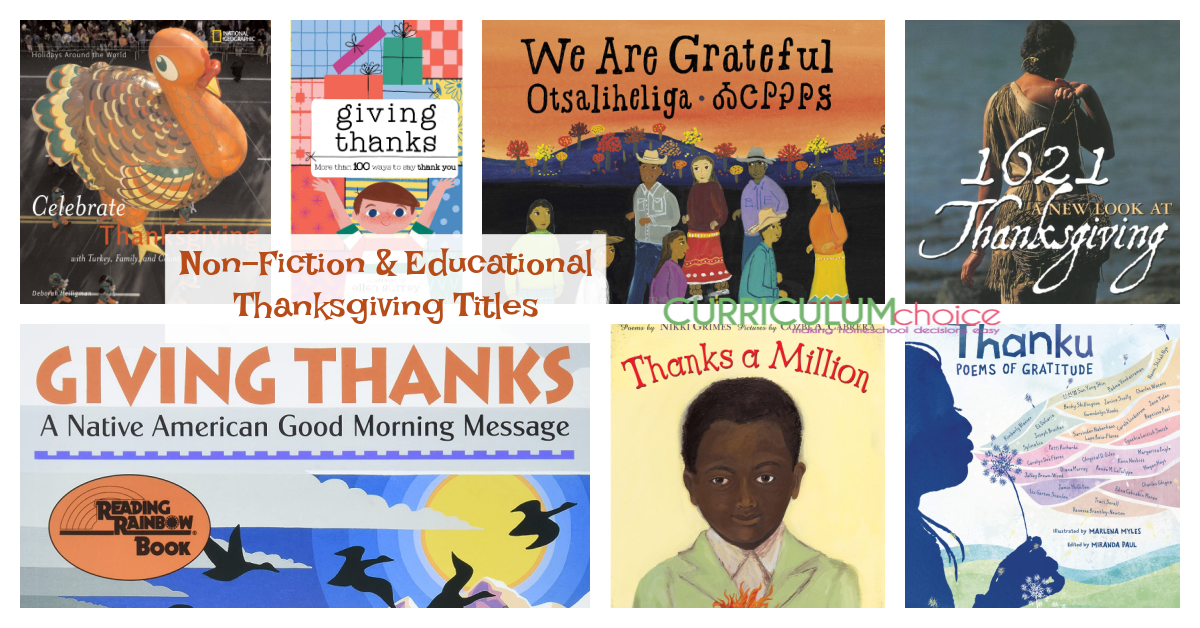 Giving Thanks – A Native American Good Morning Message by Chief Joseph Swamp – a special children's version of the Thanksgiving Address, a message of gratitude that originated with the Native people of upstate New York and Canada and that is still spoken at ceremonial gatherings held by the Iroquois, or Six Nations. Also check out this Giving Thanks Post full of activities and Free Printables to go along with this book.
We Are Grateful: Otsaliheliga by Traci Sorell – Otsaliheliga (oh-jah-LEE-hay-lee-gah) is a word members of the Cherokee tribe use to express their gratitude, and this book goes through each of the seasons naming things to be thankful for. There are other Cherokee words throughout, along with how to pronounce them
1621: A New Look at Thanksgiving by Catherine O'Neill Grace – National Geographic's book gives a more holistic portrait of the Colonies at the time of the first Thanksgiving feast in a way that children can understand
Thanks a Million by Nikki Grimes – Beautiful and rhythmic, the text is written in a variety of poetic styles and forms, including letter poems, haikus, and riddles, among others. Richly detailed illustrations accompany each poem, making this a perfect pick for family as well as storytime sharing.
Giving Thanks: More Than 100 Ways to Say Thank You! by Ellen Surrey – Kick off a conversation about gratitude with this ode to the many people, things, and experiences one boy is thankful for. This book includes directions for creating a gratitude jar and creative ideas for writing thank-you notes.
Thanku Poems of Gratitude by Miranda Paul – This anthology contains more than 30 poems from diverse writers using a variety of poetry forms, all centered around the theme of thankfulness. They're illustrated by Marlena Myles, a Native American graphic designer, and includes a letter from editor Miranda Paul about "the myths and half-truths" about Thanksgiving and indigenous people.
Celebrate Thanksgiving With Turkey, Family and Counting Blessings by Deborah Heiligman – National Geographic published this text that's full of fascinating facts about Thanksgiving and its history. It highlights the connection to the National Day of Mourning and shows how families celebrate today.
More Thanksgiving Homeschool Resources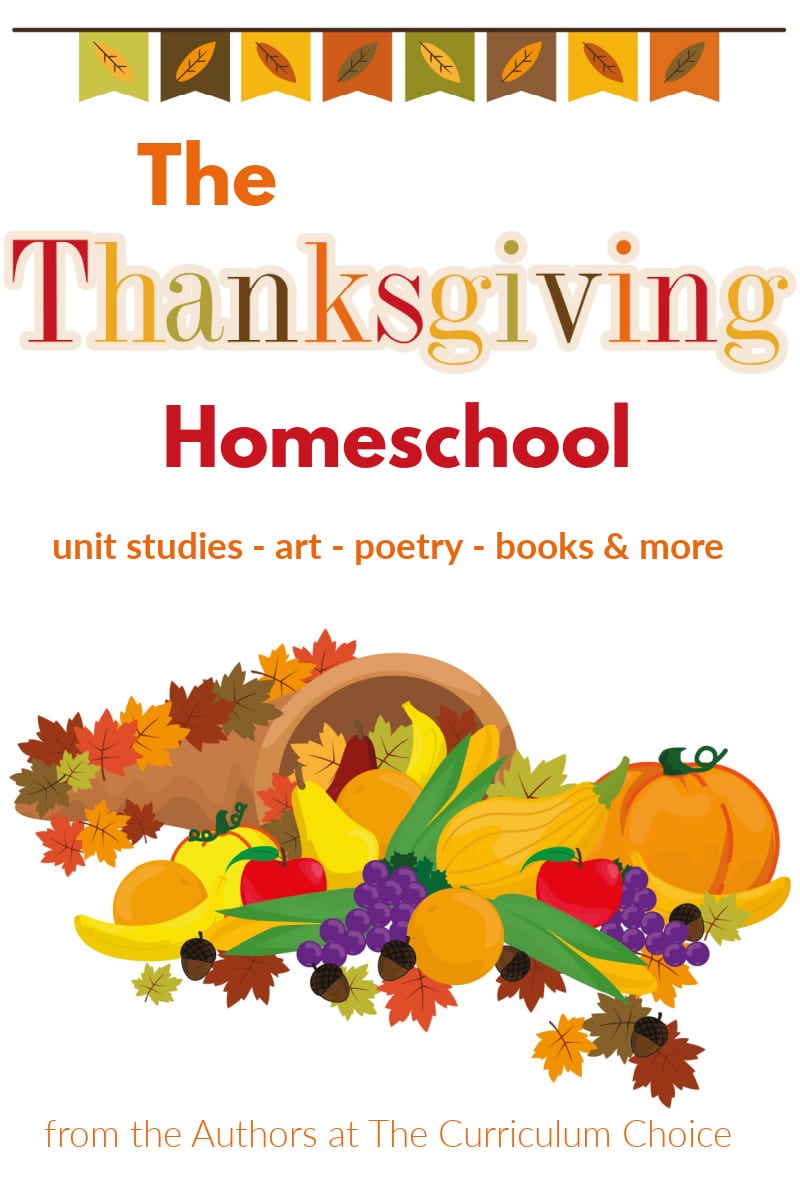 The Thanksgiving Homeschool – As October is rolling in, along with the beautiful colored leaves, we draw nearer to Thanksgiving. A time for family. A time for reflection. Also a time for learning. In addition to our Thanksgiving book list, you may want to add Thanksgiving Homeschool activities in your homeschool day. Crafts, books, educational ideas and so much more can be geared toward Thanksgiving.
Thanksgiving Themed Ideas from Here at TCC
Thanksgiving Ideas from our Sister Sites
More Themed Book Lists For Your Homeschool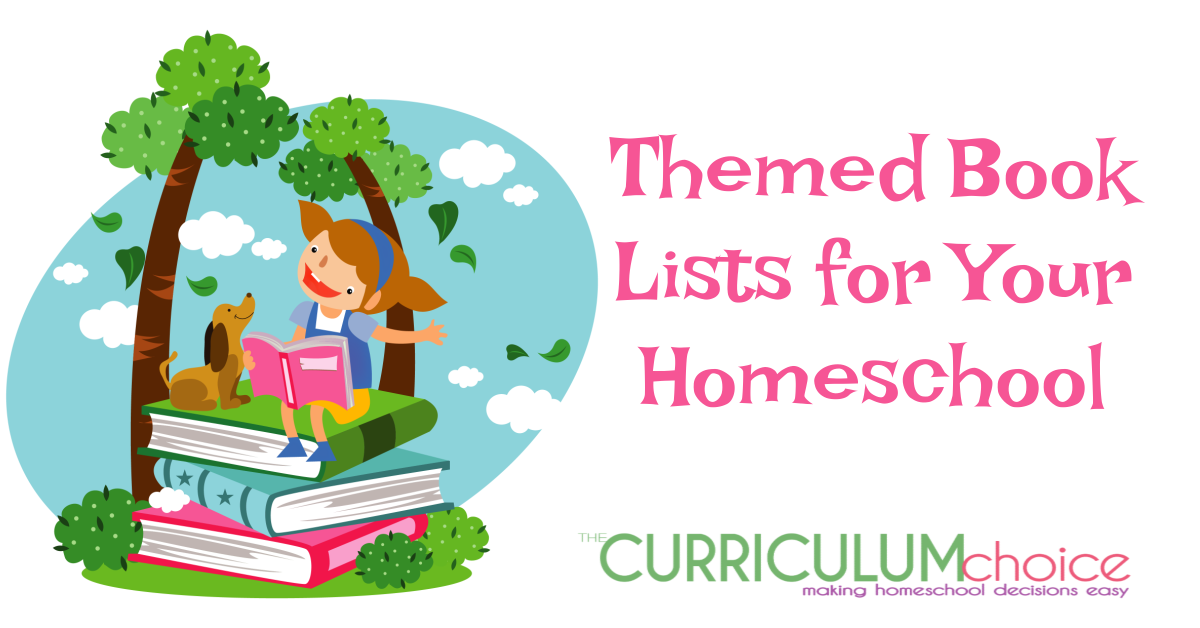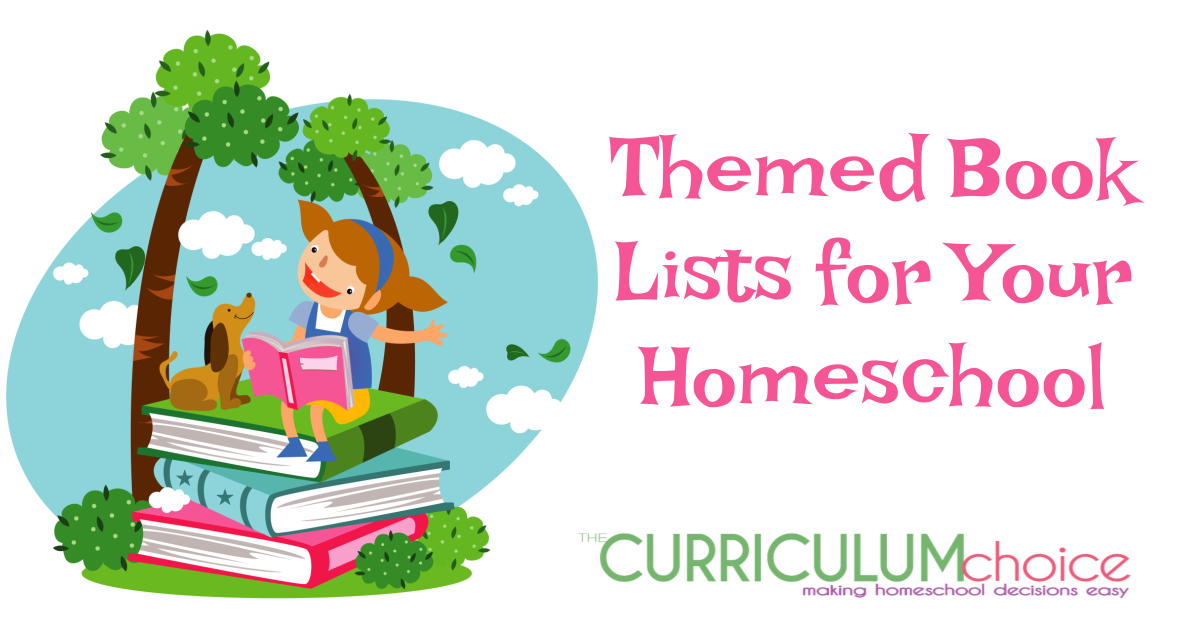 Here are a few themed book lists from our archives. Also stay tuned as we add more themed book lists such as winter, Christmas, Valentine's Day, sharks and more!
Favorite Fall Books for Your Homeschool – Can you smell the pumpkin spice in the air? Are the leaves starting to change and fall? With the changing of the seasons once again here in NY we look forward to snuggling in to read some good books, as well as getting out and doing things like identify leaves. This is a collection of fall books to help you do just that!
One Small Square Books for Nature Study – The One Small Square books by Donald Silver uses the space of a three-dimensional square to explore the Earth's habitats. Each book contains around forty pages of focused information about a particular habitat, along with delightful illustrations and activity suggestions. The books provide the reader with complete descriptions of each area, including plants, animals, and other pertinent tidbits.
Dr. Seuss Books – this list is full of wonderful Dr. Seuss books along with some learning activities to extend the fun!
Favorite Children's Books by Age and Grade – Recommendations of living books for every age or grade level from our Curriculum Choice Authors.
Picture Books for Lent – Your children are never too old to enjoy picture books, especially books that have a moral to share or are able to impart the gifts of our faith. The books that I am sharing with you today do both. I am sure you will agree and I hope you have or will enjoy these beautiful picture books with your family sometime soon.
Living Books for Art – As a Charlotte Mason educator, some of our homeschool time is spent learning about artists and completing picture study. And, continuing in Charlotte Mason style, I try to only use living literature in our homeschool. Luckily, I've found several wonderful children's books about artists that I'm sharing here with you.