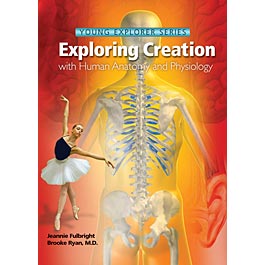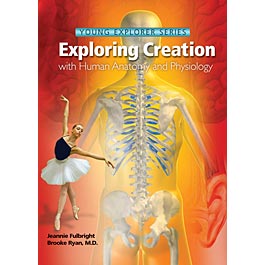 For several years now our family has been using the Apologia Elementary Science studies by Jeannie Fulbright. Their are currently six studies that have been published. Exploring creation through Human Anatomy, Astronomy, Botany, Zoology 1 (flying creatures), Zoology 2 (swimming creatures of the 5th day- ocean study), and Zoology 3 (land animals).
The studies are written at a 4th grade level but can be used with a wide range of ages from around 2nd grade up to 6th. If you have an older student that needs to study a particular topic these books can be used with older students as well. The books do not need to be done in any certain order. Jeannie recommends you begin with whichever book you and your children believe to be the most interesting right now. Follow your interests.
If you choose to do Zoology II before Zoology I, your child will not get a detailed look into animal classification or endangered species. These two topics are discussed in the first lesson of Zoology I. However, this first lesson of Zoology I is the sample lesson available for download from Apologia's website and Ms. Fulbright's website. Jeannie has placed that lesson on the website so that you can print it up and discuss these topics with your children if you desire for them to learn about them before you begin Zoology II.
Our very first book to go through was the Exploring Creation with Zoology 2 which is the study of the ocean. My children loved it and learned so much! I have pictures of some of the activities that we did with the ocean unit HERE, and HERE.
This year our family has been working our way through the Exploring Creation with Human Anatomy and Physiology study. This course covers bones & skeletons, muscles, DNA, cells, and the respiratory, digestive, circulatory, and nervous systems, as well the history of medicine, nutrition and health, embryology, major organs, the immune system, and what makes us each a unique creation.
Each of the topics are broken down into chapters. While these courses are written as textbooks they have a different feel to them than the average textbook. I am not a big fan of textbooks but I love these studies. Jeannie has written the study in a way that is easy to understand. Included are hands-on science projects that reinforce the lessons taught in each chapter, assignments incorporating other subjects, and comprehension questions.
Jeannie uses a Charlotte Mason approach in having your student do a lot of narrating as you go through the study. At the end of each chapter the kids are given a project to complete that relates to what they have learned. Their is a high creation focus, too. Throughout the book Jeannie has "creation confirmation sections" which discuss what the Bible has to say in reference to what you are learning.
For the first time we purchased the journal notebooks to go along with our lessons.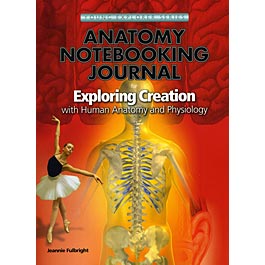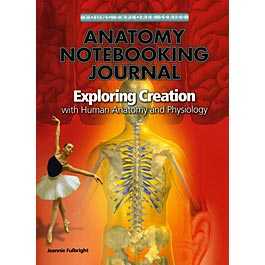 While we certainly didn't need to purchase the notebooks to make the study complete, I have to share that the notebooks have really enhanced our study time with this course. The notebooks are a bit pricey, ranging from $18-20 depending on where you get them from. If you have more than one child like us, that can add up pretty fast. For me it has been worth the cost to have all of the papers on hand and ready to go (less work on my part) and we have loved the additional activities in the journals. Jeannie does offer free notebooking pages on her website but the difference in these journaling notebooks and her free pages are very different. The free pages are pretty plain in comparison. Here are a few examples from our Human Anatomy notebooks.
While learning about cells the above picture was a page in the kids journal that they needed to complete.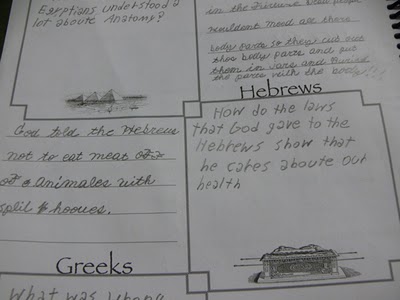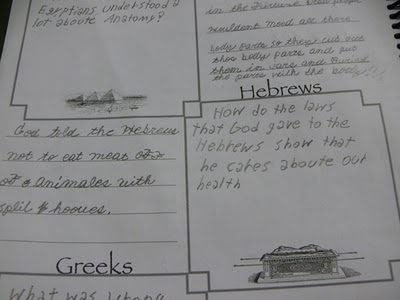 This was a section in their notebooks that they needed to fill out while learning about the history of medicine.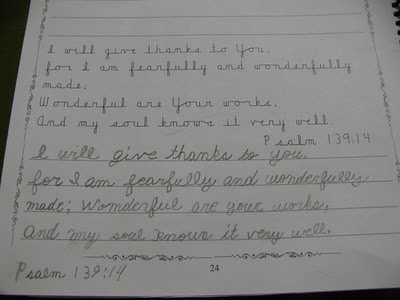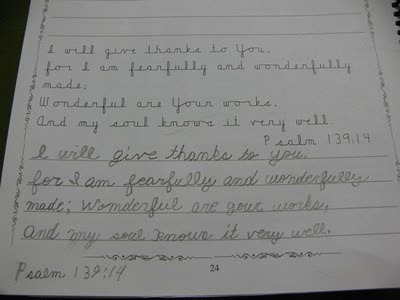 For each chapter the notebooks contain bible verses for copywork that relate to what you have learned about. The notebooks include manuscript and cursive options.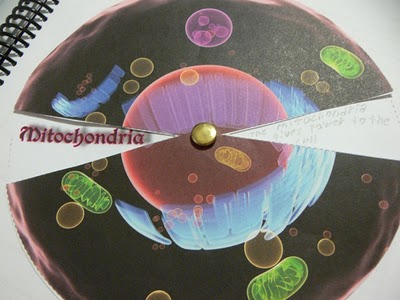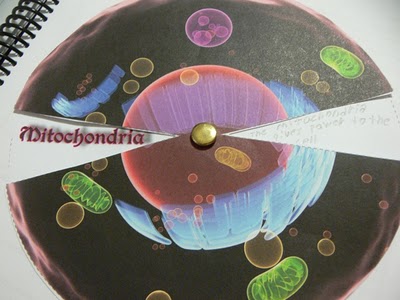 The notebooks also include some lapbooking type activities that go along with the lessons. These are cell wheels that the kids made.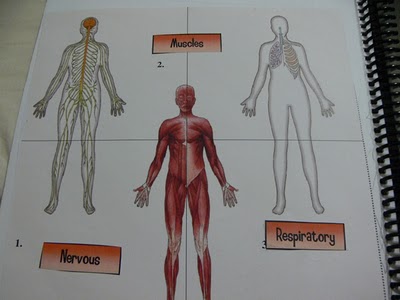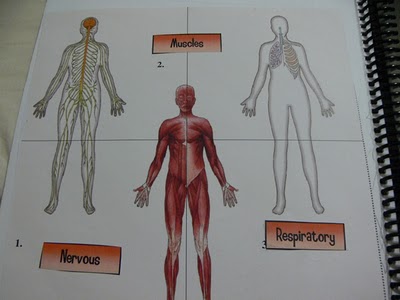 While learning the 6 main systems that make up our bodies, the kids had 2 pages in their notebooks where they needed to glue the correct name of each system next to the right picture.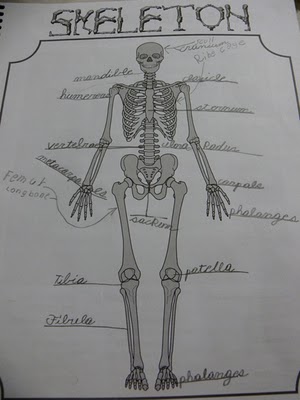 While learning about the skeletal system this was a page in the kids notebooks that they needed to complete.
My 9 year olds favorite part of her notebook is this page in the very back. At the end of each lesson she gets to add on the various body systems and organs that she has learned about.
The following are a couple of notebook pages from our chapter on the Digestive System.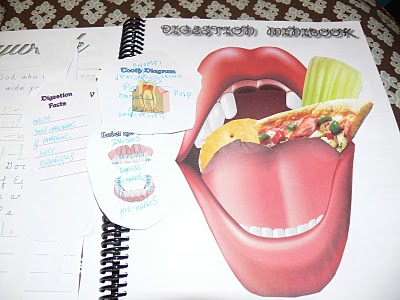 On the back of the pieces of food the kids had to write facts about various parts of the Digestive tract.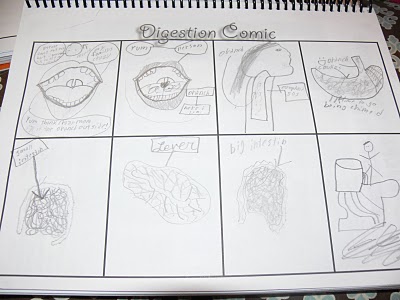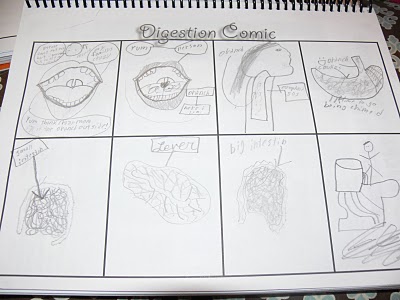 Each of the kids had to create their own comic strip that told the story of the digestive tract.
Also included in each section of the notebooks are vocabulary crossword puzzles, a what do you remember page with questions to answer, additional ideas for further experiments, scientific speculation sheets, and notebooking pages.
One of the things we LOVE about this human anatomy study is the hands on activities that are included throughout and at the end of each chapter. Here are a few pictures of some of our favorite activities/experiments that we did.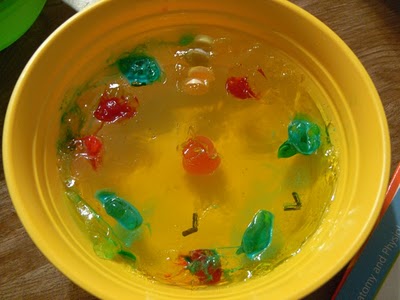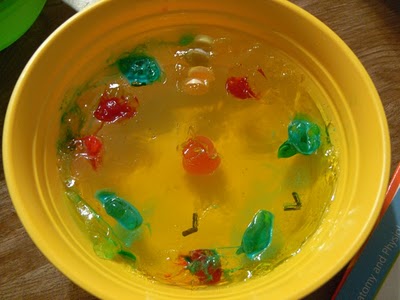 We created cells using jello and various pieces of candy.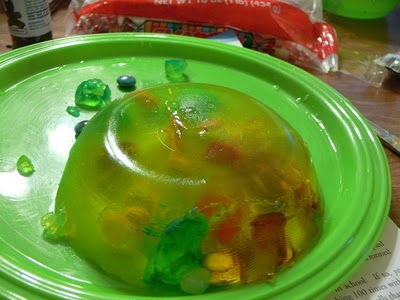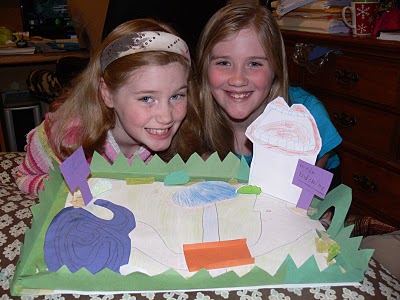 While learning about our digestive tracts the kids project at the end of the chapter was to create a digestive system theme park. My daughters Natalie and Annie worked together to create this one.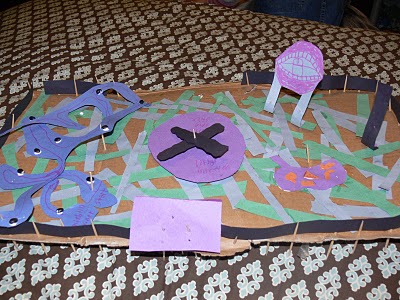 This is my daughter Emmys digestive theme park.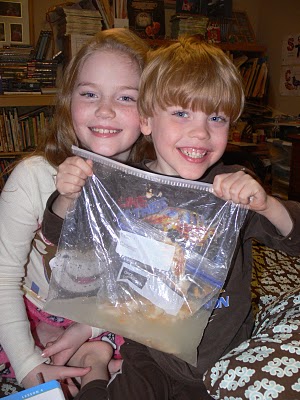 While learning about Chyme we took a ziplock bag, a piece of bread, and some water to simulate our stomach in action. After placing the bread in the bag we added water until it covered the bread. We then sealed the bag and put it into another for protection. The kids squeezed and squished the bag as our stomach does to our food and they say what happened to the bread which is the same thing that happens to our food when our stomach churns it.
I love the information that my children have retained from these studies. I have also really appreciated that the course is written to a wide range in ages since I am teaching multiple ages at the same time.
Their are also kits available for purchase to go along with each title that contain most of the items you would need to complete the experiments in each book. The kits are rather pricey, but again, can be beneficial if the cost is not an issue. It has been our experience that most, though not all, of the items needed for the experiments in the books are things we have had on hand around the house so it seems to me that the benefit of purchasing one of the kits would be to have everything you need right at your fingertips and ready to go.
Jennifer is mom to 6 children, 2 boys and 4 girls, ages 14 down to 5. The Unsell family is in their 10th year of homeschooling and are a bit eclectic in their approach to schooling. You can find their family blog at Adventures in Unsell Land.