Apologia publishes a full-range of science texts for the Christian homeschool. They began with high school science texts which have been very popular with homeschoolers for many years. They now also have a group of Apologia Elementary Science books.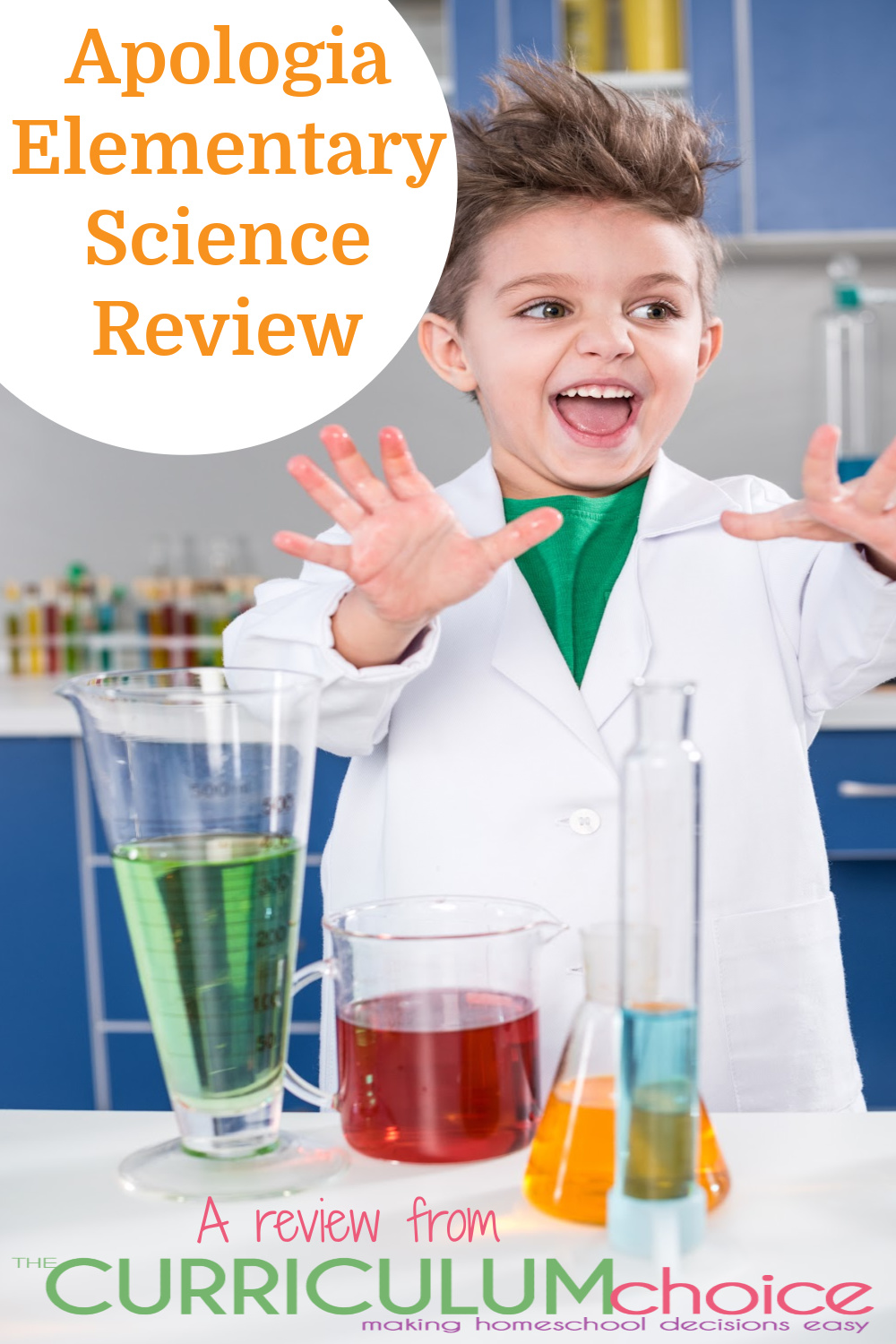 Affiliate links are used on this website. Please see our disclosure policy for more details.
Apologia Elementary Science
Apologia Elementary Science books use the classical and Charlotte Mason methodology including narration and notebooking to develop critical thinking, logical ordering, retention, and record keeping.
Since the Charlotte Mason method is employed, every lesson is organized with a narrative, notebook work, an activity, and a project. The student notebook is emphasized in the lessons.


The Apologia elementary science series includes:
Earth Science
Chemistry/Physics
Astronomy
Botany
3 Zoology Texts: Flying Creatures, Swimming Creatures, and Land Creatures.
These texts follow the immersion principle of learning. Rather than study a wide-variety of unrelated science topics during the course of a school year, these texts dig deeply into one science topic.
Features of Elementary Apologia Books
Engaging hard-cover text with many full-color pictures
What Do You Remember? questions to discuss
Common household items used in experiments and projects
Master list of necessary materials
Notebooking activities included
All of these texts have 13 or 14 lessons. But don't be fooled into thinking that with a small number of lessons the books won't last a whole year. These are not short lessons. They each include 10-20 pages of text (I read these aloud).
Science Notebooks
The Apologia Notebooking Journals provide a place for the student to complete every assignment, to record experiments and to display work.
There is both the regular notebook, as well as a junior notebook for younger learners. The junior notebooks a simplified version of the original Notebooking Journals and require less handwriting. They also include coloring pages.
Included in the notebooks are:
weekly lesson plans
templates for recording fascinating facts and assignments
scripture copywork in both print and cursive
Full-color Miniature Books (for recording facts and information and pasting directly into the notebook)
Projects and Experiments
In addition, all the lessons include at least one notebook assignment and either an experiment or project. Many lessons have both a project and an experiment. I like that the author has clearly separated projects and activities from experiments.
In the experiments, the scientific method is emphasized including discussions of variables, controls, hypotheses, data collection, and drawing conclusions. So although the book could easily be read in less than a school year, completing all the included notebook pages, projects and experiments will extend this text to easily encompass a year's study. However, if you do want to complete more than one of these texts in one school year, the Astronomy and Botany books are a little shorter than the Zoology books.
Use with Multiple Students
I love that this one text can be used with all my students. I can customize the notebook assignments to fit their abilities. There are notebook options for both younger and older children.
My first grader loves to sit and look at the pictures. He doesn't participate in very many of the activities, but he is still learning with us. Many first graders could easily participate more than mine does.
My daughter who is in 3rd grade now, completed the astronomy book when she was in kindergarten. She completed the notebook assignments and still remembers much of what we studied. I say this as a reminder that this text is easily adapted to the needs of families with widely varying ages and abilities of children.
So why would anyone not like the Apologia Elementary Science series?
You will not like this text if you do not want to include any of the Bible in your science lessons. These texts are unapologetically (pardon the pun) Christian. The author believes in creation and presents evidence that supports creation in the text. It does not give equal time to evolutionary theory believing that is better left to science geared to older students. Of course, most any animal books checked out of the library contains references to evolution, so this book helps provide a balance with its absence of evolutionary content.
You might not like this text if you want a more traditional approach to science including worksheets, tests and quizzes. The reinforcement of material in these texts is through talking about the text and creating notebook pages. The writing style is also different than most science books. These books are written like the author is talking directly to you. I don't mean vernacular speech, but it contains questions that are somewhat rhetorical. It also goes into great detail. Additionally, if you want to study many different topics in one school year, these texts would not be a good fit.
Purchasing Apologia Elementary Science
If you are interested in purchasing any of the Apologia Elementary Science books, they are available on the Apologia Website as well as from many vendors of homeschool products including Rainbow Resource and Christian Book
Originally published May 2009, written by Kristen
More Apologia Reviews
To see all our Apologia Reviews here at The Curriculum Choice be sure to check out our Apologia Homeschool Curriculum Review Index