Mystery of History Volume 1 is a complete. chronological history of the world that covers world history from Creation to the death and resurrection of Jesus Christ. It is the first of four volumes that take you through history from 1708 to 2014.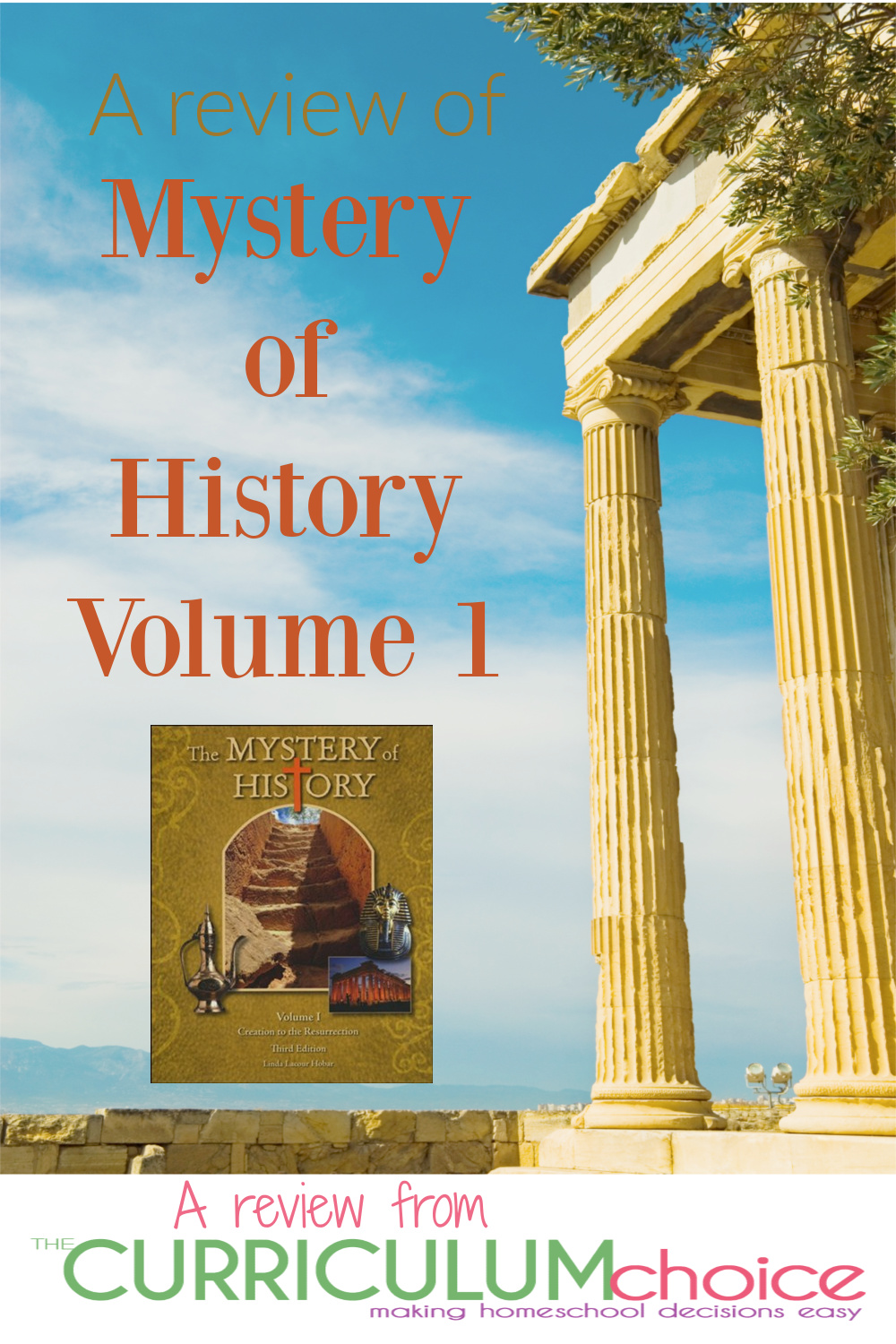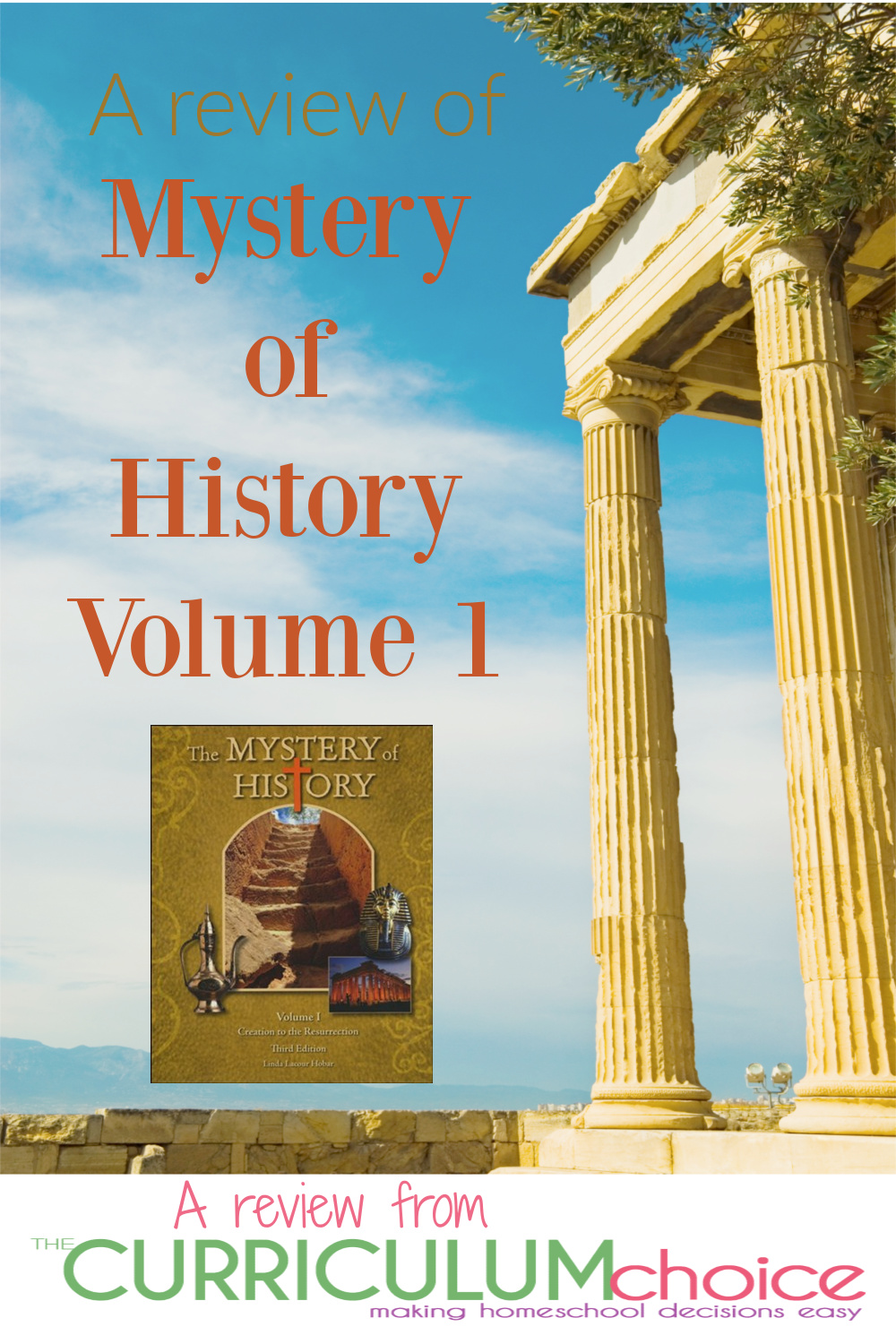 Whether you study history chronologically or, like we do, in whatever order that strikes our fancy, The Mystery of History is a curriculum worth considering.
The Mystery of History Volume 1
Mystery of History is a complete, chronological history of the world, which combines secular and Biblical history. The hardback textbook is written in a conversational style that holds the reader's attention.
Inside you'll find chronologically based stories from all around the world, including Asia, North America, and the Holy Lands. Beginning with the Garden of Eden, stories spread from Sumer and Babel to Troy, Phoenicia, and Assyria. The study of early civilizations includes King Wu of China and Asoka of India as well as King David, Julius Caesar, and Xerxes of Persia. Above all, a favorite feature of Volume I is the weaving of Bible history with world history.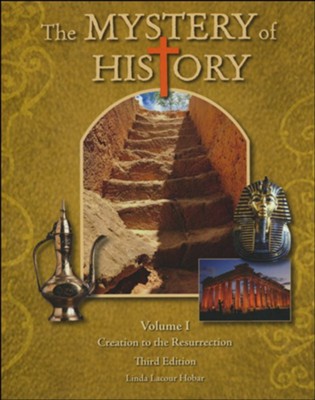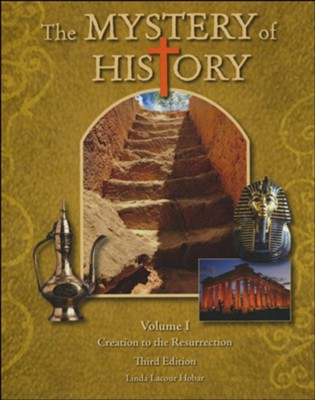 The Companion Guide, which is used in conjunction with the hardback reader, contains:
28 weeks worth of learning activities for younger, middle, and older students
Memory cards
Hands-on projects
Field trip suggestions
Review games
Informative articles for the teacher
Form for recording grades
Outline maps
Geography activities
Supplemental book list
Pretests, quizzes, and answer keys
Timeline helps
The curriculum can be used with grades K-8th, but the author states in her letter to teachers that she has provided "tracks to run on that best match Middle Students, those from about 4th to 8th grades". The activities can be adapted to fit the needs of younger and older students as well.
Pros:
God is placed at the center of the world's history. The reader can see how His hand has shaped human events.
Mrs. Hobar's writing style is much more interesting than that of most dry, traditional textbooks.
The Student Reader is a beautiful, colorful, hardback volume.
The activities and helps in the Companion Guide are fun and hands-on, helping to make the history lesson come alive.
The curriculum is written in a way that simplifies multi-level teaching, especially if you use the Companion Guide.
Students are encouraged to keep a history notebook in which they place their completed activities. I think it's nice to have a keepsake like this for reviewing material.
Even if you don't teach history chronologically, this is a wonderful resource for studying a specific time period.
Traces world events chronologically, lining them up with Biblical history. (For example, the reader learns what was going on in the rest of the world when King David was on the throne of Israel.) Obviously, the events of Volume 3 take place after Bible times.
Encourages the use of and gives instructions for making a timeline, which is a wonderful tool for helping students to visualize the unfolding of historical events.
Cons:
The only drawback I could find to The Mystery of History Volume 1 was the fact that the textbook did not hold the attention of my 5 and 7 year old. My 9 year old, however, listened and enjoyed it as a read aloud. My youngers could easily be included in many of the Companion Guide activities though.
MORE MOH REVIEWS HERE AT TCC
Originally posted November 2010, written by Shannon