Does your child want to dig deep into nature study topics with creative nature walks, hands-on activities, kid-friendly research projects, literature, poetry, artist & composer study, and printable notebooking pages? Then the NaturExplorers Nature Unit Studies might be just what you are looking for!
Affiliate links are used on this website. Please see our disclosure policy for more details.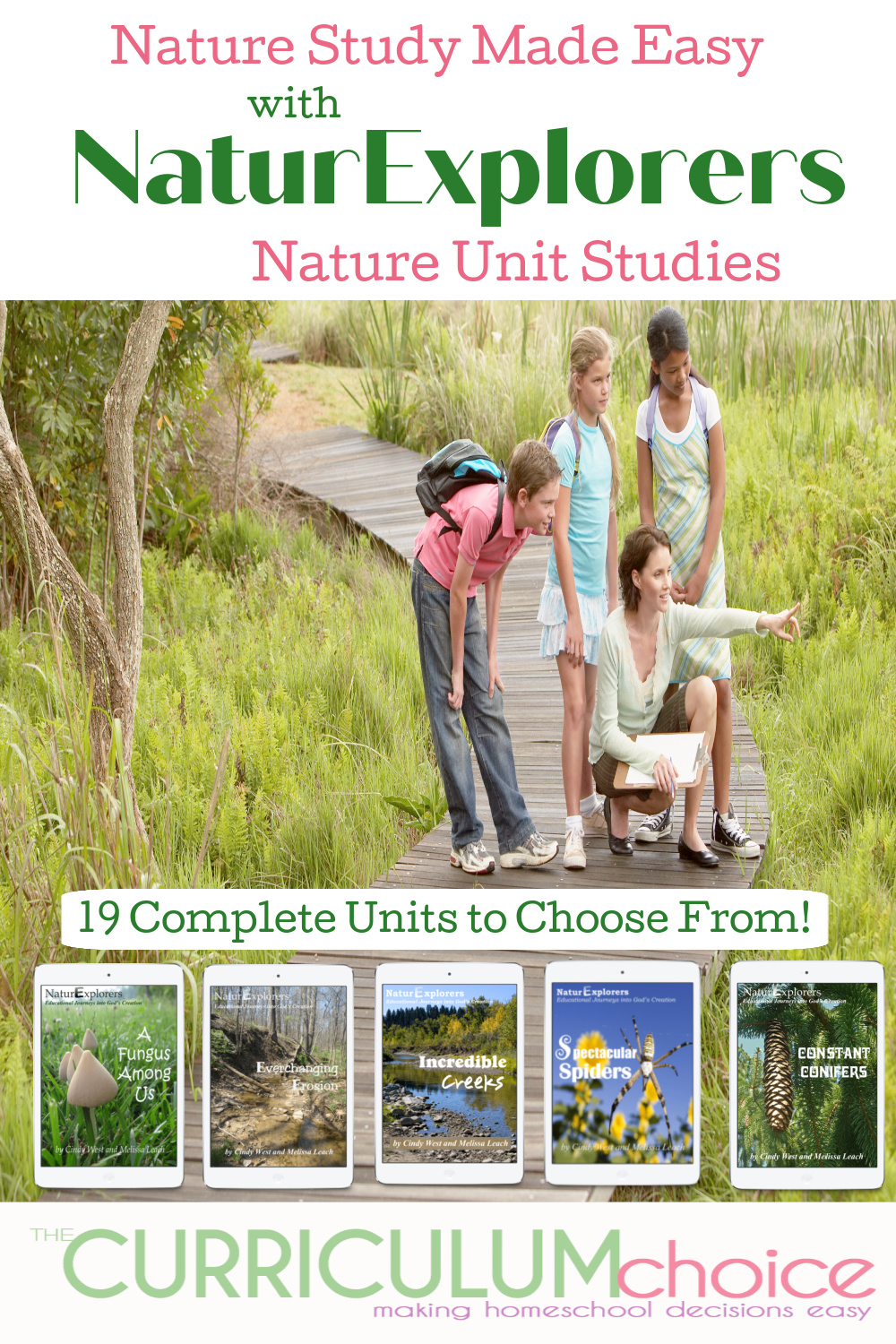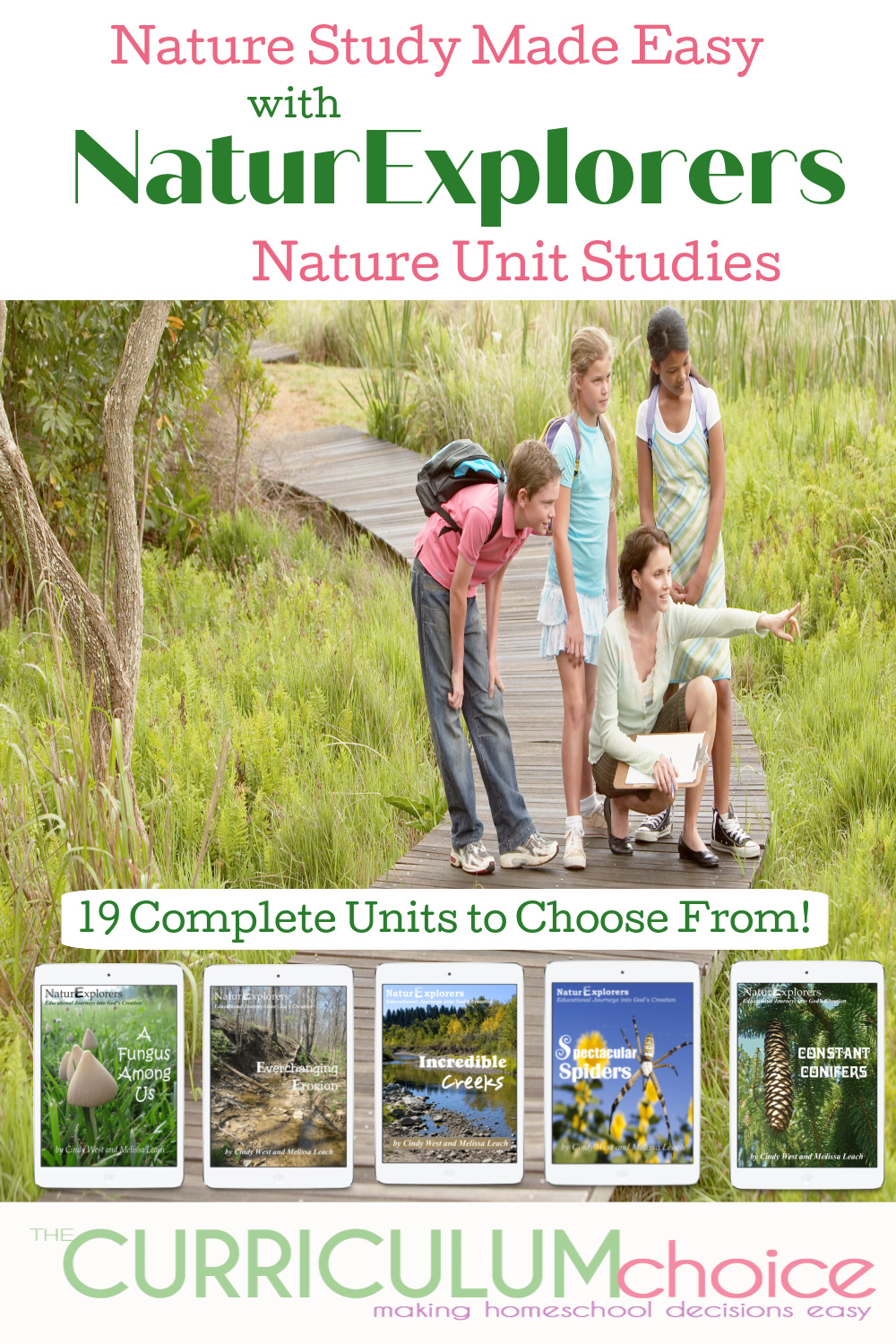 NaturExplorers Nature Unit Studies
NaturExplorers Nature Unit Studies are 19 different, complete nature based science studies for 1st – 8th grades.
Inspirational literature suggestions
Background information for the parent or teacher concerning the main focus of the nature topic
An abundance of creative nature walks
Follow-up hands-on activity ideas
Writing and research ideas that encompass several subject areas
References for Bible study, artist study, composer study and poetry tie-ins
Child-friendly internet links and book lists for further study
Ideas for adapting the material for younger and older children, as well as ideas for groups of children
Several colorful, prepared notebooking pages
General nature study suggestions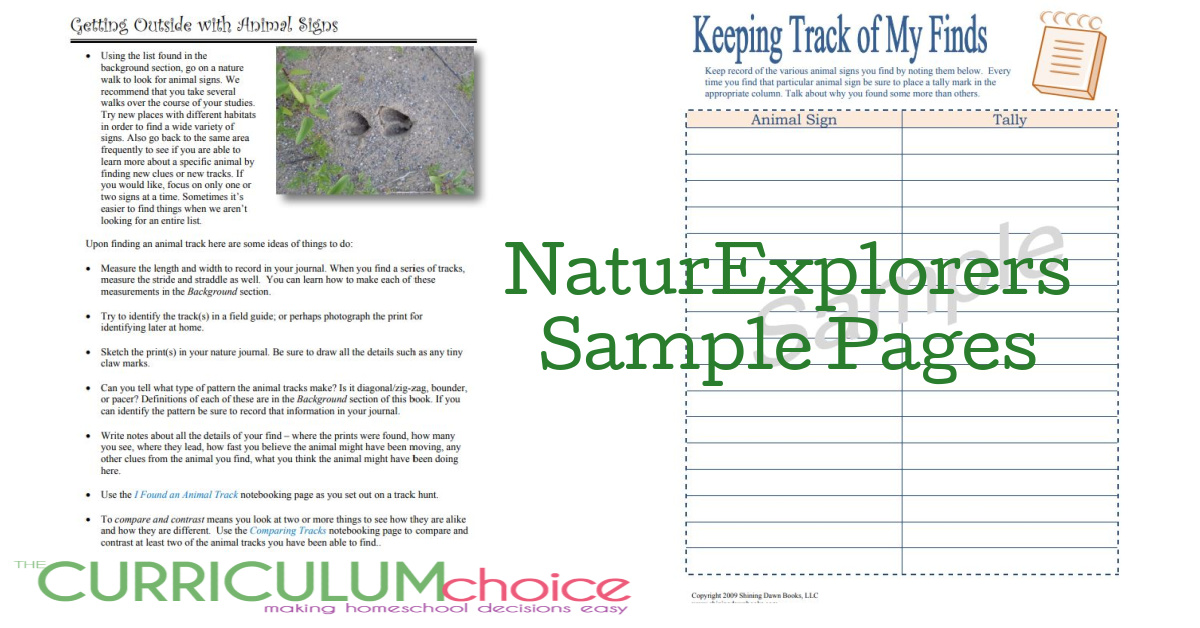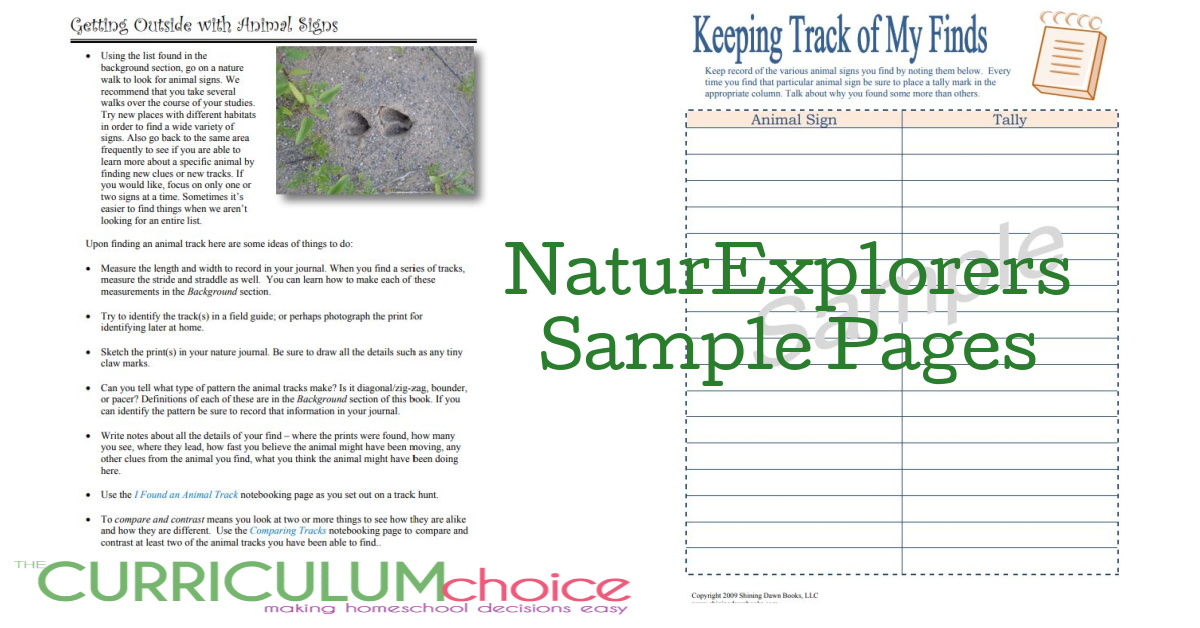 The NaturExplorers Nature Unit Study Studies series has a total of 19 different units to choose from!
A Fungus Among Us
Animal Signs
Beautiful Birds
Butterflies Flutter By
Captivating Clouds
Constant Conifers
Coping with the Cold
Delightful Deciduous Trees
Everchanging Erosion
Flying Creatures of the Night
Frog and Toads
Fruits and Nuts
Hard as a Rock
Incredible Creeks
Peaceful Ponds
Remarkable Rain
Snow and Ice
Spectacular Spiders
Wonderful Wildflowers
NaturExplorer Reviews Here At TCC
Snow and Ice Nature Study – Not everyone thinks of nature study when the temperatures dip below freezing, but there are some amazing discoveries in store for you when you venture out during the winter months!
Butterflies Flutter By – Even more amazing than beautiful butterflies fluttering about is the incredible transformation that takes place to turn crawling caterpillars into completely new flying creatures. Butterflies Flutter By will certainly inspire you to find evidence of all stages of the butterfly life cycle!
Coping with the Cold – Learn how animals prepare for and survive the winter season by learning about adaptations, migration, and hibernation through a huge selection of outdoor and indoor nature study ideas!
Deciduous Trees Unit Study – Enjoy a very thorough study of deciduous trees with these creative lessons that take you through every season of the year!
Peaceful Ponds – Thoroughly research plants and animals that rely on ponds; Learn what makes a pond healthy and how you can make a difference; Compare various bodies of water and determine what makes them unique; Dive into the vast subject of algae
Constant Conifers – During more than 30 nature walks, you'll complete in-depth investigations about all parts of conifers including cones, leaves, branches, sap and more.
NaturExplorers Fruit and Nuts – Fruits and nuts are some of the most versatile of God's creation. Besides being yummy, they serve a very important role in reproduction within the plant kingdom. This unique curriculum highlights their importance and opens your eyes to their incredible diversity.
NaturExplorers Review – A review of the series as a whole.
More Nature Studies from Our Journey Westward
While the NaturExplorers Nature Unit Studies are Christian based, all the ones below are considered faith neutral.