Mystery of History Volume 3 spans the time period of the Renaissance, Reformation, and Growth of Nations (1455-1707). This Christian based curriculum will cover some of the greatest minds of the time period such as Martin Luther, Copernicus and Shakespeare. It covers world history chronologically so your student will learn about Cervantes writing Don Quixote while at the same time learning about Australian Aborigines to the founding of Jamestown.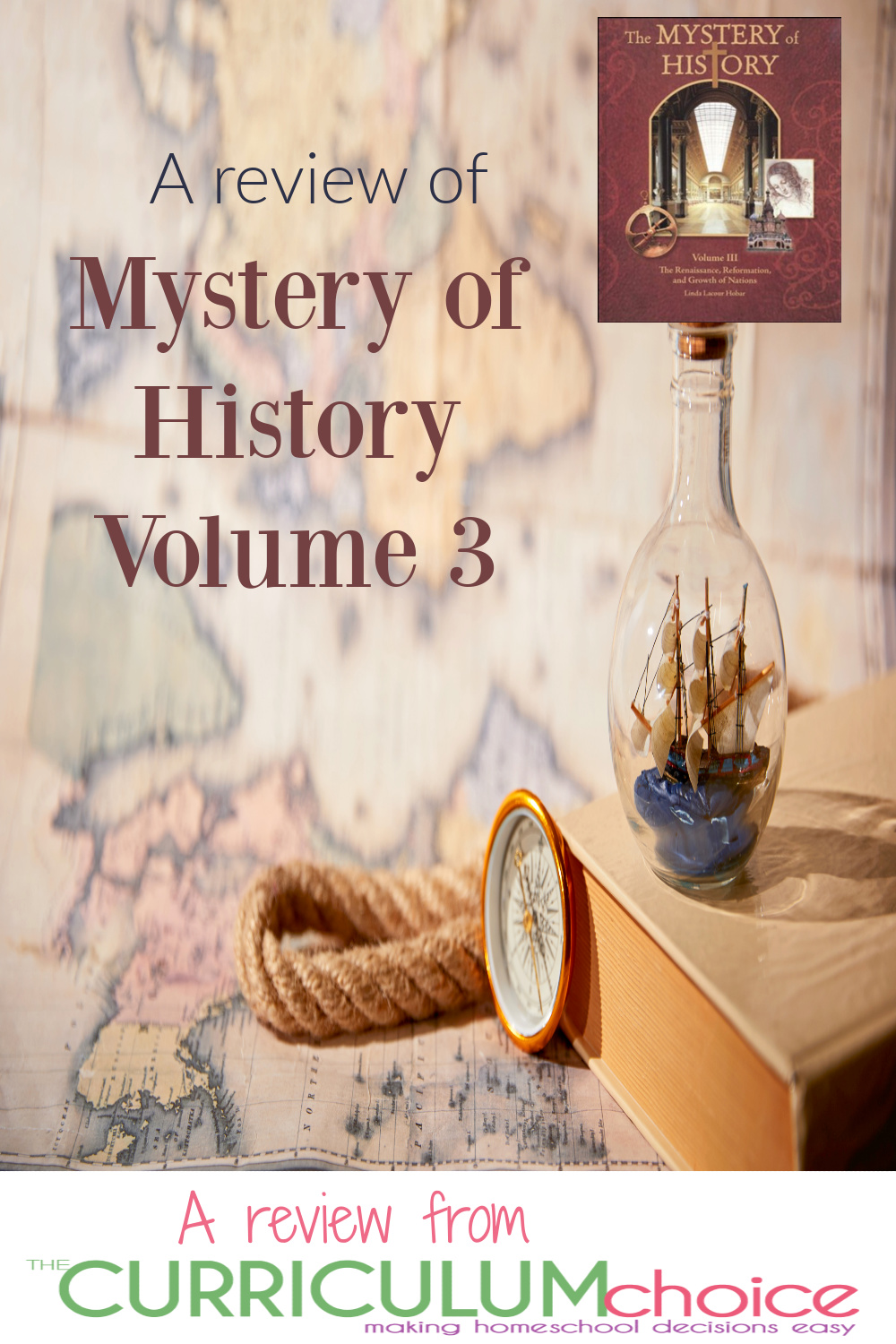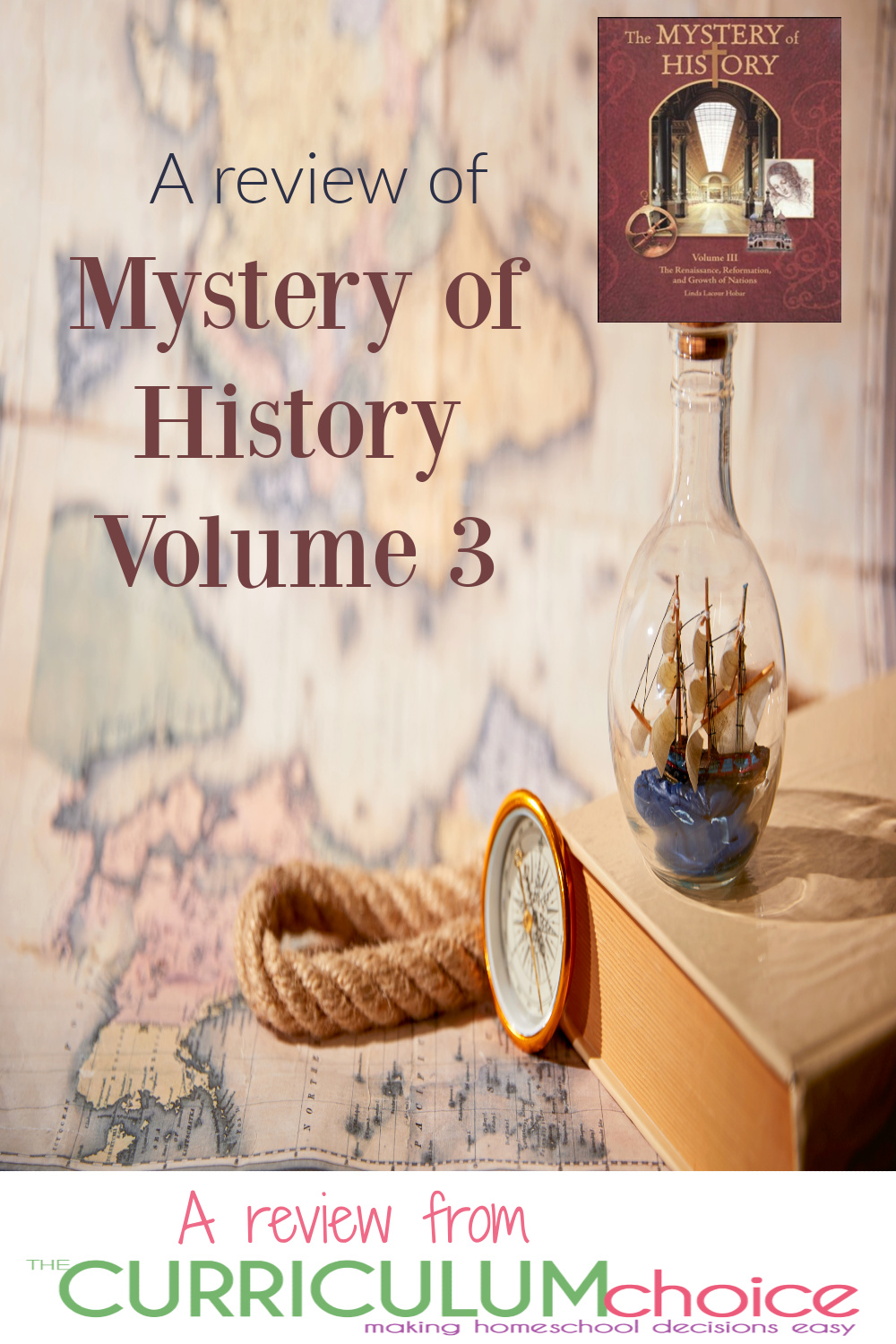 Mystery of History Volume 3
Mystery of History Volume 3 is divided into two semesters for a total of 28 weeks of study following the three lessons a week layout.
The student hardcover textbook can be used on its own or you can enhance your survey of history by purchasing The Mystery of History Volume 3 Companion Guide: Curriculum and Student Activities. This is available in paperback or CD-ROM for your convenience. The companion guide will provide you with pretests, hands-on activities, quizzes, supplement booklists, and more.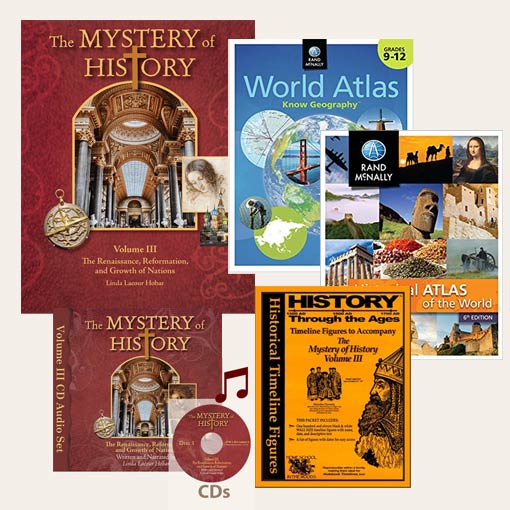 Mystery of History can be used for multiple ages so it is perfect for any size homeschool family. The site offers free downloadable samples for you to explore before you purchase. Even if you have not used Mystery of History Volume I or Volume II, you can easily transition into Volume III.
My Thoughts On Mystery of History Volume 3
I found this curriculum to be truly delightful from Linda Lacour Hobar's Montaigne style of writing (You will learn all about Montaigne in Vol. III and he is not to be missed!) to the creative hands-on activities that the whole family will enjoy.
I highly recommend you purchase The Mystery of History Volume 3 Companion Guide: Curriculum and Student Activities, either in paperback or CD-ROM to accompany the textbook. The paperback and the CD-ROM contain the same information but in different formats for different situations.
If you have a large family it may be cost effective to purchase the CD-ROM and print off the maps and quizzes for all your students. If you have one student you may want to purchase the paperback to easily tear out what you need.
Personally, I found having both to be quite helpful. The paperback allowed me to review material and plan my lessons without the use of a computer while the CD-ROM allowed me to print off what I needed for all three kids.
If you seek a history curriculum to make history lovers out of your children than search no further than Mystery of History. As a true history lover I wanted something to spark an interest and imagination of my children who thought of history as boring. Mystery of History has made all my kids ask to do history daily as opposed to hiding the book under the couch.
MORE MOH REVIEWS HERE AT TCC
Originally published October 2010, written by Richele