As the plant world comes alive again in springtime, what better way to teach our children about nature, food, hands-on history, and practical skills than by gardening? Whether we do a formal study or make gardening a purely hands-on project, our children will learn with a homeschool garden.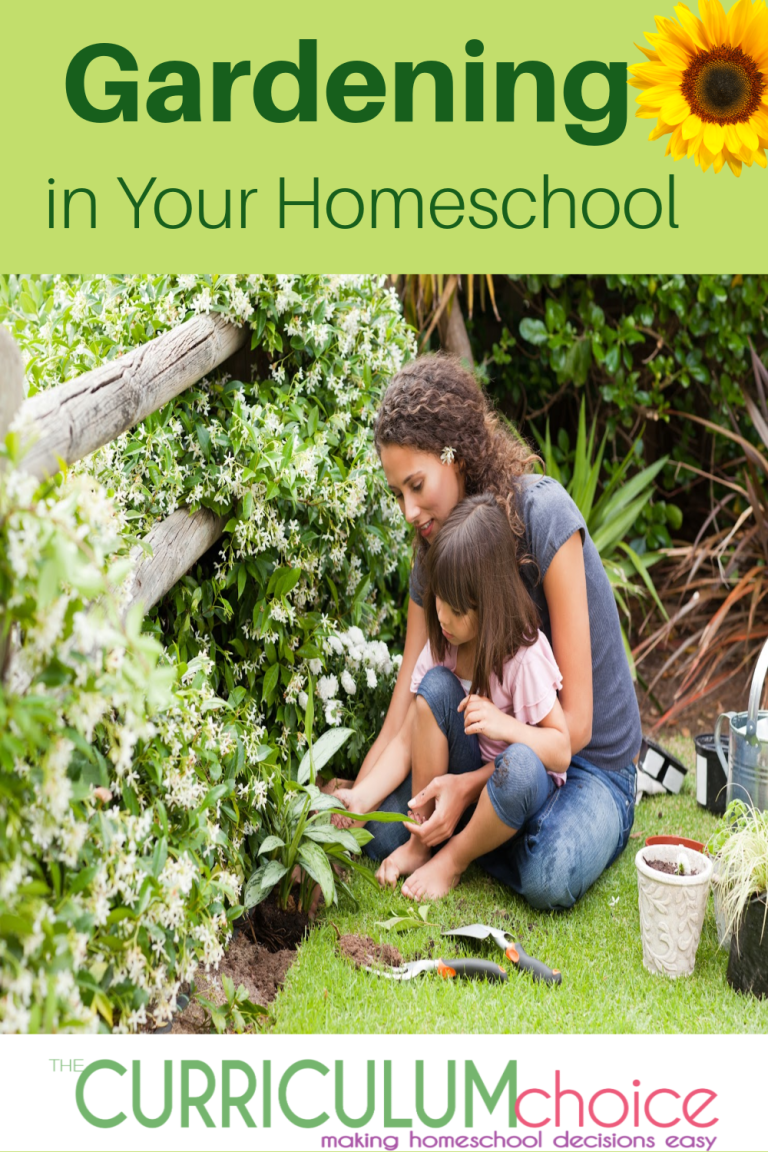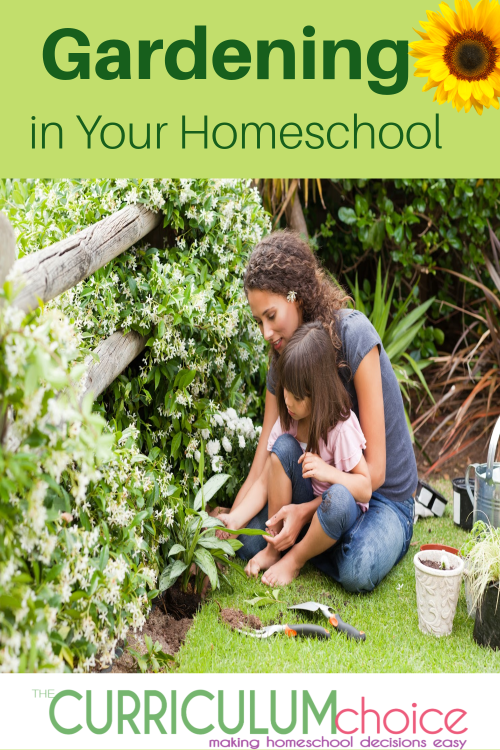 Whether or not our children end up being gardeners, the knowledge, the work itself, and the skills will benefit them in unexpected ways. For example, each of our children has earned money gardening for others, and one even sent me a note from an archeological dig in the Mediterranean thanking me for all the digging in the sand we had done together.
THE HOMESCHOOL GARDEN
Did you know April is National Garden Month?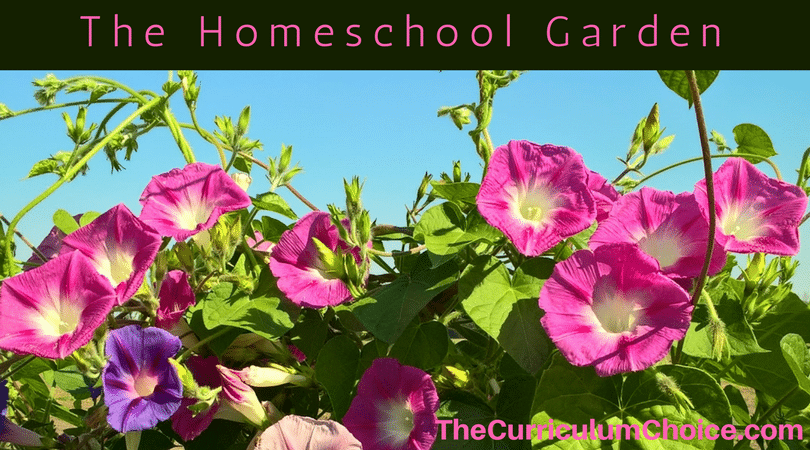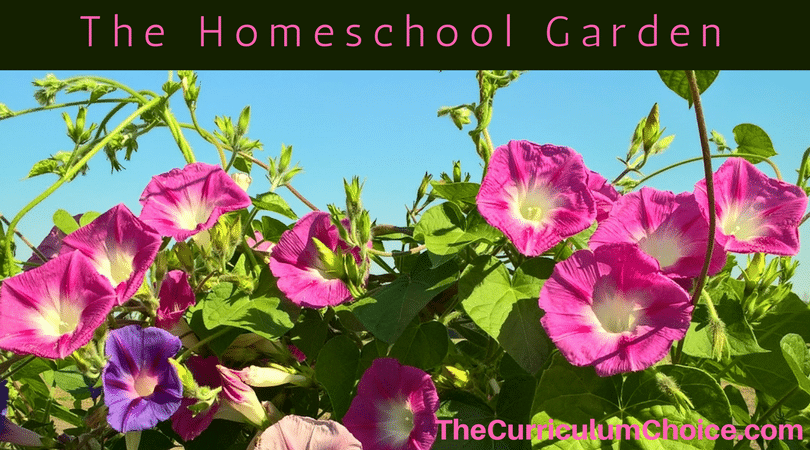 To help you homeschool outside this spring and summer, veteran Curriculum Choice homeschoolers have collected their suggestions about gardening, nature, nutritious eating, and more to help you create a garden nature study for your homeschool.
Whether you plant a 5000 square foot garden, treasure one pot of tomatoes, savor fresh foods from the store, engage in a garden nature study, or focus on observing the world around you, you will find ideas here to inspire and encourage your family.
Annie Kate from Tea Time with Annie Kate
Although we aspire to rigorous homeschooling I think that some of our most important lessons have been learned while gardening. We do not formally combine gardening with lesson plans, but the simple acts of choosing and starting seeds, planning the garden layout, improving the soil, planting and weeding, managing and simplifying the work, and harvesting involve a great deal of learning. We learn about plants and weeds, about how people throughout the ages have had to work for their food, about ourselves and each other, and about the magnificent world we live in. In our gardening journey we started from nothing. You can, too.
There was the year I told my husband that we couldn't possibly have a garden as well as homeschool because There is Too Much to Do. We discovered that gardening taught us lessons as valuable as any we've ever learned from school books.
Sometimes Homeschool Gardening is a break from book learning; sometimes it surpasses it.
As we work in our garden, we are close to the people who worked our soil in the 200 years it has been farmed, as well as to other food growers throughout the world. Here are some resources we have loved while Learning about the Fascinating World of Farming.
The things we learned years ago from being Gardening Homeschoolers still benefit us today.
I love teaching my children that bugs can be managed with a simple Safe, Effective, Almost-Free Bug Spray that they can make themselves.
Gardening has some profound religious and philosophical aspects which I discuss as I introduce this TCC feature on my blog.
Heidi from Starts At Eight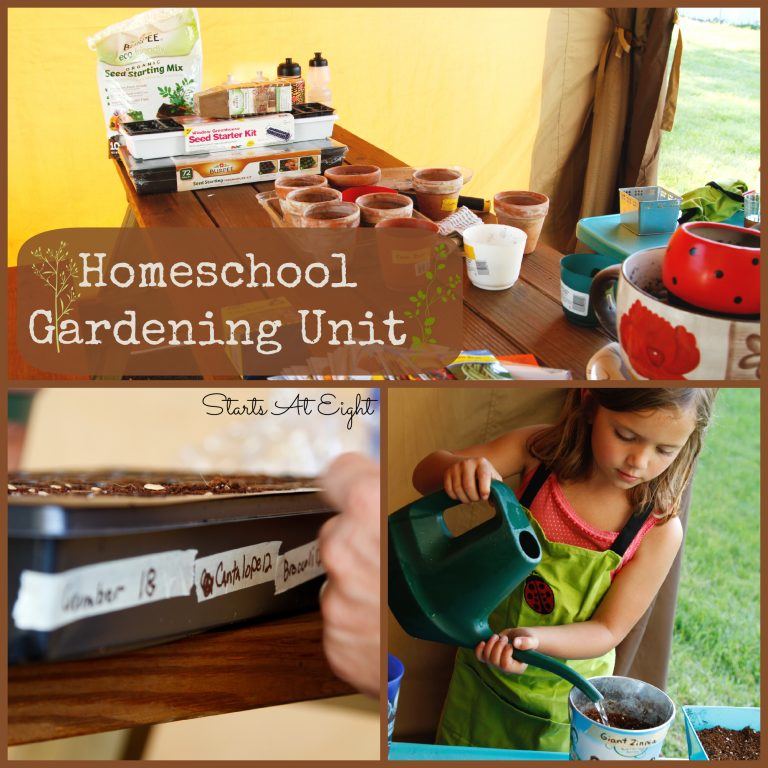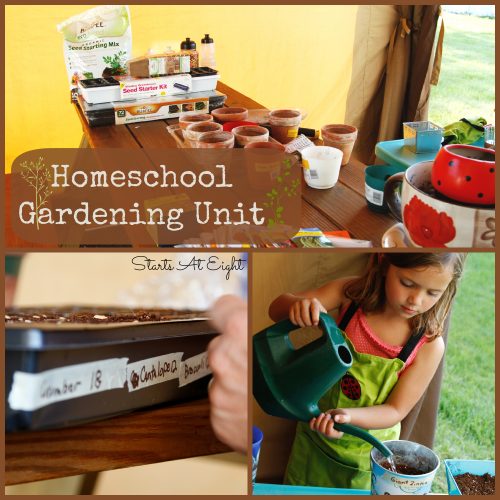 Oh how I miss summer (I say this with melancholy as it is still below 30 degrees here in NY)! Unfortunately that means we still have a ways to go before we can begin planting – typically in NY we don't start planting until Memorial Day. I have found through the years that planting a garden has been a great family learning experience. It's something the kids can get involved in, young or old, and something we have always counted as part of our homeschooling. So much so that I created a Homeschool Gardening Unit around the resources we used.
From the planning out of the garden, to buying the seeds and supplies, all the way through planting and harvesting, gardening teaches so many valuable skills. It took lots of math to plan out our Square Foot Garden, including things like measure the wood for the boxes, figuring out how many squares we wanted and how many plants each square could hold, right down to creating the proper soil mixture!
One of the other great things you can do when planting a garden and working outside is teach kids about bugs. When my children were little I created an entire unit around Teaching Bugs Using Eric Carle Books. Using the books, and your time outside, you can easily create a fun and memorable hands on learning experience for your little ones!
Tricia at Hodgepodge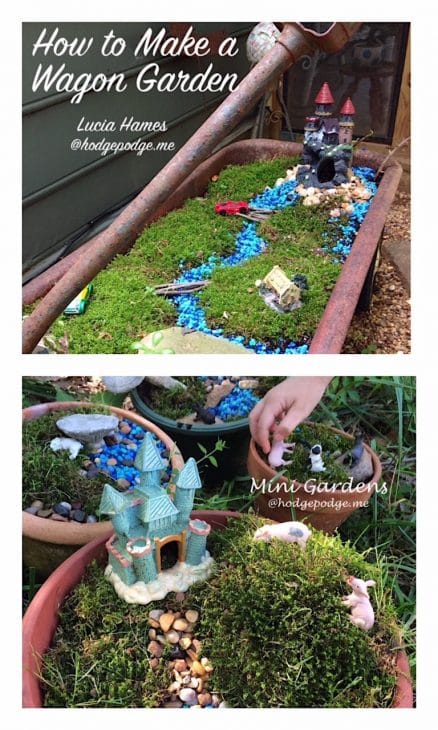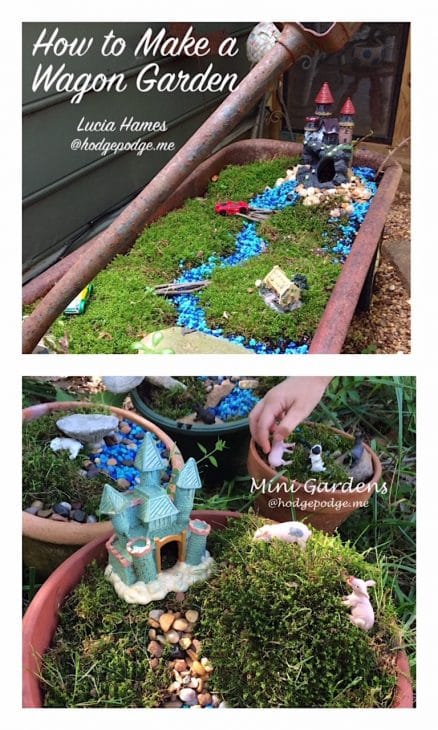 Our homeschool garden experience has been one of simple joys. See, my grandfathers always planted their gardens on Good Friday. So years ago, when all the children were little, we did that too.
We pour that fresh soil into a flower bed. And a little finger makes a little hole for a sunflower seed. It's then that we talk about Jesus. About the tomb and how it was closed up. Sometimes we talk about how dark it must have been in there. How the disciples must have felt on that Friday. And we talk about the seeds and how we place them down in the hole, in the darkness. But then we focus on the promise. The promise of a risen Savior. The hope! The Son and the sun. And we anticipate those new garden sprouts with a Good Friday Garden.
Most of our yard is a treasure of heirloom plants from my grandmother and my father's yards. Irises, azaleas, crocus, jonquils and hydrangeas remind us of these special family members. Sunflowers are among our favorite to grow because they offer simple successes with spectacular results (if the backyard bunnies don't get to the tender stalks first). Summer Sunflowers and an accompanying sunflowers art lesson.
The last few years we have simply kept to container gardening. My mother, Nana, taught our children how to create little gardens around a theme or a favorite book. Our youngest's Charlotte's Web garden is by the front door. Nana also shared How to Make a Wagon Garden.
Of course we always love to follow up our backyard time with art. You might enjoy Nana's video art lesson on hummingbirds at the feeder. You can find that free sample lesson from our Backyard Nature Video Art Lessons at ChalkPastel.com.
THE HOMESCHOOL GARDEN IN OUR ARCHIVES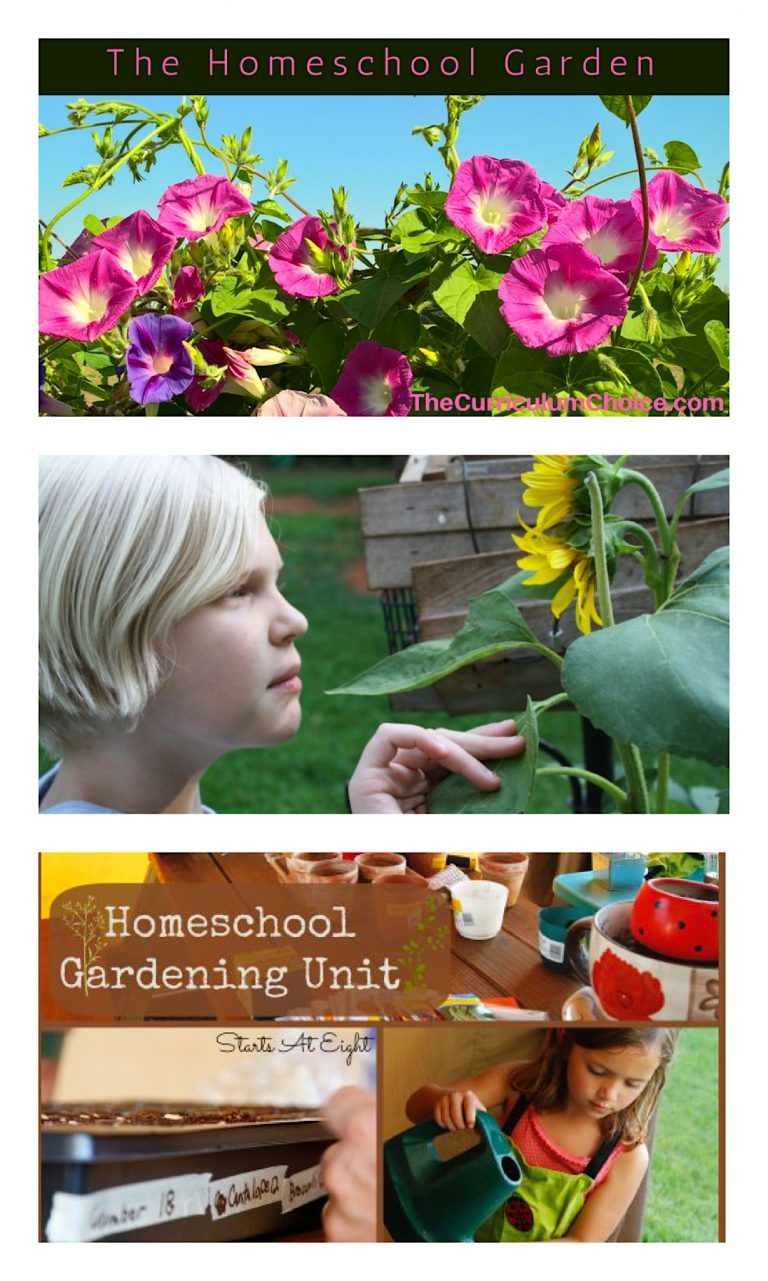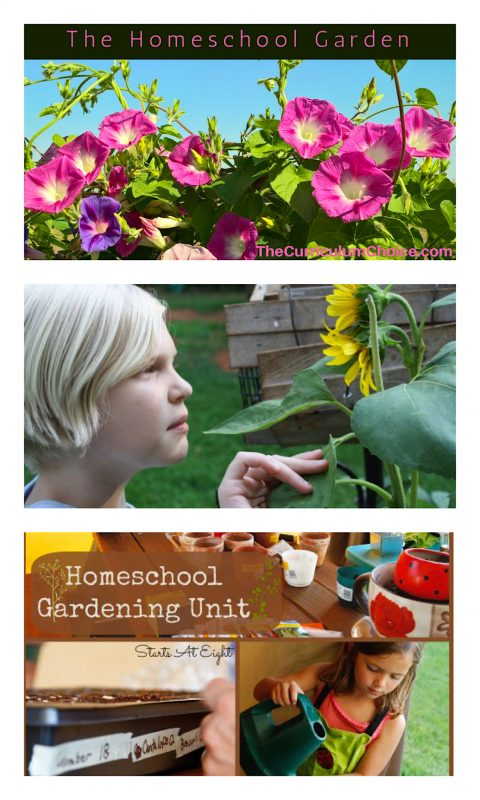 Gardening
Outdoor Life
Did you know that our Curriculum Choice review team features a different homeschool topic each month? You can see what they have shared on various homeschool topics under Review Team Features.
Fun Garden Books for Kids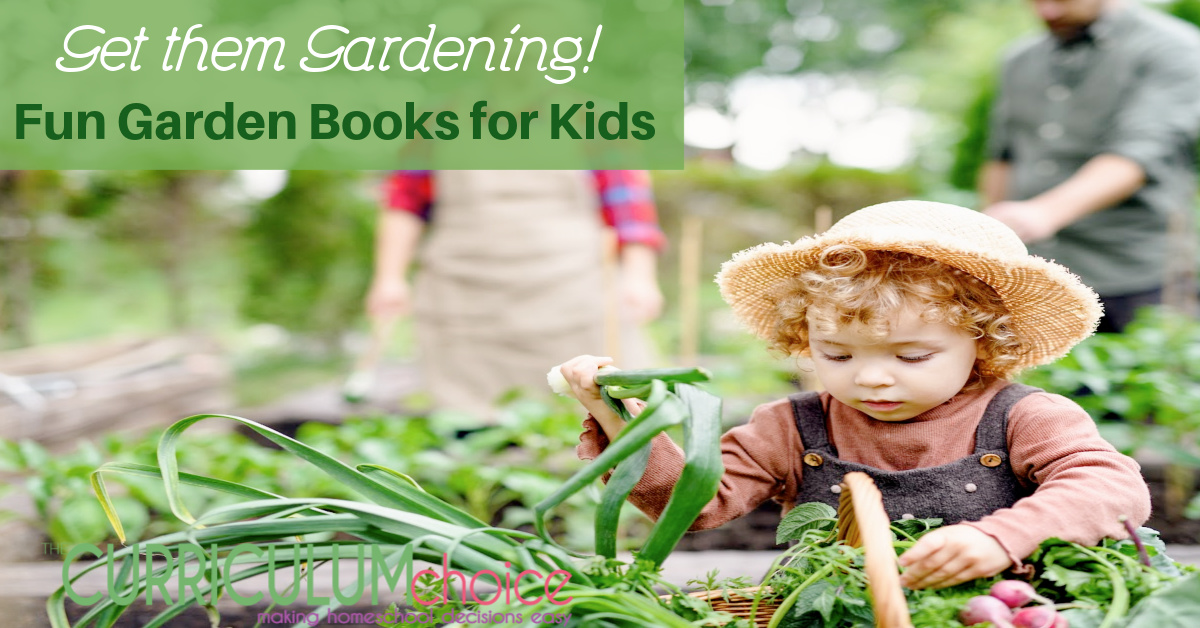 This collection of Garden Books for kids will help you include gardening in your homeschool. 
More Resources for Gardening in Your Homeschool from Our Sister Sites
~ Originally posted April 2018, written by Annie Kate