If the thought of teaching logic has you feeling a little bit intimidated – there's no need to be! Classical Academic Press provides solid (and fun!) logic programs that will help you teach logic (and learn a little bit yourself). Their motto, "Classical subjects creatively taught", is definitely present in all of their programs, including The Discovery of Deduction.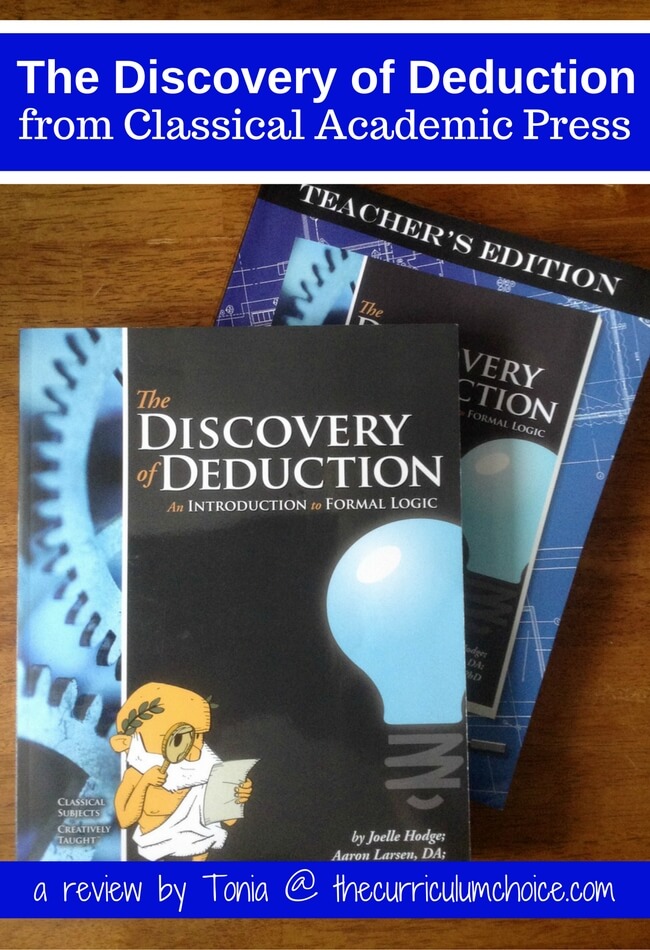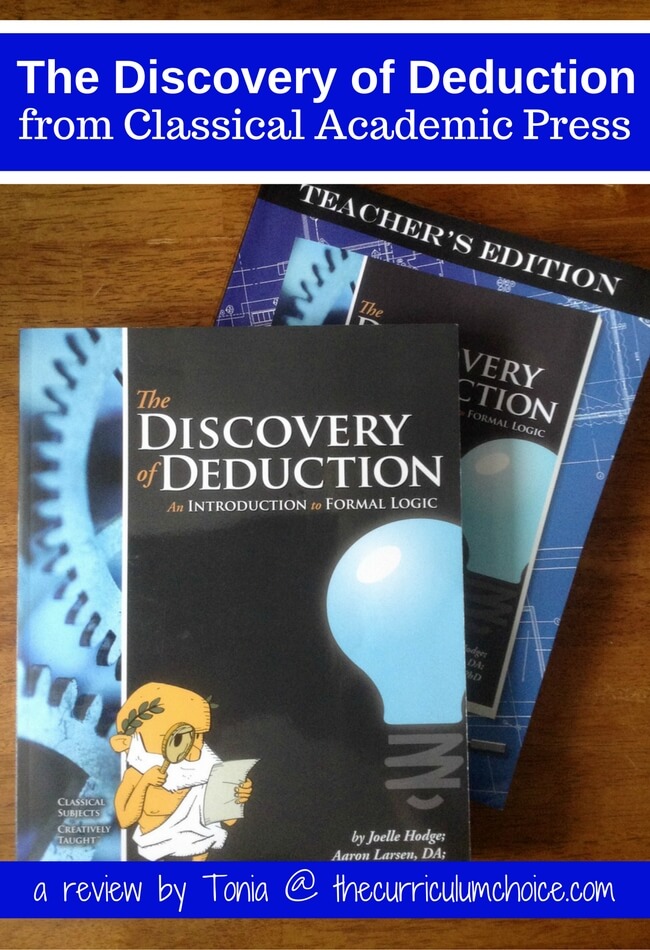 I received this product for free. While I was compensated for my time spent using the program and writing this article, all thoughts and opinions expressed are my own.
Teaching Logic with Classical Academic Press
If you love the idea of a Classical Education or just including logic as part of another method (a wonderful idea!) but are feeling a bit nervous about teaching it, Classical Academic Press has you covered.
They have a collection of resources that will help you teach logic to your kids (and learn it at the same time). Best of all, they are true to their word and provide products that are engaging and entertaining.
The Discovery of Deduction
One of the programs in their collection of logic resources is The Discovery of Deduction which focuses on introducing formal logic (for students 8th grade and older).
Formal logic focuses on how an argument is put together — the form or structure of the argument. Throughout the lessons, you will focus on using deductive reasoning skills and learn how to look at the basic structure of an argument and decide whether that structure is valid or invalid. And, while you work through the lessons, Socrates will guide you with interesting scripts to read aloud with your kids (one of our favorite parts of the program).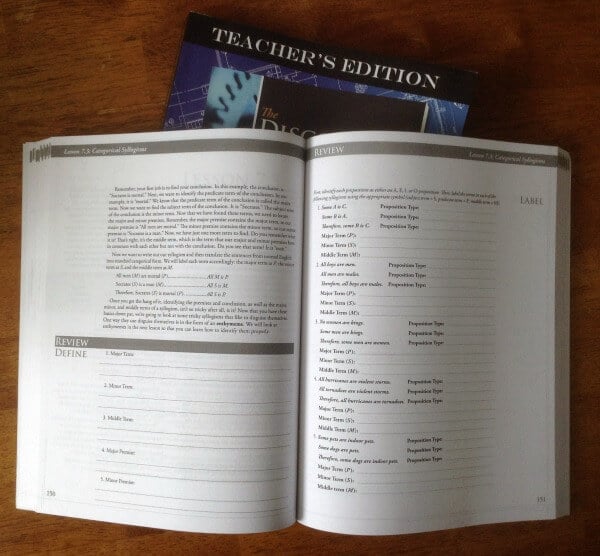 The set includes a student worktext (reading and written work are completed in the same book) and a teacher's edition (that is a copy of the student text with answers and explanations). There's also a packet for assessments, quizzes, and extra practice.
The book includes 9 chapters divided into four units:
Introduction
Propositions and their Relationships
Categorical Syllogisms
Terms and Definitions
The nine chapters are divided into shorter lessons (38 lessons altogether). Classical Academic Press offers a detailed 32-week schedule (click the 'support' tab on the product page).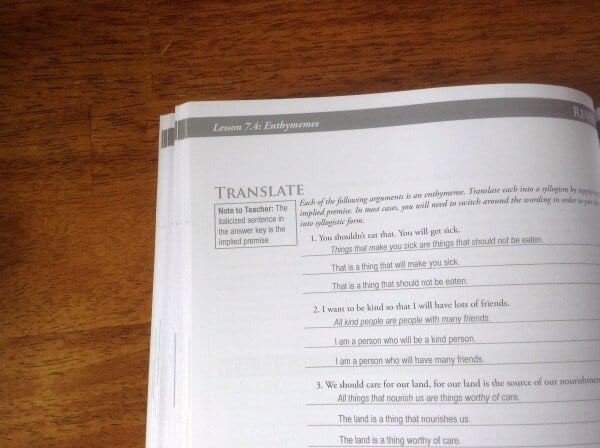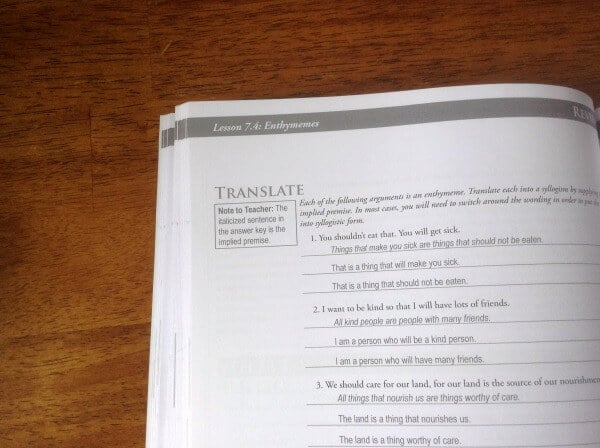 Each lesson begins with a "Points to Remember" section that provides a quick overview of the lesson. Following that, will be the lesson material which your students can read independently or you can read aloud (and discuss as you read). Throughout the lessons, you'll be learning about the structure of solid arguments (with plenty of examples so you and your kids will learn to recognize valid and invalid arguments easily). After the lesson reading, there are written exercises. These are divided into sections (and different lessons will have slightly different sections):
Define – students will write definitions for some of the lesson vocabulary and terminology
Explain – students are asked to describe certain aspects of the lesson in their own words
Practice/Find/Perform/Create – students will practice the elements of structuring proper arguments
Deduction in Action – students will apply their knowledge to real arguments and examples
Each lesson follows the same basic structure. The written exercises vary from one lesson to another – always focused on applying the lesson material to structured examples that teach students how to form proper arguments.
At the completion of this program, students will understand how to create and recognize solid, well-structured arguments.
Note: Classical Academic Press recommends that your students complete The Art of Argument before beginning The Discovery of Deduction.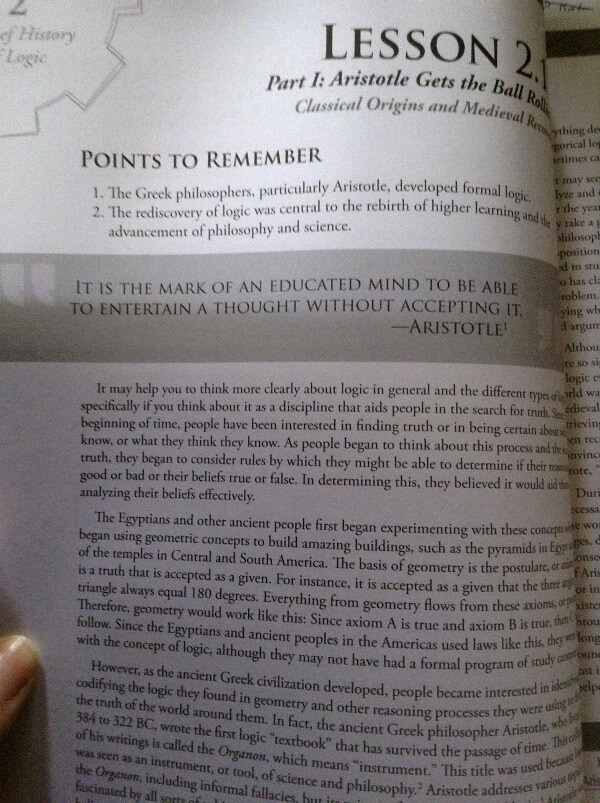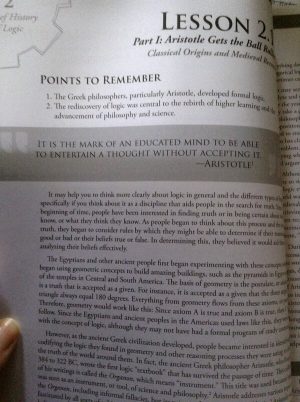 The Discovery of Deduction in our Homeschool
I'm currently using The Discovery of Deduction with my 8th-grade daughter. We're finding the work is just hard enough that it requires some thought and discussion without being too easy. As far as scheduling, we've included the program as part of our morning meeting loop — so we work on a section as it comes up in our loop. Following this format, it will take us a year to complete the book, working on a few sections each week.
Instead of just assigning work, we read aloud and discuss the questions together. Older teens could certainly work more independently but I find that the discussions are the best part of the program – something that would be very hard to do alone!
We are really enjoying The Discovery of Deduction and we're both learning a great deal about formal logic. I believe the skills taught in this program are invaluable to teenagers. Understanding and analyzing arguments in the news or on social media is a part of everyday life. Giving your children the tools to engage in these debates in a thoughtful manner is an important skill.
Want to learn more about some of the programs from Classical Academic Press? Here are a few reviews from more Curriculum Choice authors:
~ written by Tonia from Happy Homeschool Nest