Many, many years ago I stumbled upon Mr Qs Classic Science Curriculum. At that time he had just put out the very first one – Life Science. I remember being just giddy at a FULL YEAR Science curriculum that was FREE!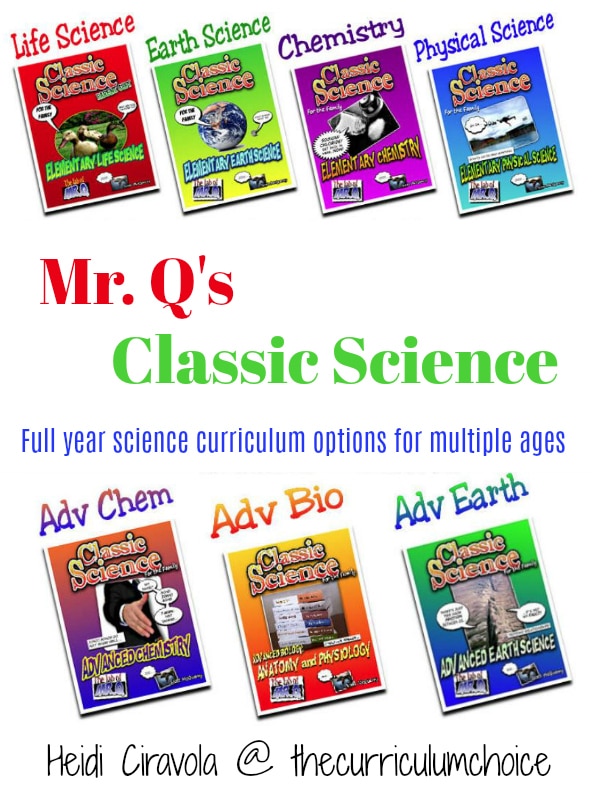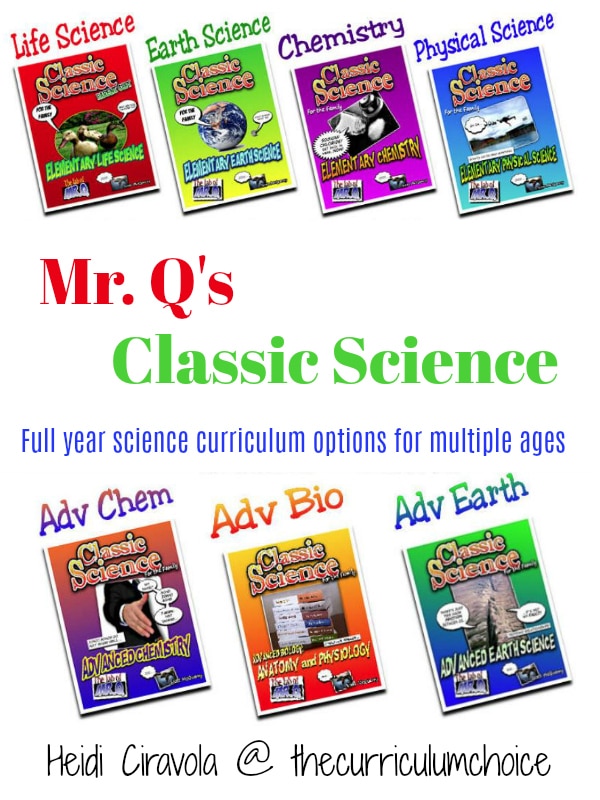 Mr Qs Classic Science
Mr. Q's Classic Science is an affordable, non-religious, classically based science curriculum. Each curriculum covers a full year of science, broken down into 36 weeks.
There are two different levels offered: An Elementary Level for ages 7-12 and an Advanced Level for high school aged students.
Mr Qs Classic Science Elementary


This level of Mr Qs Classic Science is meant for kids ages 7-12. What's great is you can download the ENTIRE Life Science for free so you can decide for yourself if the level is right for your child. I know with our younger kids we would read to or with them and go through it together, but our older children worked independently.
These are spread out over 36 weeks and include Unit Tests as well as "science fair projects" where Mr Q walks you through mini science fair projects. He uses a method called ESP (Exploring Scientific Procedures) in which he provides you an easy step by step guide for your child to approach these projects.
The first day of each week contains a reading assignment and worksheet review for your child.
The second and third days contain hands-on activities to reinforce each weekly reading! Don't worry about expensive materials for these activities! Most equipment can be found around the home or at a local store.
Life Science – Living vs. non-living, biomes, life cycles, classification and more! DOWNLOAD THIS ENTIRE CURRICULUM FOR FREE!!!
Earth Science – Space, weather, earthquakes, volcanoes, and everything under your feet!
Chemistry – Ever wonder what causes fire to burn, or bubbles to form, or whey those leftovers turn into a soupy goo?
Physical – Magnets, simple machines, and electricity…and you don't need a math degree to figure it out!
Mr Qs Classic Science High School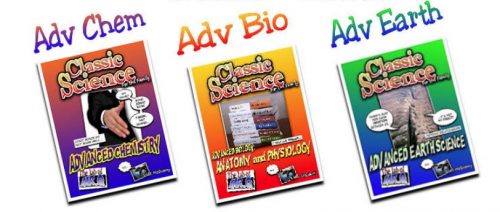 The level of Mr Qs Classic Science is meant for the high school aged students. Offering them more in-depth concepts and a deeper understanding in each subject. There are also weekly review questions, quizzes and 4 Quarterly Tests.
Each week may be broken down into three separate days to make it easier for you to set up your schedule:
The first day of each week contains a reading assignment and a series of practice problems for your child.
The second day is designed for your child to review his/her answers on the practice problems from the first day AND to preview the weekly lab activity which may require some preparation.
The third day is set aside for a kitchen-based lab activity that will reinforce the concepts being taught that week.
Advanced Chemistry – Prepares the high school student to master the basics of high school chemistry. As a bonus, nearly all of the hands-on labs involve the use of food!
Advanced Biology:  Anatomy and Physiology – Provides the high school aged child a solid understanding of the structure and mechanics of the human body.
Advanced Earth Science – Provides a high school level understanding of how the five spheres of the earth are truly connected together.
Have you used any of Mr Qs Classic Science products? If so, tell us what you thought in the comments!
More Science Reviews from Curriculum Choice