As homeschoolers our days are steeped in books.  We connect with the characters we read about.  And their stories become a part of our story.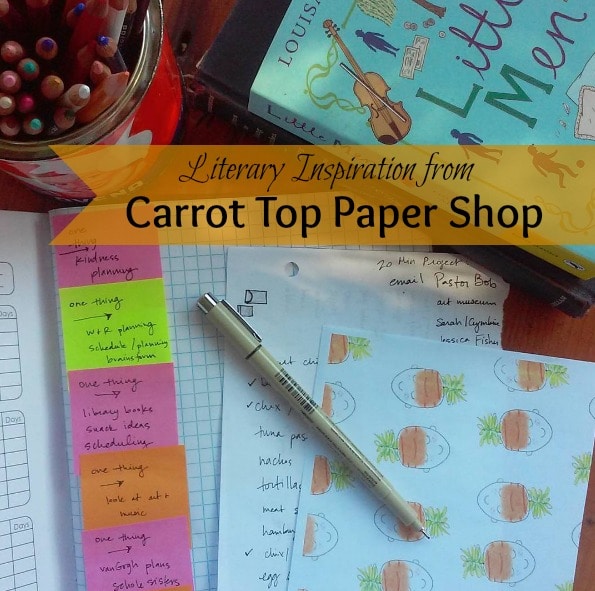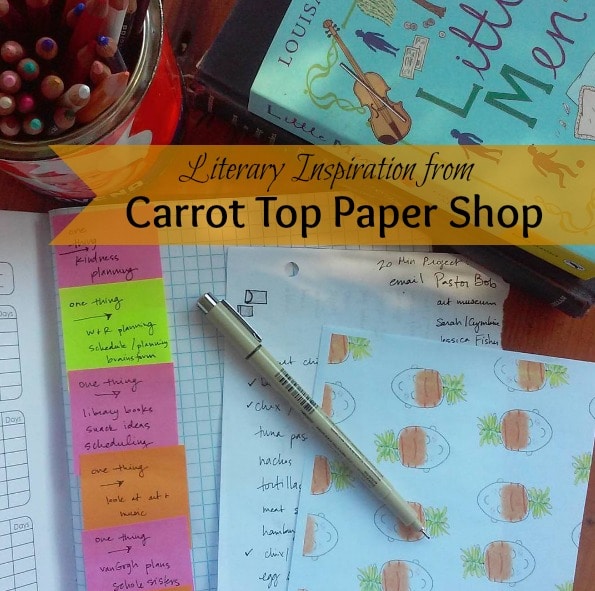 Carrot Top Paper Shop has created a wonderful line of gifts celebrating literary heroines from Jane Austen to Lucy Pevensie.  The hand-drawn prints are whimsical and evocative.  Each girl meets your gaze with an open, friendly expression.
Role Models for Our Daughters
The first thing I ordered were printable coloring sheets.  I love the combination of a good quote and an image.  The line drawings are simple and lovely.  Then I got a set of literary heroine bookmarks.  You get the chance to choose just the right set of five heroines.  These are perfect to slip inside a favorite book you are giving as a gift or even as a stocking stuffer!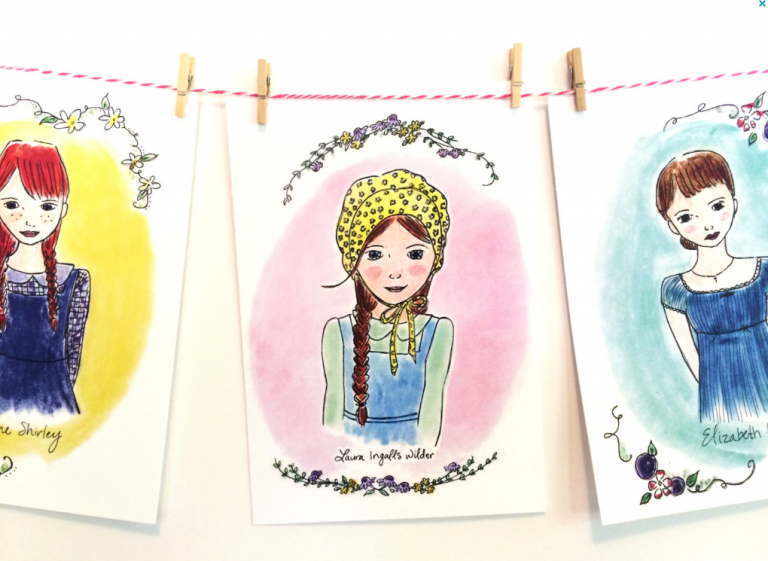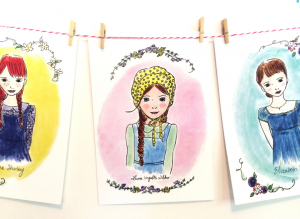 These same images are also offered as prints or as a banner collection of five prints.  The banner comes bundled with colorful twine and mini clothes pins to hang the prints on the wall.  In fact, everything that comes from Carrot Top Paper Shop is artfully wrapped and presented–perfect for sending straight to a good friend and not having to worry about wrapping a gift!
The banner would be a wonderful addition to a girl's room.  It would even be perfect as a baby shower gift–surrounding the little one with good stories and giving tired mamas something lovely to meditate on.  If you sign up for Jenny's Kindred Spirit Club, you can get a print for free with your first purchase of $15!
Christmas Celebrations
New for Christmas is another banner set featuring hand-lettered holiday quotes.  Instead of striped twine, the holiday set comes with glittering red garland to hang the print from.  These would look lovely on the wall next to the Christmas tree or in a festive dining room.
Carrot Top Paper Shop products seem made for homeschoolers.  Who else would love these characters as much?  That might be because the creator, Jenny Williams, was homeschooled herself!  Seeing homeschooled adults leading creative lives as entrepreneurs is just one more layer of inspirations for our daughters.
Finding Connection
Carrot Top Paper Shop products are the perfect way to connect with your teen daughter, a faraway friend, or  your own inner heroine!  Jenny Williams shows us that kindred spirits really aren't that rare!
Save
Save
Save