I have to admit that in our early years of homeschooling I was very enthusiastic about buying educational gifts for every occasion. Therefore, we have tons, and yes I means tons of educational games in our house. Some have been and a big hit, and others not so much. One that was a favorite of all three of my children is The Allowance Game.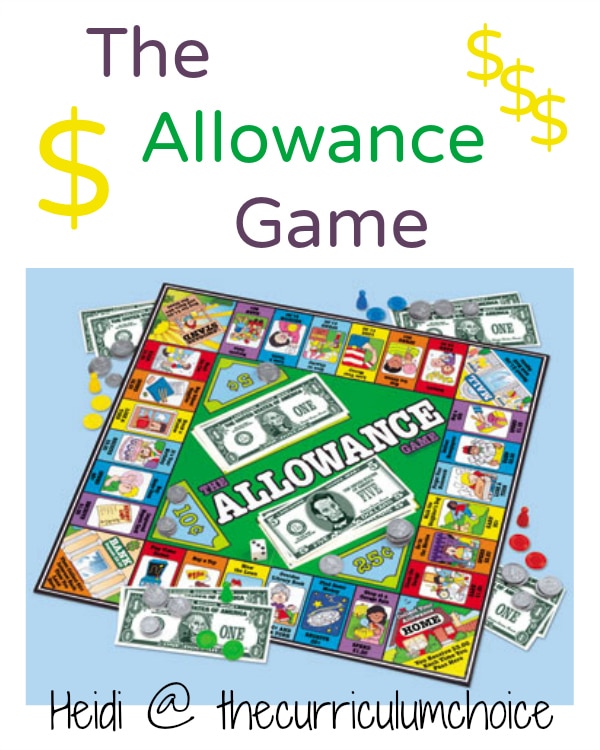 The Allowance Game from Lakeshore Learning reminds me of Monopoly, only much simpler and in kid friendly terms.
Features of The Allowance Game:
For ages 5 and Up (My kids played younger and we would help them count as needed.)
A bright and colorful board.
Play money! (What kid doesn't love play money?)
Simple directions
Content that is kid friendly and relatable to kids
Fast paced (not as time consuming as Monopoly can be.)
While this game is like Monopoly, there are two major differences that stand out in my mind.
The first difference is that there are no large bills (the largest bill is $5), no buildings, mortgages, etc. Instead you have change (1, 5, 10, and 25 cents) and small bills ($1 and $5). This makes this game a great learning tool for kids. Not only will they learn to recognize the different forms of money, but they will learn to count it, and make change. Throughout the game they have chances to add and subtract using the money.
The second difference is that the squares (or tasks that are landed on) are all kid friendly. They spend money on things like going to the movies, playing video games, buying a toy and more. To earn money they get their allowance as the come around the board each time, as well as earn money for things like, babysitting, birthday money, and losing a tooth.
I truly believe that this is one of the reasons my teen is so great at counting money and making change. We have often received comments about how quickly and efficiently she can add totals and make change.
This is a game that even after my kids were well beyond counting simple money, they have asked to play again and again. In fact, as I got it out to write this review my 13-year-old was asking me who I was playing with!
Homeschooling for 10 years now, Heidi has children at each stage (elementary, middle and high school). At Starts At Eight you can find her writing and offering resources for middle school, high school, and many unit studies to span the ages.