My boys tend to go through stretches of intense study on one subject. Trains, cars, nature, science, history, technology and more. They immerse themselves in a subject and learn all they can. One subject they continue to revisit is electronics. My boys especially enjoy electronic experiments. Their favorite is the series of electronics experiment kits from Elenco called Snap Circuits®.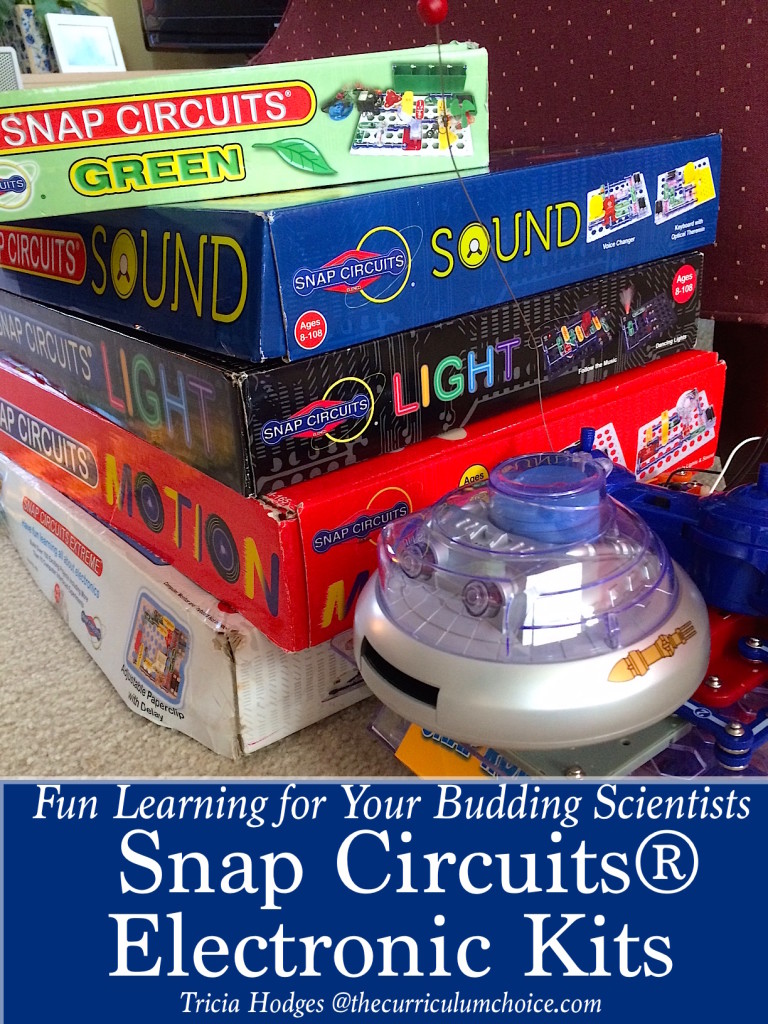 "Mama, we just made something fly with magnetic force! Come here! This is the best day of my life!" ~ 2nd grader, thanks to Snap Circuits®
My husband grew up on 100 in 1 electronic experiment kits. He graduated to…

Snap Circuits® Electronics Experiment Kits
All opinions are our own and our budding scientists love these electronic experiment kits. Please see our disclosure policy. The affiliate links included are for resources we absolutely love. If you purchase an electronics kit through our affiliate link, we will receive a percentage of the sale for no additional cost to you. Thank you for supporting The Curriculum Choice!
So, my husband knew first hand how much our sons would love electronics experiments. Our eldest son grew a love for Snap Circuits® and passed that love onto our youngest son.

Our second grader is spending time learning about electronics daily. I LOVE it! We even had to make a Snap Circuits® table in the homeschool room. Plus there is an area behind the couch. He's texting audio messages and photos to his Daddy during the day to show him the latest creations. These were his big birthday and Christmas presents: Snap Circuits® Sound, Snap Circuits® Light, Snap Circuits® Motion (he bought with birthday money). This adds to the collection that his older brother had from years past – Snap Circuits® Green and the Snap Circuits® Jr. Starter Kit.
Note: The Snap Circuits® kits all use batteries; only safe electrical currents for little experimenters.

Electronics Experiment Kits Bonus Learning Benefits
Our youngest son is later reader. He is steadily coming along in his reading. The Snap Circuits electronics diagrams are helping him learn to read independently.
Building each experiment then prompts further discussion with Daddy at the supper table – sometimes even a lunch time call or FaceTime during the work day.
At the SnapCircuits.com Learning Center, you can upload your kid creations and share them so others can build them too. Snap Circuits provides a Microsoft Word® template to document your child's original designs.

Snap Circuits® Electronics Experiment Kits
These electronic kits make excellent gifts! Our sons have collected these kits for birthday and Christmas gifts plus earning money to purchase them on their own. Here is a little on each of the kits they have enjoyed:
Snap Circuits® Jr. – the starter kit.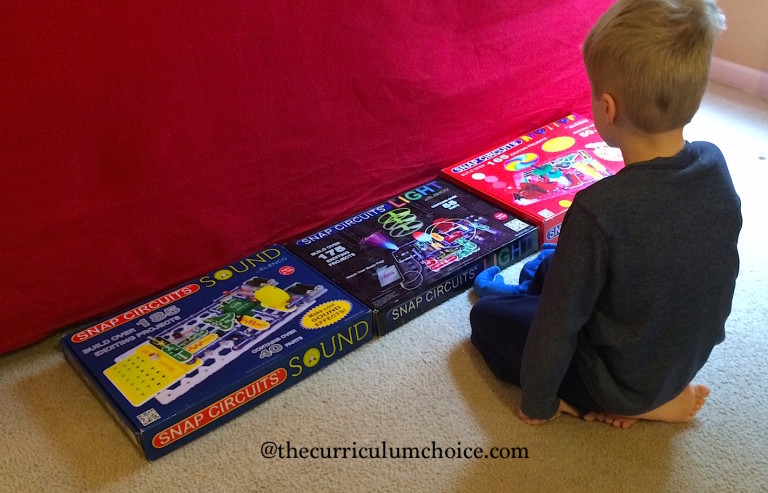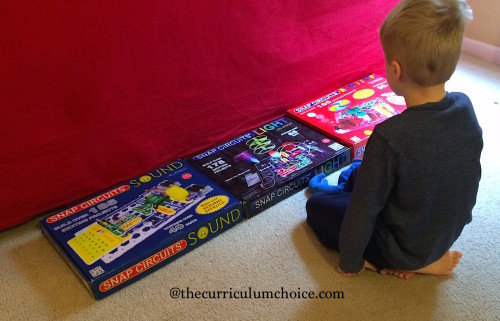 "I just built an adjustable oscillator by accident by experimenting around." ~ 2nd grader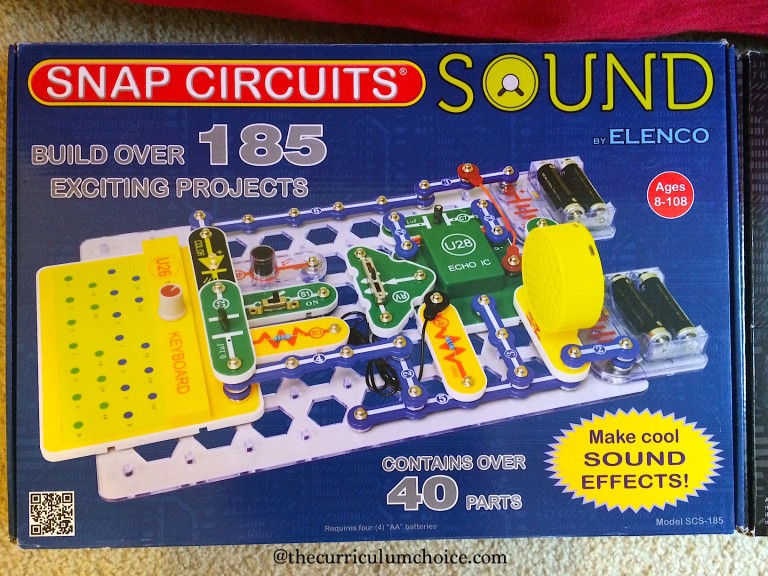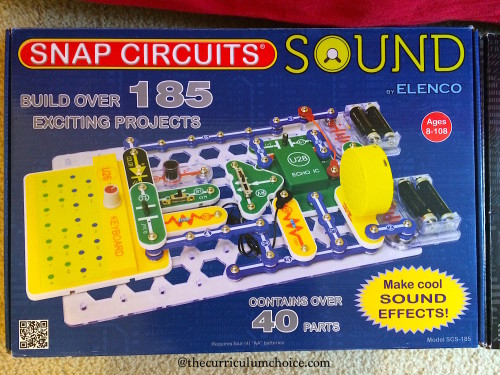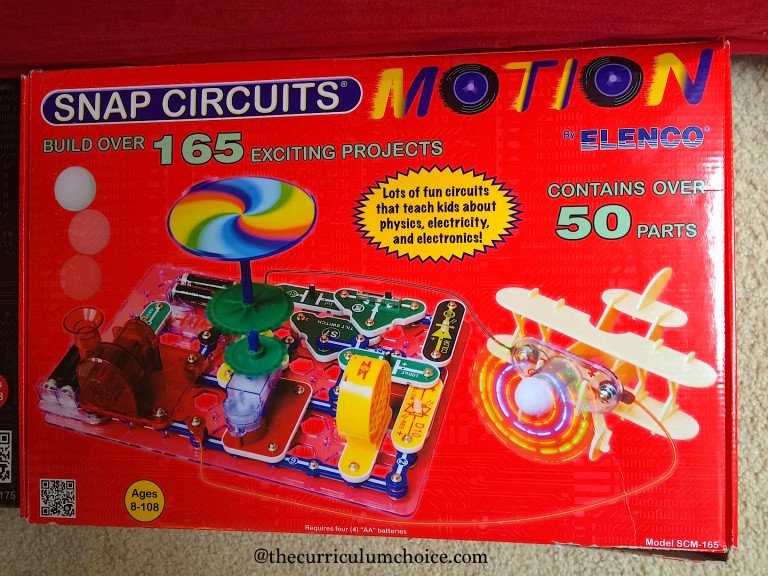 These are next on his list:
Snap Circuits® Arcade, L.E.D. Fun, 3D M.E.G.  and the newest Snapino – Making Coding a Snap – Snap Circuits and Arduino Compatible.

But don't just take my word for it. Heidi reviewed Snap Circuits here not too long ago. She talks about the teacher guides and the add on/upgrades.
Where Can You Find Snap Circuits® Electronics Experiment Kits?
Find Snap Circuits by Elenco http://www.elenco.com/ and via SnapCircuits.net
Are Snap Circuits® a favorite at your house too?