Many homeschool moms are intimidated by the thought of teaching literature. Thankfully there are plenty of resources available to make this subject a little bit easier. One of my favorite programs? Teaching the Classics from Center For Lit.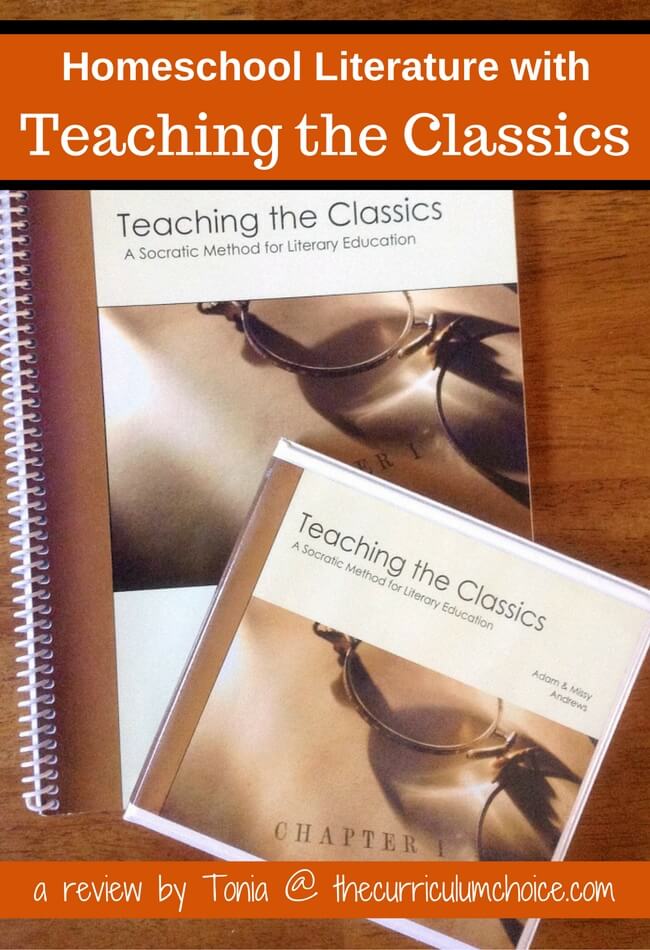 Center For Lit
Center For Lit has a goal to "bring readers face to face with the world's best books so they can know themselves more fully as God's creatures." Their story began in 2003 when Missy Andrews taught moms in her local homeschool co-op how to teach literature. The method she used was the foundation for Teaching the Classics.
Soon after Missy and her husband Andrew founded CenterForLit with their flagship program – Teaching the Classics.
Now you'll find a variety of helpful resources at their website – all with the goal of helping you bring quality literature to your homeschool.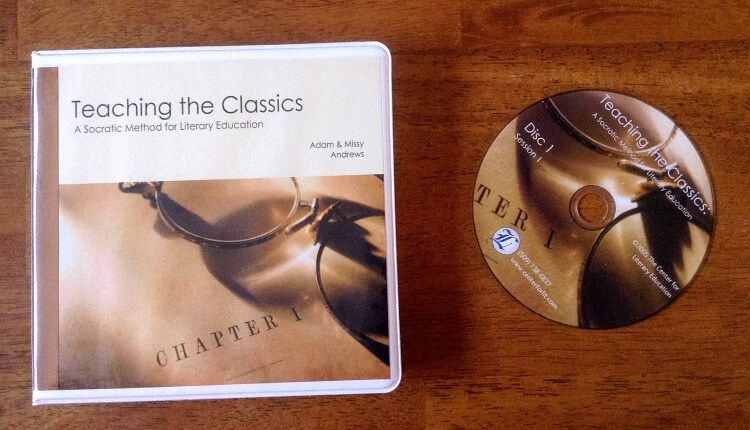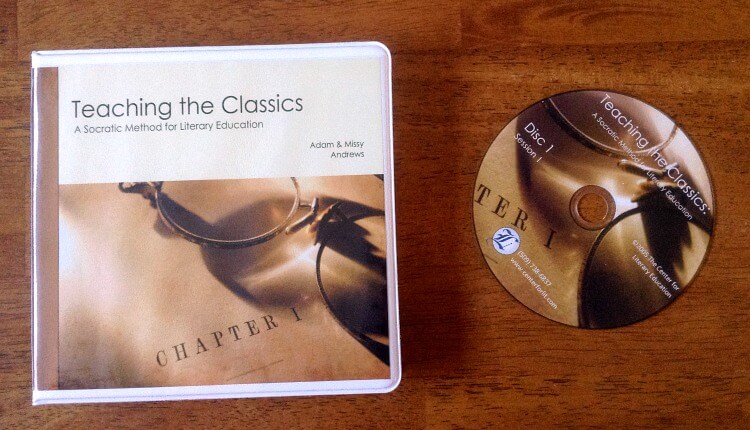 Teaching the Classics
Teaching the Classics is a unique literature program. You won't find comprehension questions and vocabulary worksheets. Instead, you'll learn how to discuss any work of fiction using two basic elements – a story chart and a list of Socratic questions.
Teaching the Classics includes two important pieces – the DVD seminar set and the syllabus notebook. While you can watch the DVD and learn the basic principles, the syllabus is an important part of the program too!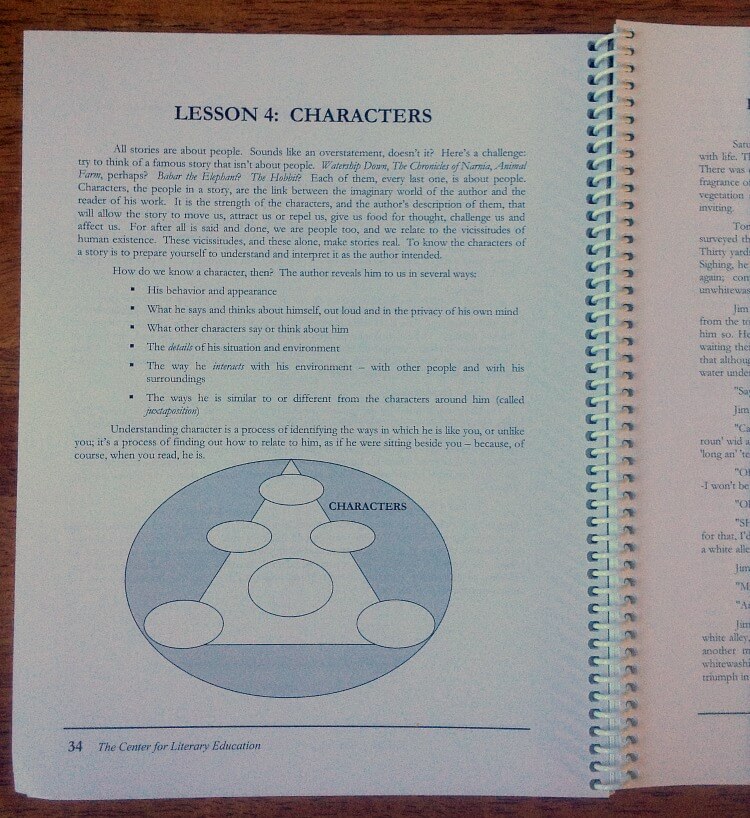 The syllabus (120 pages) includes notes for each seminar, story text for each of the stories used in the seminar, reproducible story charts, reading lists for students, writing assignment ideas, and the 170+ Socratic questions.
The updated DVD set includes 8 one-hour presentations by Adam Andrews (an interesting and entertaining speaker – even my daughter enjoys watching his presentations). You'll learn about conflict, plot, setting, characters, theme, and context. Best of all, you'll be able to view live discussions, applying the principles Adam teaches during his presentations.
During each presentation, Adam Andrews thoroughly explains a concept then he takes the time to demonstrate the new concept with a live discussion. From a variety of readings (Mark Twain, Beatrix Potter, Leo Tolstoy, and more) you'll be a part of the action as he reads a selection and then leads a guided discussion using selected Socratic questions from the syllabus. It's almost as good as attending a seminar in person.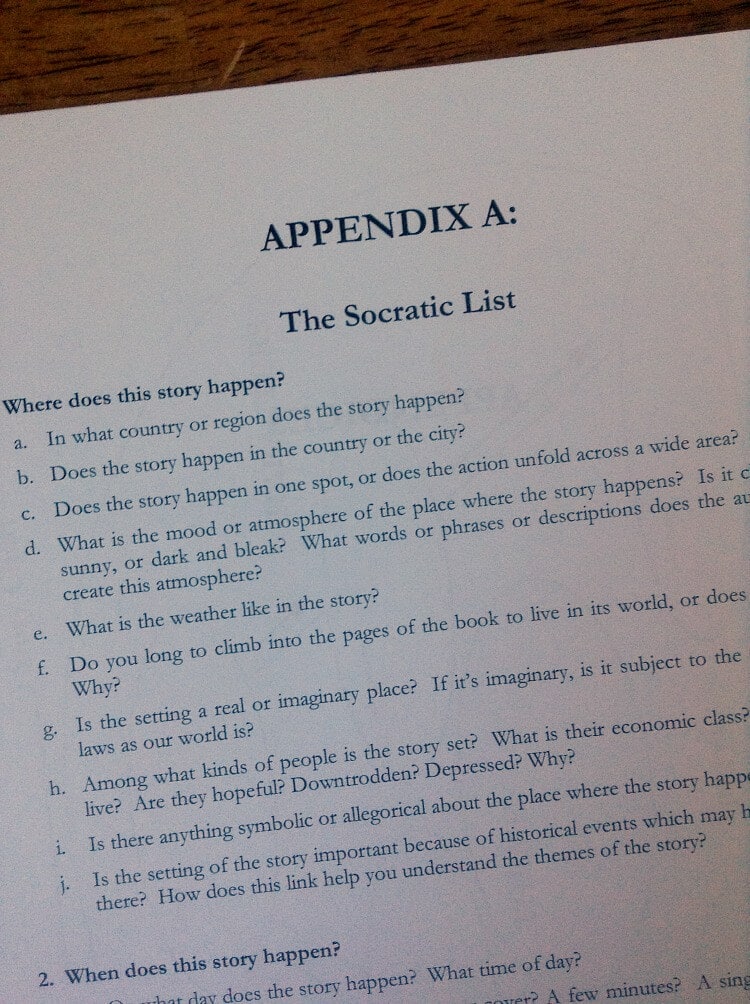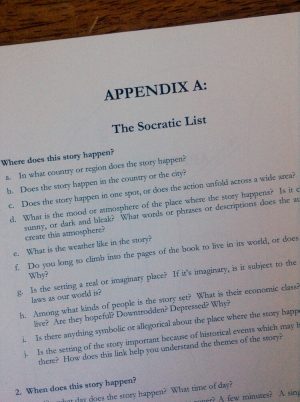 How we use Teaching the Classics
We've used Teaching the Classics in a few different ways.
When my daughter was young, I watched the seminar myself, taking notes and making plans for the upcoming school year. Just a note – it's a great seminar to rewatch every year or so (I like to use it as part of my summer teacher training). I would select books to read aloud and make a book list for her to read from.
Then, throughout the school year we would read, make the occasional story chart for books we especially enjoyed, and I used the Socratic questions to guide our discussions about the books we read. I'd include an occasional writing assignment – from summaries and narrations about the stories to short literary essays, using the Socratic questions as the foundation. Believe me, it's so much more interesting than the average book report!
Now that my daughter is entering high school I decided to have her watch the seminar as well. Each week we'd watch a new section of the seminar, discuss what we were learning and apply each lesson to a few short stories. It took about six weeks for our 'Introduction to Literature'. The rest of the year was spent reading books and applying what we've learned, doing many of the same activities as the early years – story charts, summaries, and longer literary essays.
Teaching the Classics is a wonderful program for the homeschool mom who wants to learn more about teaching literature. You won't need to purchase a yearly reading curriculum. You'll learn to apply the principles to any book you read with your kids. Best of all, the Socratic questions will give you a firm foundation for some lively literature discussions.
Interested in more literature resources for your homeschool? Take a look at the recent reviews from more Curriculum Choice authors in the literature archives.
~ written by Tonia L. from Happy Homeschool Nest