After two decades of homeschooling, I sometimes look back and see things I wish I had done differently.  If I could do it over, I would get more of Susan K. Marlow's exciting and wholesome books for my family to enjoy.  The Circle C Ranch books are written in several series from beginning readers to teens and, unlike many series, they remain interesting. In fact, I cannot put them down, nor can my daughter.   What's more, they promote reliance on God and a Christian worldview without any preachiness.  Susan Marlow has also included a variety of educational helps, many of them free.
Andrea Carter, spunky, impulsive, well-meaning, and full of adventure, lives on Circle C Ranch with her large, close-knit family and her beloved horses. Out in California in the late 1800's many things were different, but people have not changed all that much and Andi's escapades and adventures still make for exciting reading for kids of all ages.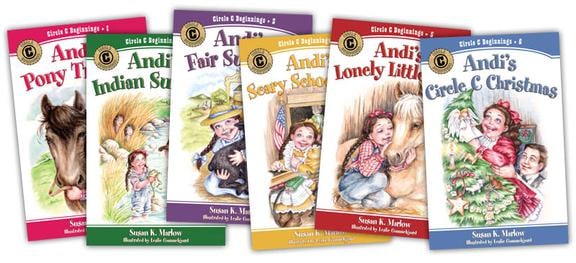 The Circle C Beginnings series for readers ages 6-9, is about Andi and her horse Taffy, as well as all sorts of other excitement.  Lapbooks, paper dolls, and free activities and cute coloring pages are available on the website.  My kids would have loved these when they were young.
The Circle C Stepping Stones series for boys and girls from 7-10 is so new that only two of the books are currently out.  Four more are expected by summer 2018.  Lapbooks, free activity pages, and quality coloring pages are available on the website.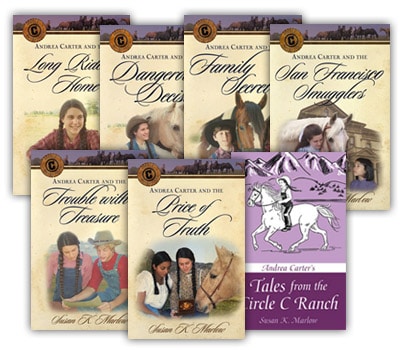 The Circle C Adventures series for ages 9-13 sees an older Andi with her beloved horse Taffy.  These seven books are so full of exciting adventures that your kids will find them hard to put down.  Each story also involves wholesome life lessons that Susan Marlow weaves into the stories themselves, carefully avoiding preachiness.  This website features a photo gallery of the homeschooled cover girl and some of the other models, an illustrated list of character sketches, and Andi's blog!  It also includes lapbooks and free study guides.  (I have reviewed only one of these, Tales from the Circle C Ranch.)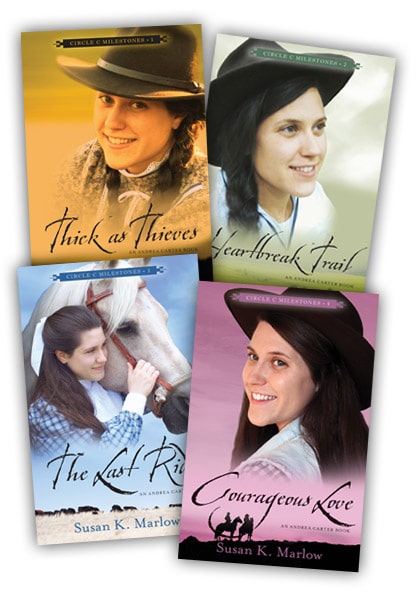 The final series, Circle C Milestones, is for ages 11 or 12 and up.  The stories are as exciting as ever but are a bit more oriented towards girls.  They are a hit in our home and Miss 14 is sad that there will be no more of them. So am I because they have been good for her (and the rest of us).  I value them for their excitement, historical information, and biblical point of view.  As usual, lapbooks and free study guides are available.  Once again, there is an illustrated list of character sketches and a link to Andi's blog.  (I have reviewed three of the four books, Heartbreak Trail, The Last Ride, and Courageous Love.)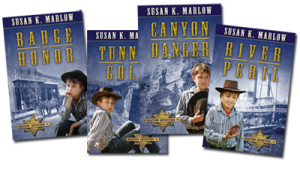 Susan Marlow has also written the four book Goldtown Adventure series about Jem Coulter and his sister Ellie in 1864. This series is geared more towards boys ages 8-12.  I have never seen it, but from the descriptions I am sure my son would have loved it when he was young and his sisters would have enjoyed it too.
Disclosure:  I have received some of these books from Kregel in order to review them; others entered our home as gifts.  I am not compensated for recommending these series.
Save