As a mother of two adults, I know just how hard a task we face in raising our children for Christ. It's a mission at the very crux of my homeschool heart; a sublime task we face as parents who really want to pass along our faith to our children. Wouldn't it be great if there were a program or curriculum we could follow as we instruct our children to be in the world but not of the world? The What We Believe Biblical Worldview Series  from Apologia is such a program. It addresses hard questions like…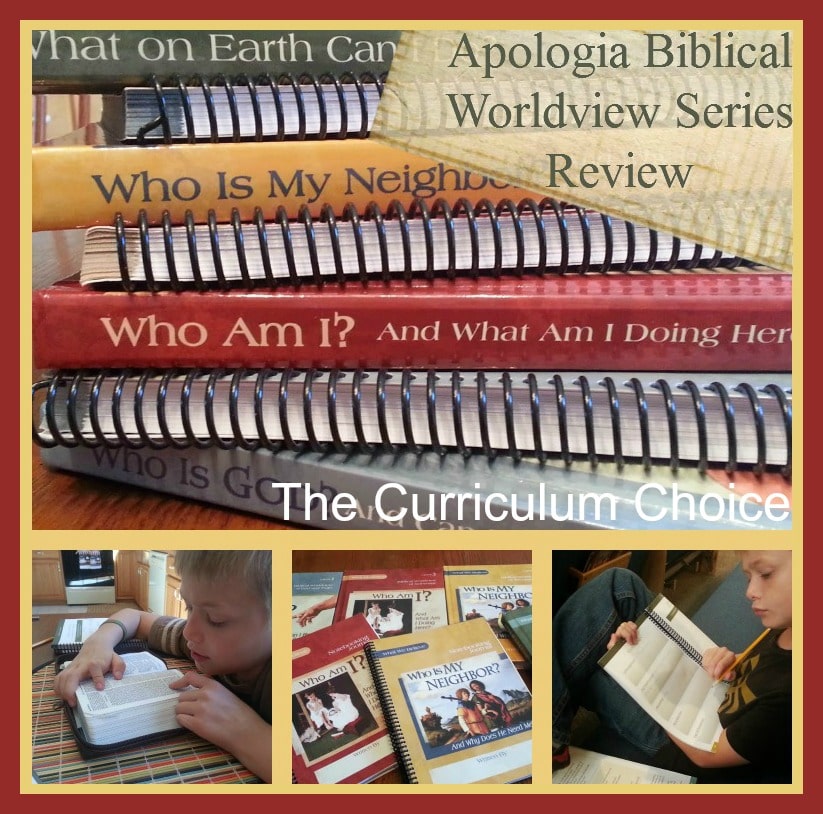 Who is God? Does He exist? Who Am I? Why am I here? What happens once I die? Is there such a thing as truth? Right and Wrong? Who is My Neighbor? What is my responsibility to others and the world? What on Earth Can I Do to help?
What is a Worldview?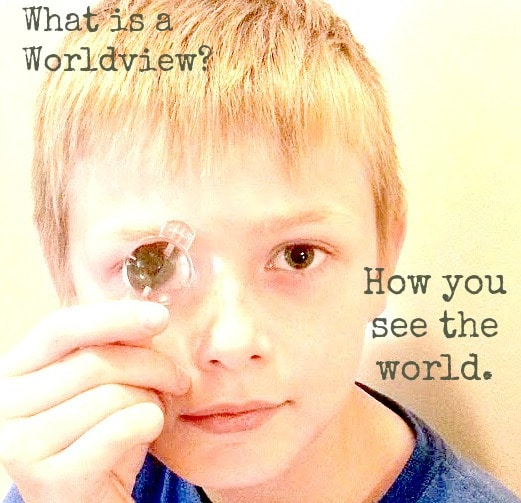 What exactly is a worldview anyway? Simply put, it's how you see the world around you. Everyone has one. Having a biblical worldview gives our children a perspective centered around God's truth and one that is based upon that truth as presented in the Bible. Therefore, having a Biblical/ Christ-centered worldview gives our children the right framework from which to view the world and what happens in it.
I don't believe that there has ever been a more confusing time to grow up than today. Our children need to know how being a Christian looks in our world and why. They need to know WHAT they believe but also HOW to apply it in a very complicated and secular world.
An Overview of What on Earth Can I Do?
What on Earth Can I Do? is the last book in the series and is focused primarily on stewardship. It begins by setting the stage with an explanation of where we fit into God's master plan for the world.  One of the biggest problems I have observed about young people today is a misconception that the world revolves around them. Through the story of Colin, a young British boy and his family's experience during WWII,  the text sets the stage with an understanding of our place and purpose as part of God's plan, even through times of difficulty.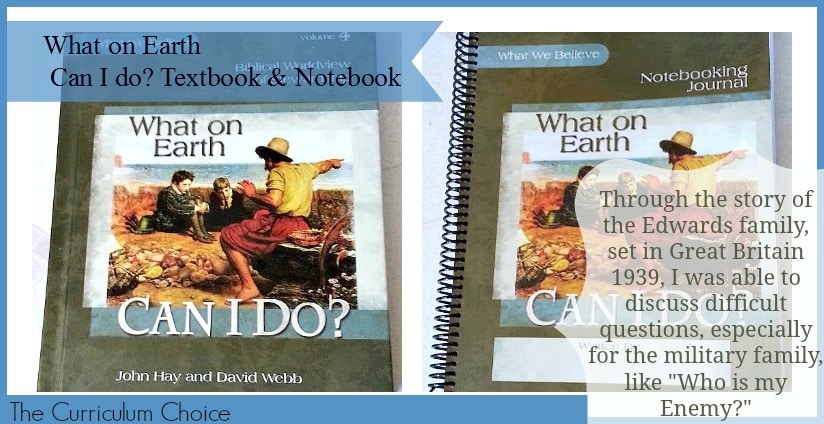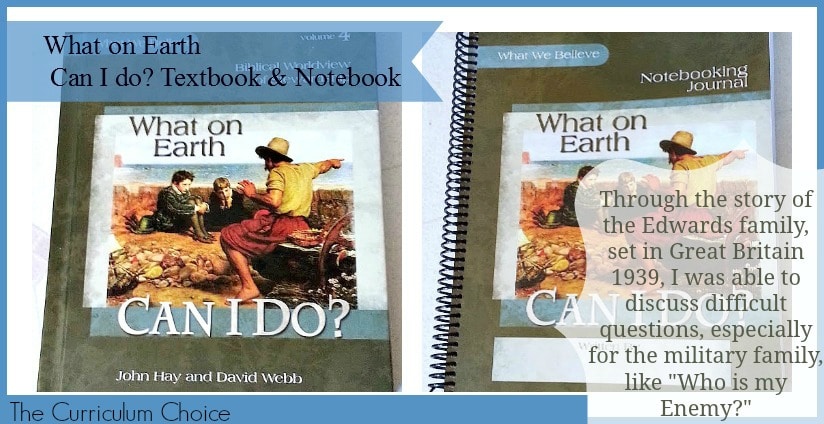 The parables presented in the first two lessons are the Prodigal Son and the Parable of the Talents. Important concepts presented for these first two lessons are surrendering our life to God as owner of it and recognizing that everything we have belongs to Him. The text doesn't just state these facts; it explains them through experience and parable, reinforcing and supporting each and every point with scripture.
All Scripture is inspired by God and profitable for teaching, for reproof, for correction, for training in righteousness; so that the man of God may be adequate, equipped for every good work. 2 Timothy 3:16-17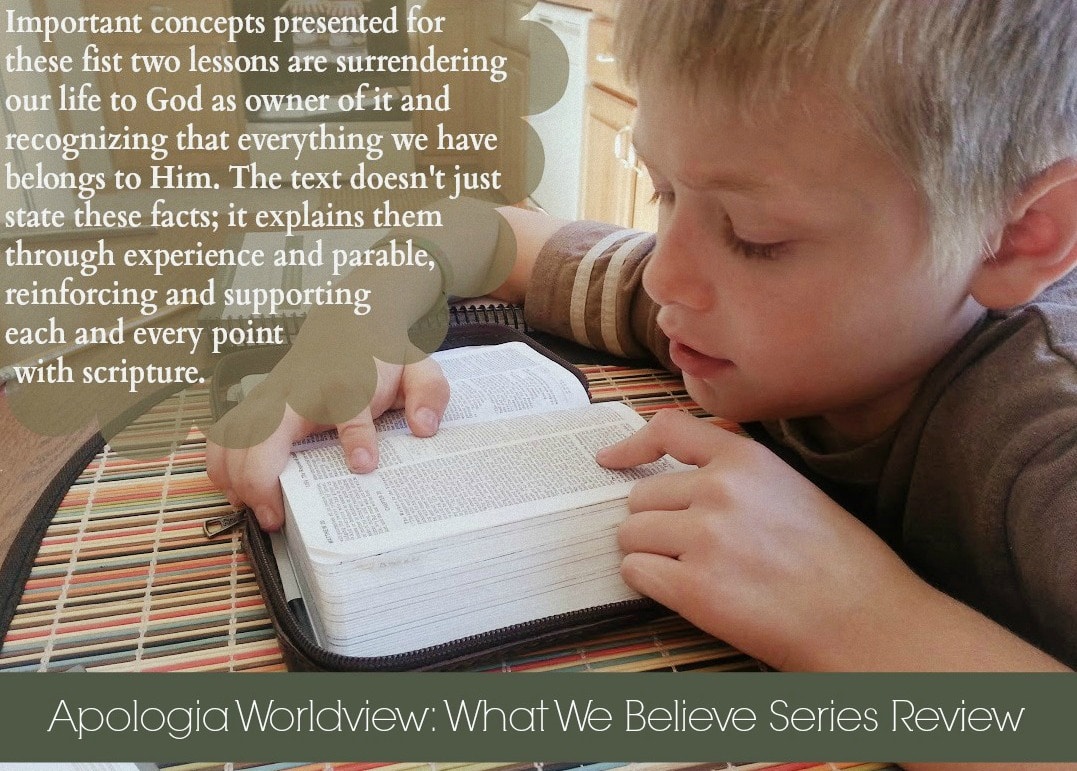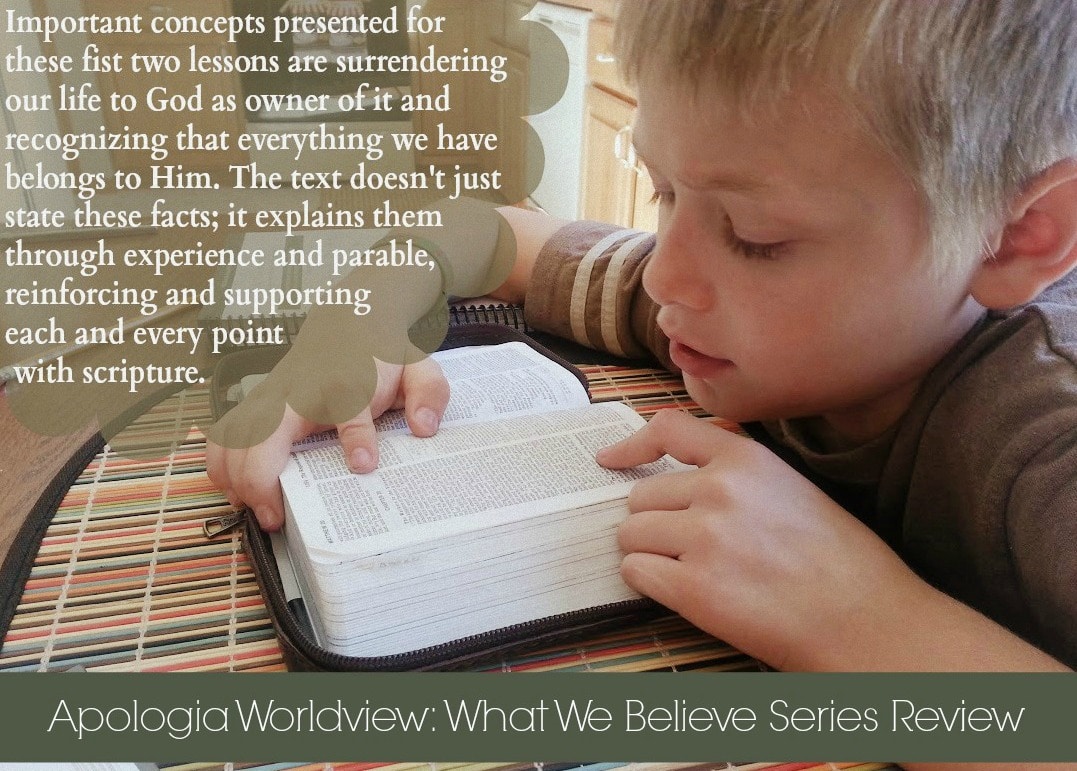 Lesson three poses the question: Will You Be Found Faithful? It continues with Colin's story and uses the story of Joseph in Egypt to demonstrate examples of faithfulness. The parable presented in this chapter, The Generous Employer, goes even farther expressing God's view of faithfulness and His abundant generosity.
Lessons four and five ask your child the questions: Where Is Your Treasure? and Where Does Your Time Go? These are difficult questions for all of us. I have to admit that the book is challenging enough in concept even for adults, but that doesn't mean it's too difficult for our kids. We must counter the world's influence early on! Within these two chapters the book transitions from discussing why we must be good stewards to how we can be good stewards. The book also moves from telling Collin's WWII story to telling the story of Amina and Jaja, children on the Serengeti.
Lesson six, Who's life is it Anyway? begins to address that we belong to God and therefore must be good stewards of both our physical bodies and our purpose. This chapter or lesson, addresses our responsibility to care for ourselves and others as well as gets the kids thinking about how they can use their talents to do the Lord's work.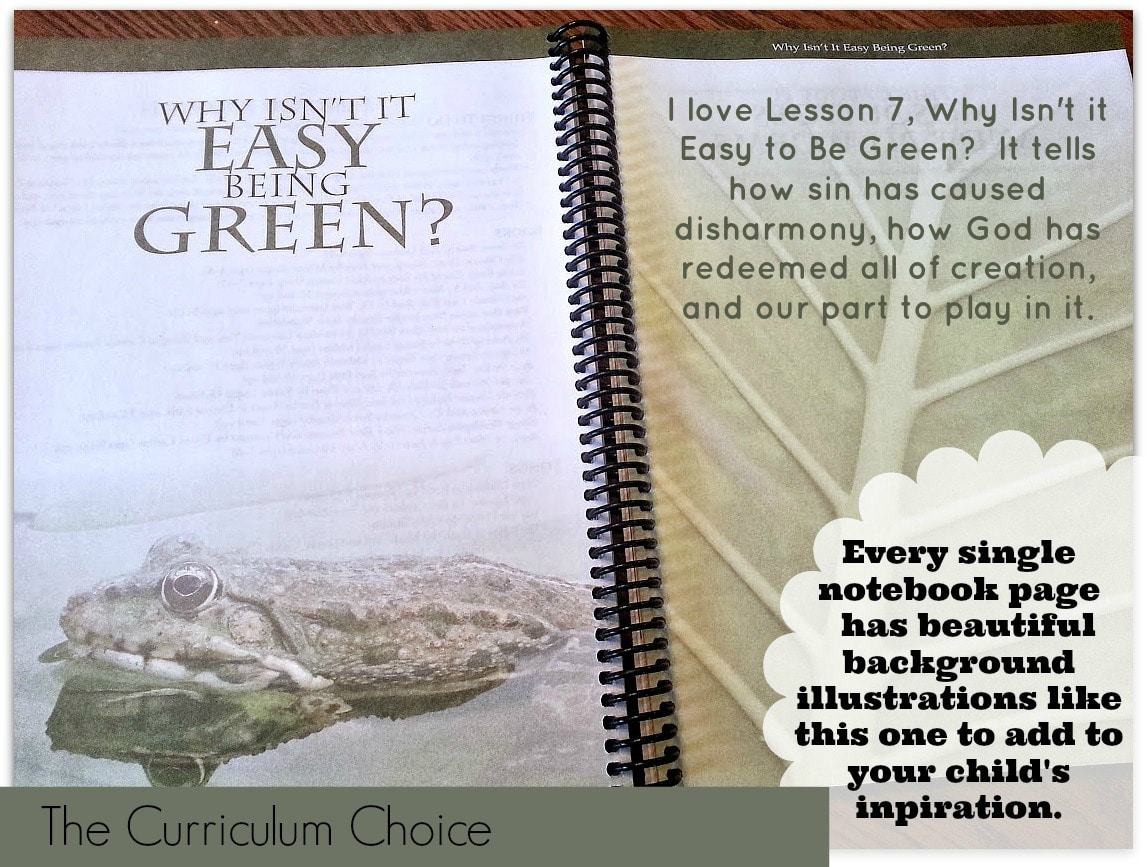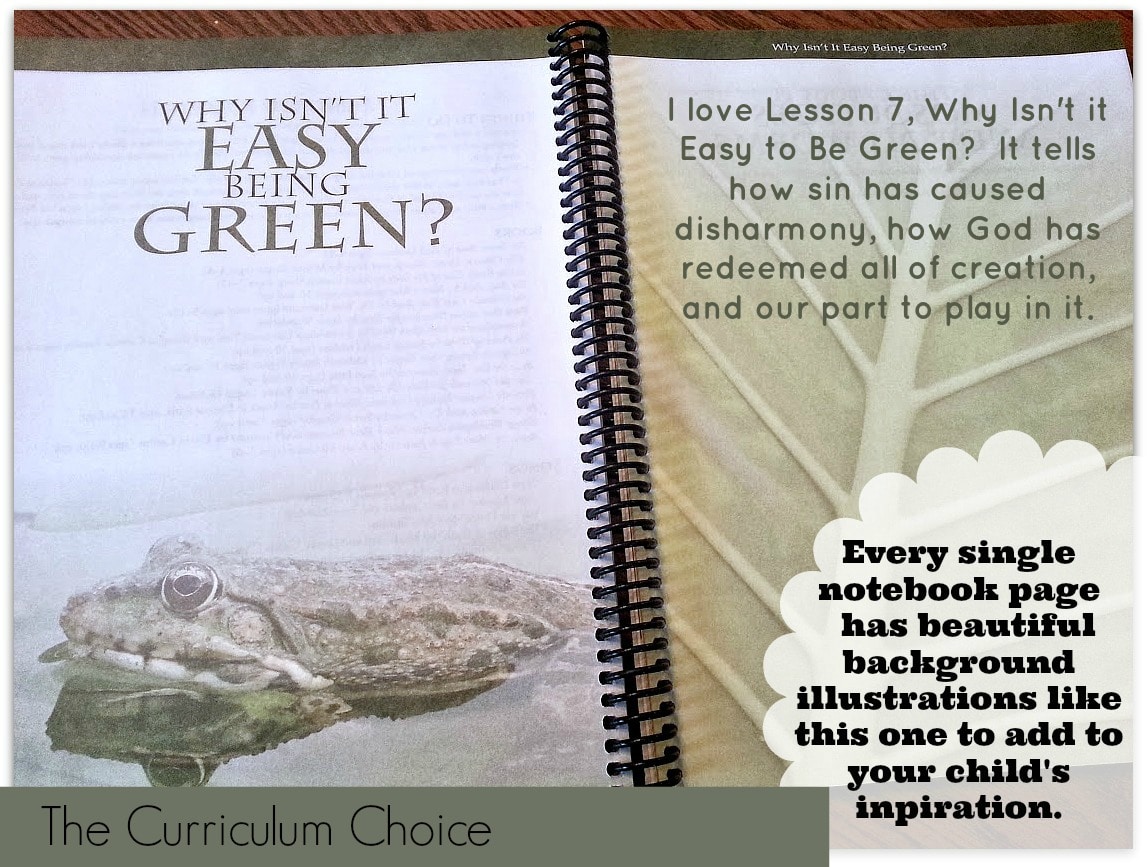 No stewardship text would ever be complete without addressing our relationship to creation. I love Lesson 7, Why Isn't it Easy to Be Green? It covers so many important concepts, not just recycling. Of course it's mentioned; but not what the heart of this chapter relates. This chapter is about our place as children of God in his creation. It tells how sin has caused disharmony, how God has redeemed all of creation, and our part to play in it.
The text ends with eyes fixed on The Kingdom of God and hearts prepared for eternity. What a wonderful way to end a series don't you think! How important it is indeed not just for our children to know what beauty awaits them, but for them to recognize the Lord's presence in their lives today.
For eye has not seen nor ear heard nor human mind conceived what God has ready for those who love Him. 1 Corinthians 2:9
About the Artwork:
The artwork and images are wonderful in this series and give the books a classical style while retaining an approachable feel for today that children can still relate to. This is no small accomplishment!
About the notebooking journals:
I cannot say enough wonderful things about the journals. They are well worth the extra purchase. They are colorful, beautifully compatible and complimentary to the text giving the series a mini unit study on every page feeling, which I love! Whether your children are familiar to notebooking or not, the notebooks add so much to the program and take up where the text leaves off allowing your child to chronicle and "make a note of" what things are meaningful for them personally.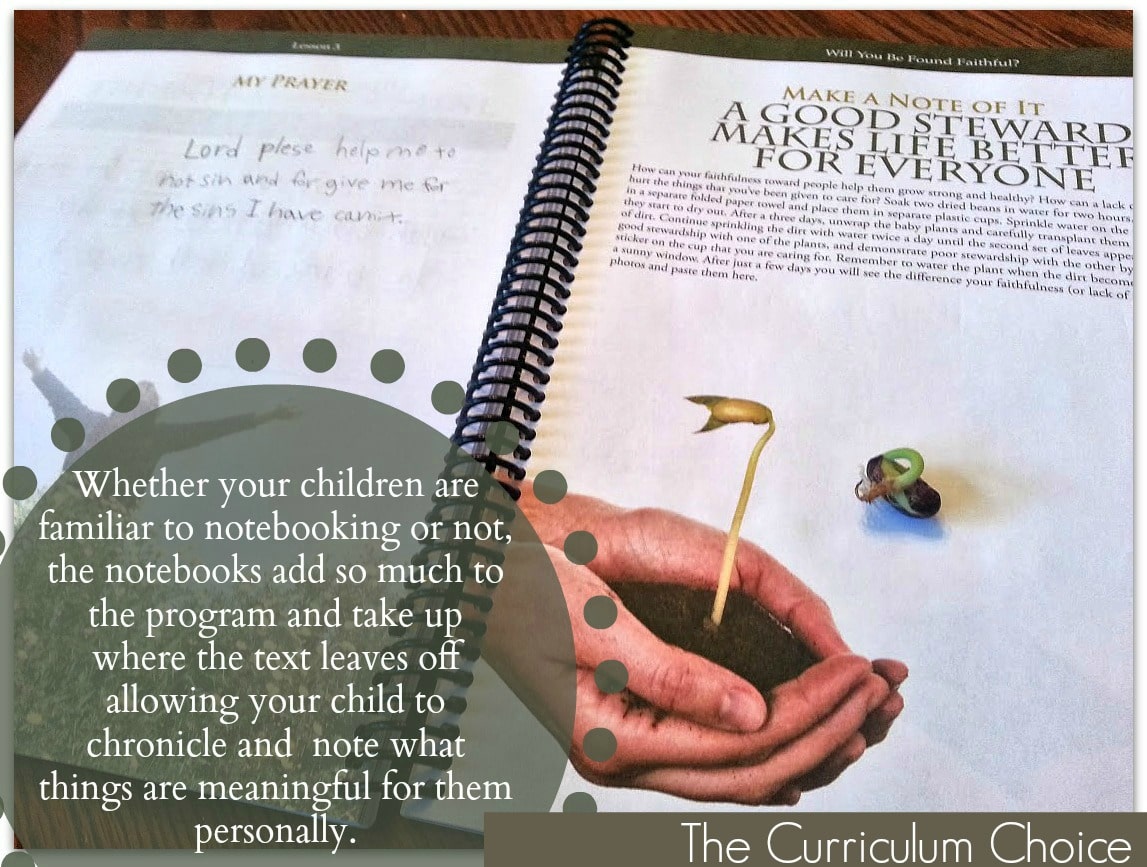 Each notebook shadows the text with a variety of activities such as but not limited to:
comprehension questions
vocabulary words to know
copywork scripture verses
"Make a Note of It" exercises
mini books
crossword puzzles
prayer composition
praise reports
word searches
I spy ( what your child saw or realized in the lesson)
My son does not particularly like to write and I was worried about him liking the journal. But because there is so much variety in it, I am able to choose from multiple exercises, each of them reinforcing a concept.  This allows me to choose what will be most beneficial to him on any given day. The copywork verses are a favorite of ours as well as the mini books.
Included in the beginning of the journals are lessons plans which detail which pages in the journal go with what reading assignments in the text. Each book has a schedule spanning 48 days which you can break down in any way you desire. You can cover comfortably 1-2 books in a school year but I would recommend taking your time and focusing on one book each year. The books are packed with so much good information that it would be well worth taking the time on. There are more than enough activities and information in each book to keep your child engaged for an entire year.
Our pace for What on Earth Can I Do? consists of  about a lesson every week or two, anywhere from 35-50 pages in the text. For this book the reading assignments are a bit longer so for my 5th grader we read them together and discuss the information afterward. But the reading assignments in this text would be equally challenging for the 7th or 8th grader who reads them independently as well.
Although the series makes a perfect progression in order, beginning with Who is God? and ending with What on Earth can I Do?, it is not a problem to do them out of order since each book can stand alone. They are perfect to use  with multiple ages from 6-14 because they are so very easily adaptable to fit different teaching styles, types of learners, and abilities. It's an ideal one program course for your whole family if desired!

Why Apologia Biblical Worldview Series Is a Method for Christian Formation
One thing I really loved about this series as a teacher was that it was completely consistent in method and format throughout the entire series. This made the program, for both myself and my child, something we could become familiar with, knowing what to expect and creating familiarity with expectations and routines. Each book in the What We Believe series contains these sections in each and every chapter as they apply to the lessons being taught:
The Big Idea– At the beginning of each chapter it's new concept is introduced.
What You Will Do– The lesson goals and objective written in a personal format to the child.
Think About It– The questions after each chapter's story reinforce and highlight the new concepts introduced. In the earlier series they are simpler and become more complex with each book.
Words You Need to Know– Vocabulary words used and discussed in the chapter.
Hide It in Your Heart-These are by no means the only bible verses mentioned in each chapter, but they are the two verses particularly pertinent to it.
What Should I do?– Not included in each and every chapter but where notable, this section focuses on character training and how to apply what was just learned.
A Prayer-A prayer specific to each chapter is offered.
Specific to What on Earth Can I Do?:
A Parable of Jesus–  Towards the end of the chapter a Parable of Jesus is retold in a more familiar story setting while explaining Jesus' original parable. Children are asked to read the actual parable and compare them.
Going Deeper– Children are asked to read the actual parable in the bible as told by the Lord and compare them. These discussion questions were wonderful and gave me great points to discuss with my son.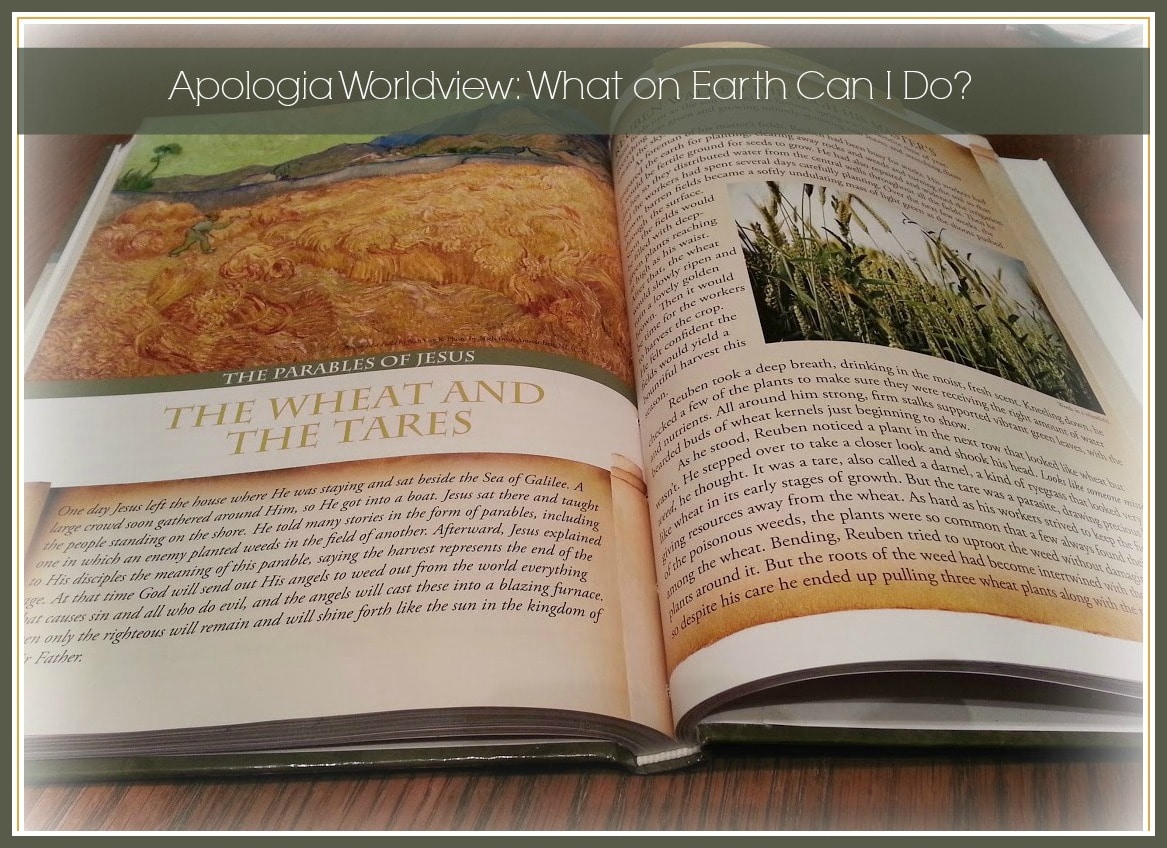 In addition, each and every chapter integrates beautiful images and artwork and the stories behind them, related biographies, famous landmarks, famous quotes and commentary ideas.
What we loved about What on Earth Can I Do?
What I loved:
I loved that the text took an integrated approach. This approach really makes it stand out from numerous other programs as truly exceptional! It also appealed to my creative nature and eclectic homeschool style while retaining order and organization in method. I often get bored with textbooks, but this is not your average textbook. Each and every chapter integrates beautiful images and artwork, related biographies, famous landmarks, famous quotes and commentary ideas. It crosses over into several subject areas such as art, math, science, and history making it a comprehensive approach that your child can further explore based on his inspiration and interest! Some of these elements are related to the stories told and others have to do with the lesson in some way being used to illustrate a point. These are just some examples:
Biographies: Hitler, Charlie Chaplin, Maria von Trapp, Corrie Ten Boom, Winston Churchill, King George VI, Dietrich Bonhoffer, Gladys Aylward, Teddy Roosevelt, and George Washington Carver
Quotes: Hellen Keller, Pablo Picasso, George Washington, Billy Graham, Bernard of Clairvaux, Martin Luther, Rudyard Kipling
Historical articles, landmarks and events: Several WWII events such as  D-Day, St. Paul's Cathedral, Victory Gardens
Art, Artifacts, Music, Sports and Culture: Beethoven's Fifth Symphony, Apocalypse Tapestry, Boyhood of Raleigh (painting), Citizen Kane (movie), Money and Coin Artifacts, Recipes, Water Clocks and Hourglasses, First Century Pottery, Soccer, The Peaceable Kingdom (painting)
Science and Geography: Wildebeest Migration, Goat's Milk & Farming, History of Cotton, Recycling, Little Ice Age
What my son loved:
My heart rejoiced when I realized that much of What on Earth Can I Do focused on the perspective of the military child. Perhaps it wouldn't stand out as such to another family. At a time when my husband had been gone for three months, we began working on this stewardship text.
At first I thought this last book in the series might be too challenging for my 5th grader. But once we delved into reading it together, I realized just what a Spirit guided choice it was. This was something my young WWII buff could really relate to. He loves everything WWII so I believe it was no coincidence that we were to start with the last book in the series.
The stories in the beginning of the text are actually from the perspective of the military child. They complimented my sons interest in WWII while detailing what the Christian perspective looks like in the context of war. He will likely choose a life in the military or perhaps law enforcement.  Through the story of the Edwards family, set in Great Britain 1939, I was able to discuss difficult questions, especially for the military family, like: "Who is my Enemy?" while my son enjoyed learning about his favorite historical time period.
How We Used Apologia Biblical Worldview in Our Catholic Home
I did not need to adapt or alter any part of this series to fit or be compatible for our Catholic home. Rather, it's solid and biblical approach is suitable for all Christians because of it's universality. The series even includes images and art work to include Catholic works such as the Creation of Adam in the Sistine Chapel, statues such as the Sacred Heart image, and crucifixes as well as highlights several saints and Catholic figures. A few examples are Father Damien's work with lepers, Mother Teresa's love for the poor and St. Patrick's use of the shamrock as instruction of the Trinity. I often had the opportunity to discuss certain aspects of a lesson a bit farther adding our Catholic devotions and traditions into the mix.
Without love, deeds, even the most brilliant, count as nothing.~Therese of Lisieux pg. 67  Who Is My Neightbor?
We make this program our first priority of the homeschool day which made it a great way to begin the day. My son also used the journal time as part of our prayer devotion on Fridays before the Blessed Sacrament, a Catholic Devotion. This gave him a focus for his prayer and quiet reflection time.
A Quick Summary of the other Apologia Worldview Books in this Series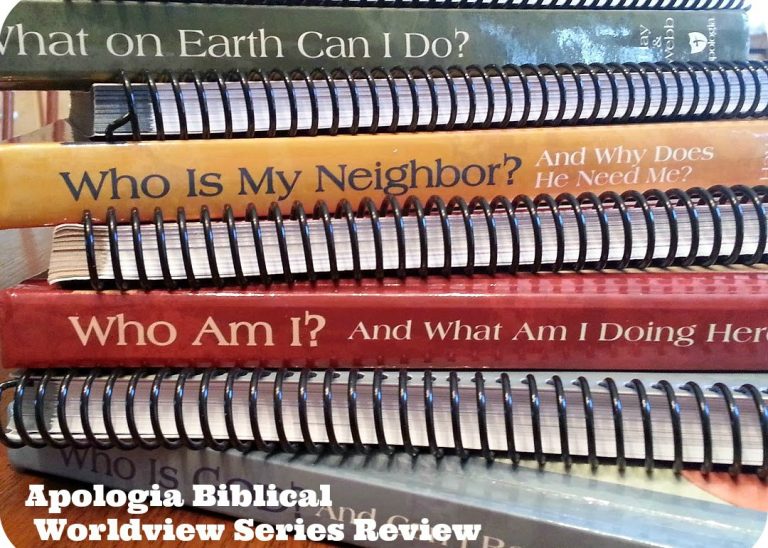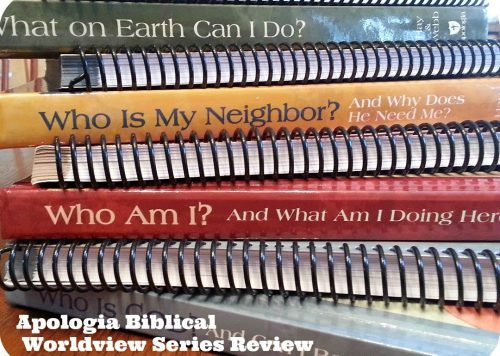 Who is God? Is all about who God is and getting to know him better. Each book in the series has the same integrated approach as What on Earth Can I Do?

Who Am I?  Is all about having a biblical self image. I love the Norman Rockwell painting featured on the front cover of this one. So many children in our world struggle with the way they view themselves. If only they knew how their Father in heaven sees them, then they could begin to view themselves more clearly.

Who is My Neighbor? Is all about our service to others. God has designed us not just to have a relationship with Him but also with one another. If you are looking for service ideas you may want to follow Apologia's Serving Others Pinterest Board.
Where to order Apologia Biblical Worldview Series
You can order Apologia Biblical Worldview Series  at Apologia.com . Each textbook in the series is $39.00 and the notebooking journals are $24.00. There is also a coloring book for younger children available for $8.00 which would be wonderful when using this program in a multiple child/entire family context. Finally you can also purchase the audio CD for $29.00.   I also want to let you know that Apologia offers a 30% discount for all ministry and missionary families and a 40% discount to active duty military families!
Save
Save