With the Olympic Summer Games coming up in August, I am gathering some great resources for a unit study. It has always been fun to start our homeschool year off a different way – learning about the Summer Olympics! We did this four years ago. Have you considered this too? Because we need fun to ease back into a homeschool routine, I chose summer games coloring books!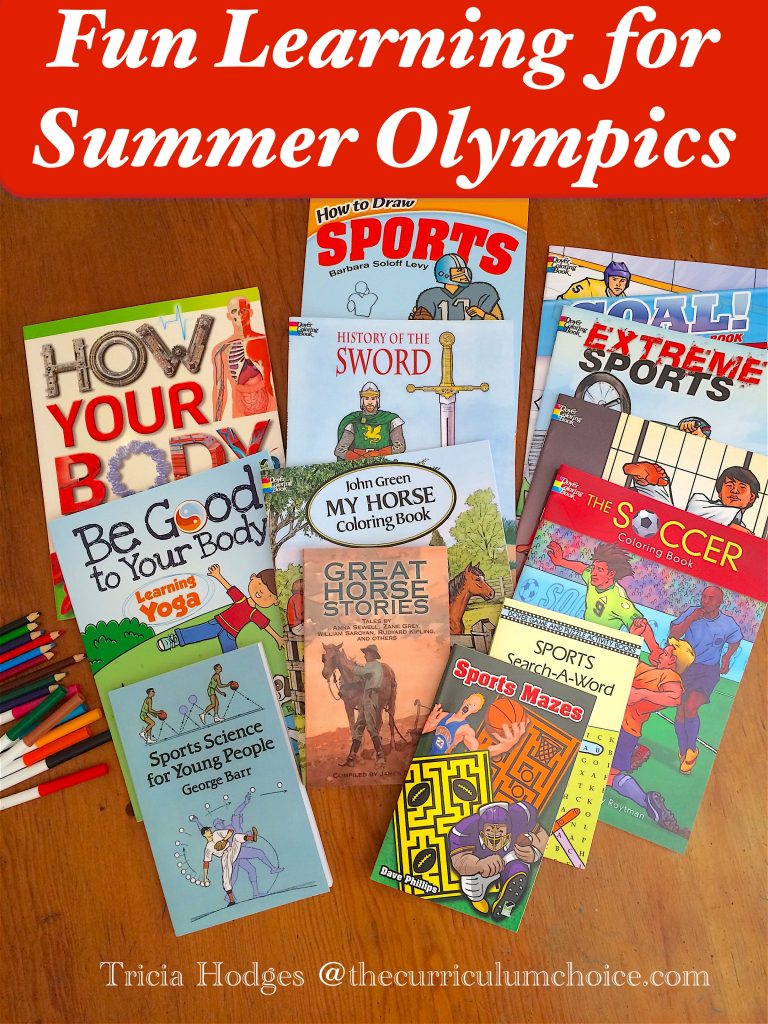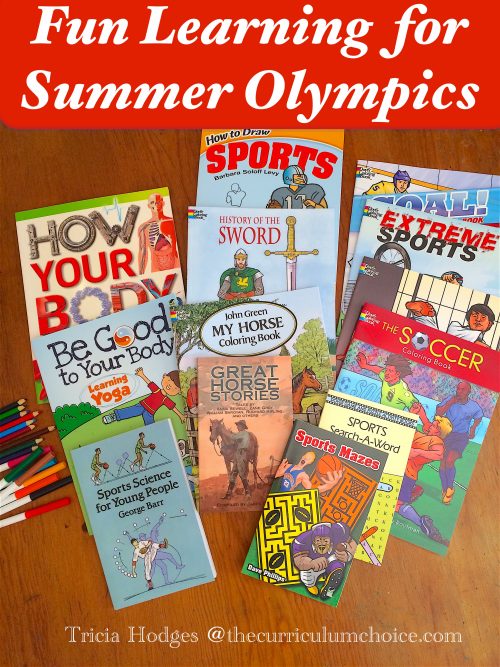 Besides checking out a huge stack of books at the library, this year we are using the wonderfully frugal Dover coloring books with sports and summer games themes. They are simply fun.
~Don't miss the discount code plus the giveaway at the end!! We received this stack of summer games coloring books from Dover Publications in exchange for an honest review. All opinions are our own and we are so excited about the summer stretching ahead and a stack of coloring books for all! Please see our disclosure policy.
Summer Games Coloring Books
If you think of all the events that are held at the Summer Olympics, you will see that Dover Publications has a wonderful collection that would match Olympics learning. Not only can you study the sports of the Olympics but you can plan some learning on the human body plus talk about and consider the dedication it takes to become an Olympian.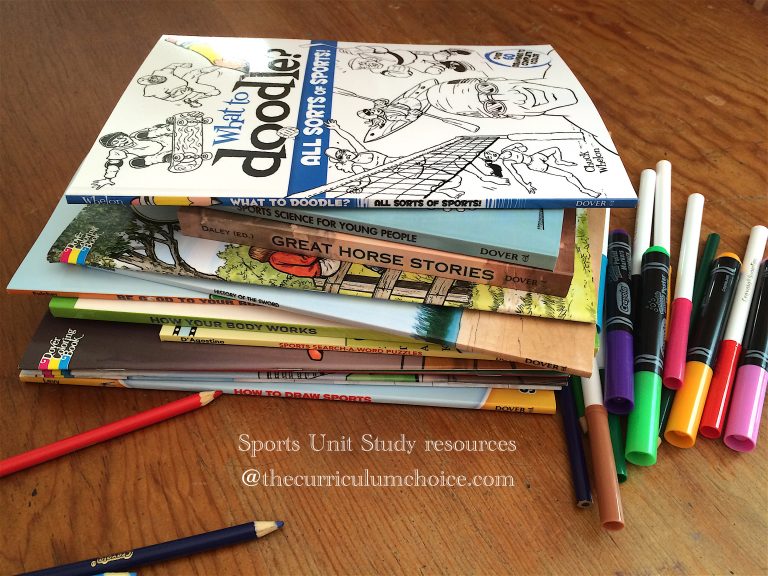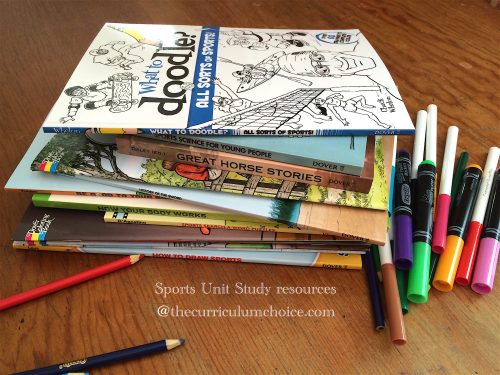 Coloring Books – Supplies Needed?
With these quality coloring books, you can simply use the art supplies you have on hand. You likely have crayons and markers. But you may want some colored pencils or some fine tip markers.
We love the variety of sports topics. We didn't know Dover Publications offered so many!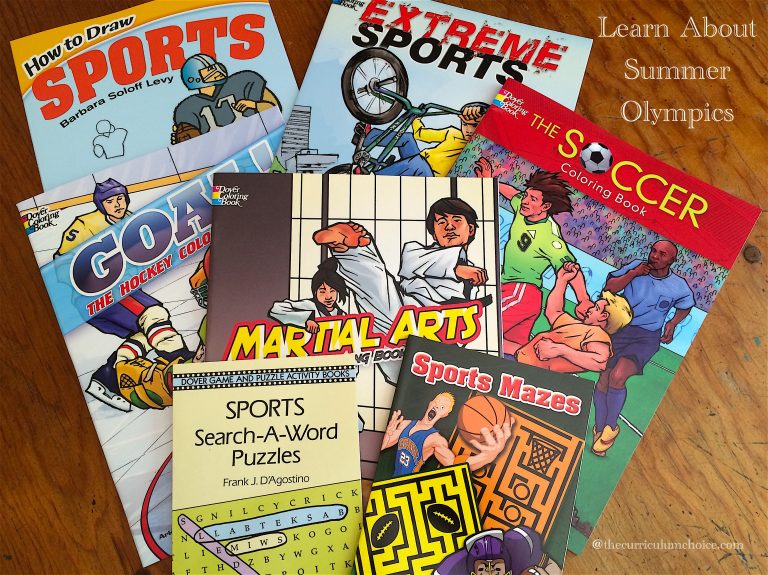 Coloring Books for Summer Olympics – everything from How to Draw Sports, Extreme Sports, Soccer, Martial Arts and Hockey to sports puzzles and mazes!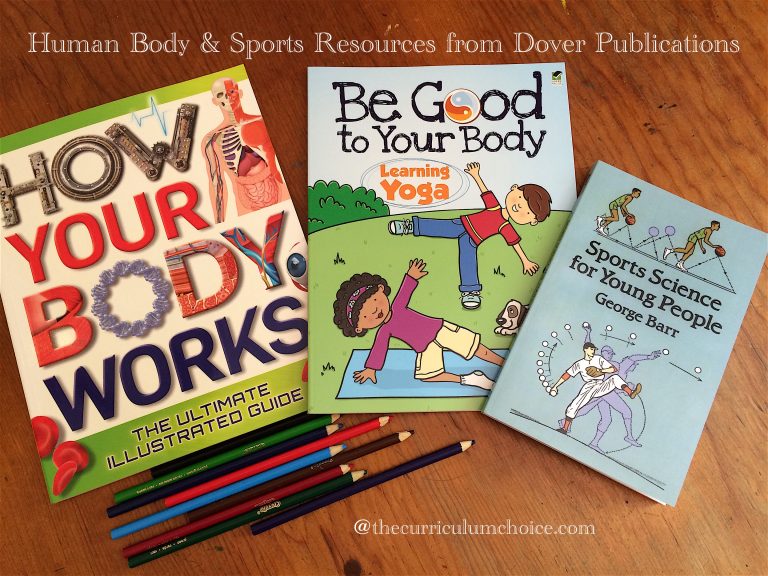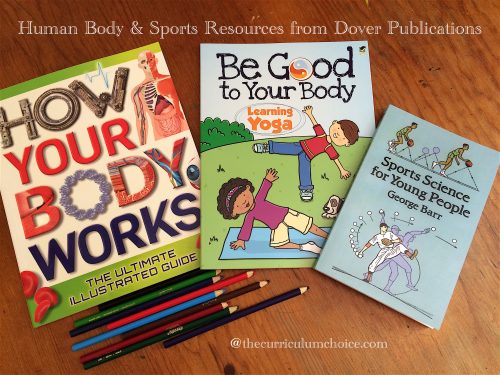 Books for Human Body/Sports Study – this wonderful How Your Body Works Ultimate Illustrated Guide, Be Good to Your Body (Learning Yoga) and Sports Science for Young People.
With How Your Body Works, you can find out everything you ever wanted to know about your body! How do you breathe, eat, move, feel, and grow? Why does your heart beat and how does your brain work? Filled with amazing facts, clear and detailed illustrations, and fun activities. It's the ultimate guide to you and your body.
"Wow! The average human body contains enough carbon to make 900 pencils!" exclaimed nine-year-old while reading How Your Body Works.
How Your Body Works includes:
Building a Body
Fuel for the Body
Ready for Action
Life Support
Taking Control
Defensive Action
Glossary and Index

Designing a helmet logo and I think we have the beach on our minds!
Coloring Books for Your Sports Enthusiasts
Of course these coloring books aren't only for the Olympics. If you have a soccer fan, hockey fan or other sports fan – these books are for any time of the year! These books are great to take with us in the car for around town appointments, or on family vacation – or for an afternoon in the backyard hammock! We have our Olympics Games and sports coloring books stacked and ready to choose from.

For your fencing or horse enthusiasts – the equestrian and fencing events at the Summer Games are always exciting. Or you can get these for your child that loves horses!

Bungee jumping anyone? There's even a coloring book for your extreme sports fan.
How We Use Dover Publications in our Homeschool
These Dover Publications products complement and enhance what we are studying!
Complement existing studies – You all know that children learn in different ways with various learning styles.
Hands on science fun – everybody loves to color!
Beautiful color illustrations labeled for learning in How Your Body Works – full-page color illustrations of the heart, explanations of how the brain works, the digestive system functions, the skeletal system and all the systems of the body.
Frugal Learning with Coloring Books
One, high quality Dover Publications coloring book is just around $3.99 to $4.99. With a price like that, each of our family of seven can have their very own copy. Plus, with the discount code, above, you can save even more! Be sure to browse the Dover Publications store and pick out your favorites for summer games!
Giveaway – $75 for 75 years!
It is Dover Publications 75th anniversary! In celebration, they are giving away a Summer Games Coloring Sampler Pack that includes the following books – total package worth $75!!
What to Doodle Sports
How to Draw Sports
Soccer Coloring Book
Goal! The Hockey Coloring Book
Extreme Sports Coloring Book
Martial Arts Coloring Book
The History of the Sword Coloring Book
Sports Science for Young People
My Horse Coloring Book
Be Good to Your Body–Learning Yoga
How Your Body Works
Great Horse Stories
Sports Mazes
Sports Search a Word
Simply follow the instructions in the rafflecopter widget below…
a Rafflecopter giveaway

How are you learning about and celebrating the summer games? We think you should consider Dover Publications for any time of year to enhance your homeschool learning!