It's been awhile since I posted about favorite learning games, and since the lazy days of summer break mean more time for games, I've been reminded of some favorites.  The 10 Days in … games have been popular with homeschoolers for several years now, and for good reason.  Geography, logic, critical thinking and luck of the draw make these games exciting – and worthwhile educationally!

In our homeschool, geography is one of those subjects that I've never chosen to teach outright.  We cover geography and mapping in many formats during Bible, history, projects … and games!  All of these experiences have helped my children to be very well-versed in American and world geography.  And believe it or not, the games we've played have probably been the biggest factor in their understanding of geography!

10 Days in the USA, Europe, Asia and Africa are all very similar to one another, but obviously promote learning the geography of one area each.  The goal of the games is to be the first person to plan a ten day trip around the country/continent.  Sounds easy enough, huh?  The trick comes in finding states/countries that allow you to travel in the appropriate order.
In 10 Days in the USA, for example, you may place state cards next to one another in your travel planner if they are border states.  OR, you may travel through one state to another if you are able to locate a card with a car on it.  OR, since each state is assigned a color, you may travel from one colored state to another of the same color if you can locate a card with a plane on it.
I'm sure my explanation sounds a bit confusing.  Really, the game is not at all confusing and the directions are not only clear, but provide photo examples, too.  It took us less than five minutes to learn how to play.  Each game takes about 20 minutes from start to finish, so there isn't a huge time obligation.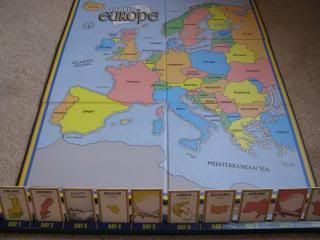 Some other geography game favorites include:
Quick Pix Geography
Borderline Geography – many continents available
Scrambled States of America
Great States
The Global Puzzle (very hard!)
Some of my favorite FREE geography game websites include:
I'm always on the lookout for other fun board/card/computer games for geography.  What are your favorites?
-Cindy is an eclectically Charlotte Mason mom of three.  You can find her blogging at Our Journey Westward and find her NaturExplorers units at Shining Dawn Books.