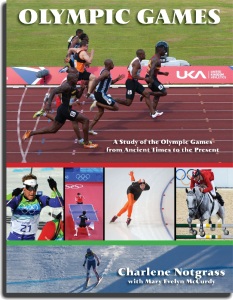 Is your family looking forward to the Olympic Games this summer? My children are already talking about which events they hope to catch on TV. (My secret hope is that the stations show more sports coverage and less chit-chat, but that's just me.) Even if Olympics fever hasn't yet hit your house, now is a great time for Olympic Games: A Study of the Olympic Games from Ancient Times to the Present, by Charlene Notgrass and Mary Evelyn McCurdy.
Available from home education publisher the Notgrass Company, this study provides 40 lessons on Olympic history, sports education, and notable athletes. Each lesson contains some sort of written or artistic response, including creative writing, sports vocabulary, mapwork, and puzzles. The puzzles are particularly intriguing and comprise missing letter, crossword, word search, acrostic, and word scramble varieties.
Moreover, the lessons encompass a wide variety of subjects, such as Bible study, world history, geography, and language arts. I was especially impressed with the scriptural tie-ins. For example, in the section on archery, the directions read: "The Bible often speaks of bows and arrows. One passage is Psalm 127:4. Copy it on these lines. . . . Read about King David, his friend Jonathan, and what they did with arrows in 1 Samuel 20."
The artwork is another highlight. More than mere afterthoughts, the photographs are fascinating and pertinent to the text. Vivid color photographs of events and places of interest, as well as historical black and white photos of people and places, such as Wilma Rudolph crossing the finish line in first place, are integral to the study.
Olympic Games is officially for ages 7-14, and the activities are designed for this age group. But the subject matter, related in a well-written style, is engrossing enough for older students and even adults. I myself enjoyed reading the lessons, especially those covering an Olympic timeline.
This fun and engaging study is available as both an Ebook and a spiral-bound consumable workbook; I reviewed the latter. The high quality and reasonable price makes Olympic Games an excellent value. What's more, it would be a fantastic accompaniment to your 2012 London Games viewing!
Written by Ellen of The Blue Stocking Belle