When we first started homeschooling, spelling was one subject that I thought I could easily handle with a workbook.  We trudged through  many years of Abeka spelling books and then switched to Spelling Workout for a few years with the youngest boys. By the time I reached my third child, spelling lists and tests had begun to try my patience.  It seemed silly for them to be studying words for a whole week that they already knew how to spell. It did not seem like an efficient use of time so I started to look for some new method of working on homeschool spelling. Which brought me to Spelling Power.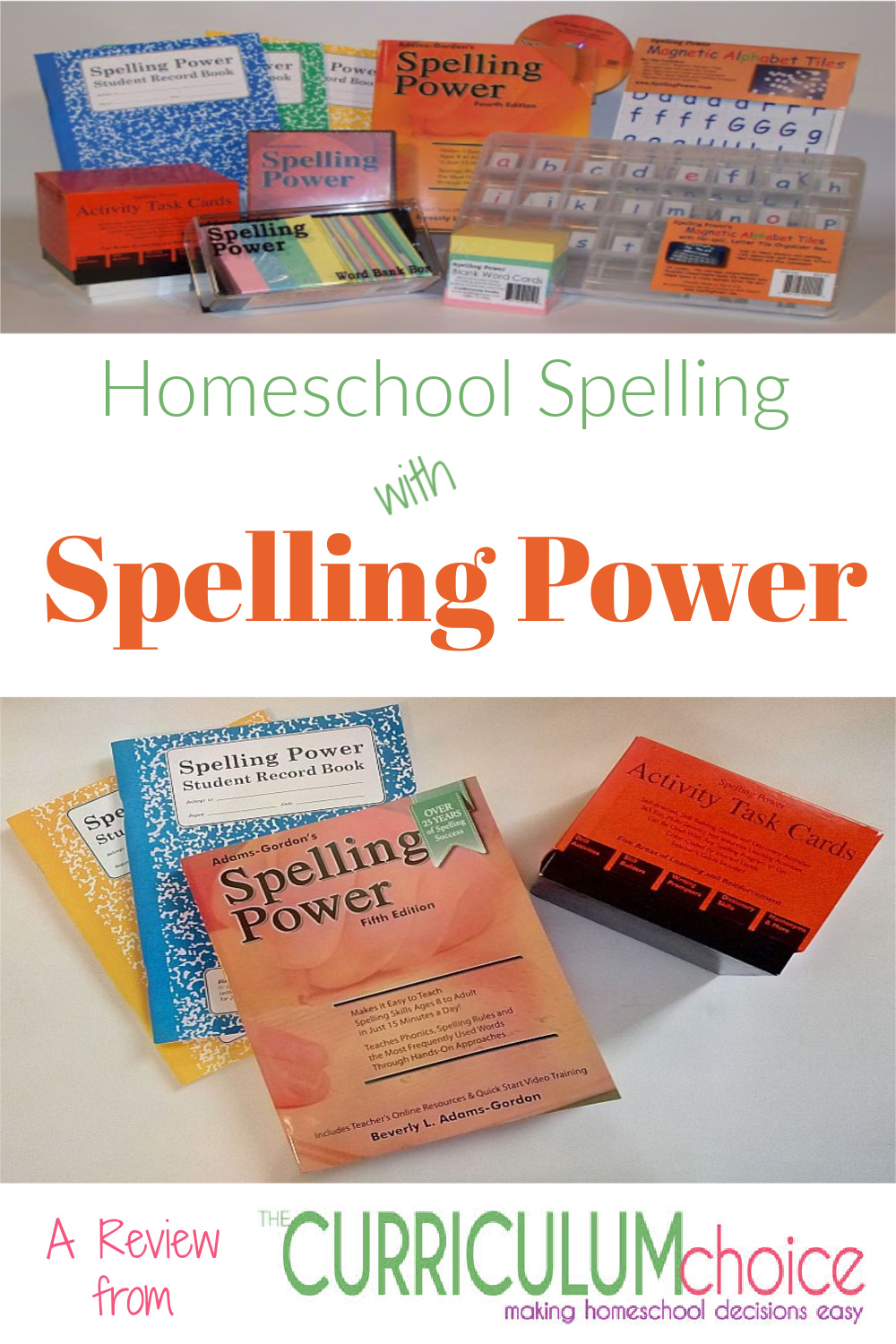 Spelling Power
In my research I discovered Spelling Power and I ordered the book. I tried to look at the cost of the book as an investment, an investment in the last spelling system I would ever have to purchase. Turns out it was an investment in building confident spellers.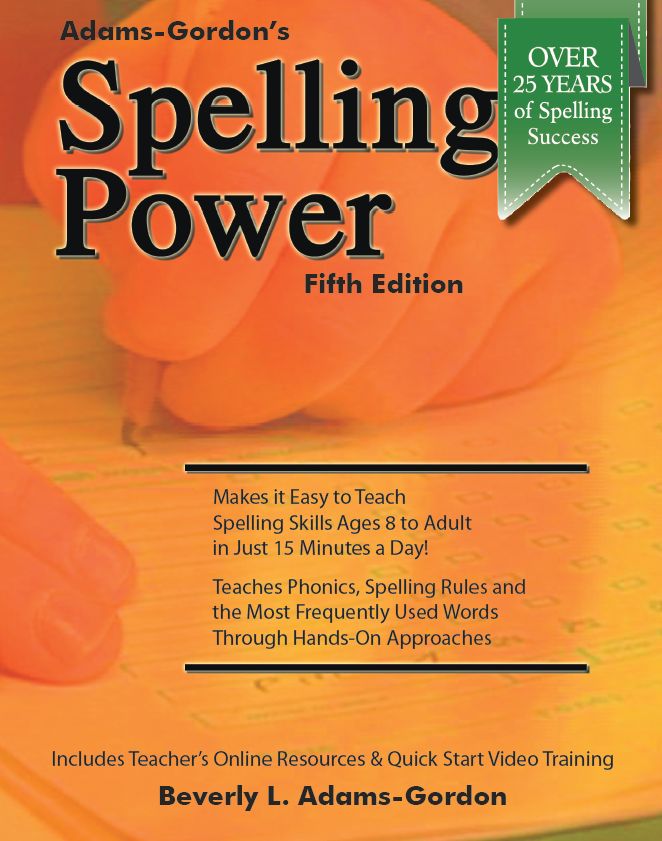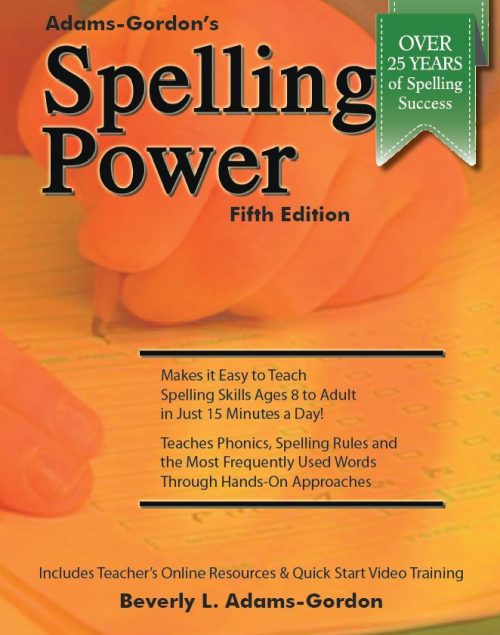 No more mindless workbooks or studying words they already knew how to spell. Spelling became easier and less stressful for all involved.
What's Inside?
For grades 3 through college this book provides all the spelling lists from beginner to advanced in one volume. All the master worksheets are provided using various line spacing so you can print off appropriate pages for young and old.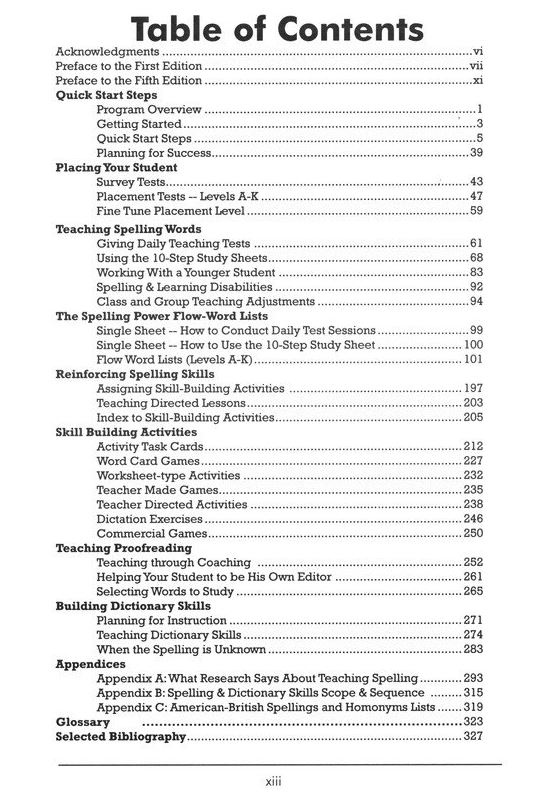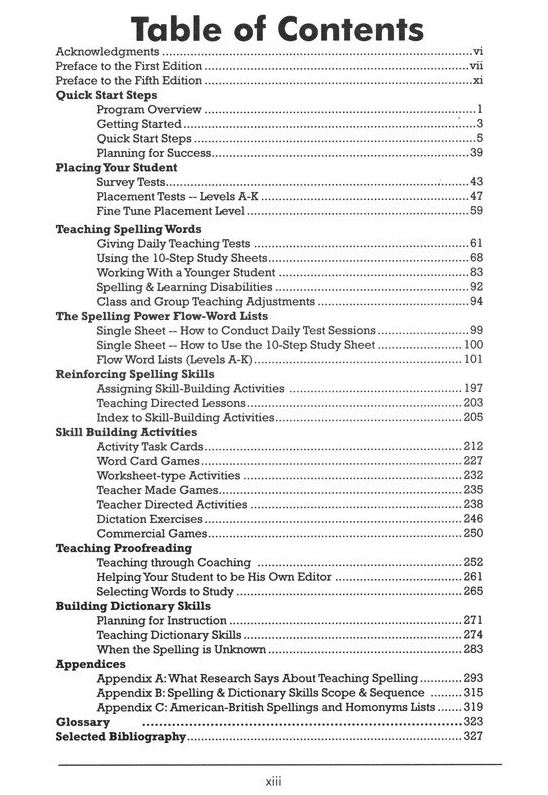 The system is easy to start at any age, ability, or time of year using the Quick Start Steps in the beginning of the book. The Spelling Power system uses a placement test to place each child at the appropriate level in the book. Your child then starts working on a short list of words by pre-testing the next list in the book and eliminating any words they already know. So each list of words is made even more manageable and your child only studies words he is unfamiliar with each week. A thorough study of spelling is done in 15 minutes per day.
 "Spelling Power is for students ages 8 to college level. While there is an adaptation for students under 8, it is fundamentally designed to be developmentally appropriate for students over age 8. Spelling Power assumes the student has completed a basic phonics program (basic consonant sounds are not reviewed) and is reading above the second grade level."
Spelling Rules
Spelling Power uses the 5,000 most frequently used and misspelled words. Each Spelling Power level is organized around spelling rules. Your child is memorizing the spelling rule as he goes along. For instance you can have a list built on the rule,  "Consonant letters are often doubled after a short vowel in short vowel words such as egg, fluff, sniffle, and mess".  Each day that you work on this list, you review the rule and work on a few more words. Most rules are covered in multiple levels so you will have plenty of review of each rule as you work from year to year.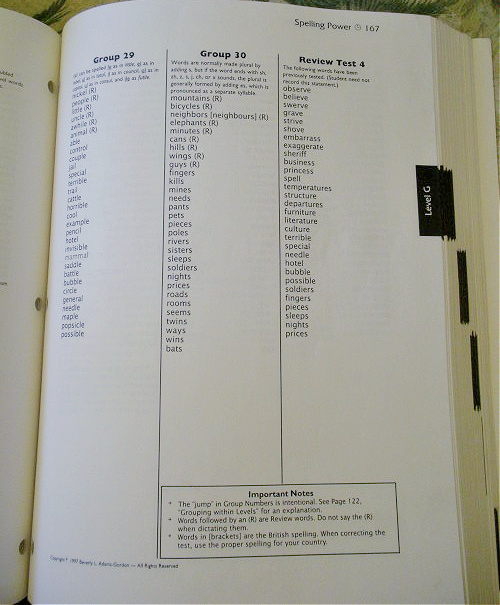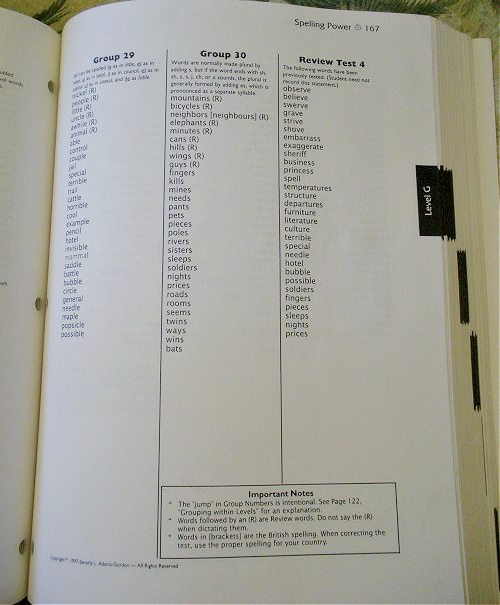 Each word shows up on several lists so there is also a built in review. This is something that really drew me to Spelling Power. The ability to test retention in a painless way is already designed into their spelling lists. There is little chance of your child only learning a word once for a test and then forgetting it.
Study Plan
The Spelling Power study plan is based on providing various means of getting the word imprinted in the brain using a preset method each day. Each day's activities starts with having the child pronounce the word correctly with the assumption that many times a child misspells a word because he is not pronouncing it properly. The method is the same for all ages from the youngest to the oldest. Once you learn the routine, your spelling is the same from year to year.
The Daily Routine
The daily routine goes something like this:
Pronunciation-say the word properly out loud
Cover and Spell-write the word, cover it, write it again, check it
Tactile Spelling-use your finger to trace the word on some textured surface like sandpaper or rough clothing
Visualize Word-close your eyes and mentally spell the word on your mind's "chalkboard"
Even though it sounds like a lot, it only takes a few minutes to do with a short list!
Complete An Activity
After the daily routine, you then complete a short activity to cement the spelling into the child's memory.
The Appendix of the Spelling Power book lists dozens of short spelling activities.
Each year that we used this book, I would go through the lists and pick appropriate activities for the boys to choose from each day to study their spelling words. These activities are in addition to the daily routine process listed above.
I made index cards with each of my approved activities and they would choose from the stack of cards how to study each day.
Spelling Activities We Used
(Please note that you can purchase a whole box of spelling activity cards to go along with your Spelling Power book if you don't want to make up your own cards.)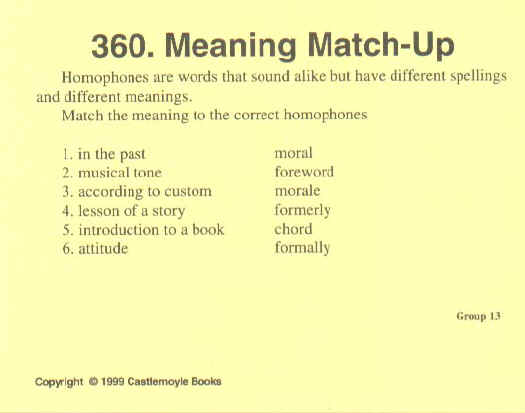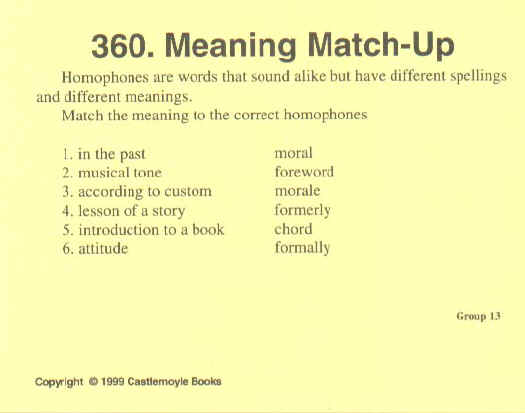 Write your words with dry erase markers on the window or mirror.
Write your words on the sidewalk with chalk.
Use the Scrabble letters, sticker letters, or a label maker to spell your words.
Pronounce and spell your words into a tape recorder.
String your words with the letter beads.
Write your words in sentences.
Use graph paper and make a "crossword" with your spelling words.
The whole spelling process took ten to fifteen minutes a day. I know that seems like we did a lot in a short period of time but with an average of five words to study each day, proper training, and having your activities organized you really are very efficient.
Now that my boys are finished with Spelling Power and in high school I rarely need to correct their spelling. If they happen to misspell a word, I can usually point it out to them and have them correct it. The rules learned in Spelling Power have trained them well enough to get even complicated spellings correct or at least really close so they can look it up in the dictionary.
This multi-level, multi-year program is self-paced and a great value for families. It was the last spelling program we ever purchased.
Purchase Spelling Power
Spelling Power Manual – You can purchase just the Spelling Power Manual either from The Spelling Power Website or from Amazon (where you can also find Student Record Books)
To purchase the Activity Task Cards or the Spelling Power Packs go to the Spelling Power Website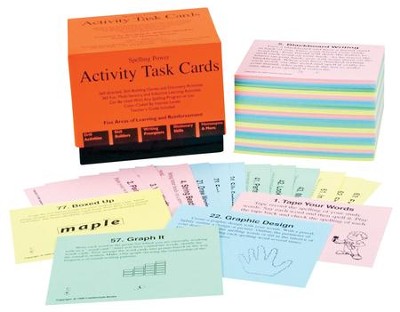 Spelling Power Basic Pack – Includes Spelling Power Manual, two Student Record Books, and a set of Activity Task Cards.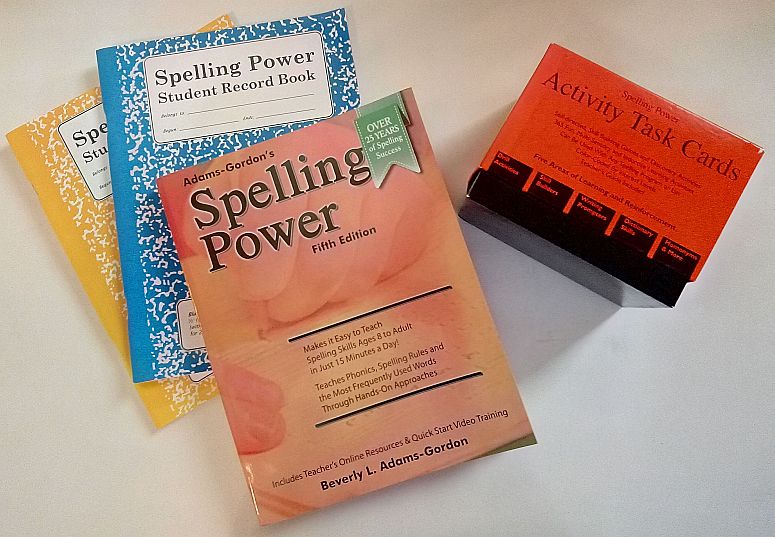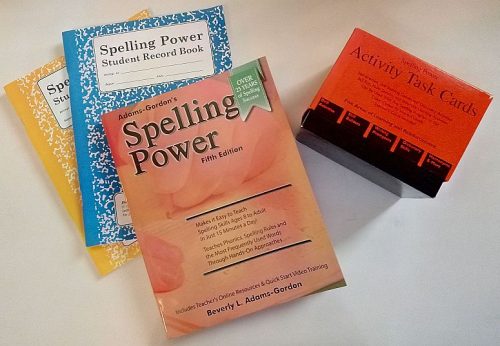 Spelling Power Deluxe Pack – Includes Everything in the Basic Pack plus a set of the Magnetic Letter Tiles in a storage box & the Word Bank Box with 400 color coded cards.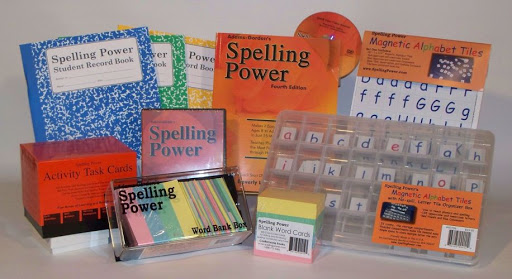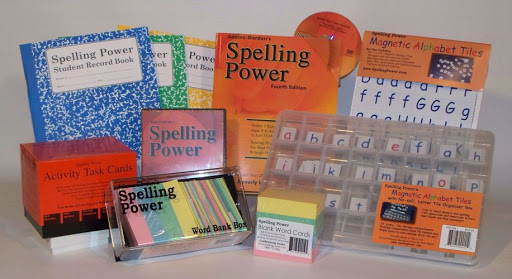 More Spelling Reviews at The Curriculum Choice
Originally Published September 2009 by Barb-Harmony Art mom.  She also blogs at https://harmonyfinearts.org/