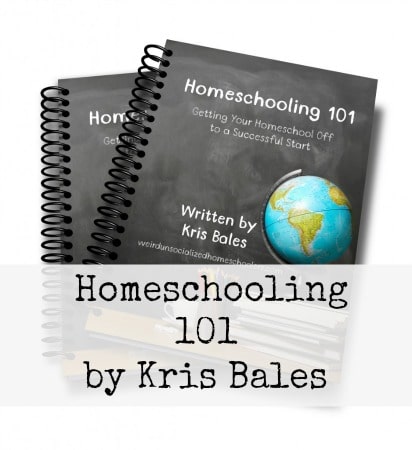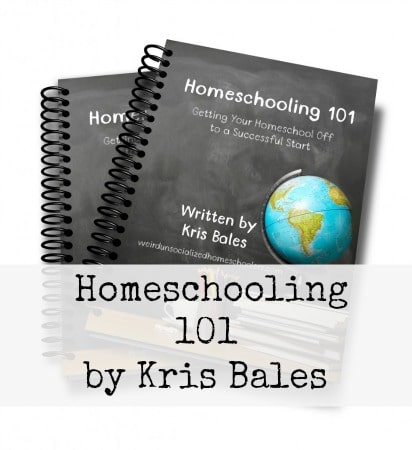 "I think I want to homeschool…now what?"
I'm sure you have a TON of questions. "Can we afford it? What curriculum is the "best"? How will I know what to do when? What paperwork do I need to complete?…"
Let me STOP  you right there!
If you're even thinking about homeschooling – stop what you're doing (if you are like me probably frantically searching the internet) and grab a copy of Homeschooling 101 by Kris Bales.
I cannot begin to tell you how excited I was when the opportunity to review Homeschooling 101 came up. Homeschooling 101 was one of the first resources I bought when we made the official decision to homeschool Billy, and it should be one of yours, too.
Who is it for?
As I read through the book again to prepare this review, I was able to appreciate even more of the tips, advice and encouragement included as I read through it with slightly more experienced eyes.
Reading Homeschooling 1o1 is like sitting down and having a cup of coffee in your living room (or wherever ;)) with a veteran homeschool mom. Kris is funny, honest and realistic. She  is not only willing to share her "secrets" but she puts you at ease and will encourage you, too!
Homeschooling 101 is a thorough "beginners course" to homeschooling whether you're starting with Kindergarten/1st grade like us, or anytime after. If it's going to be your first year as a homeschool parent/teacher, start with Homeschooling 101. 
What's inside?
In Homeschooling 101, Kris organizes and introduces everything you are going to need to know to start homeschooling. She begins with the first steps you should take as a new homeschooling parent (which may not be what you think!).
Then she moves on to address other questions you may have such as how to choose a curriculum that will work for YOUR homeschool and a list of online resources (with descriptions) for more information and ideas.
There is even a section about how to respond to those friends, family, acquaintances and complete strangers who are less enthusiastic about homeschooling. If you haven't met any yet, you probably will. Instead of finding yourself unprepared to respond, take Kris' excellent advice.
In addition Homeschooling 101 gives you a brief introduction to learning styles, advice for homeschooling on a shoestring budget (it can be done!) and tips from other veteran homeschooling moms!
It can be easy to become overwhelmed with information as a new homeschooling parent, but you don't have to figure it out on your own! Grab a copy of Homeschooling 101 as use it as a guide to help as you move forward – it will prepare, encourage and empower you.
Where can you find it?
You can read sample pages and get your very own copy of Homeschooling 101 HERE!
BONUS: At the end of Homeschooling 101 Kris has included a coupon code for her previous ebook Hands on Learning! For more information and to buy the book click here!
You can read more from Kris at her blog Weird Unsocialized Homeschoolers
~Written by Heather N., Homeschooling on Faith and Coffee
Hearts and Trees: Art, Handicrafts and Nature Study for your Homeschool