I'm sure I've told you before that our family uses non-traditional approaches to math twice a week. Adding logic games keeps us from falling into the textbook rut. I believe varied approaches to any subject are good for raising a well-rounded, educated child.
12 Logic Games Perfect For Your Homeschool
One of our most favorite things to do during math time is play games! Today I'm going to share some of our favorite logic related games.
Logic Games for Groups
Qwirkle
If you've ever played SET (which I also LOVE), Qwirkle is similar – yet different! You draw several blocks at a time and, in the manner of Scrabble, place pieces that either match a shape or color on the playing surface. Points are scored according to how many lines you've connected, with extra points being scored for making a Qwirkle – a complete line of six. It's easy enough for a first grader to play, but complex enough for adults to enjoy as well! I've even used the pieces to practice matching and sorting with my three year old.
Sequence
There are two versions of Sequence: regular Sequence and Sequence for Kids. With both games players play a card from their hand, and place a chip on a corresponding space on the game board – when you have five in a row, it's a SEQUENCE
Clue
Clue comes in many shapes and sizes. You can get Harry Potter Clue, Disney Villains Clue, Labyrinth Clue, Clue Jr., and many others.
Code Master
In the Code Master Programming Logic Game your avatar travels to an exotic world in search of power crystals. Along the way, you use programming logic to navigate the map. Think carefully, in each level, only one specific sequence of actions will lead to success. Once you collect all the crystals and land at the portal, you win! This STEM toy for boys and girls won't just teach you principles behind programming, you'll also build planning, sequential reasoning and problem-solving skills.
Connect 4
Connect 4 is a classic strategy game for two players where the goal is to get 4 of your colored pieces in a row while keeping your opponent from doing it first!
Blokus
Blokus is a block strategy game for families. Each player has 21 pieces and the goal is to fit as many onto the board as possible while blocking others from being able to do so.
Single Player Logic Games
Logic Links
Logic Links is a game your children can play by themselves – woohoo!
Numbered cards show you logic puzzlers from easiest to hardest. On the cards, clues are written that help your children decide how to organize a series of colored chips. I only own the level A game, but there are three more levels available, too. This is the perfect thing to pull out when one child is finished with a school activity, but you'd like to keep them engaged in "thinking" for a little while.
Rush Hour
Rush Hour is a single player game from ThinkFun. While it says single player, I often sit and help out when my kids get stuck. In this fun game, the player is a traffic cop and the objective is to get the red car off the road. To play, pick one of 40 challenge cards; solutions are printed on the back of each card. Then set up the cars and buses in a specified pattern on the 6-inch-square road grid. Move the vehicles one by one (obey those traffic laws!) until the red car can escape the traffic jam. There are four levels of difficulty.
Gravity Maze
Gravity Maze Marble Run is another great game from ThinkFun. Playing your way through the challenges builds spatial reasoning and planning skills, and is partly an engineering and building toy that provides a great learning experience for young players. It comes with 60 challenges of increasing difficulty
Simon
The Simon Electronic Memory Game is an oldie but a goodie! Simple, yet complicated, just repeat the ever increasing sequence of colors and lights. It's surprisingly addictive. Can you beat your last score? While it can be played by just one, you can also challenge your family and friends to see who can get the longest sequence!
Cat Crimes and Dog Crimes
Using cards of increasing difficulty these brain teaser style games (Cat Crimes & Dog Crimes) having you using clues to determine where to place the cats/dogs around the board.
Hoppers
Hoppers is a peg solitaire jumping game – set the frogs on the pond, then jump frogs until only one is left standing. Forty challenge cards range from easy to super hard. Start simple and grow your skills with each level.
I have an entire coat closet full of wonderful learning games, some of which I might share at other times. For now, I'll leave you with these and wish you happy math time!
More Games for Homeschooling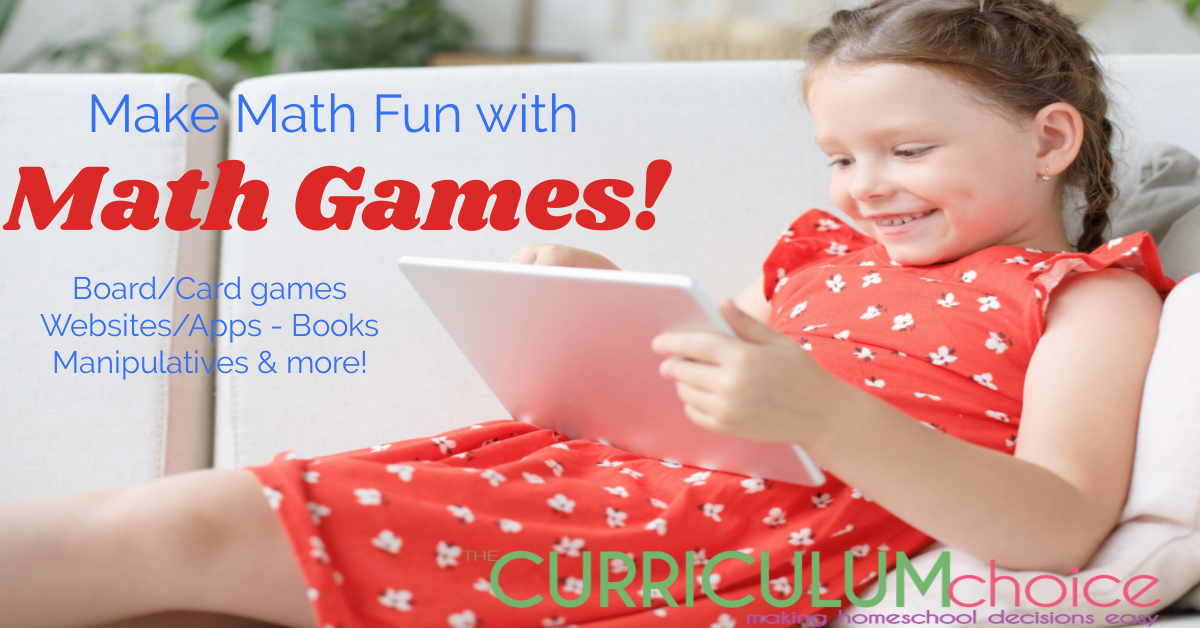 ~ Originally published January 2010, written by Alison