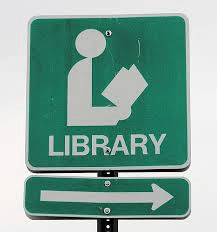 After the Bible, the library is probably the most valuable resource we homeschoolers have access to, and it amazes me that some people homeschool without it.  Even those of us who use it regularly often do not take full advantage of its many resources.
In fact, even though we use the library so faithfully that our librarian refers to us fondly as "my homeschoolers," we, too, had been neglecting a lot of what the library offers.  So I decided to start the year off by encouraging people to use this free and wonderful resource a lot more.
First of all, of course, a library offers books of all sorts.  There are picture books, learn-to-read books, children's classics, non-fiction tomes on every imaginable topic, literature from the present and from ages past, and even ebooks and audiobooks.  Librarians, whose job it is to help us find what we are looking for (imagine if we had to pay them for all they do for us!), point us to whatever we ask for.  If they don't have a certain book, we can request it by interlibrary loan, which is usually free as well.
Library books range from the sublime to pure garbage, of course, but there are books about books that can help us find the diamonds in the manure pile.  Two wonderful ones have been reviewed here on the Curriculum Choice:  Honey for a Teen's Heart and Honey for a Child's Heart.  Others include the amazing TruthQuest History series by Michelle Miller, Books Children Love by Elizabeth Wilson, and All Through the Ages by Christine Miller.  I also find quality titles by checking out reviews on GoodReads, Amazon, or book blogs, by subscribing to online newsletters from publishers I trust, and by discussing books with friends.
What if you hear about a relatively new book but don't have space in the budget (or on the bookshelves) to buy it?  Many libraries allow patrons to suggest purchases for the library.  I can make 5 purchase suggestions per month on my card.  That's 60 new books a year, giving us access to the latest homeschooling books, Christian children's fiction, and more.  Besides saving our family a considerable amount of money, this opportunity also lets us influence our community positively with Christian reading material.
If you are worried about overdue fines, you needn't be.  We always have at least 50 books out, usually more than 100, and we pay less than $15 worth of library fines a year.  All it takes is being organized most of the time, and we've discovered a great library book return system that you can adapt to meet your family's needs.
Furthermore, these days libraries are not only about books.  Ours also has movies, educational DVDs, periodicals, music, book clubs, writing contests, prenatal classes, science lectures, museum passes, PD day programs, cross country ski trail passes, pedometers, energy meters, Chromebooks, online periodicals and newspapers, study guides, and many free programs (languages, crafts, story time, writing, chess, lego, job search, scrabble, investing, computers, business planning, health, genealogy, taxes, toastmasters, homework help, travelogues, and even building cookie houses and 3D-laser certification). While preparing this article, I learned about our library's online career planning (something I've been wanting for my teens) and its free music downloads.  So exciting!  Of course, ours is a large, multi-branch city library, but even small rural libraries will offer some of these resources, and if you live near a large city you may be able to buy a yearly membership.
Our homeschool relies heavily on the library and its resources.  In turn, our small country branch of the city-wide library system relies on us throughout the year and during our annual reading week.  We love our library, and our sweet librarians love us.
I hope that you feel encouraged to use your library and all its resources to benefit your homeschool.  And, in turn, perhaps you will even be able to benefit your community by suggesting quality resources for your library to purchase.