If you've ever tried to find the best books for studying a historical time period, combine the books, and create a plan that works, you know how hard that task can be! Now, imagine that someone has done the hard work of finding all those books for you – the best books for your history studies, organized by grade-level and time period. Wouldn't that be nice?
Thankfully, someone really has created just that resource! Christine Miller and Nothing New Press created a comprehensive resource filled with great books in their guide, All Through the Ages.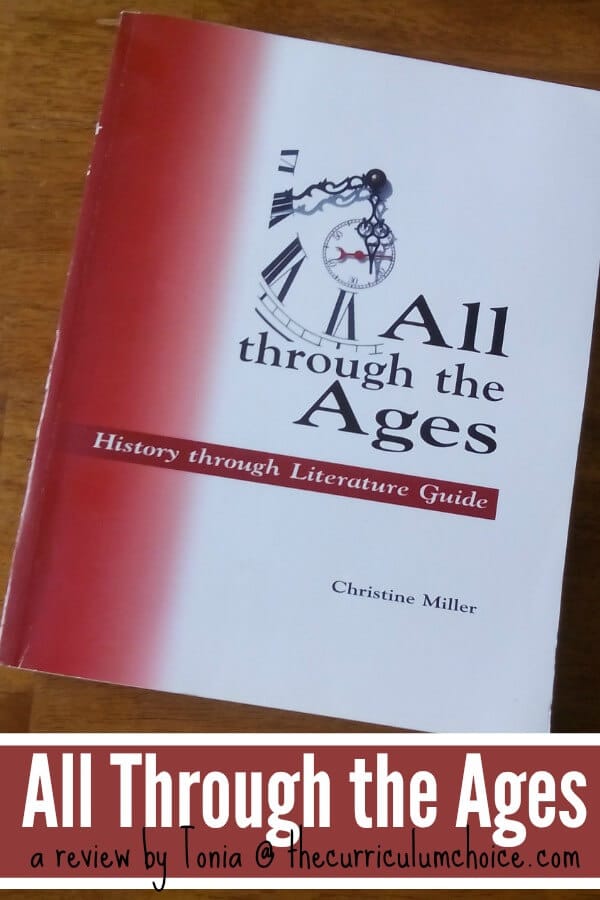 All Through the Ages
If you are not a fan of textbook based history and prefer to learn with various resources – historical fiction, literature, and non-fiction books, a copy of All Through the Ages should be on your bookshelf. If you love the 'living books' approach – you need to own this book! If you want to teach history through the lens of Christian tradition, this book is definitely for you.
With more than 7000 books in this guide, you'll find plenty for all of your homeschooled kids – from elementary to high school. They've included books recommendations from the best of the best – Beautiful Feet Books, Honey for a Child's Heart, Greenleaf Press, Veritas Press, and Sonlight – to name just a few of the companies included.
Thankfully, it isn't just one huge booklist! It's divided into historical and geographical categories – making it easy to find exactly what you're looking for.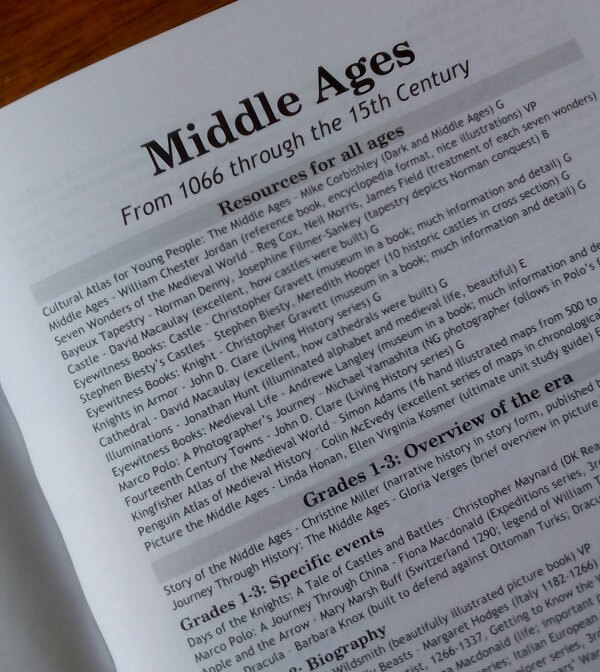 What you'll find inside
The bulk of the book lists is divided into two major categories – Chronological History and Geographical History. There are also a few small sections for the history of science and mathematics, visual arts and music, and great books of western civilization and Christian tradition.
Within the major categories, books are further divided age level and type of book. For example, when you look up 'New World Colonization' you'll find the following sections:
Resources for all ages
Grades 1-3: Overview of the era
Grades 4-6: Overview of the era
Grades 7-9: Overview of the era
Grades 10-12: Overview of the era
Timeline of New World Colonization
Within each grade level section, you'll find books divided into the following categories:
Overview
Specific events
Biography
Historical fiction
Literature
Culture
Both the Chronological & Geographical sections divide the books in this manner. (One note: the indicated grade levels are based on independent reading ability). The other sections are divided in a similar way as well.
The introduction also includes lots of great information about choosing books, teaching Creation & Evolution, teaching chronologically, using literature and real books to teach history, and a very helpful chronological scope-and-sequence you can use to create your own history program.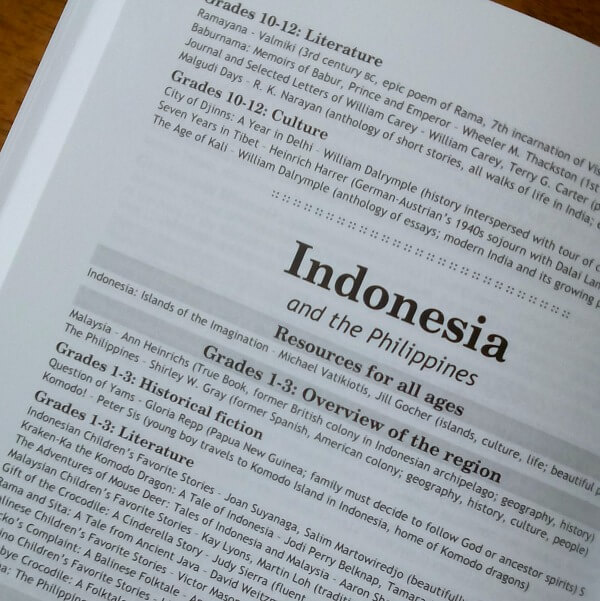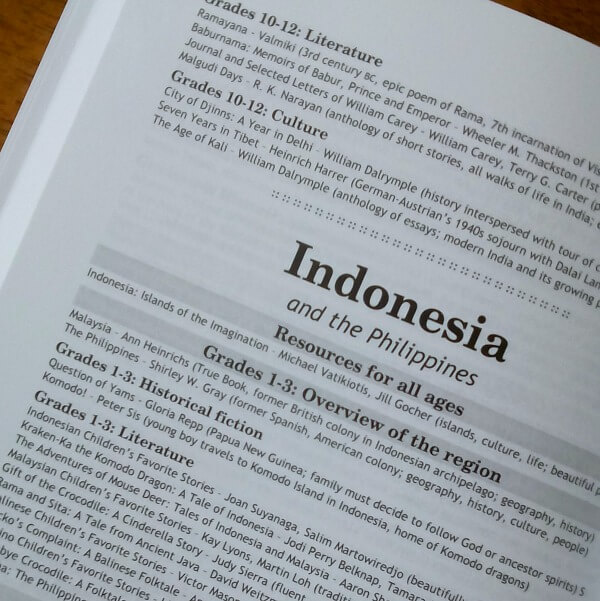 Tips for Using All Through the Ages
All Through the Ages is one of those books that really should be on every homeschool's bookshelf – it's just so versatile. Here are just a few ways you could use this guide:
find historical fiction or non-fiction to add to your current history curriculum
create a history unit around a certain topic, using the guide to choose the books you'll use
instead of history, take a year to do a geography study, using the book's geographical lists to find good books to add to your plans
select historical literature to read aloud that fits the historical period you're studying
do a historical survey of scientific discoveries using the history of science and mathematics section
All Through the Ages is available from Nothing New Press. You'll also find the complete Table of Contents and a few sample book lists that highlight the kind of resources you'll find in the book.
Want to read more about the book? Heidi, another Curriculum Choice author has shared her thoughts too – Learn History Through Literature with All Through the Ages.
~ Written by Tonia from The Sunny Patch
Save
Save