We began studying Latin four years ago when my oldest child was in the second grade. I read everything I could find on the different Latin curricula that were available and finally decided on Latin for Children for him. He completed the 3 books in 4 school years and this year he has started Latin Alive, which is a Latin program for middle school students, also published by Classical Academic Press.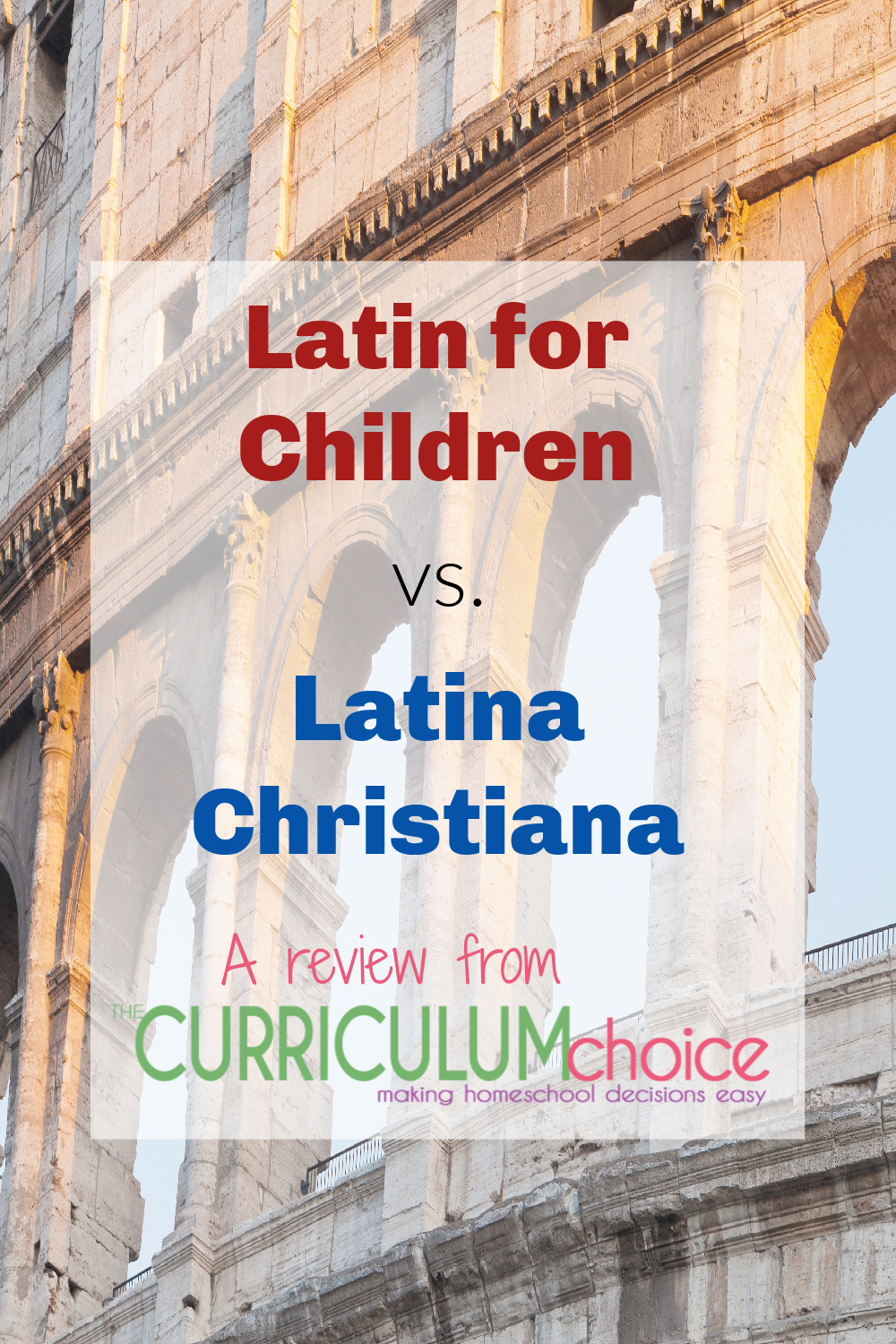 Since I was pleased with Latin for Children for my son, I had my daughter start with the program at the beginning of last school year. Later on in the year I received Latina Christiana from Memoria Press to review.
My daughter seemed the obvious choice to try out the program since she wasn't too far along in Latin for Children. She also didn't seem to be retaining the information very well, so I figured a little review would be beneficial. As she used Latina Christiana, I noticed that there were some things about the program that made it a better choice for her. So this year she is continuing to use Latina Christiana instead of Latin for Children.
I was reminded of a few things in this process:
First, my children are all different and what may work best for one of them may not be the best choice for all of them.
Second, I need to look at products with each of the children who will be using the product in mind, not just my oldest child, and not just what I like.
Finally, I can't spend a lot of money on a product and always justify it by saying I'll use it with all 4 of my children. That may not work.
Latin for Children vs. Latina Christiana
I think that BOTH Latin for Children and Latina Christiana are excellent Latin programs with many similarities.
Both are designed to be used with students as young as about the third grade. They both teach from a parts-to-whole method. Both include Latin grammar and vocabulary as well as derivative studies.
Latin for Children does include more vocabulary and grammar, but that is reasonable since it has one more text than Latina Christiana. An optional video is available for either product as well as audio cd's.
However, there are some key differences which I have outlined below:
| | | |
| --- | --- | --- |
| | Latin for Children | Latina Christiana |
| # texts in series | 3 (A,B,C) | 2 (I, II) |
| Pronunciation | Classical (but has an Ecclesiastical option) | Ecclesiastical |
| Student Text | Instruction is in the Student text | No instruction in the Student text |
| Teacher's Guide | Answer Key | All instruction is in Teacher's Guide as well as teaching tips, quizzes, tests, and answers to all the exercises. |
| Video | Lessons include children and some humor. Some variety in filming locations. Lessons are fairly short. | Lessons include instructor only. They are thorough and include drill and practice within the lesson. Lessons are longer and are in front of a white board only. |
| Roman culture included? | Very little | Scheduled to use with Famous Men of Rome, however Famous Men of Rome is not included. |
| Variety | Pages are printed with Roman themed graphics. Variation in types of exercises from chapter to chapter. | Plain pages. Predictable format for exercises and quizzes. |
| Prayers included? | No | Yes |
Why we find benefits in each Latin program
My daughter, who has always been somewhat of a no-nonsense kind of girl, really appreciates Latina Christiana. She needs more drill and practice, and the expectations are very clear. The instruction in the text in Latin for Children was confusing to her and didn't help her to understand the material at all.
My son, on the other hand, would not have lasted a week in Latina Christiana. He needed the somewhat goofy humor in the Latin for Children videos as well as the variety in the text. He is much more able to read and understand a concept, so having the instruction in the text was great for him.
If you are looking for an elementary Latin curriculum I recommend either Latin for Children or Latina Christiana. They are both quality programs backed by companies that are continually revising and writing new curricula. Samples are available at both websites to help you compare further and decide which one is more suited to your child.
Purchase Memoria Press Latin Programs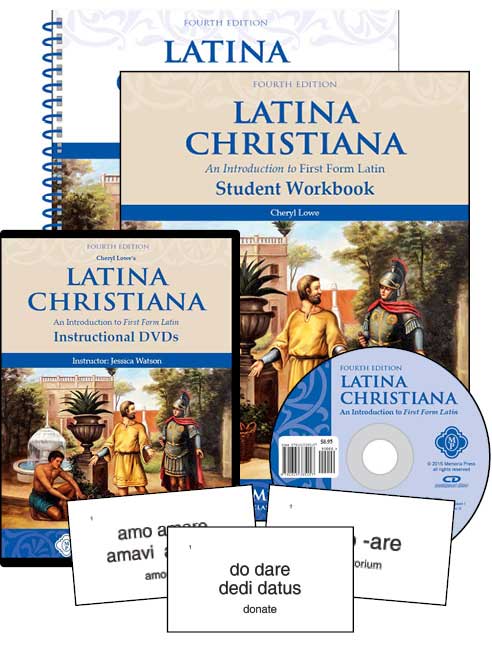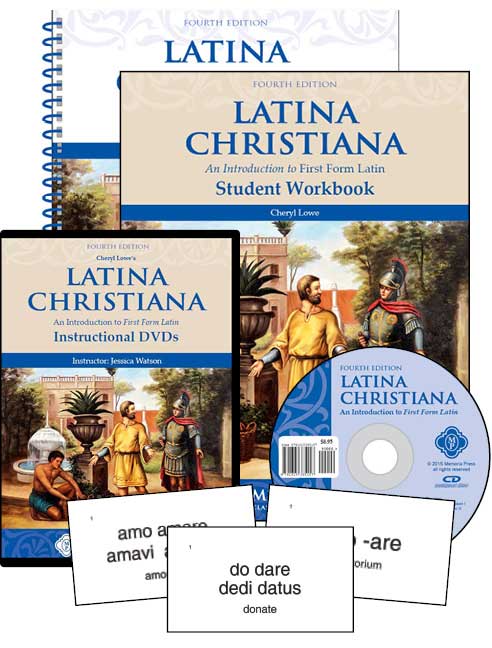 Latina Christiana is just one level from the Memoria Press Latin Programs that span from 1st grade all the way through to 12th grade. You can purchase any of them directly from the Memoria Press Website.
Purchase Latin for Children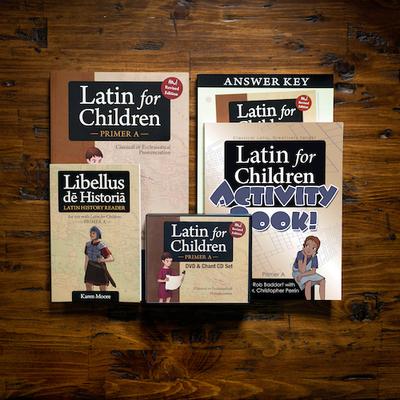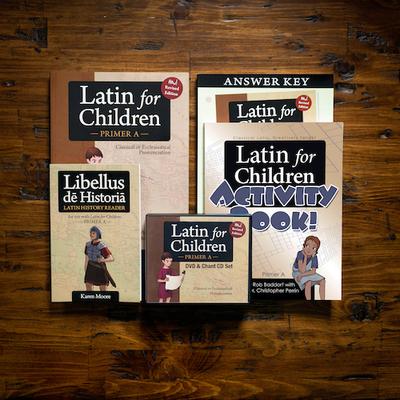 Latin for Children from Classical Academic Press has 3 Primer Levels of Latin for Children spanning from 4th grade through 7th grade. You can purchase any of them directly from the Classical Academic Press Website.
More Latin for Children and Latina Christiana Reviews
Originally published October 2009 and written by Kristen, Classical mom of 4.