This Homeschooling in the Digital Age is the third method in our series on Homeschool Methods. Here we will answer questions like:
What is considered digital homeschooling?
How can I use digital resources in my homeschool?
Where do I find digital resources for homeschooling?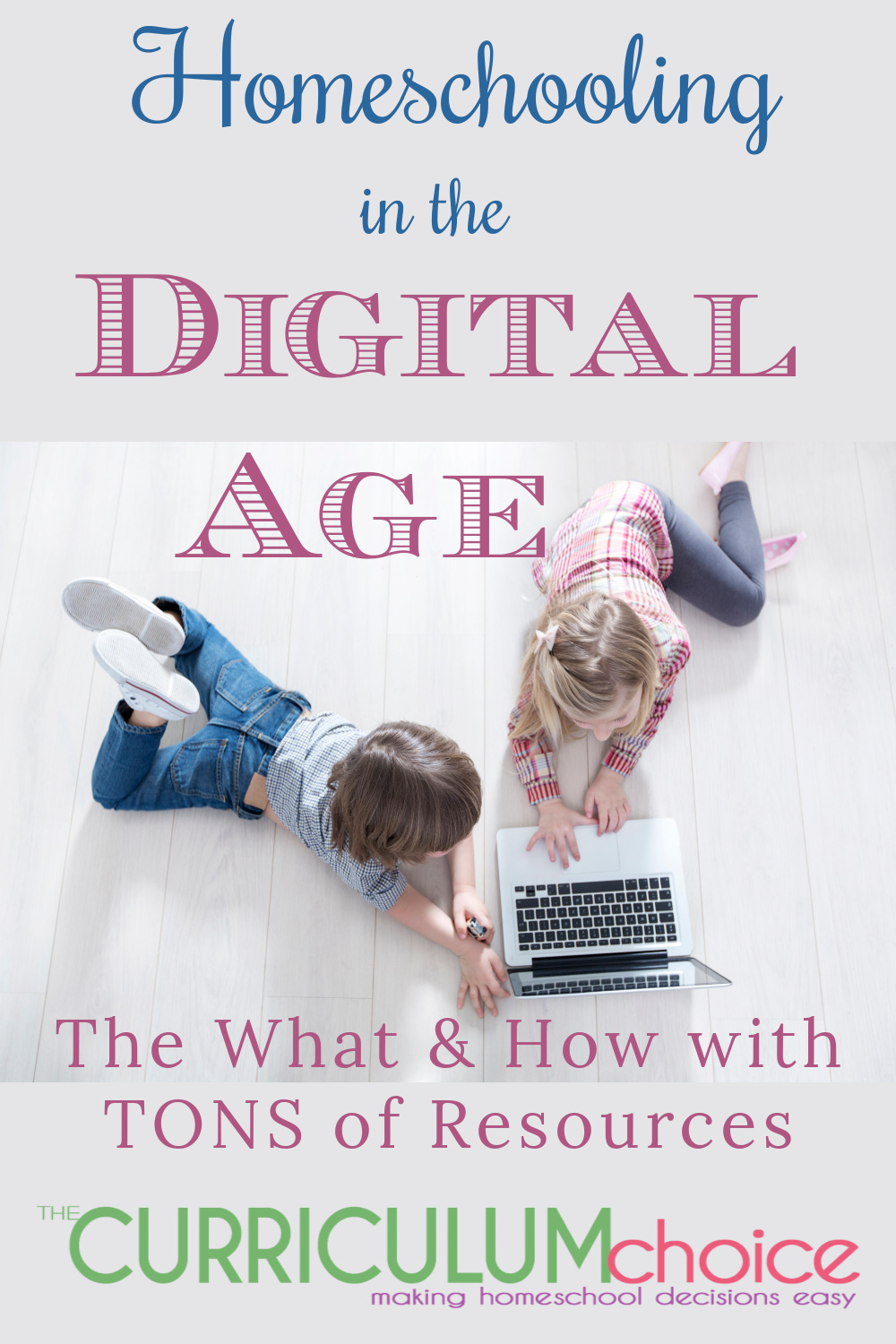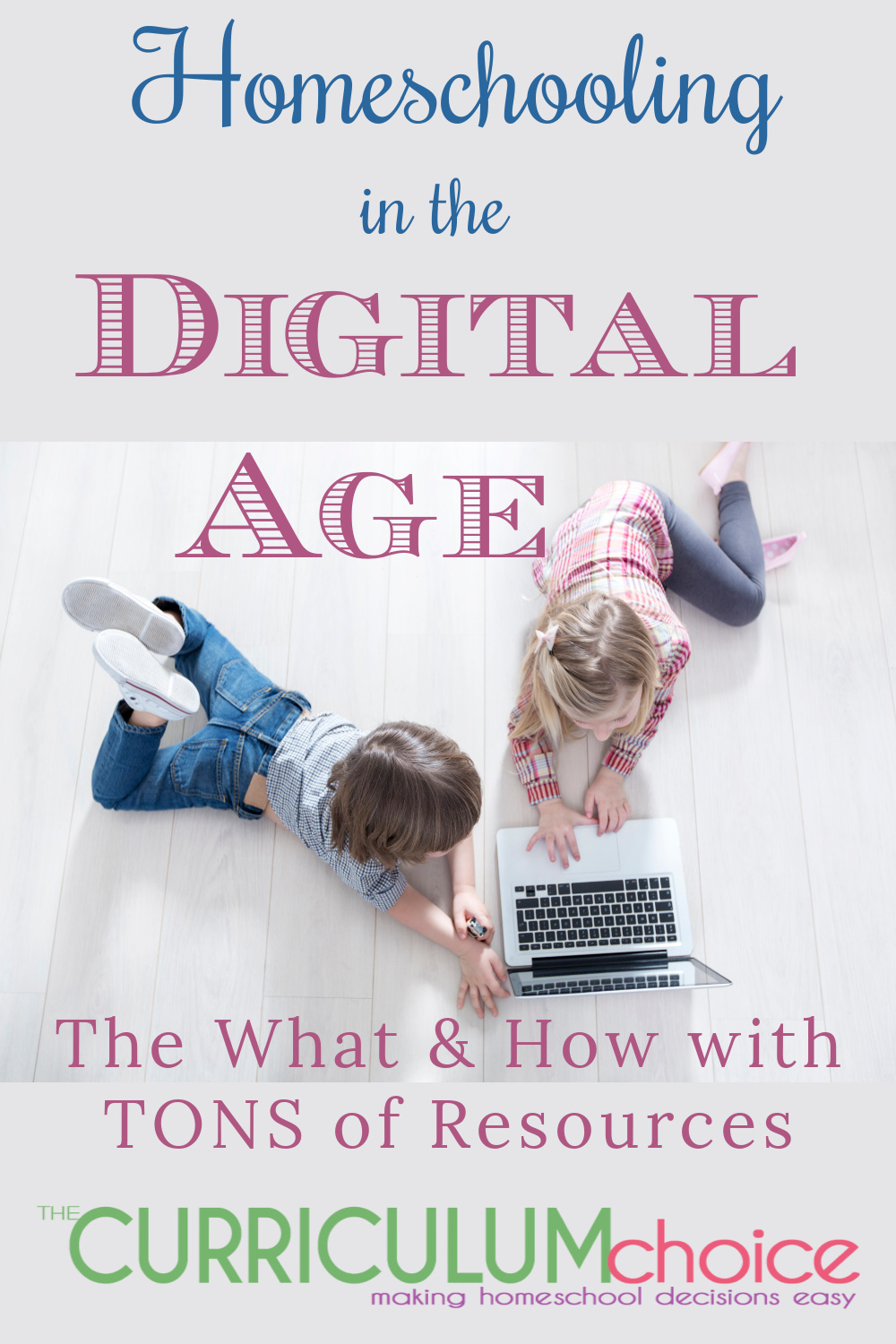 Homeschooling in the Digital Age
We are living in a heavily digital based world. You can order food online, use an app to deposit checks, apply for jobs online, go to college online and SO MUCH MORE!
As homeschoolers, having the Internet and all that it comes with offers us many more resources than our predecessors had access to. Using digital resources can save time and money in an otherwise full schedule of homeschooling and parenting.
What is considered digital homeschooling?
In my opinion (and therefore what I am using as a basis for this article), digital homeschooling encompasses:
online materials – meaning you find and use materials via the Internet
virtual resources – this could be both live and/or recorded content for your student to interact with
digital materials – things like cds, dvds, even downloadable programs to use on your computer
apps – any app for any phone, tablet, etc.
How can I use digital resources in my homeschool?
Using digital resources in your homeschool can look as varied, if not more so, than homeschooling does from house to house.
You may choose to do have all your homeschooling be done virtually through an online school, or you may choose to use an online program for one subject.
Using Audiobooks for history or English can be considered digital homeschooling! I have found that my teen is having much more success listening to her books for history as she can do it while on the go. Like me, she listens while at the barn or in the car.
However you choose to use digital resources, DO NOT BOX YOURSELF IN! There is no one way it has to look and no one program to use. Try different things out and see what works for you and your children.
Digital Resources for Homeschooling
This is in no way an exhaustive list of digital resources! The selection is so immense that I could never list them all! Instead, these are resources I see a lot. I've seen them in my own homeschool or a friends. I've also seen them promoted or used a lot amongst the varied homeschool groups I am in. In short, I've just plain heard their names a lot!
If you know of others that you love please feel free to leave a comment and tell us about it!
Any affiliate links included are for resources we absolutely love. Please see our disclosure policy.
Full Online Curriculum
Time for Learning – For preschool through twelfth grade. Uses multimedia activities to teach standards-based curriculum. Grade levels can be set independent from one another for each subject. In addition, students will be able to access to at least 2 (and in most cases 3) grade levels of curriculum for each subject, so they can move ahead or review at their own pace.
Outschool – Over 100,000 interactive online classes in many subjects like life skills, science, math, coding, music, history, art and more!
IXL – Comprehensive K-12 Curriculum personalized for your child.
Education.com – A supplemental digital learning program to help PreK-7 students build essential skills and excel in math and reading.
Schoolhouse Teacher's.com – online homeschool curriculum for all levels, from preschool through high school. One of the more unique features of SchoolhouseTeachers.com is that rates are per family rather than per student, and it is extremely flexible, allowing membership by the year or the month.
Khan Academy – FREE for anyone, anywhere. 1st grade through high school and even some college level courses in math, science, history, language arts and more.
Connections Academy – K-12 online learning tailored to each student's unique interests, goals, and abilities.
Discovery K12 – Online homeschool for pre-k to 12th. 7 standard courses: Language Arts, Reading/Literature, Math, Science, History/Social Studies, Visual/Performing Arts, and Physical Education.
Compass Classroom – We have found that our visual and auditory learners especially thrive when we have some video curriculum in the mix. Using high school video curriculum from Compass Classroom also makes it easy on the homeschool schedule.
Easy Peasy All in One Homeschool – This site holds preschool (getting ready 1), kindergarten (getting ready 2), and first through eighth. Then they have a separate high school site. Choosing a level (on My EP) will set reading, language arts, math, computer and logic, any of which can be switched to a more appropriate level without affecting the others.
Study.com – Online homeschooling for grades 3-12. Customizable, automated grading, and a mobile app are just a few of the features Study.com offers.
ABC Mouse – Reading, Math, Science, Art & Colors in a fun game format for kids ages 2-8. They offer a FREE 30 day trial.
Adventure Academy – from the makers of ABCMouse. Digital learning for kids ages 8-13. In a fun game like setting kids learn math, science, social studies and language arts. They offer a FREE 30 day trial.
Math
A+ Tutorsoft – Comprehensive, self-paces, online math curriculum for grades 1 – Algebra 1. They also offer math tutoring help and adaptive math placement testing.
Mr.D Math – Both live and self-paced learning in options in pre-Algebra through pre-Calculus, as well as SAT Prep, College and Career Readiness and more.
Teaching Textbooks – Teaching Textbooks is a 3rd- high school online (app based) math curriculum. It has been our go to math program for all of my children from grade 5 on.
CTCMath – is an online math curriculum for children in grades K-12 (through Calculus). Yes, you read that right! A one stop shop for ALL YOUR HOMESCHOOL MATH needs! CTCMath is a video based program but also offers printable versions of the lessons and worksheets so your student can work pencil and paper as well if they would like to.
English/Language Arts
Night ZooKeeper – A Review from Waldock Way
Read Aloud Revival – a lovely, online community that helps your kids fall in love with books and you fall in love with homeschooling.
LightSail – LightSail, in partnership with World Book Encyclopedia & Lerner Publishing, is a comprehensive language arts platform that adapts to a child every step of the way, helping them grow their skills in reading, writing, grammar, fluency, vocabulary, spelling and more.
Bardsy – a one stop shop that uses AI technology combined with video lessons to teach the creative writing process.
Celebrate a Book – Read great books. Connect with your kids. Create family memories.
Literacy Adventures For Kids – These are online book clubs. Basically literature unit studies based on a novel or picture book.
Digital Language Arts (an index of all of these reviews) – Grammar for Writers, Grammar of Poetry, Writing Through the Wardrobe, WordUp! Vocabulary and more from Compass Classroom.
Science
Apologia Online Self-Paced Courses – Christ-centered and perfect for an independent learner who enjoys learning at his own pace with offerings for middle and high school science. Also available in Live Classes and On Demand at Apologia Online Academy. Choose from General Science, Biology, Marine Biology, Chemistry, Advanced Biology and more.
No Sweat Nature Study LIVE – Nature study is important because it provides real-life foundations for all the sciences. It encourages higher order thinking skills through observation, investigation, research, comparison, classification, experimentation, and so much more. Mrs. Cindy is here to help you make nature study a reality in your homeschool…and you won't have to do anything more than turn on the computer twice a month!
Devotional Biology – an amazing opportunity to learn high school biology from one of the top creation scientists in the world.
Handbook of Nature Study – home of the Outdoor Hour Challenges and the Ultimate Naturalist's Library.
College Prep Science – Christ-Centered Live & Self-Paced Online Classes for 4th – 12th Grade
Taylor Made Science – Secular, lab-based science for high school
DIVE Interactive Education – Self-paced science courses in Earth Science, Integrated Chemistry & Physics, Biology, Chemistry, and Saxon Physics.
History/Geography
Crash Course is an educational YouTube channel started by the Green brothers – Hank and John Green. Not only do they have Crash Course History courses but they have a host of educational series across the learning spectrum such as: U.S. History, U.S Government & Politics, World History & World History 2, Biology, Ecology, English Literature (1,2, & 3), Psychology, Anatomy & Physiology, Astronomy, Economics and more.
Ben's Guide to the U.S Government – produced by the Government Publishing Office to inform students, parents, and educators about the Federal Government. There are three ages levels: ages 4-8, ages 9-13, and ages 14+
Compass Classroom Digital Homeschool History Curriculum (index of reviews) – Dave Raymond's Antiquity, American History and Modernity with Christendom coming. I believe it says a great deal about a homeschool curriculum when we are doing night school on a Saturday night. In the summer. They ask, "Are we doing American History tonight?" Economics for Everybody is also an excellent course.
The Juice – Current Events for Kids
Boundary Stone has created in-depth self-paced online courses for high schoolers in both American Government and Economics
World Watch News discussed biblically objective journalism in the context of how/why to include current events in our homeschool day
Veritas Press Self-Paced History is an extensive, interactive, immersive online world history program, which will take your child from Ancient Egypt through to modern times.
AIM Academy Online – Live online history courses for kids in 5th grade – high school. Everything from Passport to the World for younger kids through American Government & Economics for high schoolers.
Music, Art, Electives
MYTECK Lab – offers online technology instruction for grades 3-12. Choose from weekly enriching lessons or specialized beginner to advanced topics.
Never Board Learning – play more, learn lots. Game schooling to add more play to your day!
SQUILT Music Appreciation – Both self-paced volumes and membership with SQUILT Live! lessons.
Masterpiece Society – Art courses for all ages plus courses like Mixing the Masters, Mixed Media and individual projects based on literature.
Hoffman Academy – Offers homeschool piano instruction in which your children will learn to not only play the piano, but also be competent music readers and have an understanding of music theory, technique and more. They will learn to read rhythms, improvise, sight-read, and play by ear too!
You Are An Artist – "Come on! We are going to 'swoosh' our pastel across paper and learn about history, literature, music, American presidents, nature, favorite books and more! You are ALL going to be artists" ~ Nana. Join the Artist's Clubhouse and get unlimited access to all courses and projects. Including the popular I Drew It Then I Knew It series.
Digital Bible Study Series – There can be family discussions and world view question and answer sessions promoted by great homeschool resources like these.
Creating a Masterpiece – An online drawing class taught by master artist, Sharon Hofer, through a series of videos.
Atelier– A complete, easy to teach homeschool art program with 8 levels of video instruction
Other Digital/Online Resources
FabuLingua – A Spanish Language App for kids that teaches through fun, interactive stories.
Duolingo – A FREE language learning site with more than 30 languages including Spanish, French, and Greek.
Visual Latin – a fun way to learn this classical language with streaming lessons.
The Waldock Way – curriculum, Passport to Adventures, unit studies, planners, supplement and freebies.
Unit Studies by Amanda Bennett – a dynamic experience for elementary through high school with unit studies on virtually every topic!
Online Unit Studies – Online unit studies in art, history, science, holidays and more!
Typing Programs – In this age of technology it is ever more important that our children become not only familiar with, but skilled with a mouse and keyboard and their typing skills. Check out this list of typing programs to use in your homeschool.
Scratch – A FREE coding community for kids where they can program their own interactive stories, games, and animations — and share them with others in the online community.
Virtual Field Trips – You can explore so many places right from your home!
Tech Savvy Tips and Online Classes from our Curriculum Choice authors
HOMESCHOOL METHODS SERIES
Be sure to bookmark or Pin this What do Homeschool Methods Look Like in Real Life Series? and check back each month as we add another method!