When your children reach middle school age you start to realize that homeschooling has made a slight shift. Kids are older and ready for some independence (but not too much!). They have more questions and want to discuss everything with you (and may even question everything you ask them to do). It comes with the territory – and age.
If you're looking for some advice and encouragement about homeschooling during these years, you've come to the right place! Learn everything you need to about how to homeschool middle school from some seasoned homeschool moms.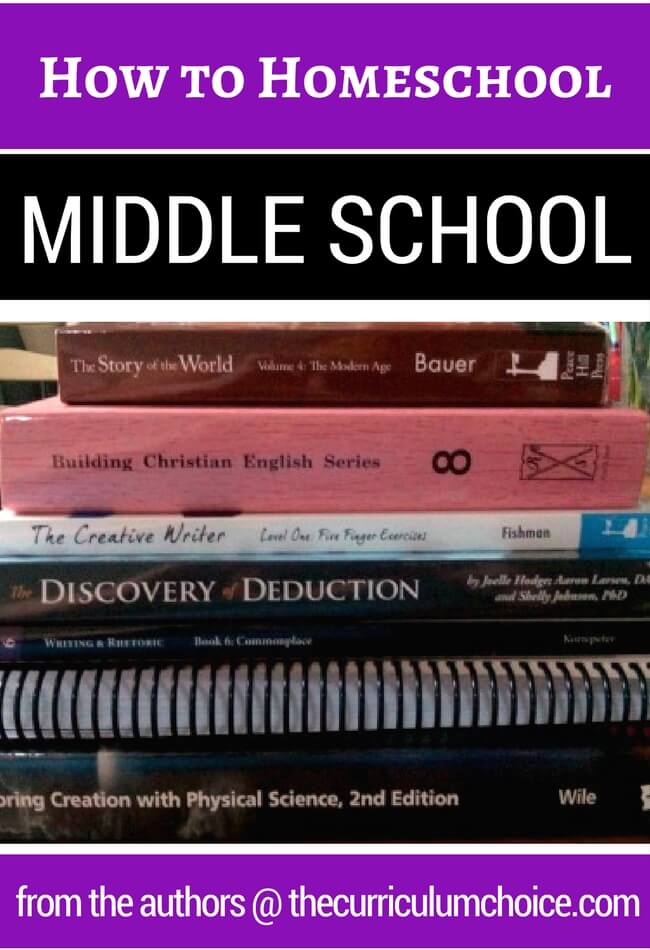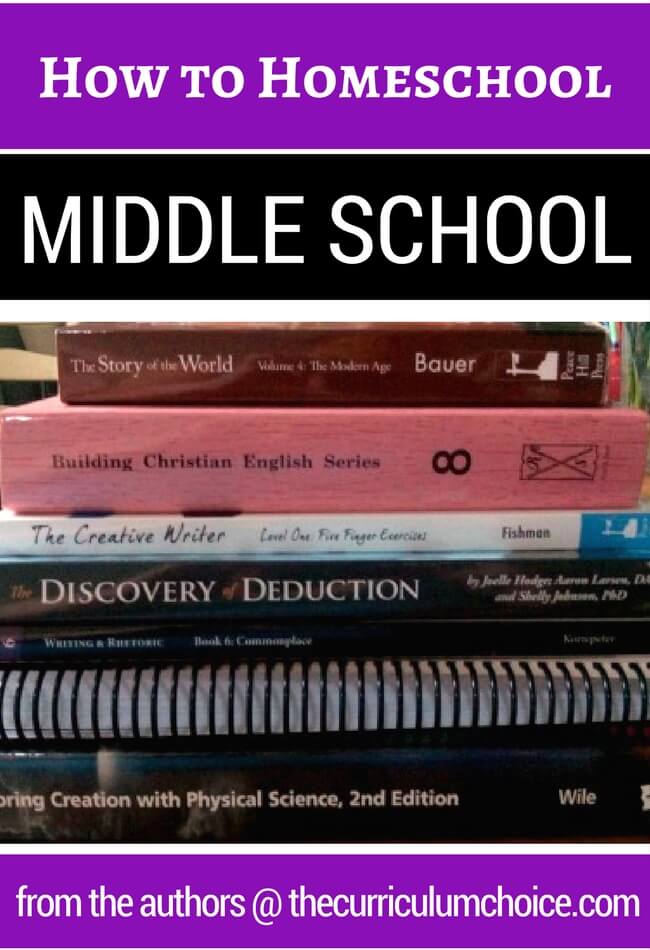 How to Homeschool Middle School
This stage of homeschooling is so different from the early years and requires a shift in the way you homeschool.
When kids reach the ages of 10-13, you'll start to notice a change during your homeschool lessons. Instead of learning basic facts about math or history (or really any subject) kids at this stage are more interested in asking questions about the information and making connections between various topics. They may even argue with you! Middle school kids are capable of much more than learning basic facts and it's the perfect time to capitalize on those questions (and directing that argumentative nature).
While homeschooling needs change they are also growing and changing physically – and that has its own challenges. One of the many benefits of homeschooling is that we are right there in the trenches with our kids as they experience these changes, giving us the chance to help them through these years.
If you're looking for some encouragement for this stage of homeschool life or you're just wondering how to homeschool middle school, here are some of my favorites posts from my website, Happy Homeschool Nest: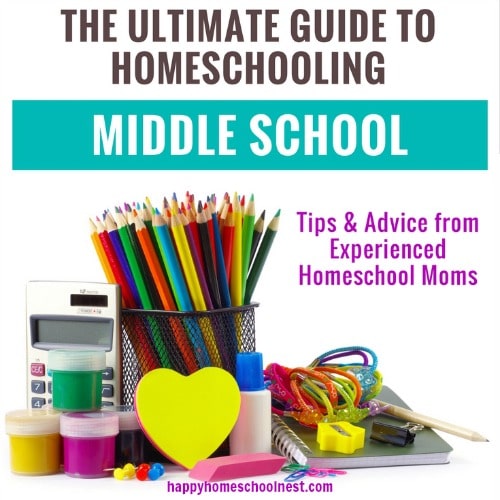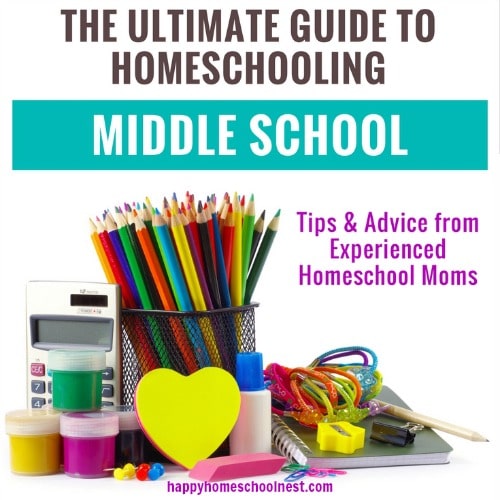 The Ultimate Guide to Homeschooling Middle School is a collection of encouraging posts and advice from seasoned homeschool moms. You'll find general parenting and teaching advice, tips about encouraging independence, even some book recommendations (because kids still love reading aloud – at every age!).
Fostering a healthy relationship with your growing child is so important at this stage – and it isn't without its own particular burdens. To the homeschool mom with the middle schooler is an open letter to all moms who need encouragement to preserve their relationship with their child.
One of the ways I encouraged growing independence was through interest-led science studies. I provided a set of guidelines and my daughter chose the topics that interested her the most. She selected her experiments and did all the work while following the guidelines I had set. It was a wonderful growing experience for both of us.
And, on the subject of independence, that is one of the hallmarks of this stage of growth. Here are a few tips for making the rocky adjustment a little bit smoother – middle school independence.
From the Curriculum Choice Archives
At The Curriculum Choice, you'll find plenty of curriculum for those middle school years. Be sure to browse the menu at the top of the page to find reviews for products and curriculum for middle school. You might also enjoy these that we've selected from our archives.
Choosing Middle School Homeschool Curriculum
Middle School Etymology with King Alfred's English
Middle School STEM Activity Books
History of Science Unit Study for Middle Grades
Hands-On Electricity Education with Snap Circuits
Favorite Board Games for Family Gatherings
Good Books with The Classical Reader
Using Creek Edge Press Task Cards to Develop Independent Learners
IEW Student Writing Intensive Level C
Homeschooling Middle School with Curriculum Choice Authors
The Curriculum Choice authors have active blogs where they regularly offer ideas and experiences about their homeschool adventures. Below are some of their experiences with homeschooling middle school children.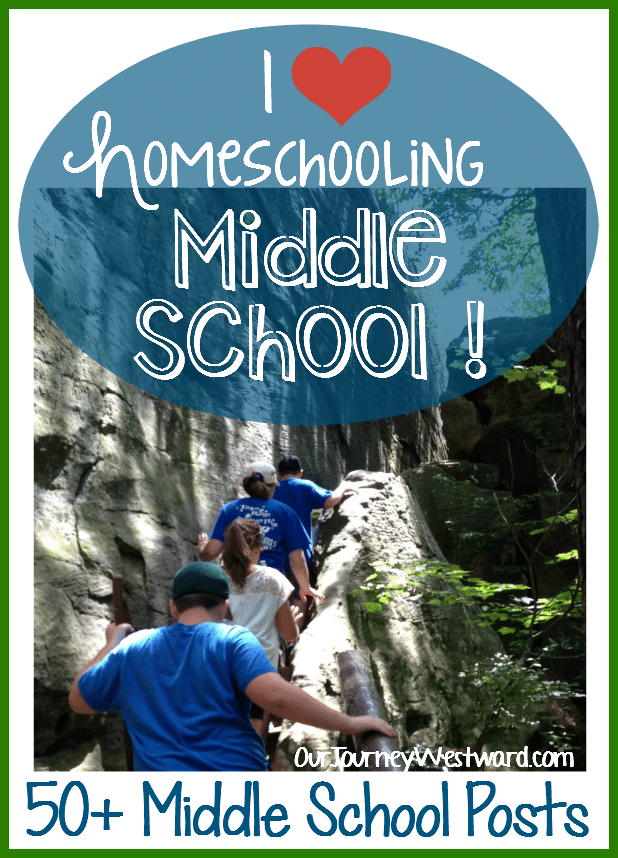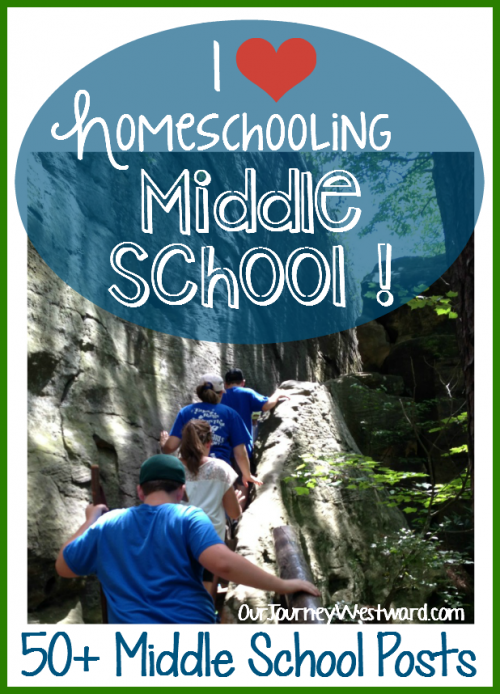 From Cindy at Our Journey Westward
The best of the best Our Journey Westward middle school posts have been gathered into one place for you in I Love Homeschooling Middle School. You'll find links to posts about unit studies, nature studies, math lessons, gameschooling, co-op classes, and much more!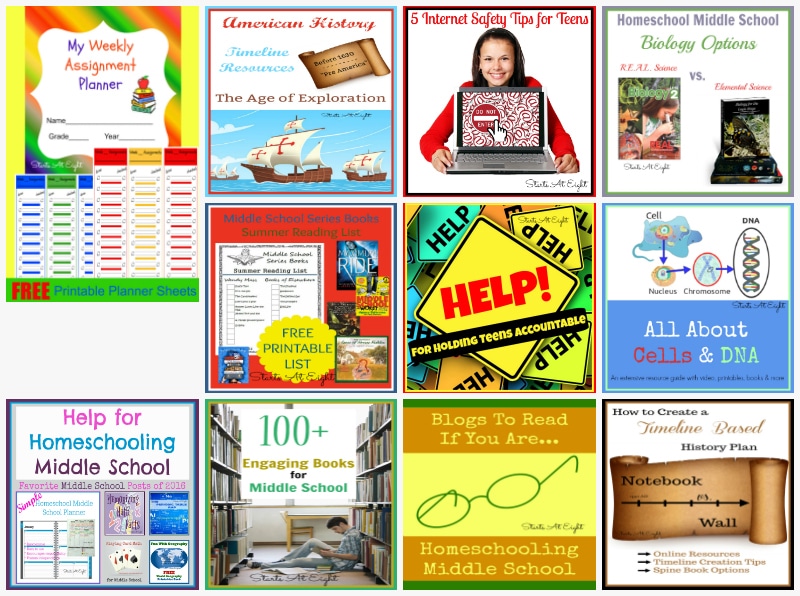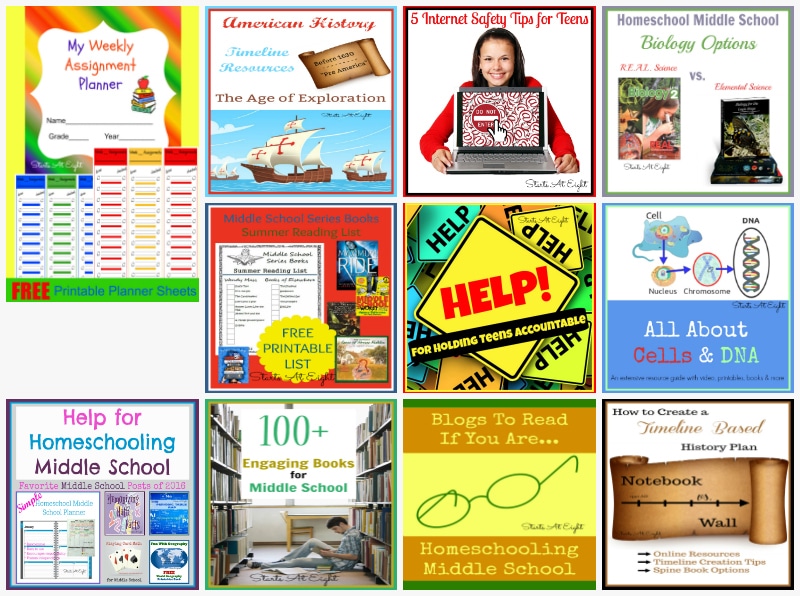 From Heidi at Starts At Eight
I am currently homeschooling middle school for my 3rd and final time. I have learned so much since getting my first through these years! You can find everything homeschooling middle school in one place at Starts At Eight on our Homeschooling Middle School Page. Everything from managing the life of a teenager to free printable planners, curriculum choices and more!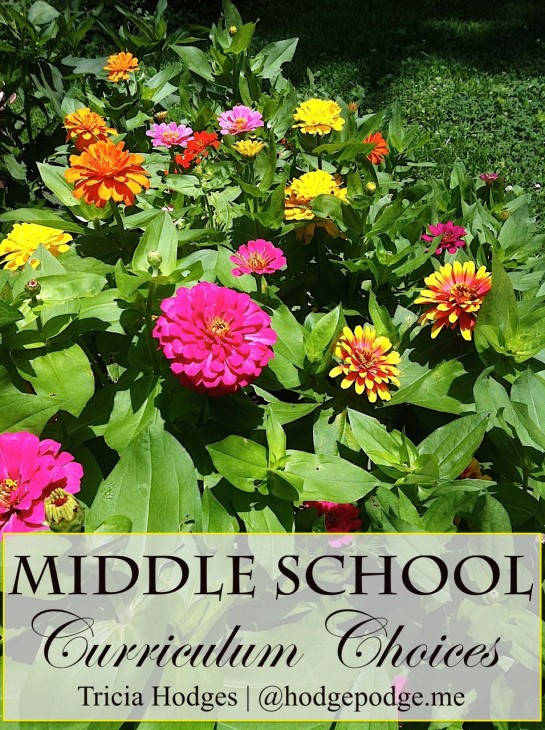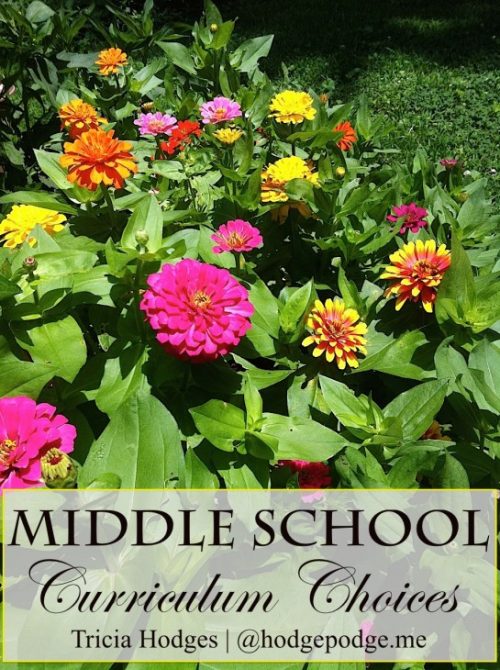 Tricia at Hodgepodge
Like the others here, I enjoy homeschooling middle school! This is a great age for me to continue to focus on my child's learning style. This was also the age when we discovered Teaching Textbooks saved us with my eldest two – now homeschool graduates. Each one of my five children has a unique learning style. That's why I shared the following when my middle girl was a middle schooler.
Kinesthetic Learner – curriculum and organization – She loves to make things. Do things. Move. Participate. Give her a display board for a biography report. Let her make a salt dough map. She loves to color while I read. Crafts, creations, busy. That's her.
Middle School Homeschool Curriculum Choices – Making writing easy for her gives her a practical way to practice spelling. She can send a card to Grandma and Grandpa or to a pen pal, using all her creative juices. How do you spell….? she will ask. All without the aid of a list of words in a workbook.
BETSY @ BJ's Homeschool
I had a lot of fun homeschooling our daughter during middle school.  She was coming into her own, developing her own interests and beginning to work more independently.  I have gathered my favorite posts together and put them on my page called BJ's Homeschool – Middles.
There you will find our favorites for middle school curricula, for math, social studies, science, English and more.  Plus creative ideas for creative writing, leadership, video-making and taking mini- nature road trips with your young teen.
Middle school was a very important time for my daughter and I to build up our relationship, mom to young teen.  So by the time she started high school, she was still looking to me for guidance and support, as she tackled the struggles of growiing up and becoming a young adult.
Do you think about college for when your middle schooler graduates?  Do you wonder if there is something that you need to be doing now, to get her prepared?  I wrote a post on that below, and really, if you are providing a solid homeschooling experience for your young teen, that is all you need to be doing!
7 Ways to Prepare Your Middle Schooler for College

THE CURRICULUM CHOICE REVIEW TEAM FEATURES
Have you enjoyed this special post from our review authors? Our Curriculum Choice review team features a topic monthly. You can see all that our authors have shared on electives, math, curriculum choices and more under Review Team Features.
Be sure to SUBSCRIBE so you won't miss any reviews from our team of veteran homeschoolers!