The authors here at Curriculum Choice love sharing homeschool curriculum reviews with you! Over the years, we've literally written hundreds of reviews for you to peruse. In this post, we'd like help you navigate all those wonderful reviews based on the particular grade level you're teaching. Homeschool curriculum choices by grade!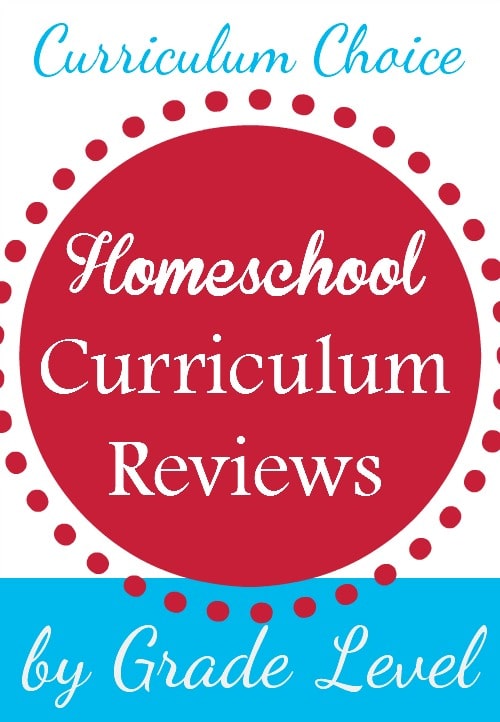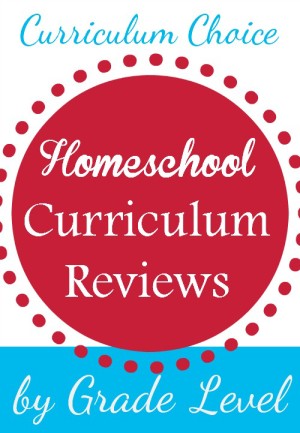 Homeschool Curriculum Choices by Grade From Our Archives
Homeschool Curriculum Choices by Grade from Our Review Authors
Many of our authors have also pulled together homeschool curriculum favorites by grade for you.  We know you'll be blessed by their experience and expertise!


Cindy at Our Journey Westward
I have so many, many curriculum favorites as an eclectic Charlotte Mason homeschooler.  I took the time not to long ago to pull together posts about curriculum that has consistently risen to the top over the years in various ages and stages.  Enjoy!
Homeschooling K-2nd: Top Picks
Homeschooling 3rd-5th: Top Picks
Homeschooling Middle School: Top Picks
Homeschooling High School: Top Picks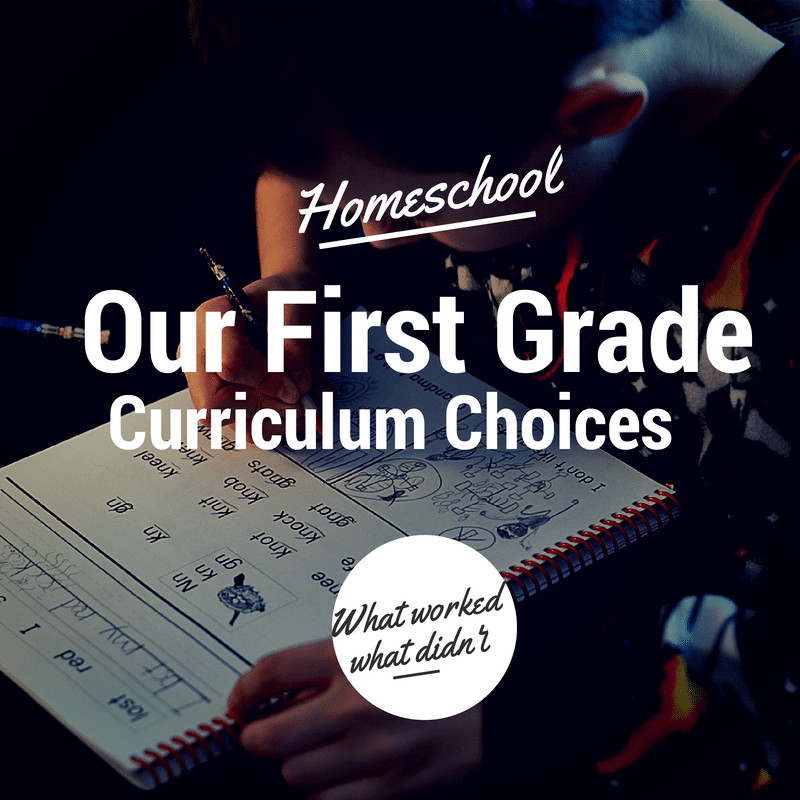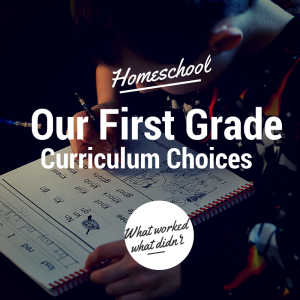 Amy at A Journey of Purpose
Our First Grade Curriculum Choices – We really enjoyed our First Grade curriculum choices this year. I'm happy to share with The Curriculum Choice readers what worked well for us in hopes that it helps you make your decisions about the upcoming school year.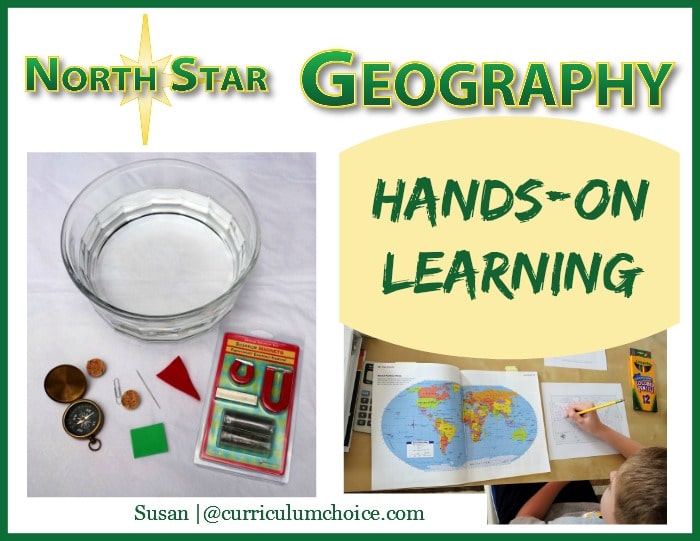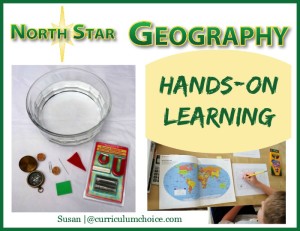 Susan & Megan at Education Possible
Geography Course for Middle & High School – The new North Star Geography curriculum from Bright Ideas Press is a comprehensive geography study offering lesson ideas for all learning styles, fun and easy hands-on projects, and directions for creating a personalized atlas.  It even counts as a credit course for high school transcripts.
Expository Essay Writing Course for Middle & High School – The online Essay Rockstar writing curriculum by Fortuigence offers one-on-one coaching and instruction to help your student learn the 5 steps involved in writing a strong informational essays.
Etiquette Curriculum for Middle School Students –  Short but effective lessons from the Etiquette Factory help children learn and build etiquette skills to help them in everyday life.  The best part — the lessons and role play activities are designed to be child led!
Online Psychology Course for High School – The JumpCourse online Psychology course prepares your high school student to take the Psychology CLEP test.
The Ultimate Guide to Hands-on Learning Activities for Middle School – We are always looking for additional hands-on activities to add to our homeschool curriculum.   Here is a list of  100+ of our favorite activities for middle school.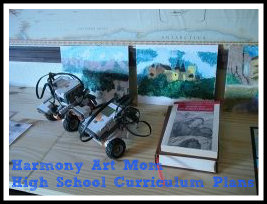 Barb-Harmony Art Mom
Homeschool Curriculum: You can find all of my specific grade level homeschool plans and then specific courses on this page on my blog.
Grade 9 Plans: Here are my specific plans on Squidoo with lots of links and resources.
Grade 10 Plans: This was our favorite year ever! You will find our specific courses and resources with lots of ideas for this grade. You will also find our quarterly art plans included in this link.
Grade 11 Plans: This year focused on world geography but you will also find all of our other courses and resources.
Grade 12 Plans – It has been a hard climb to conquer Mt. Twelfth Grade this summer. I have changed my mind so many times about courses and books and priorities.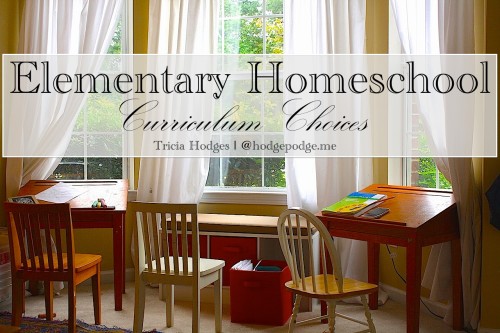 Tricia at Hodgepodge
Homeschool Curriculum Choices at Hodgepodge – "Seek God in your homeschool. His burden is easy. His yoke is light." ~ Wisdom's Way of Learning by Marilyn Howshall
Preschool and Kindergarten Homeschool Curriculum Choices – So, we start at the beginning and share those tried and true favorites. Most of these we used for all five children!
Elementary Homeschool Curriculum Choices – Many a time I have found myself pausing and being thankful that the younger two that make up our elementary homeschool are so close in age. Almost exactly two years apart with the same birthday month.
Middle School Homeschool Curriculum Choices – Our middle school girl is a busy, kinesthetic learner who loves to craft. She loves to make things. Do things. Move. Participate. Give her a display board for a biography report. Let her make a salt dough map. She loves to color while I read. Crafts, creations, busy. That's her.
High School Homeschool Curriculum Choices – This is a rather long post, but there's plenty to think about for two high schoolers – and this still doesn't cover it all (like those frequent, late-night talks with my two teenagers).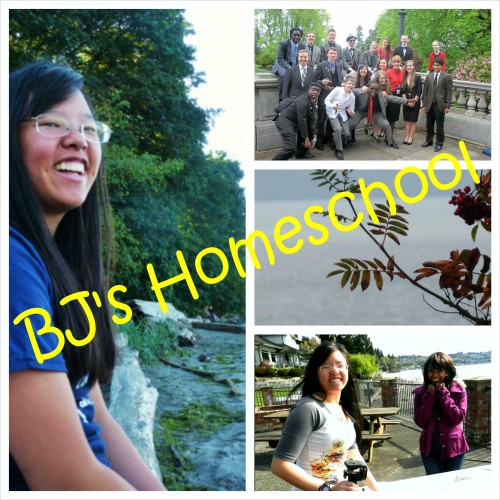 Betsy at BJ's Homeschool
You may know me from my series called Our Steps to College. The big news is that my daughter just graduated from BJ's Homeschool this June! So although I am usually talking about homeschooling high school..now that my daughter is going onto college, I have time to share about our earlier years…  SO here's some of my favorites from that, and also a few on homeschooling high school too, lol!  Betsy at BJ's Homeschool
Top Picks for Preschool/K – "Here's what we did for those precious early years, preschool and kindergarten.  And how we had so much fun doing it!…"
Oak Meadow First Grade Package Review – "When my daughter was six, she loved to work with her hands. I was delighted when I found Oak Meadow – First Grade – which was full of hands on activities, beautiful art, and lots of resources for every subject…"
Tim's Homeschool – Working with ADHD (first grade) – "When Tim's mom came to me for homeschool help, he was struggling with reading, writing and concentration. Read on to see what we set up for his homeschooling plan…."
Oak Meadow Fifth Grade Package Review – "During the elementary years, we used a lot of courses from Oak Meadow, which my daughter loved because of it's creative, project-oriented approach.  Oak Meadow strives to reach the child…head, hands and heart…."
For High School:
Our Steps to College – What about Curriculum? – This is from my blog series – Our Steps to College – "Choosing curriculum for high school was really just the same, with one important difference….now we also had college requirements to think about as well…."
Top Picks for Aiming towards College – "This post is all about what we did for senior year. We chose the curriculum that we wanted, and just made sure that it fit with our freshman entrance requirements, aiming towards college…."
Follow Curriculum's board Choosing Curriculum on Pinterest.
Review Team Features
Our Curriculum Choice Choosing Curriculum, Preschool and Kindergarten, Middle School and High School Pinterest boards.
Browse our reviews by age section of the site.
Have you enjoyed this special post from our review authors? Our Curriculum Choice review team features a topic monthly. You can see all that our authors have shared on electives, math, curriculum choices and more under Review Team Features.
Linking up to iHomeschool Network's Not Back to School Blog Hop.
~ Hosted by Cindy of Our Journey Westward.

-originally published August 2014