You wouldn't believe all the themed homeschool activities that can be explored based on the month of the year! You can cover history with topics like MLK Jr. Day and Patriot Day. You can explore the seasons with year round nature studies! Learn about obscure holidays each month like Measure Your Feet Day and National Sewing Month!
Spice up your homeschool studies this year with some fun themed homeschool activities! Take a look at the extensive list we have compiled for each month!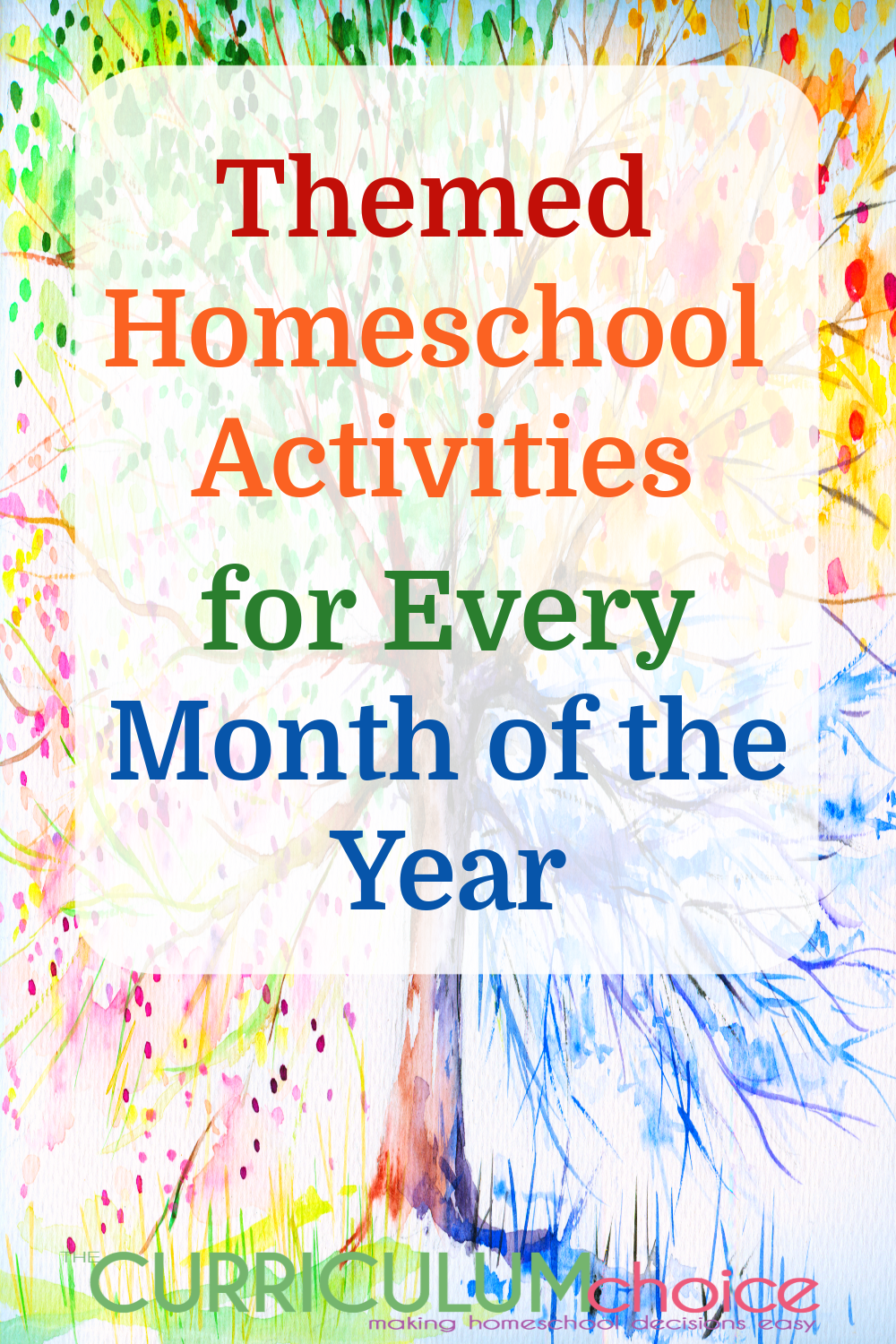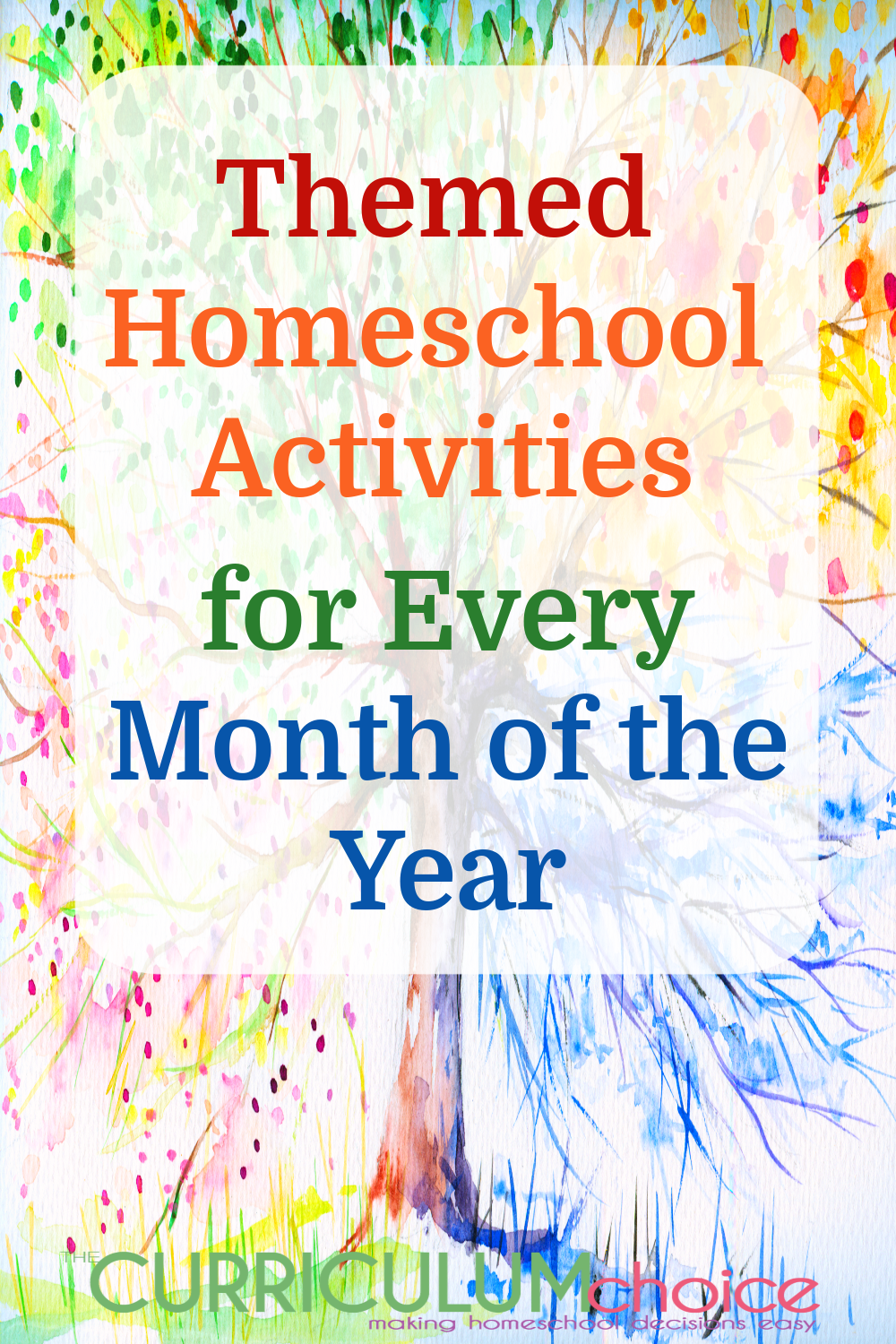 January Themed Homeschool Activities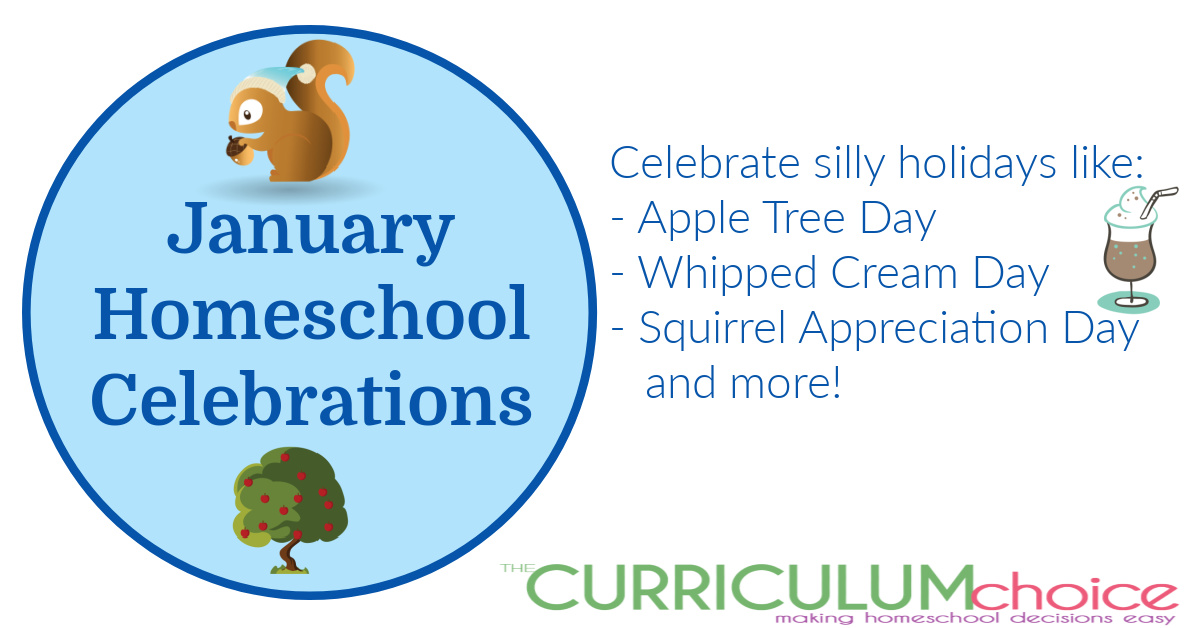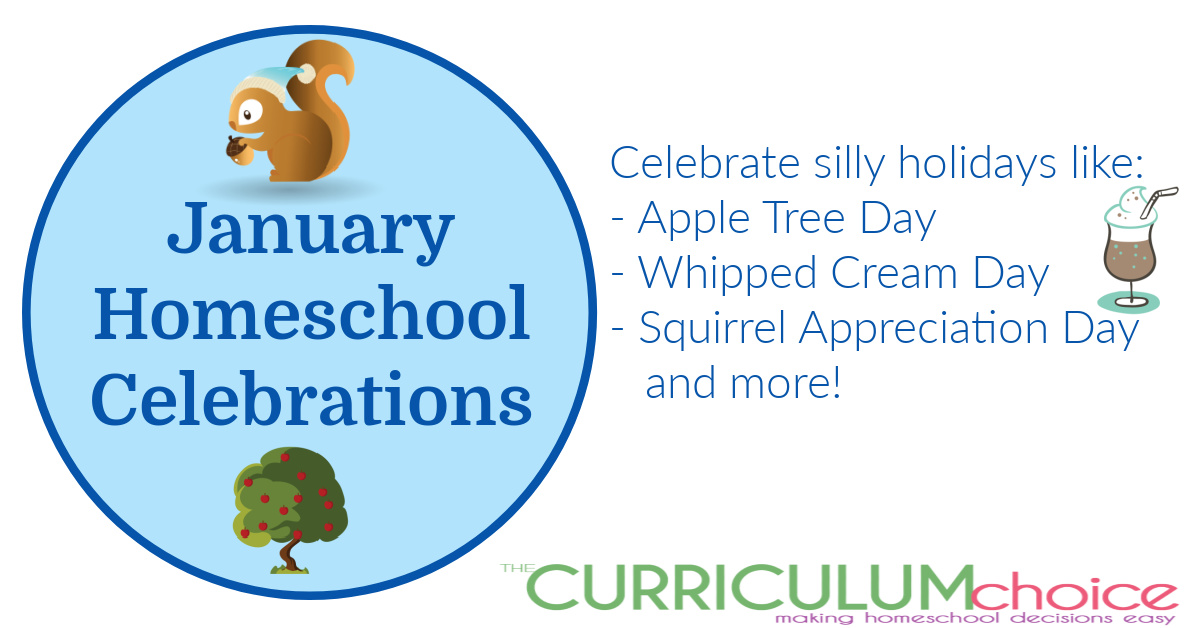 A brand new year means a blank calendar to fill with family fun and festivities! Incorporate some silly holidays like Apple Tree Day and Whipped Cream Day for fun and learning this month!
This month you can celebrate things like:
Measure Your Feet Day
Hot Tea Month
International Hot and Spicy Food Day
These January homeschool art activities will keep you going through the coldest month of the year with fun, indoor projects for all ages.
January is the perfect time to enjoy winter homeschool art activities. The winter section of the You ARE an ARTiST Clubhouse includes frost, icicles, a frozen lake, bird in snow, a winter forest and more!
Each January, Nana shares art lessons to match your favorite books! The January homeschool is all about art and literature in an I Drew It Then I Knew It style. Find a full list of ALL of the literature lessons in The Power of Adding Art to Literature Lessons.
Enjoy these January themed lessons and more!
Wilson "Snowflake" Bentley
Winnie the Pooh for A.A. Milne's Birthday
Little Women
Lord of the Rings
It's tough when the snow flies and you are all cooped up inside for more hours than you'd like to admit! Plus the shorter days and colder temperatures make our bodies feel sluggish. The good news is…there are plenty of things you can do to get moving in the winter! Not only will you feel better, but you can also check it off as winter homeschool physical education for your kids!
Each year on December 1, dessert lovers across the United States enjoy a slice of their favorite on National Pie Day. December 1st is the 2nd time in a year this national treasure has a day. The first and more popular designation falls on January 23. But we decided to share with you now so you can CELEBRATE BOTH DAYS!
Every year in January we celebrate the life and contributions of MLK Jr. Who was he? Why was he important? What contributions did he make to our history? All these questions and more are important ones to know.
Snowed in! Snowed in! What will we do when the winter blues set in and we are stuck inside? Here at The Curriculum Choice we are taking a look at what to do for a Snowed in Homeschool! Fun activities, crafts, games, learning ideas and more!
It's the perfect time of year to take on a winter themed nature study in our homeschools. Coping with The Cold, a NaturExplorers product from Our Journey Westward takes a look at how animals cope with the difficult winter season.
Themed Homeschool Activities for February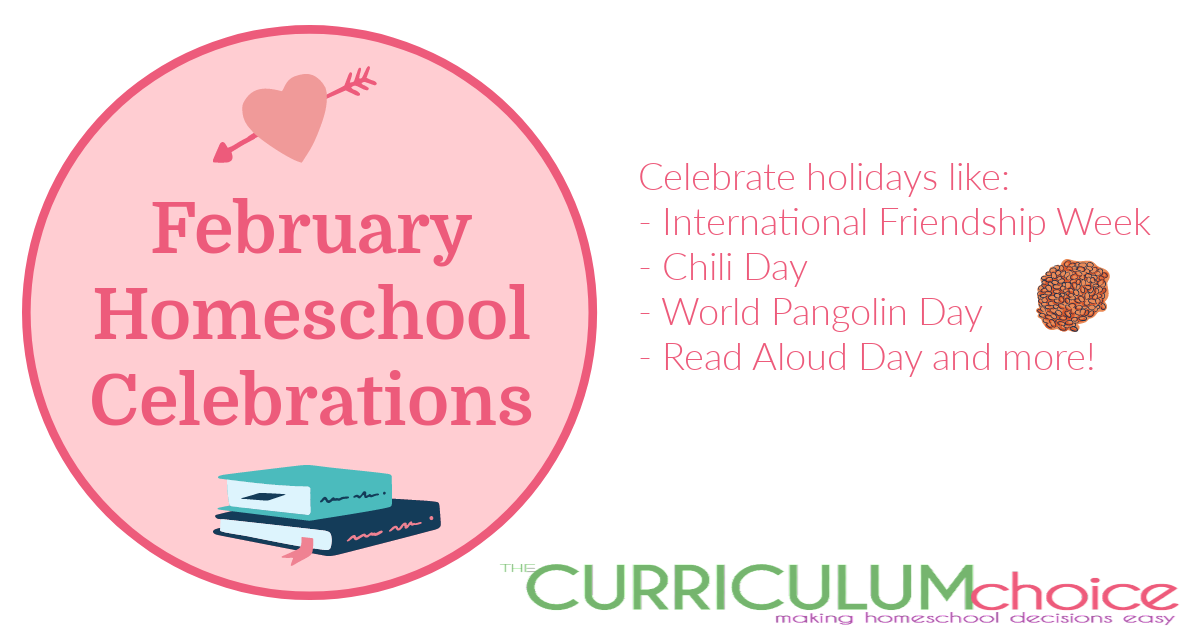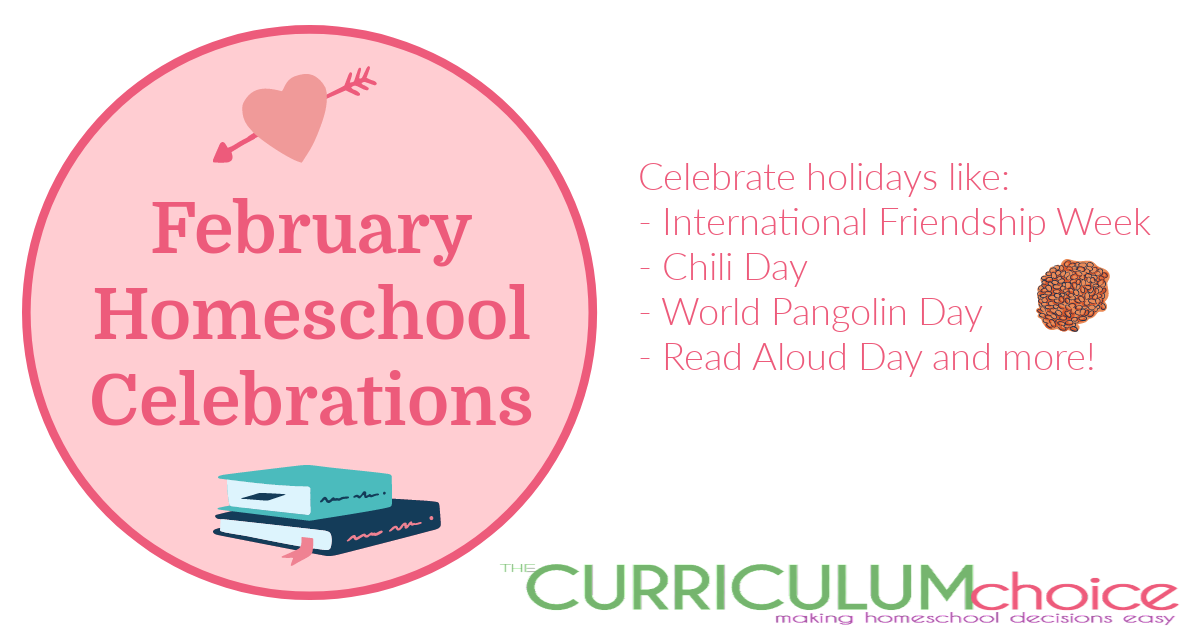 Take advantage of every day this month! Leave sticky-notes with accolades on bathroom mirrors doors, place small gifts on pillows, give verbal affirmations freely and find fun activities to create lasting memories with those you love. Add some of these silly, but actual, holiday celebrations to the family fun this month and throw in a few unique family ones, too.
This month you can celebrate things like:
Read Aloud Day
International Friendship Week
Chili Day
The month of love may be short on the calendar, but that just means you'll need to go the extra mile to squeeze in as much love and hugs and affection with the family before the month ends!
Find as many ways to convey love to your family with fun activities and memory-making opportunities. Make heartwarming memories during the cool days of February with some of these wacky, but real, holiday ideas!
Things like:
National Bird Feeding Month
National Kindness Week
Library Lover's Month
Squeeze in all the February homeschool family fun ideas you can think of in just twenty-eight days! Warm up hearts this winter with the cool celebrations below and make every day a holiday.
Celebrate things like:
National Hot Breakfast Month
Umbrella Day
Love Your Pet Day
In February we observe multiple Presidential birthdays as well as the national holiday, Presidents' Day. The Curriculum Choice authors are here with a wealth of inspiration for you to study the American Presidents with this Homeschool Presidential Studies compilation.
This fun craft is sure to bring a smile to a friend or loved ones face this Valentine's Day. Easy to do and you probably already have all the supplies in your house!
The days are shorter, the temperatures dipping below what can be called comfortable and for some of us, knee deep in snow and ice. Enjoy these outdoor and indoor activity ideas this winter!
Homeschool Activities for the Month of March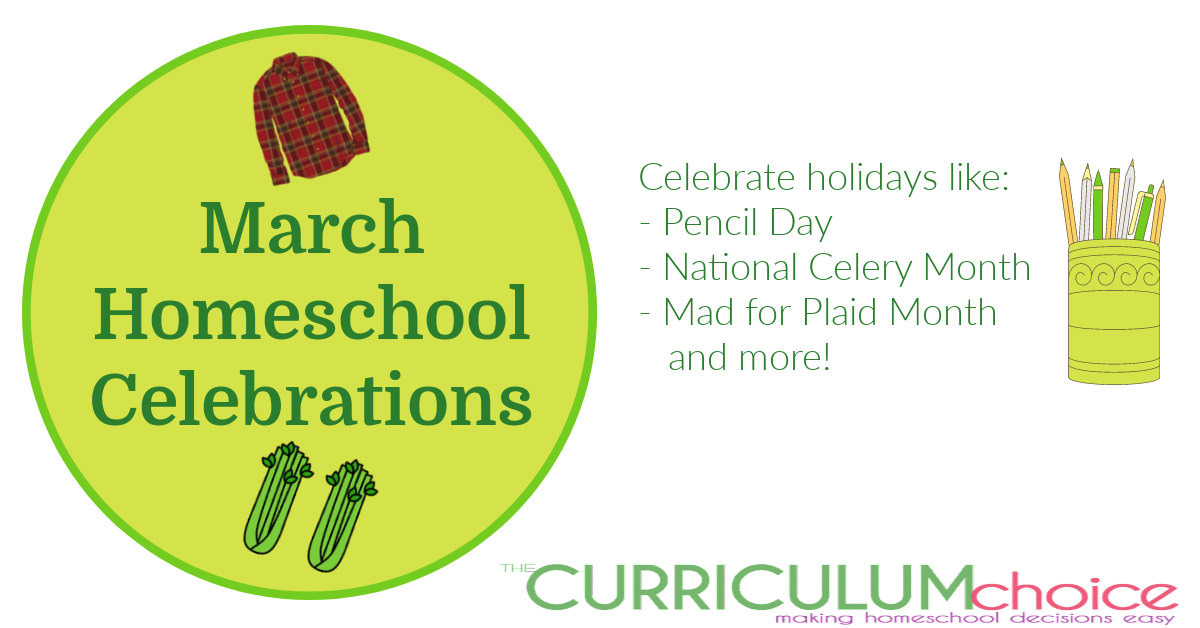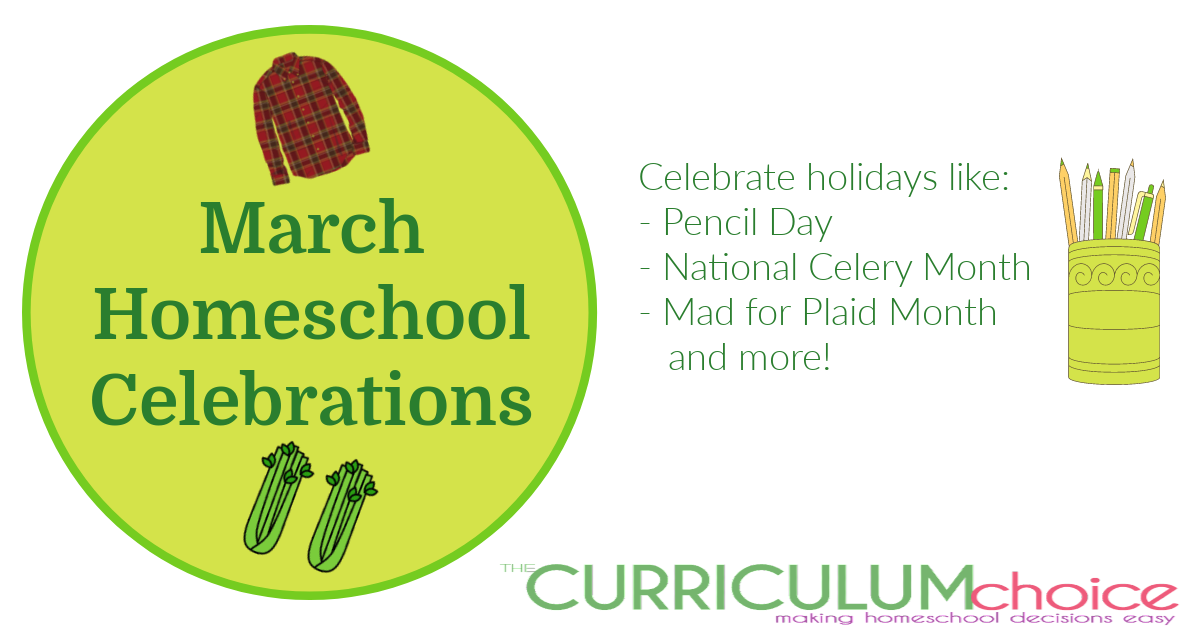 What's that saying about March? In like a lion, out like a lamb? And, conversely, in like a lamb, out like a lion? The gentle breezes or ferocious ones of March seem to chase winter away and make room for springtime. Whatever the weather in your neck of the woods, enjoy the month of March by celebrating some of these March Homeschool Celebrations.
March Forth Day
Pencil Day
National Words Matter Day
National Celery Month
March marks the time of year when everything begins to turn green, from the tip-tops of trees with fresh buds and leaflets to the bottom of the toes with new blades of grass. With four-leaf-clovers and cookie sprinkles and t-shirts in every shade of green, the month of March hints that spring is around the corner. Incorporate all sorts of green merriment into the month of March. Eat green peas and beans, and broccoli, spinach, and lettuce. Snack on zucchini and pickles. Turn lemonade green with a few drops of food coloring and add a slice of lime to your water glass. Wear every shade of green imaginable. And celebrate with the March homeschool family fun ideas!
Little Red Wagon Month
National Button Week
Proofreading Day
St. Patrick's Day is celebrated annually on March 17, the anniversary of his death in the fifth century. The Irish have observed this day as a religious holiday for over 1,000 years. On St. Patrick's Day, Irish families would traditionally attend church in the morning and celebrate in the afternoon.
But it's not just for the Irish! You can learn about and celebrate St. Patrick's Day in your home or homeschool even if you aren't Irish!
On March 2nd Theodor Seuss Geisel, known to the world as Dr. Seuss was born. He is widely recognized for his contribution as a writer, poet and cartoonist, having published over 60 books for children mainly based on imaginative characters and rhymes. These books serve not only as wonderful learning tools, but provide a world of fun and imagination for children.
This Everything Dr. Seuss is a collection of resources including books, movies, printables, and more from the writers here at The Curriculum Choice.
March is National Reading Month. During this month schools across the nation are encouraging children to read, every day. Reading opens the doors to so many other things and is an essential skill for children to gain. Even if your children are not able to read to themselves yet, I encourage you to read to them yourself, every day.
April Themed Homeschool Activities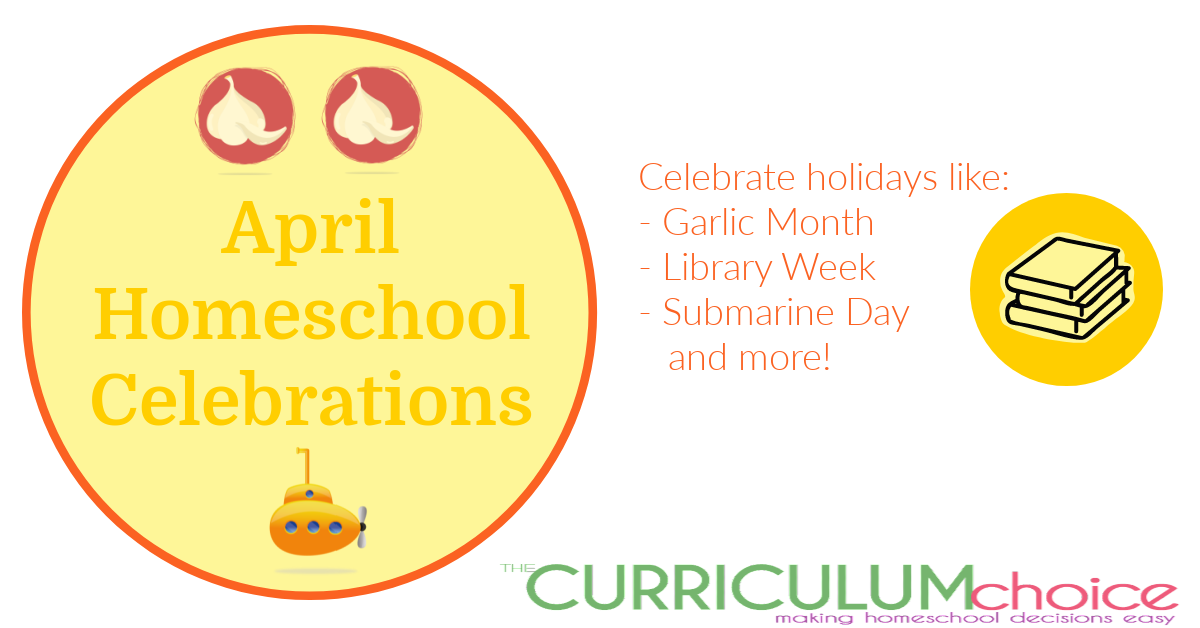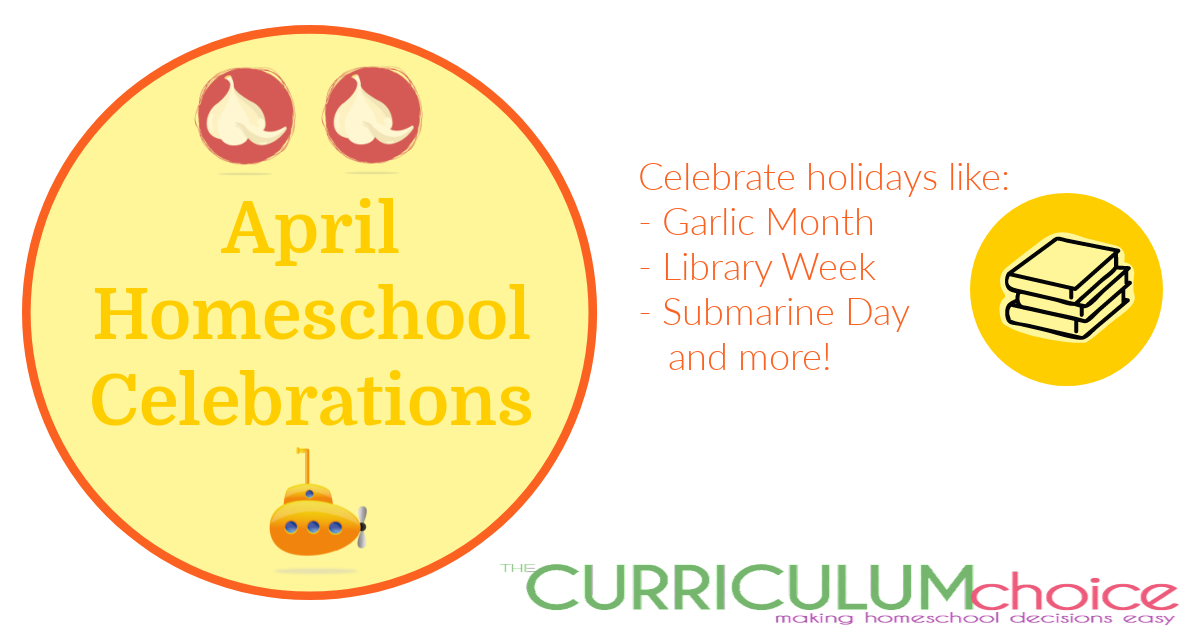 Spring is here! How beautiful and magnificent. Enjoy April homeschool celebrations such as:
Garlic Month
Library Week
Submarine Day
Reach as High As You Can Day
Spring is fast approaching and with it many will celebrate Easter. Whether it's eggs and bunnies or the cross that has you celebrating, this is a collection of Easter Homeschool Activities to help you!
What it is, how to use it, resources, reviews and more! We are so excited about our sister site, Homeschool Nature Study, where all things Handbook of Nature Study can be found!
The best part of the outdoor classroom is that it is available to everyone, every student, no matter your geographic location or your economic status. The best place to start is to simply observe and make note of what you see. Bring a spiral notebook and pencil along with you and write down your observations and questions as they come to you.
Where ever you start, the outdoors provides a wealth of inspiration. Take it from the veteran homeschoolers featured here – each of whom have pulled together some of their best outdoor homeschooling posts. Their creative and fun teaching ideas are sure to encourage you to get OUTSIDE.
Every year the month of April is set aside as National Poetry Month. This is a time to celebrate poets and their craft. It has become the largest literary celebration in the world with various events being throughout the month by the Academy of American Poets, schools, publishers, book sellers, and other poetry organizations. Use these activities to celebrate!
Themed Homeschool Activities for May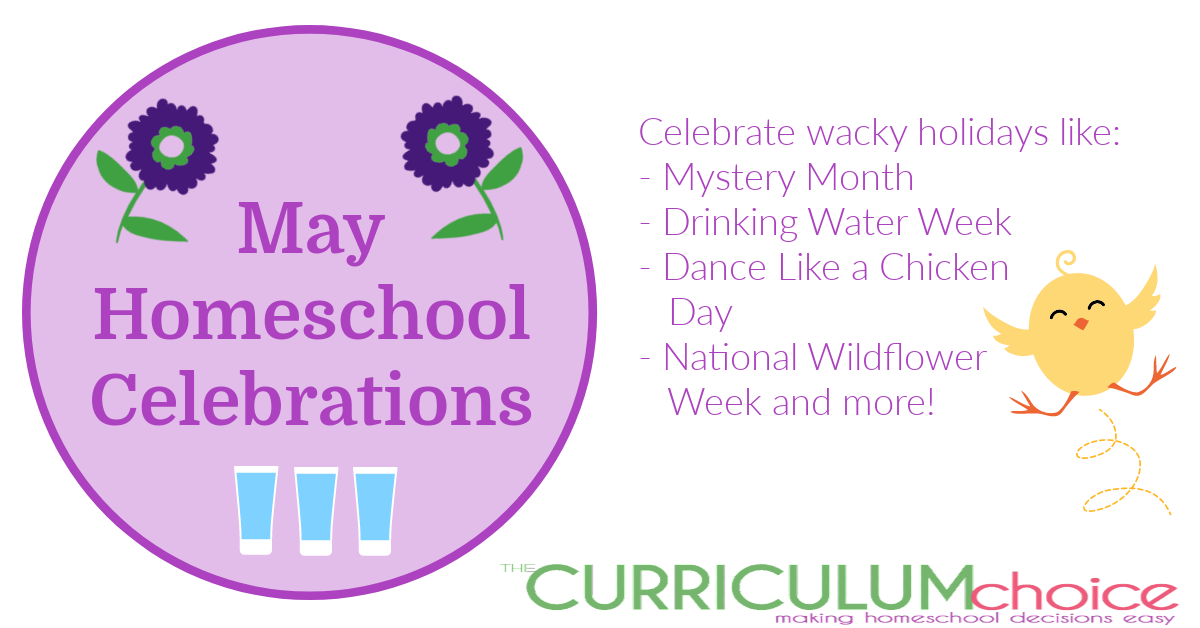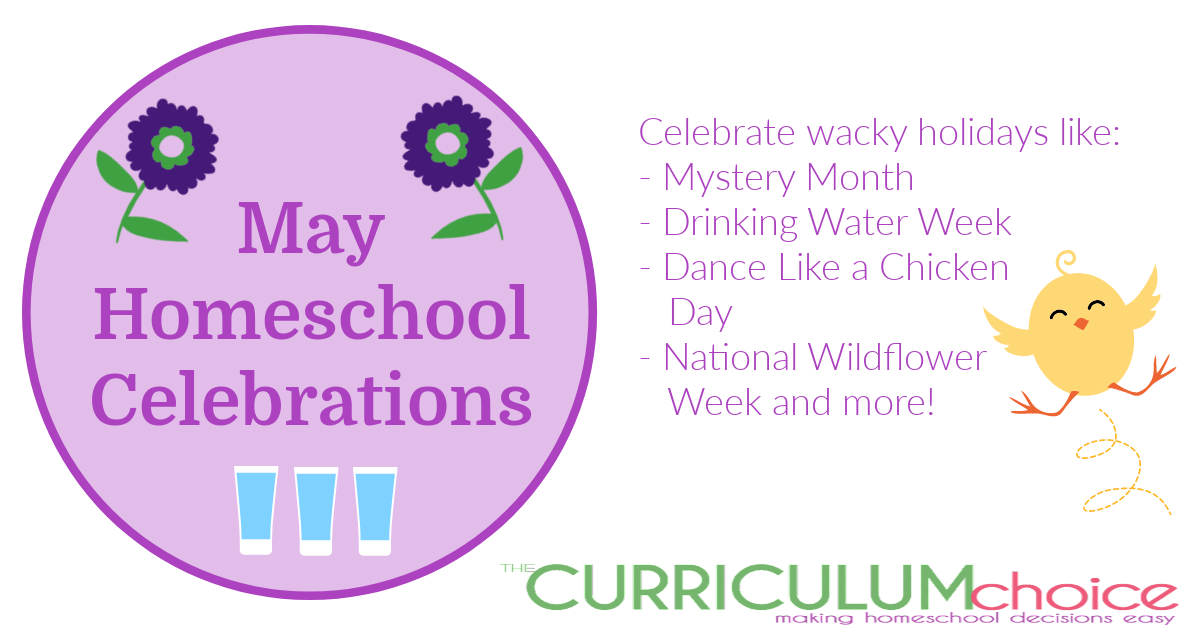 May flowers bloom exquisitely and decorate landscapes, ushering in a wealth of springtime beauty. As springtime continues to roll in, check out some of these wacky celebrations with your family!
Drinking Water Week
Mystery Month
National Wildflower Week
Dance Like a Chicken Day
With intentional planning, this month MAY be the best one yet to make family memories and have oodles and oodles of family fun. Check out some of these celebrations:
World Turtle Day
Paper Airplane Day
No Socks Day
Endangered Species Day
What better way to celebrate May the Fourth as a homeschool family than with a Star Wars unit study? May the Fourth Be With Your Homeschool!
In honor of Memorial Day, we are sharing some learning resources, crafts, arts and more from around the web. Enjoy these great ideas like making a flag cake, flag printables, patriotic crafts, and more!
It is almost spring! I hope you can feel your homeschool coming back to life with a refreshed energy to finish the year well. The authors here at The Curriculum Choice are feeling that renewed energy and have set out to encourage you with wonderful ideas for your spring homeschool.
From spring holiday celebrations and nature study to meaningful art and literature themes, we hope you'll find at least a few fun ways to enjoy the season!
Are you planning a garden? Looking for a great way to teach your kids about gardening? Then the Gardens Unit Study by Amanda Bennet could be just what you need!
It has four wonderful weeks worth of study to complete which made it a perfect study for our summer homeschool. I would summarize them for you as:
What is a Garden?
History of Gardens: The Garden of Eden
Botany- Plant Science in Our Gardens
Planning and Planting a Garden
Homeschool Activities for the Month of June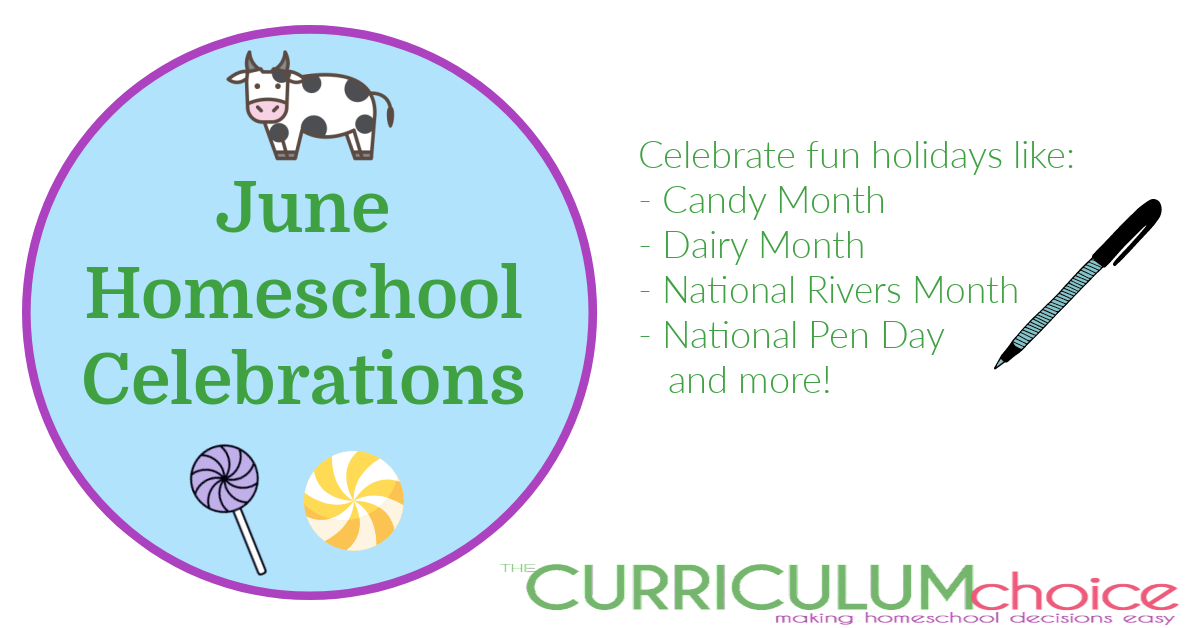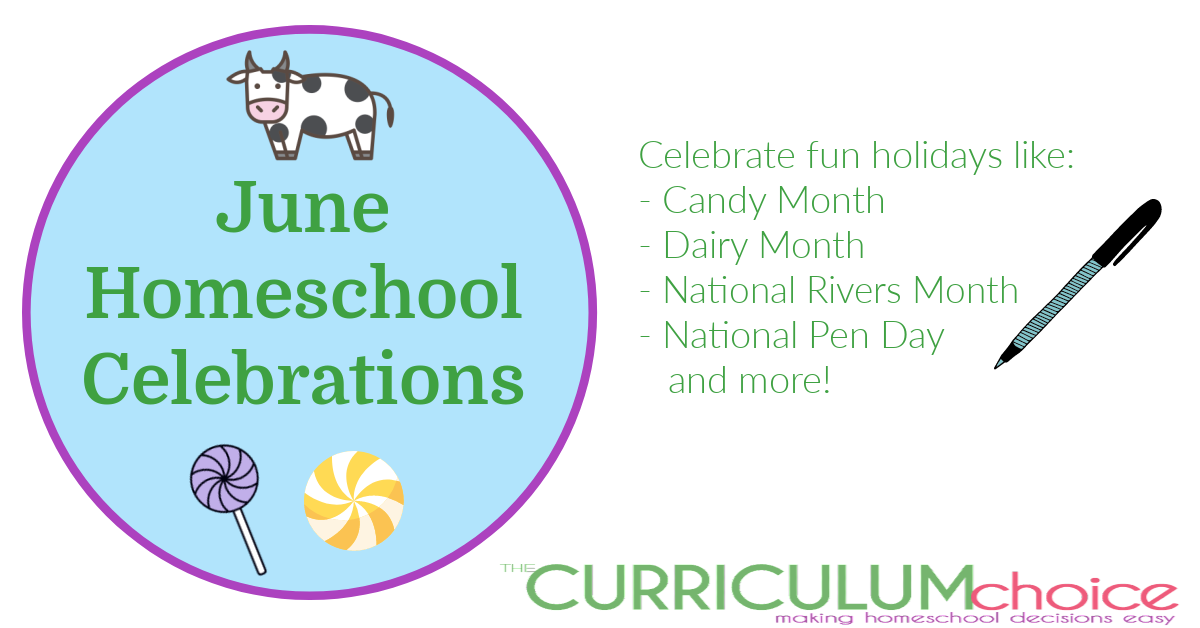 Get outside to enjoy the outdoors; make snacks, read books and check out these June Homeschool Celebrations. Like:
Candy Month
National Rivers Month
Dairy Month
National Pen Day
The month of June brings excitement, with trips to the pool or beach or lake, watermelon and fresh vegetables, picnics and pajama parties, sleeping late, honoring Dads and extra minutes of sunshine.
Try some of the zany, but real, June homeschool family fun ideas below:
Trails Day
National Aquarium Month
Eat Your Vegetables Day
Flip Flop Day
Graduation is nearly upon us and like most families with seniors, homeschool families are giving thought to graduation parties and activities to honor our graduates. Here are ideas for celebrating homeschool graduates from our team of authors.
what better way to teach our children about nature, food, hands-on history, and practical skills than by gardening? Whether we do a formal study or make gardening a purely hands-on project, our children will learn with a homeschool garden. And whether or not our children end up being gardeners, the knowledge, the work itself, and the skills will benefit them in unexpected ways.
To help you homeschool outside this spring and summer, veteran Curriculum Choice homeschoolers have collected their suggestions about gardening, nature, nutritious eating, and more. Whether you plant a 5000 square foot garden, treasure one pot of tomatoes, savor fresh foods from the store, or focus on observing the world around you, you will find ideas here to inspire and encourage your family.
For those years when the Summer Olympic Games come around! Here you will find a collection of resources from The Curriculum Choice and its authors for learning about the summer Olympic games.
Here at The Curriculum Choice, our authors are excited to bring you their brand of summer homeschooling fun with Homeschool Summer Camp.
Summer is a time for fun and sun and pools and lakes! It's also a time to take a break from regular learning or inserting some new twists on learning.
The writers here at Curriculum Choice are eager to share ideas and encouragement for homeschooling during the summer. Here are some fabulous summer homeschool ideas for you to try out this summer!
We've got a great line-up of favorite summer reading lists for you at The Curriculum Choice. It's all about books, books and more books.
July Themed Homeschool Activities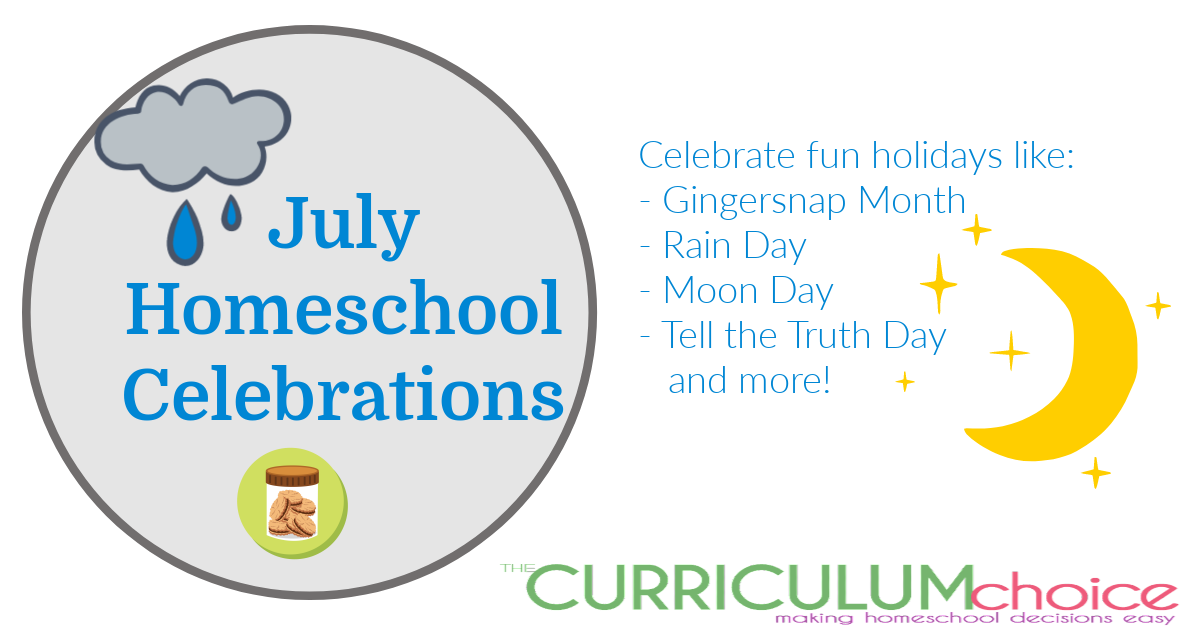 Enjoy every day of this month with those you love.
Try out these wild, but real, July homeschool celebrations:
Rain Day
Moon Day
Tell the Truth Day
Gingersnap Month
Can you believe that we're halfway through the year already? July makes that official. I hope you've made a ton of family memories already, but take heart – you've got the second-half of the year to make up for it, if you've not quite taken part in all those adventures you planned.
To help you get started, try out some of the cool activities:
All American Pet Photo Day
World Snake Day
Drive-Thru Day
World Jump Day
In a rapidly changing world that can, at times, be frightening and hard to figure out, we become more aware of who we are, what we stand for, and what we value. What about the patriotic homeschool? How can we pass on and nurture a patriotic spirit in our children?
American History is a staple component throughout the homeschooling years. From our founding fathers to the election process, with wars and reformations, the history of America has shaped the country as we know it today. Many say that history is important so that we don't repeat the mistakes of our fathers, and their fathers before them. Studying American History allows us a window into the life and times of those they came before us, and a chance to learn about methods that may have succeeded or failed. Here are our favorite homeschool American history resources.
Whether or not your family homeschools year-round, the summer time homeschool routine is apt to take on a different flair. Need some summer homeschool ideas and encouragement?
The writers here at Curriculum Choice are eager to share ideas and encouragement for homeschooling during the summer. Here are some fabulous summer homeschool ideas both here at The Curriculum Choice as well as from their blogs.
Summer time is a fantastic time to kick back and enjoy some summer themed learning adventures. Here at The Curriculum Choice, we're sharing our shark themed ideas. With these resources, you can enjoy a shark month for homeschoolers! Here are some of our favorite shark themed units and activities along with some extra resources for putting together shark learning fun.
Themed Homeschool Activities for August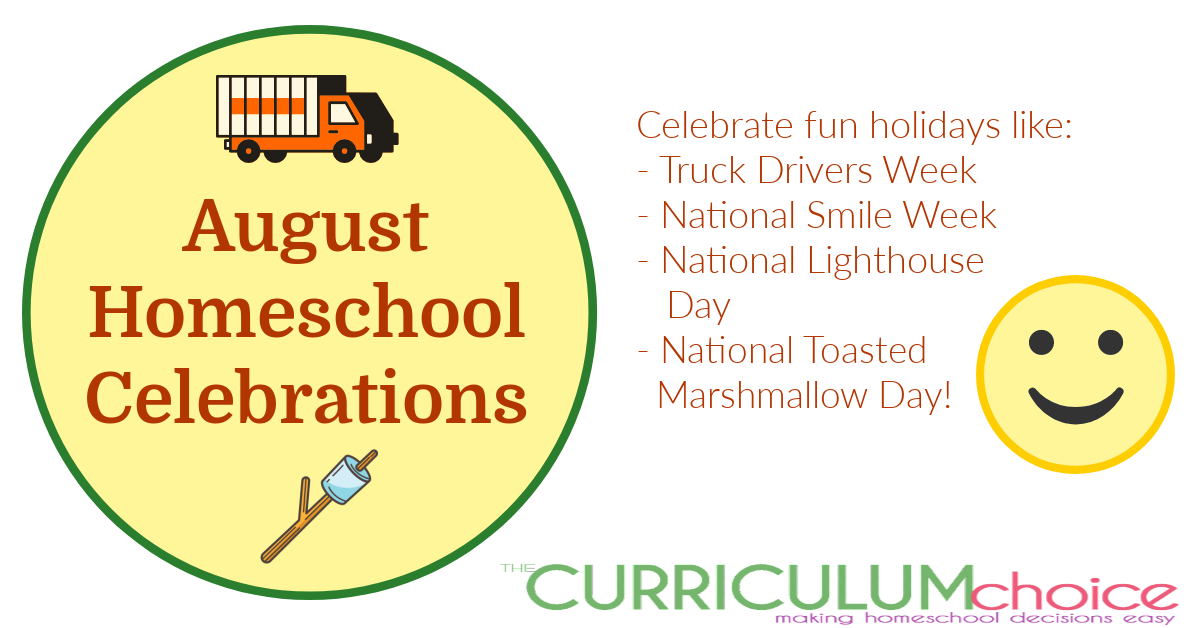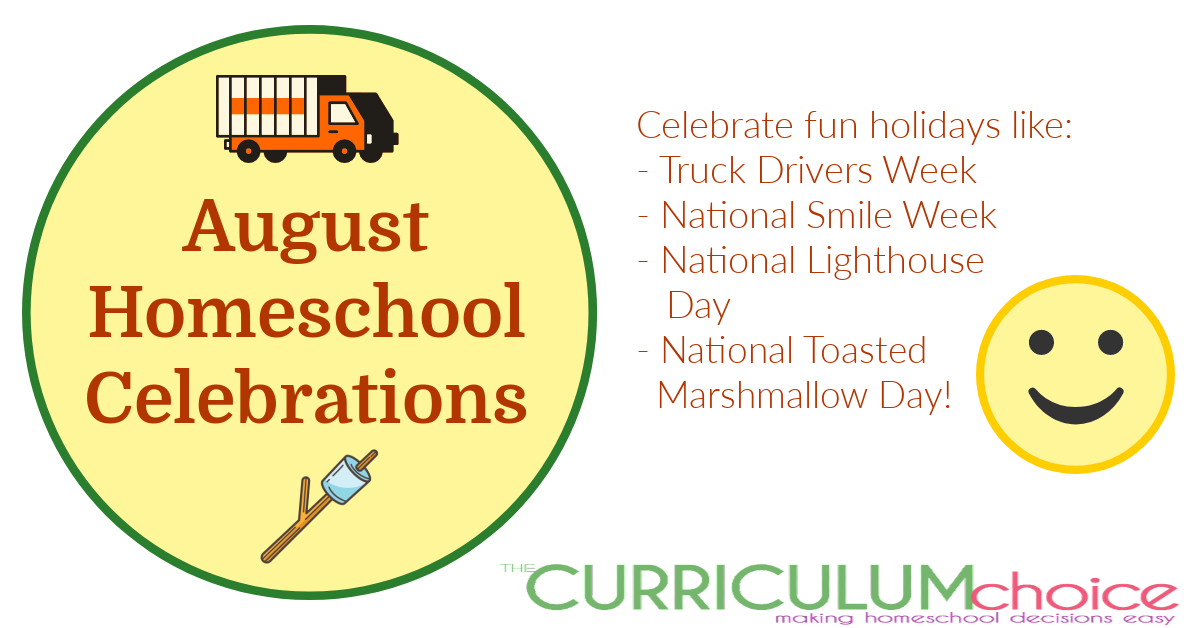 National Smile Week
National Lighthouse Day
Truck Drivers Week
National Toasted Marshmallow Day
According to the calendar, the halfway point of the summer season falls on August 6. Despite the presence of sharpened pencils, lessons plans, and brand new crayons, be sure to keep the spirit of summer alive with a wealth of outdoor playtime and park picnics with watermelon slices and popsicles.
Don't abandon summer just yet – make warm memories to cherish with some of the silly, but real, celebrations below or create your own cool, summer festivities.
Here are some August homeschool family fun ideas:
Fishing Month
National Peach Month
World Lion Day
National Left-Handers Day
In the introduction to More Than A Movie: 50 Ideas for Fun and Frugal Family Nights, Janet defines a family night as "a night intentionally set aside for the purpose of participating in a fun activity together." This is something our family has always tried to do each week and I think it has greatly contributed to our family unity and fond memories. This ebook outlines fifty ways we can create the opportunity for family night without turning on the television or breaking the bank.
Are you looking for ways to spend more time with the kids outside? One excellent way to get kids more engaged in the outdoors and interested in nature is to start a butterfly garden. Here are some great butterfly activities, printables and more to get you going!
Homeschool Activities for the Month of September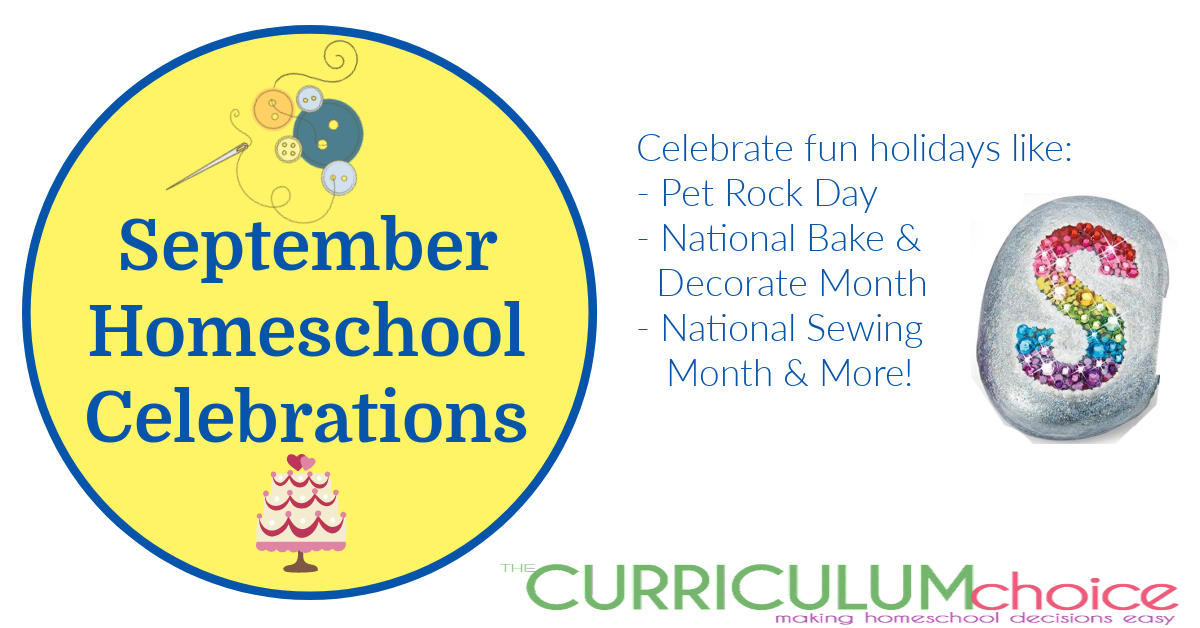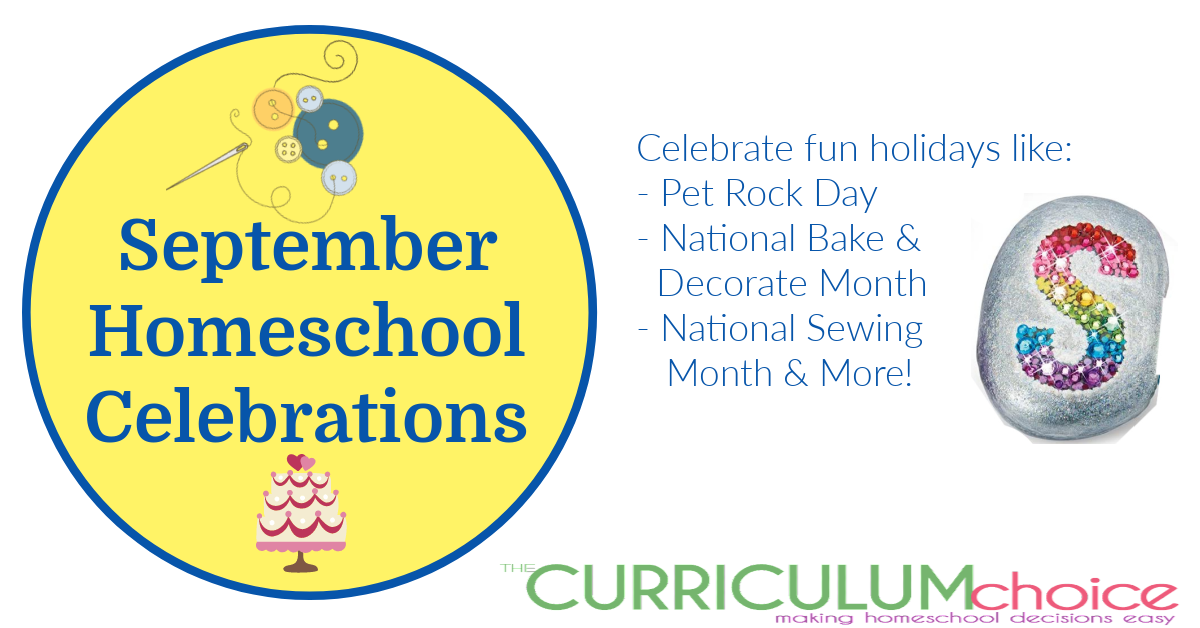 A flip of the calendar to September brings visions of cooler weather (ever-so-slightly for those of us in the deep south), football games on the screen and in the back yard, and all shades of amber, auburn, crimson, and gold. Find fun ways to welcome autumn this month and make memories with the family that will warm the heart and tickle the senses. Enjoy these September homeschool celebrations!
National Bake and Decorate Month
National Sewing Month
Labor Day
National Courtesy Month
Enjoy the last calendar-deemed days of summer and savor shades of green before they meld into fall delight. Make the most of every day with some of the zany, but actual, holidays below:
Hummingbird Day
Punch Day
International Dot Day
And More!
Because we are all preparing to get back into the swing of homeschooling, we thought you might appreciate a little back to homeschool help from us!
We all need new inspiration now and then. So we invite you to visit with us a while. Let us encourage you. Save this post for any sort of back to school time. Whether it be after the holidays, the start of a new school year, after sickness – whatever the reason.
It is that time of year again. Time to plan for a new homeschool year!
Most homeschool families are busy selecting new curriculum, setting goals, and preparing schedules. Here at The Curriculum Choice we have many tips and ideas to help with your planning and curriculum selections, but we would also like to remind you of something very important – don't forget to build in some FUN!
Tis the season of starting back to school, either public, private, or homeschool. In our case it will be back to homeschool, but not until after Labor Day! It can be fun to do something different or special to kick off your new school year. Here are some fun back to homeschool ideas to spark your interest!
This month we find ourselves remember the events of the September 11th attack on our country that began with an airplane flying into one of the Twin Towers in NYC. That day will forever be etched in our history and is known as Patriot Day. This is a collection of Homeschool Patriot Day Resources to use with your children.
October Themed Homeschool Activities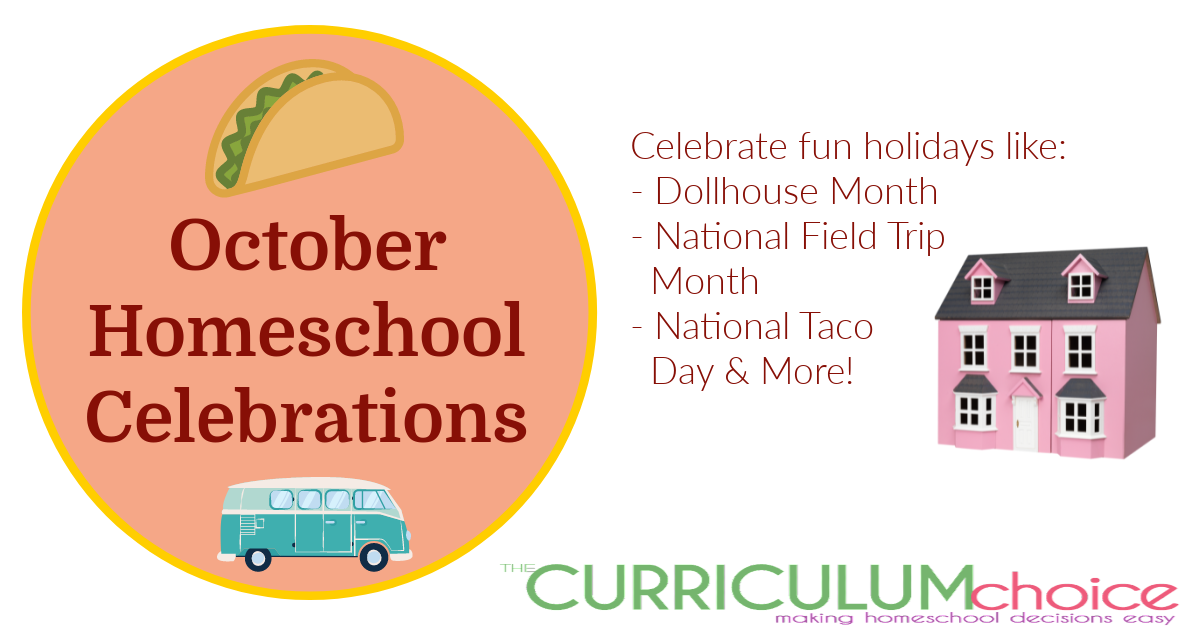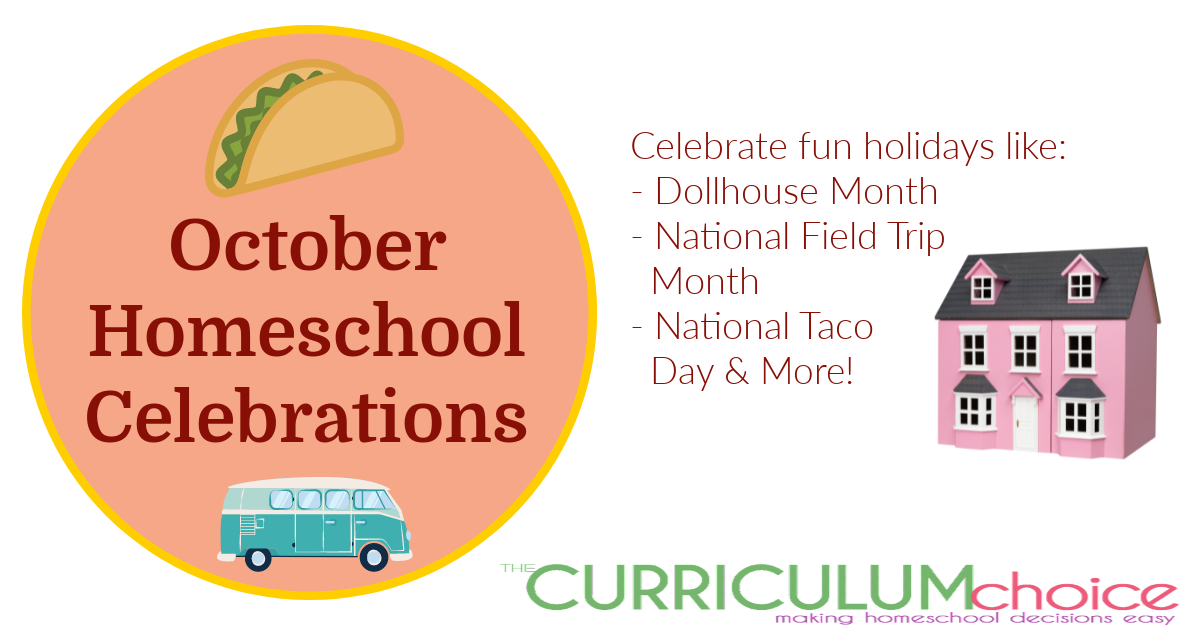 According to the calendar, fall arrived a week or so ago, but the true splendor of the season seems to trickle in, with pumpkin sightings, scarecrow smiles, and brilliant shades of fall dangling from treetops. Pick one tree in particular to watch throughout the month of October and thank God for his beautiful creations as the tree changes.
Enjoy these fun holidays this month:
Dollhouse Month
National Field Trip Month
National Taco Day
We hope you enjoy the last weeks of summer while you put a few wise finishing touches on your plans for fall. Here's some inspiration from the veteran homeschoolers who write for The Curriculum Choice.
Check out articles like:
Tips for a Successful Homeschool Year
How to Get Started with Nature Study
How to Mix Words with Art
Geography Quest: Fall Foliage Treasure Hunt
October is the perfect month to celebrate all things autumn and enjoy some fall themed learning adventures. Here at The Curriculum Choice, we're sharing our autumn themed homeschool activities, perfectly-picked, pumpkin ideas for fun and academic success! With these resources, you can enjoy a month of Pumpkin Homeschool with the family!
Themed Homeschool Activities for November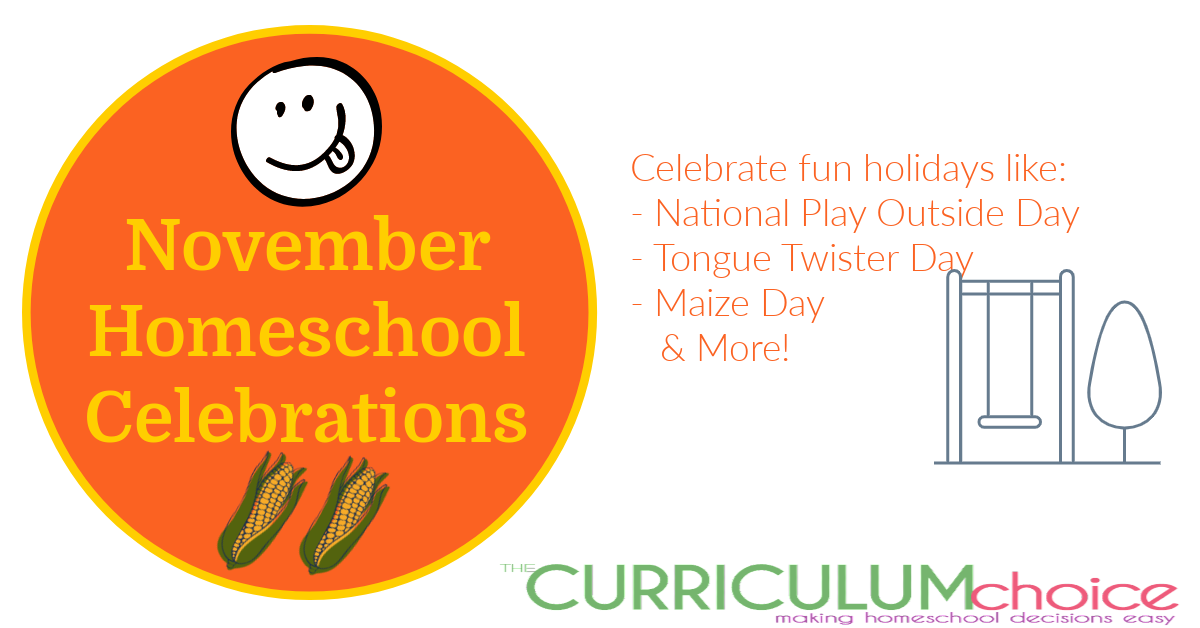 Brilliant colors and cool, breezy mornings mean autumn has arrived with great fanfare.
Celebrate November with some of the zany November Homeschool Celebrations below:
Jellyfish Day
Maize Day
Tongue Twister Day
National Play Outside Day
Be grateful every day this month, for the little blessings and the huge miracles and everything in-between. Celebrate every day as a gift with unique family celebrations or throw in some of the unusual, but actual, holidays below.
National Brush Day
Clean Out Your Refrigerator Day
Gingerbread Cookie Day
November 11 became a federal holiday in 1938, when it was known as "Armistice Day", to honor the cessation of World War I. Legislation in June of 1954 under President Eisenhower broadened the focus of the date to honor all veterans, and changed the name of the holiday to "Veterans Day".
November 11th became the official national holiday for Veterans Day when President Ford signed Public Law 94-97 in 1975. Veterans Day has continued to be observed on November 11th since 1978.
Learn more and celebrate this day with these activities collected by our Curriculum Choice Authors.
Thanksgiving. A time for family. A time for reflection. Also a time for learning. Think about including Thanksgiving Homeschool activities in your homeschool day. Crafts, books, educational ideas and so much more can be geared toward Thanksgiving.
Homeschool Activities for the Month of December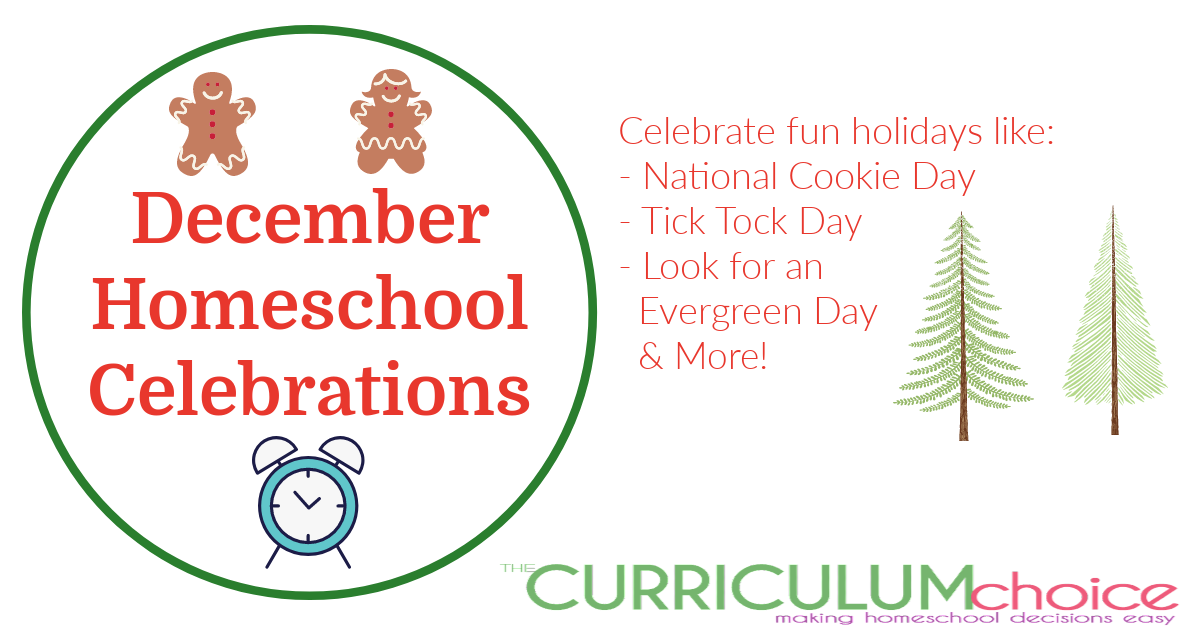 Make an extra effort to spend the remaining days of the year in intentional fun and merriment with the family using these December themed homeschool activities. Make memories to treasure that end the year in great fanfare and welcome in the new year with joyous thanksgiving for the ones you love.
National Cookie Day
Tick Tock Day
Look for an Evergreen Day
National Roof Over Your Head Day
This year welcome the true spirit of Christmas into your heart with much family time (these 5 December Homeschool Family Fun Ideas will help!) and extra kindness for all those around.
International Mountain Day
Pear Month
Winter Solstice
Visit the Zoo
5 days. 5 Christmas Books. Loads of activities!
The Polar Express, Frosty the Snowman, Twas the Night Before Christmas and more!
5 different DIY Ornaments that kids can do! They make wonderful decorations for your own home, or special gifts to give friends and relatives.
Work with popsicle sticks, yarn, felt, scrabble tiles and more!
Do you find yourself stuck each December, trying to figure out how to keep your homeschool running smoothly AND bring in just the right amount of joy and festivity to your Christmas homeschool?
Maybe you have good intentions for adding Christmas -themed learning and activities to your homeschool, but the time between the changing colors of the leaves and the Christmas shopping rush slips between your fingers. You just don't have the time or energy left to plan!
Don't fret! The Curriculum Choice authors have you covered with lesson plans, craft ideas, book lists, recipes, and more to take make your children's December jolly and memorable.
Learn about the wonderful trees we decorate in our homes this time of year!
During more than 30 nature walks, you'll complete in-depth investigations about all parts of conifers including cones, leaves, branches, sap and more. And keep busy indoors with nearly 70 hands-on or research-based ideas from which you can pick and choose based on your children's abilities and interest levels. 
More Monthly and Seasonal Homeschool Fun!
Here are a few more ideas from our sister websites you might incorporate into your homeschool days: