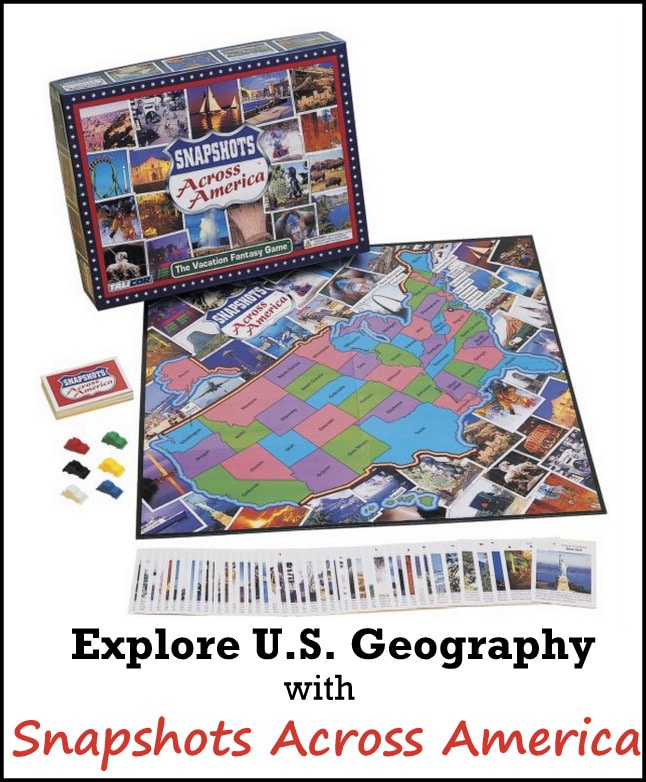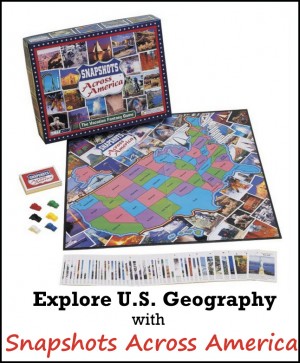 Educational games can be a homeschool mom's best friend, fitting in a lot of learning while having fun as a family.  Our favorite board game for sharpening our U.S. geography skills is Snapshots Across America.
What is Snapshots Across America?
Designed for two-six players, ages eight and up (though my seven-year-old can play with some reading help), it provides a fun way to explore the geography of the U.S.  The box includes a game board with a clear map of the United States, car playing pieces, and cards.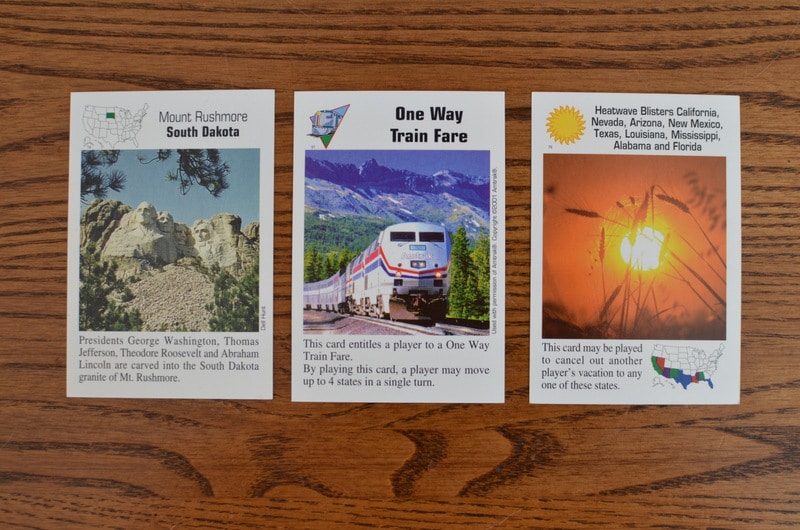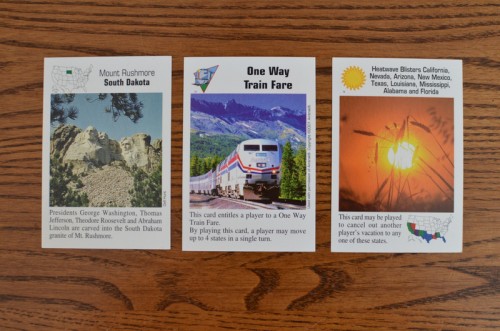 The game cards come in three varieties:
Tourist Attraction Cards have the name of a tourist attraction, a photo, and short blurb about the place or event.
Transportation Cards give you options for traveling around the country by plane, train or boat.
Bad Weather or Airport Closed cards allow you to wreak havoc on your fellow traveler's plans.
How do you play?
All the cards are shuffled together and each player is given six cards.  On your turn you attempt to reach a state where one of your attraction cards is located.  You "travel" by driving to a neighboring state by car or using one of your transportation cards.
When you arrive at the proper state you lay down the corresponding attraction card.  Be the first to do this seven times and you're the winner!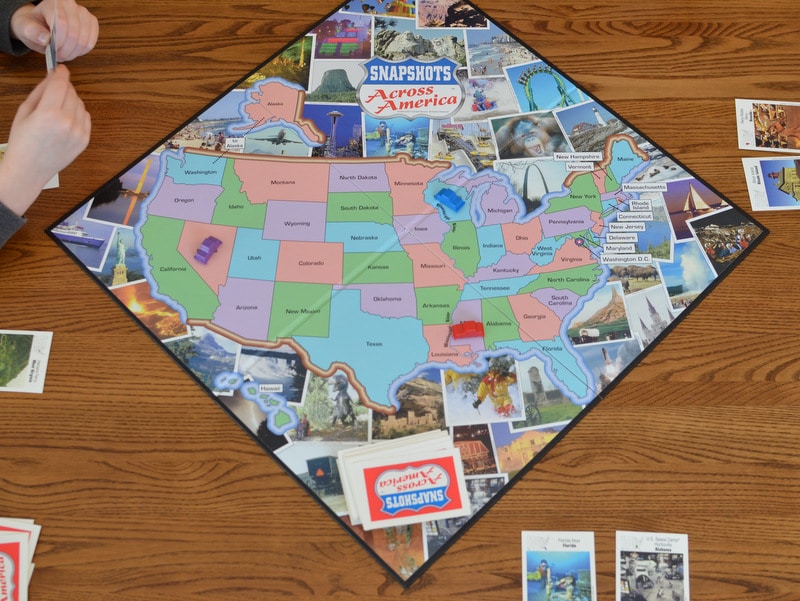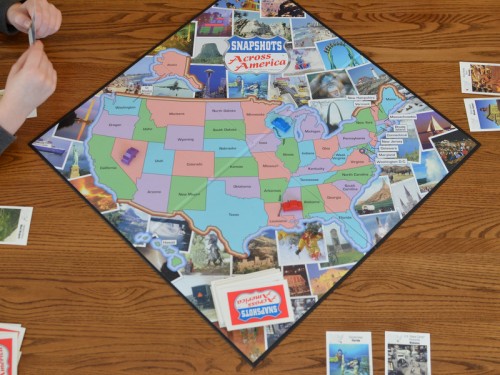 Obviously anything you can do to mess up other players plans is beneficial to you.  This is where the Airport Closing and Bad Weather cards come in.  Airport closing cards allow you to cancel out another player's plane trip.  Bad weather cards include everything from blizzards to tornadoes.  If another player plans to stop at the Florida Keys you can foil their plans with a heat wave card.
My family enjoys this added twist.  As we lay down a bad weather card you'll often hear one of us say (voice dripping with sarcasm), "Oh, I'm so sorry, but a hurricane just hit Virginia and I'm afraid your trip is cancelled."
Why do I love Snapshots Across America?
The reinforcement of geography is constant throughout the game.  During your turn you reference the game board map to determine which destinations you should try first and the best route to get there.  Train cards limit your trip to four states away so you have to check the map carefully.  Bad weather cards also have restrictions on what states they affect so you must study the map during other players' turns.
I appreciate that we are learning not just the names and locations of the states, but also the famous places in our great country.  Each of the 75 cards has a full-color photo and short description.  Attractions include everything from well-known buildings, historical locations, National Parks and other natural features, famous festivals, museums, and amusement parks.
If you're looking for another choice to add to the family game night rotation, one that teaches while you play, this game is a winner.
Snapshots Across America can be purchased from Rainbow Resource Center.
Heidi homeschools her two children in Maine using Charlotte Mason's ideas, quality literature and hands-on learning. She strives to show them that learning is an exciting, life long adventure. She shares their experiences on her blog, Home Schoolroom.