This is a collection of pumpkin books to celebrate both Halloween and Thanksgiving. Spooky books, jack-o-lantern books, pumpkin patch books, recipe books and more!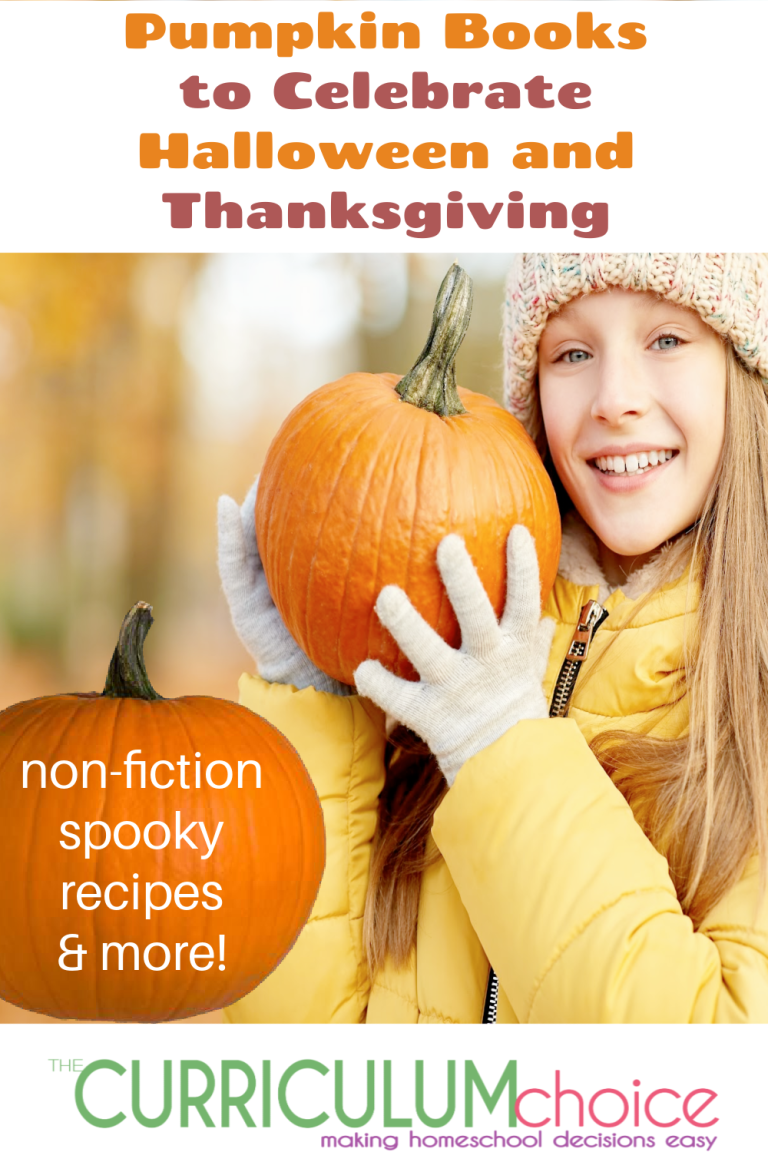 Affiliate links are used on this website. Please see our disclosure policy for more details.
Sciency Pumpkin Books (Non-Fiction)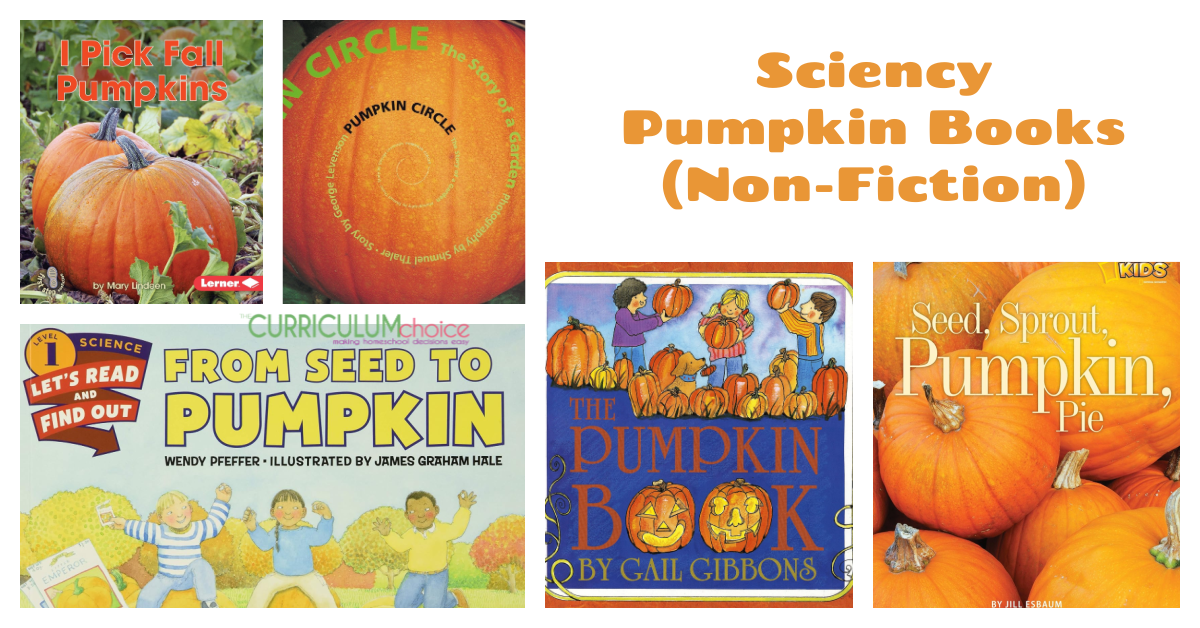 From Seed to Pumpkin by Wendy Pfeffer – This is a clear and appealing environmental science book for early elementary age kids, both at home and in the classroom. Plus it includes includes a find out more section with activities such as an experiment to show how plants use roots to drink water from the ground and a recipe for roasted pumpkin seeds.
Pumpkin Circle by George Levenson – We can be sure of this: It's a circle without end. It's pumpkin seeds to pumpkins to pumpkin seeds again! This treat of a picture book comes cloaked in the colors of fall. Bouncy verse and glowing photographs show a backyard pumpkin patch move through its natural cycle-a bug's eye and a bird's high view of seeds sprouting, flowers blooming, bees buzzing, pumpkins growing . . .and then going back to earth.
I Pick Fall Pumpkins by Mary Lindeen – Let's go to the pumpkin patch to find huge pumpkins, tiny pumpkins, and maybe even a blue pumpkin! This book shows readers how pumpkins grow and introduces the parts of a pumpkin along with concepts of color and size. With bright pictures and simple text, readers will learn to observe nature and the changing seasons as well as begin to understand simple scientific concepts about what pumpkins need to grow and how the parts of a pumpkin are used.
The Pumpkin Book by Gail Gibbons – In this cheerfully-illustrated, simply-presented book, children can learn about the growth cycle and many varieties of pumpkins, and even how to plant their own. Award-winning author Gail Gibbons also relates the special role pumpkins played in the first Thanksgiving, the history behind carving pumpkins into jack'o'lanterns, and how pumpkins are still part of our celebrations today.
Seed, Sprout, Pumpkin Pie by – Pumpkins! Who can resist the sight of big, round, orange pumpkins ripening in a field? Children piling off school buses to pick one out. Carving out funny faces, smiles, or scary frowns to illuminate Halloween doorsteps. Making room for that last piece of pumpkin pie after a delicious Thanksgiving feast. In this book, pumpkins aren't just a fruit, they're a symbol, a scent, a flavor of the entire season.
Pumpkin Books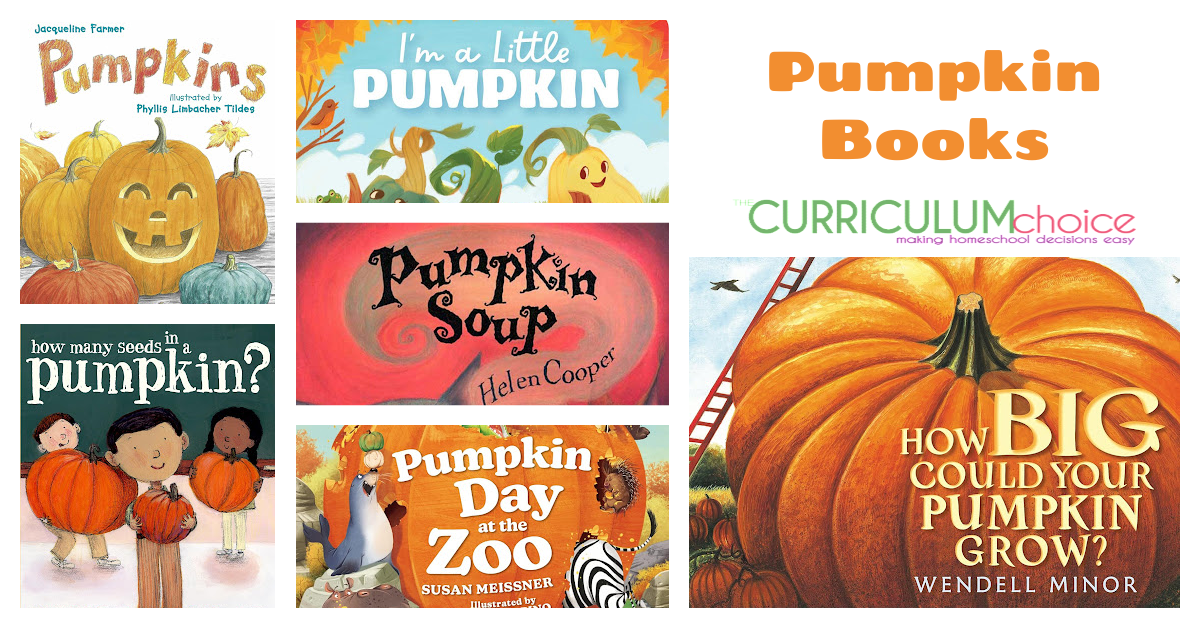 How Many Seeds in a Pumpkin? by Margaret McNamara – Charlie, the smallest boy in his class, is left to count the seeds of the smallest pumpkin. Both he and his classmates are surprised when his pumpkin has the most seeds. This is a great way to introduce counting by 2's, 5's, and 10's.
How Big Could Your Pumpkin Grow? by Wendell Minor – How Big Could Your Pumpkin Grow? Celebrates America's love for pumpkins with the help of some major landmarks and landscapes across the country. Wendell Minor imagines larger-than-life pumpkins decorating some of America's favorite places—as immense as the Capitol dome, Mount Rushmore, the Brooklyn Bridge, even the Grand Canyon! This celebration of famous landmarks and landscapes plays with concepts of size and scale and is full of fun facts.
Pumpkin Soup by Helen Cooper – Deep in the woods in an old white cabin, three friends make their pumpkin soup the same way every day. The Cat slices up the pumpkin, the Squirrel stirs in the water, and the Duck tips in just enough salt. But one day the Duck wants to stir instead, and then there is a horrible squabble, and he leaves the cabin in a huff. It isn't long before the Cat and the Squirrel start to worry about him and begin a search for their friend. Rendered in pictures richly evoking autumn, Helen Cooper's delightful story will resonate for an child who has known the difficulties that come with friendship. Included at the end is a recipe for delicious pumpkin soup.
I'm a Little Pumpkin by Hannah Eliot – The classic children's song "I'm a Little Teapot" gets a delightful autumn twist in this charming board book.
I'm a little pumpkin,
yes I am.
Here are my green leaves.
Here is my stem!
Pumpkin Day at the Zoo by Susan Meissner – When farmers and pumpkin patch owners donate their pumpkins to the zoo, the animals chomp, chew, play, and give hearty hoorays for their favorite squishy squash! Grab a pumpkin and follow along as this lighthearted, lyrical zoo book for preschoolers and elementary-age kids from bestselling novelist Susan Meissner celebrates the fall season in the most entertaining way.
Pumpkins by Jacqueline Farmer- Did you know pumpkins have been around for 11,000 years? Or that the biggest pumpkin on record weighed over 1,300 pounds? Learn all about pumpkins—where they come from, how to grow them, and more—in this informative book that's guaranteed to squash the competition. Recipes, fun facts, and resources round out the text.
Spooky (or Jack-O-Lanterny) Pumpkin Books to Celebrate Halloween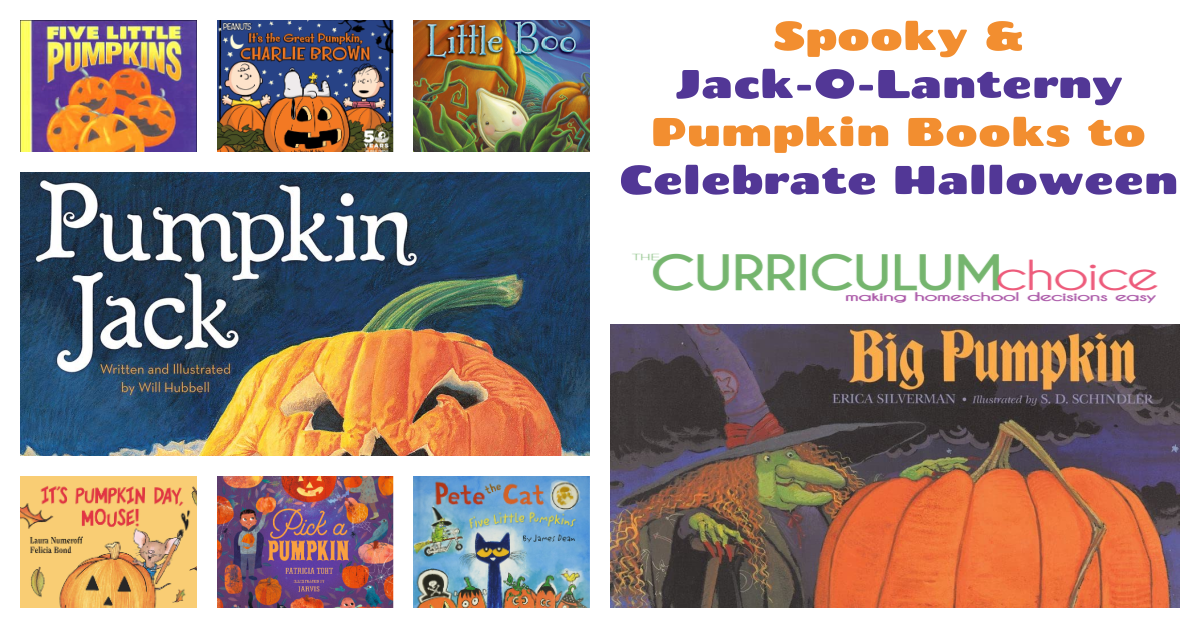 Pumpkin Jack by Will Hubbell – This is by far one of our most favorite books for pumpkin season! The first pumpkin Tim ever carved was fierce and funny, and he named it Jack. When Halloween was over and the pumpkin was beginning to rot, Tim set it out in the garden and throughout the weeks he watched it change. By spring, a plant began to grow! Will Hubbell's gentle story and beautifully detailed illustrations give an intimate look at the cycle of life.
It's Pumpkin Day, Mouse! by Laura Numeroff – mouse decorates all the pumpkins in the pumpkin patch, but one goes missing. Where could it have gone?
There are so many versions of the Five Little Pumpkins rhyme that I could make a whole list of Five Little Pumpkins books! I have included just two: one with a much beloved book character and a classic that we love. (BONUS: They are both FREE if you have Kindle Unlimited!)
Pete the Cat: Five Little Pumpkins by James Dean – is filled with vibrant, engaging illustrations for even the youngest of Pete fans. Young Halloween fans will enjoy chanting along with Pete: Five little pumpkins; Sitting on a gate. The first one said,"Oh my, it's getting late."
Five Little Pumpkins by Dan Yaccarino – This book is short and sweet. It includes pictures of witches and ghosts, so avoid it if you don't want books with those images.
Little Boo by Stephen Wunderli – Little Boo is a pumpkin seed who can't seem to scare anyone, but the wind assures him that his day will come. As the little seed changes he can't scare anyone as a seedling, a vine, or a flower. Of course, one day Little Boo becomes a big, frightening jack-o'-lantern. A creative way to teach about the pumpkin's life cycle!
Pick A Pumpkin by Patricia Toht – Pairing a wonderfully rhythmic read-aloud text with expressive retro illustrations, author Patricia Toht and illustrator Jarvis capture all the excitement and familial feeling of a favorite holiday tradition. Readers will be happy to follow along with each step, from picking out the perfect specimen at the pumpkin patch (be sure to stop for cider and toffee apples) to carting it home, scooping out the insides, carving a scary face, and finally lighting a candle inside — savoring the familiar ritual of transforming an ordinary pumpkin into a one-of-a-kind glowing jack-o'-lantern.
It's the Great Pumpkin, Charlie Brown by Karen McMahon – It's Halloween night, which means costumes, trick-or-treating, bobbing for apples…and waiting for the Great Pumpkin. Linus is certain that the Great Pumpkin will rise out of the pumpkin patch to bring toys to all the children of the world. Could this be the year that it finally happens?
Big Pumpkin by Erica Silverman – A little bat uses brains over brawn in this not-so-scary Halloween picture book. The witch has grown the biggest pumpkin ever, and now she wants to make herself a pumpkin pie for Halloween. But the pumpkin is so big she can't get it off the vine. It's so big the ghost can't move it, either. Neither can the vampire, nor the mummy. It looks as if there'll be no pumpkin pie for Halloween, until along comes the bat with an idea to save the day. How can the tiny bat succeed where bigger and strong spooky creatures have failed? You'll be surprised!
Pumpkin Books to Celebrate Thanksgiving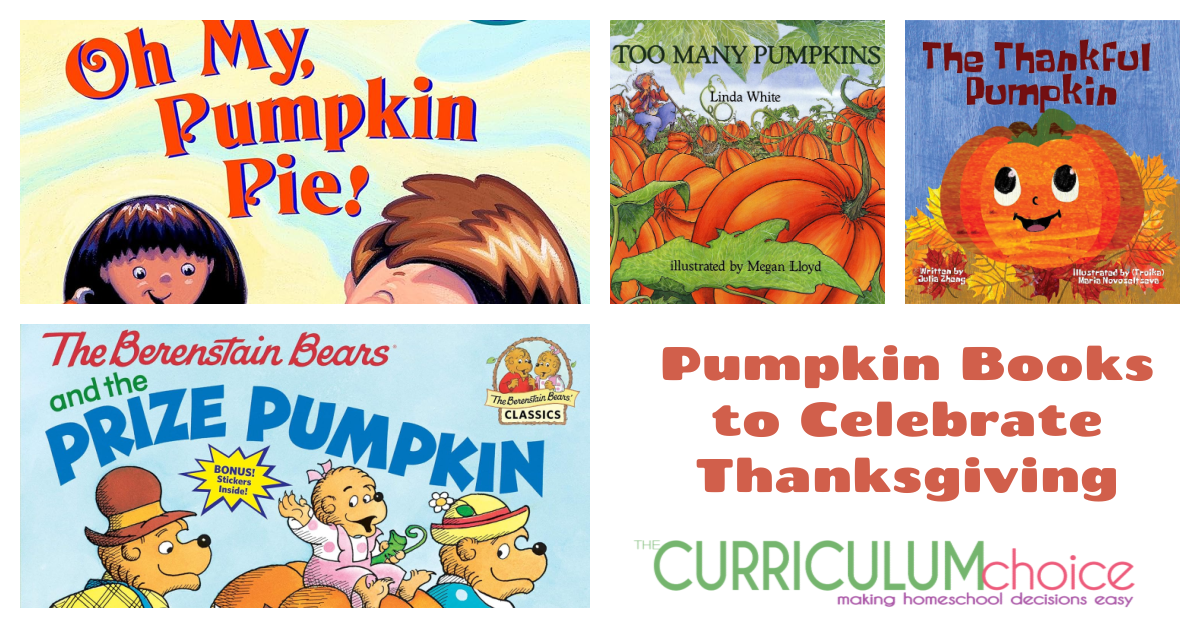 The Berenstain Bears and the Prize Pumpkin by Stan Berenstain- This Berenstain Bears story is a perfect way to teach children about what they should truly be thankful for. Come for a visit in Bear Country with this classic from Stan and Jan Berenstain. It's November, and the Bear family are entering the Thanksgiving Festival's Big Pumpkin Contest. Will winning be the only thing that matters, or will the Bear family learn about the true meaning of Thanksgiving?
Oh My, Pumpkin Pie! (A Step Into Reading, Step 2 Book) – Autumn in the pumpkin patch, no two pumpkins ever match! Some are big and win a prize, some wind up in pumpkin pies! Visit the pumpkin patch for some fall-tastic fun with pumpkins big and small! This rhyming adventure is ideal for beginning readers.
The Thankful Pumpkin by Julia Zheng – a cute picture book about a pumpkin expressing her thanks to the things around her that help her grow and make her happy. It's a perfect Thanksgiving book for teaching children about the importance of being thankful and appreciating the little things in our daily lives.
Too Many Pumpkins by Linda White – Rebecca Estelle has hated pumpkins ever since she was a girl when pumpkins were often the only food her family had. When an enormous pumpkin falls off a truck and smashes in her yard, she shovels dirt over the pieces and forgets about them. But those slimy pumpkin smithereens sprout up in autumn, and Rebecca Estelle finds a sea of pumpkins in her garden.
Pumpkin Recipe Ideas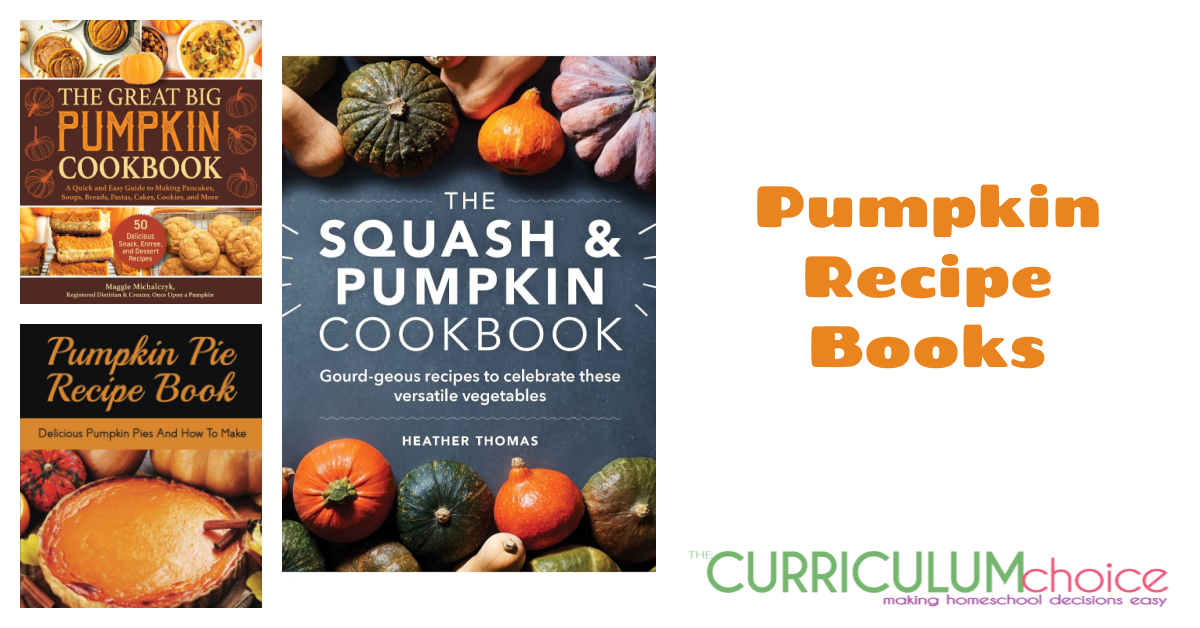 The Squash & Pumpkin Cookbook by Heather Thomas – Squashes and pumpkins are the versatile vegetables that not only pack a flavor punch, but are also oh-so-good for you. Not only are they low calorie, but they're also jam packed full of vitamins A, C and E and a jackpot of minerals, from iron and zinc to magnesium and potassium.
These super ingredients are so versatile that you can bake, roast, fry, grill, barbecue and stuff them. From spicy chutneys and hearty soups and curries, to light refreshing salads and delightful bakes, this cookbook will carry you through the colder months with nutritious, homey and comforting recipes to suit every taste.
Pumpkin Pie Recipe Book by Erin Kovalik – Did you know that testing the perfect pumpkin pie recipe is a lot more challenging than one would assume!? Fresh pumpkin, canned pumpkin, ginger, no ginger, brown sugar, white sugar, cornstarch, flour, no cornstarch, no flour…? Are you looking for Recipes for The Perfect Pumpkin Pie? This cookbook has recipes for a wide variety of pumpkin pies
The Great Big Pumpkin Cookbook by Maggie Michalczyk – More Than 50 Delicious Pumpkin Recipes, including Paleo Friendly, Gluten Free, Dairy Free, and Vegetarian Options to Enjoy All Fall Long!

Pumpkin is not just for pie! With help from Maggie Michalczyk, registered dietitian and creator of the popular Once Upon a Pumpkin blog, you can discover brand-new ways to use your pumpkin, whether fresh or canned. From snacks and side dishes to breakfast, dinner, and dessert, you'll never get tired of the creative ways to use your pumpkin!
The Pumpkin Homeschool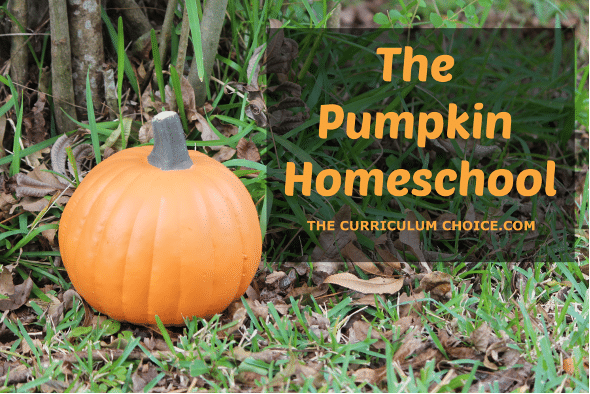 The Pumpkin Homeschool – October and November are the perfect months to celebrate all things autumn and enjoy some fall themed learning adventures. Here at The Curriculum Choice, we're sharing our autumn-themed, perfectly-picked, pumpkin ideas for fun and academic success!
Homeschool Book Lists By Topic: Perfect for Unit Studies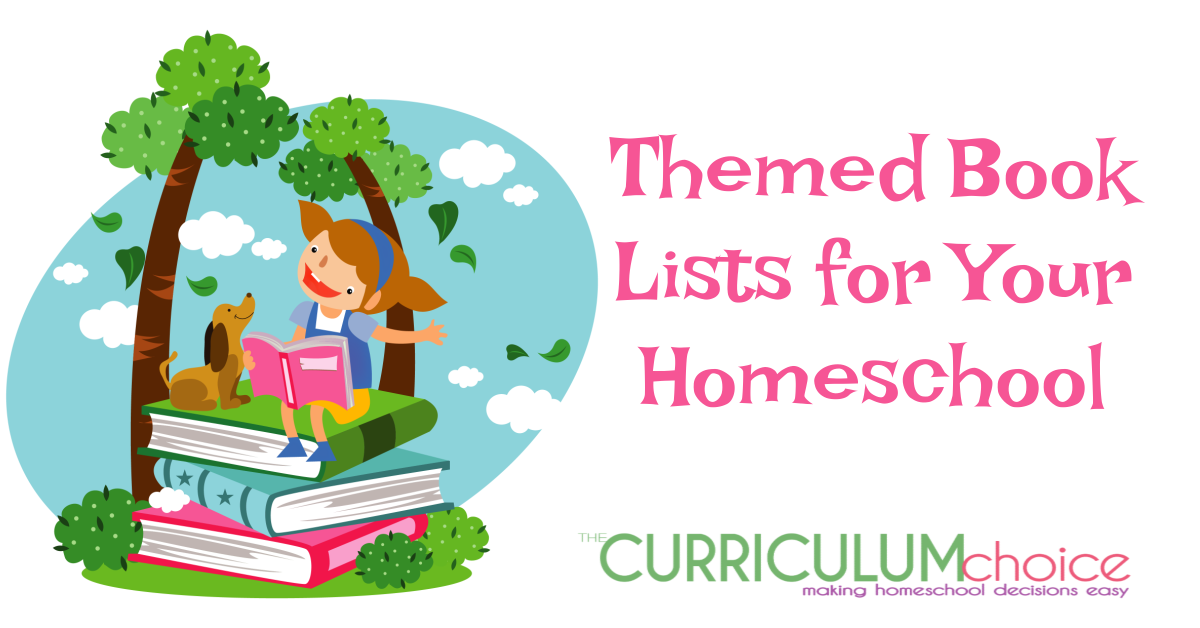 Themed Book Lists for Your Homeschool – Looking for a fun or educational book on a specific topic? Check out these themed book lists! Everything from nature and science to art and music, holidays and more!