When it comes to English studies for homeschoolers, First Language Lessons for The Well-Trained Mind is an excellent foundation in grammar and beginning writing.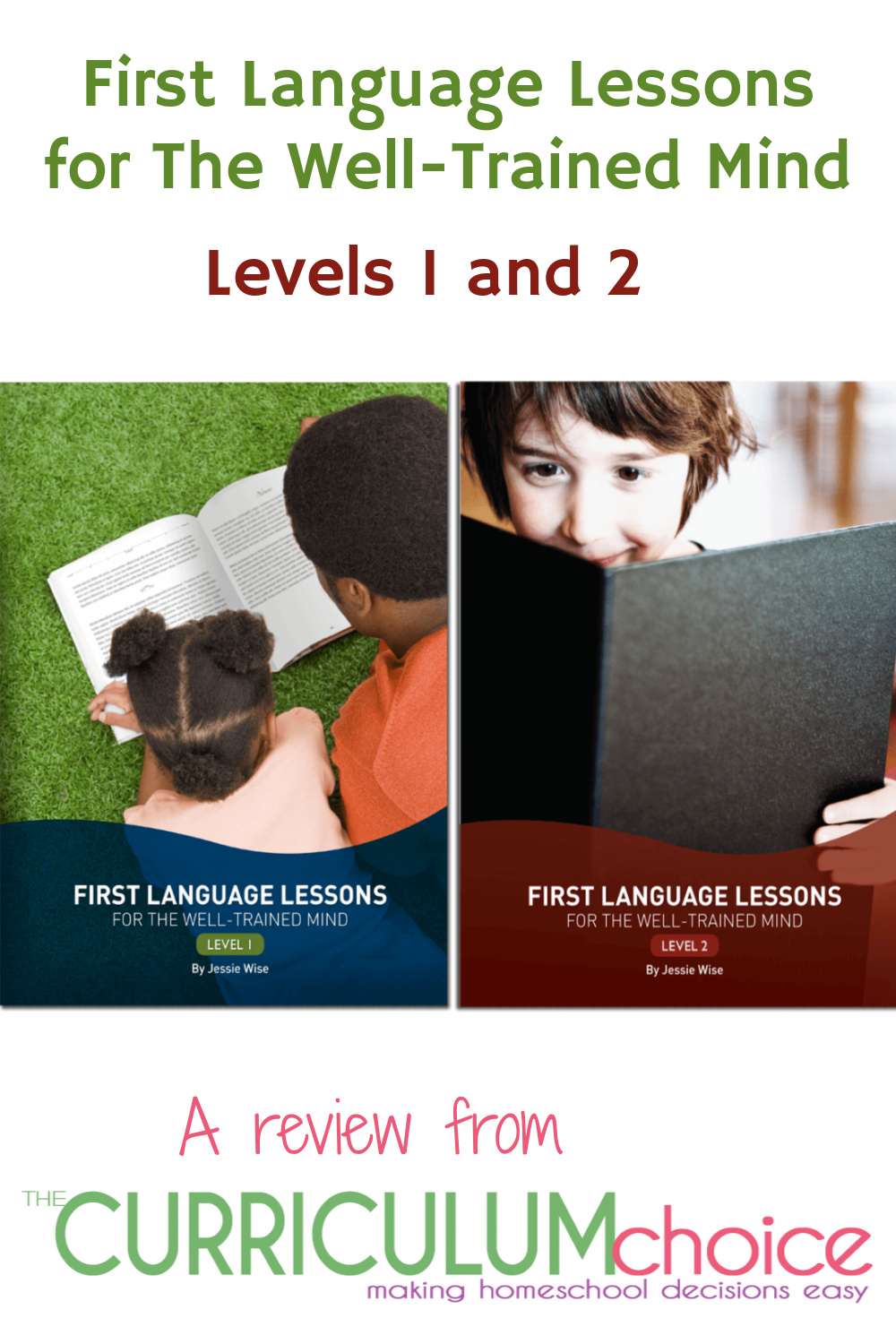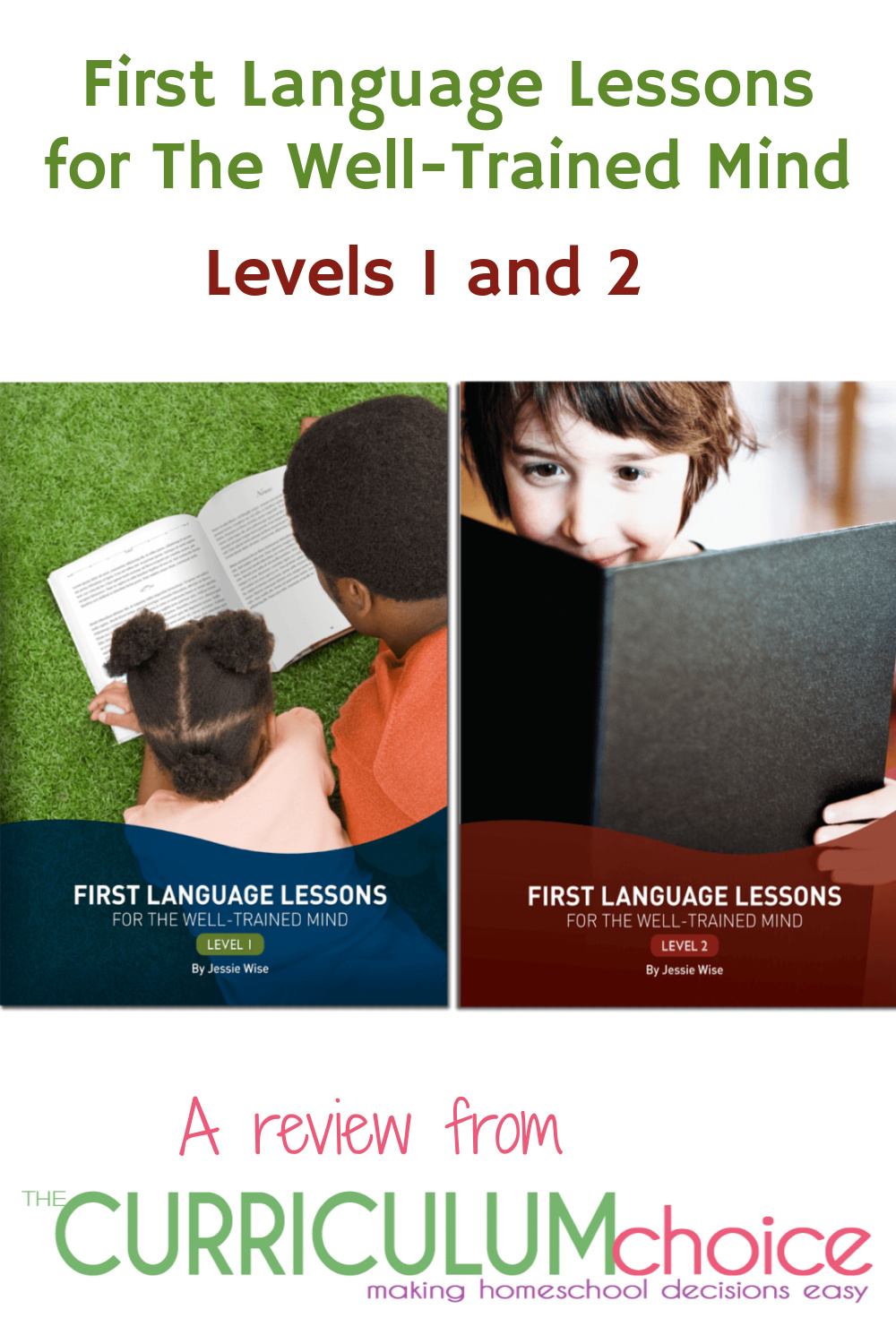 I pulled an old friend off the shelf today. I'm starting First Language Lessons with my third child. Having studied English with my 6th grade son and 4th grade daughter using this resource, I am confident that it will be an excellent introduction for my 2nd grade son as well.
First Language Lessons for The Well Trained Mind
First Language Lessons was written by Jessie Wise, the co-author of The Well-Trained Mind.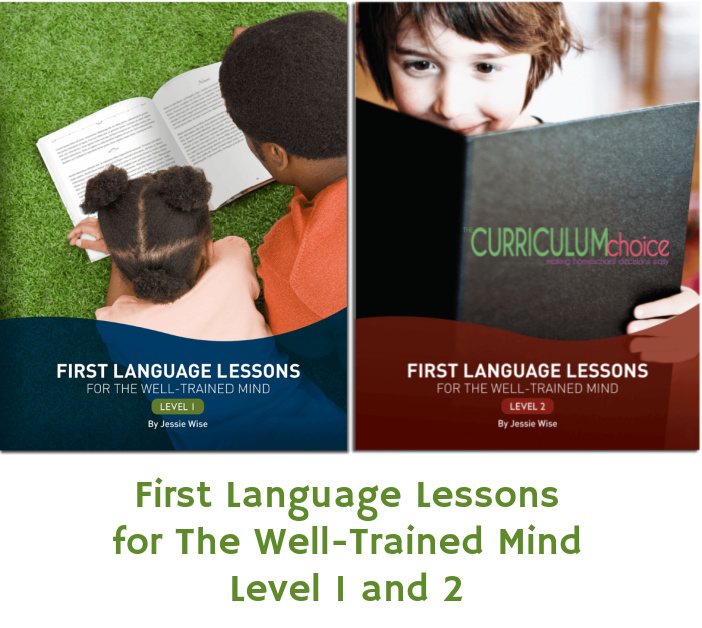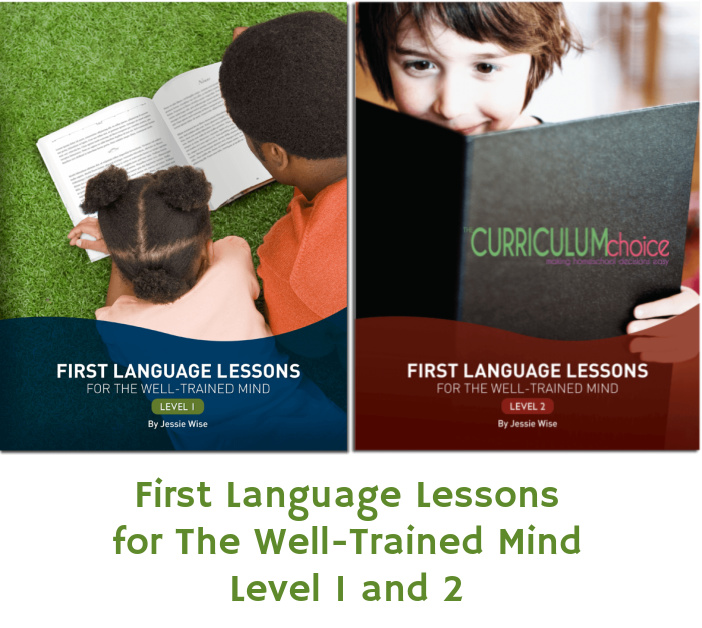 FLL Level 1 text contains 100 lessons designed to be used during the first and second grades. Because FLL Level 2 does not review the concepts taught in Level 1, students in both first and second grade should start here. Students who complete Level 1 in 1st grade should move on to Level 2 in 2nd grade; students who complete Level 1 in 2nd grade may move on to FLL Level 3.
The book uses a "Four Strand Approach" to teach grammar rules, usage, and beginning writing. The "Four Strands" are:
Memory work
Copying and dictation
Narration
Grammar
**Note: In Level 1 and Level 2, student responses are primarily oral and require only the teacher's book. Students don't need any books for Levels 1 or 2; only the teacher needs one.**
What I Love About FLL
So what is it about this book that keeps me coming back?
Ease of Use – The lessons are scripted. That is something that people generally love or hate, and as a general rule I don't like scripted lessons because they tend to sound unnatural. But I like these. Even though the lessons are short and simple, the students learn and retain so much. The scripts include reminders to review poems, as well as provide review within the lessons. See sample lesson below: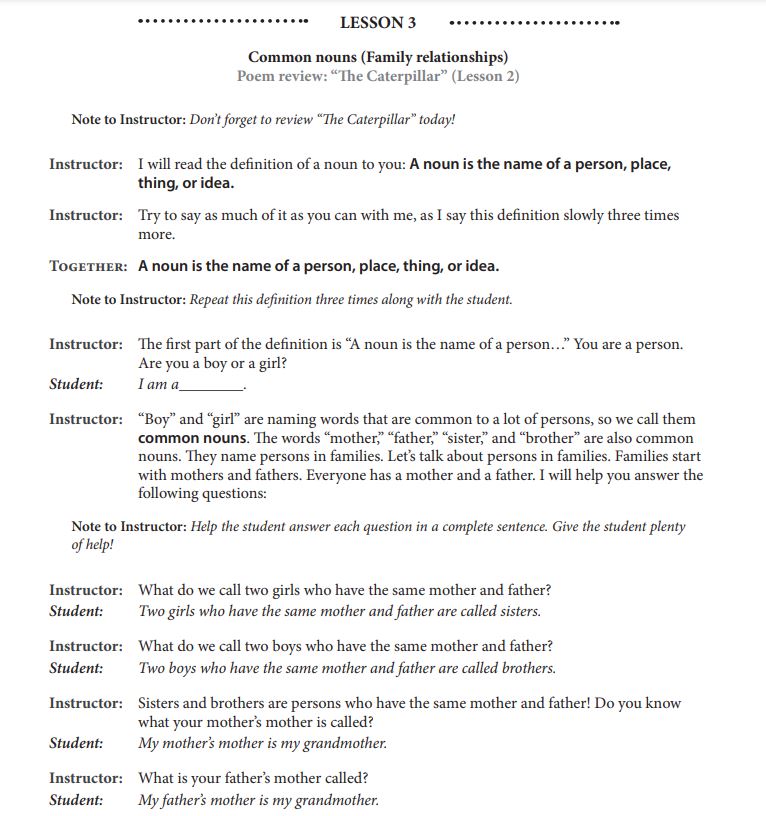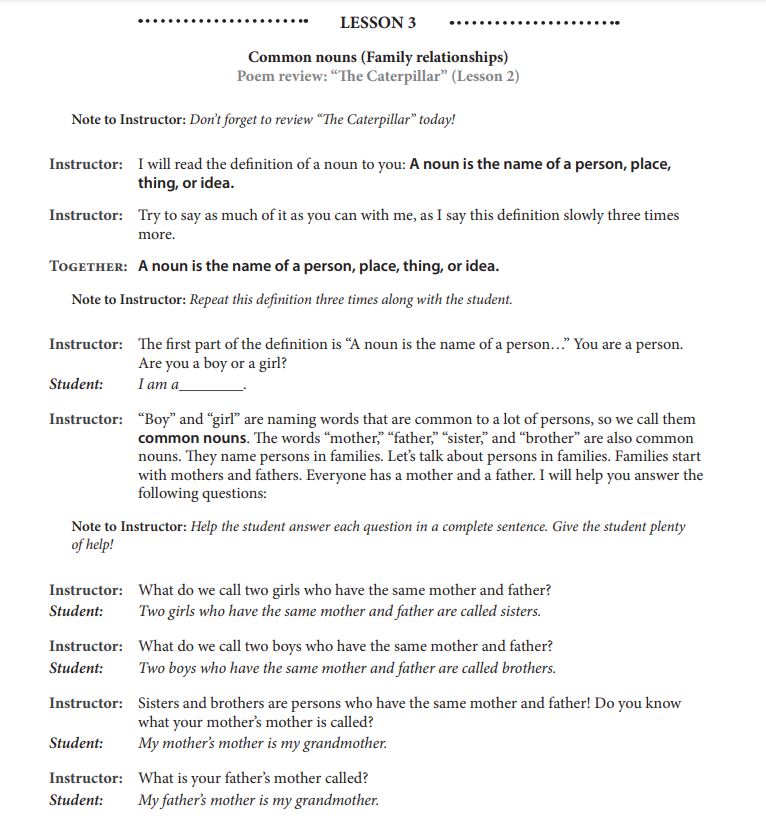 Content – A student completing this text will have memorized the definitions of all the parts of speech, lists of helping verbs and prepositions, as well as ten poems. He will have practiced narrating short stories and completed regular copy work and dictation exercises. All of this provides a terrific foundation for further study of grammar and composition.
Oral lessons – This book provides a great opportunity to have some one-on-one time with your student. The lessons are mostly oral, with the exception of the copy work and dictation. Because of that, the book can be used for students for whom writing is a struggle. I used the book for kindergarten and first grade with my two older children because they were both ready for it. Although it is not necessary for the child to be reading well (most of the reading is done by the parent), it is important to decide if the time spent might be better used in reading practice. That's why I chose to wait to use this with my 2nd grade son until now. He has struggled to learn how to read, so reading has been our primary focus in his schooling up to this point.
Because of First Language Lessons I am looking forward to our English study this year! I recommend this program to anyone who is interested in teaching English to a first or second grade student.
Purchase First Language Lessons
To learn more about First Language Lessons check them all out at TheWell-TrainedMind.com
Also of note if you purchase from Amazon they have a Kindle Edition which I thought was cool for these first two levels because they do not require student writing so you can easily use the Kindle Edition to teach from!
More Classical Education Resources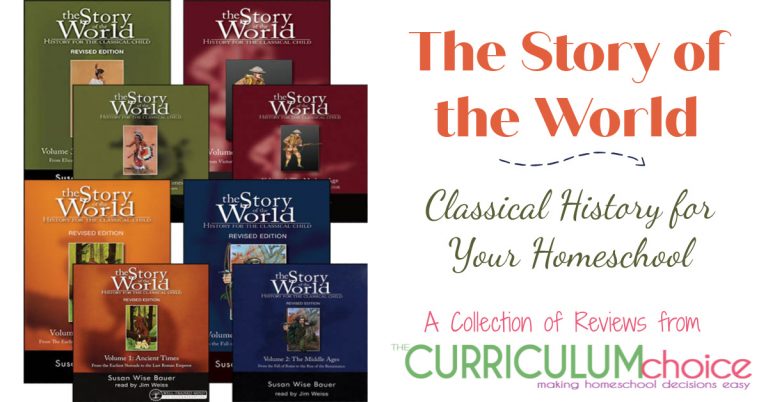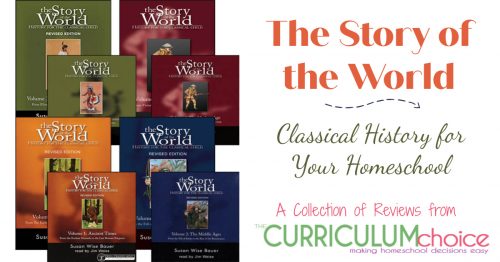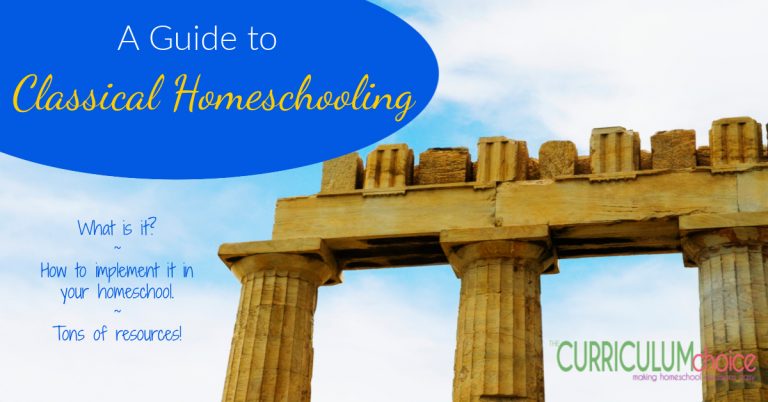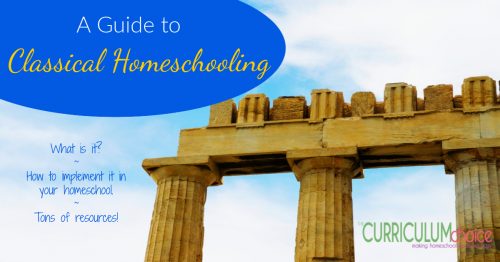 More First Language Lesson Reviews
Originally published September 2009, written by Kristen – A Classical Homeschool Mom of 4