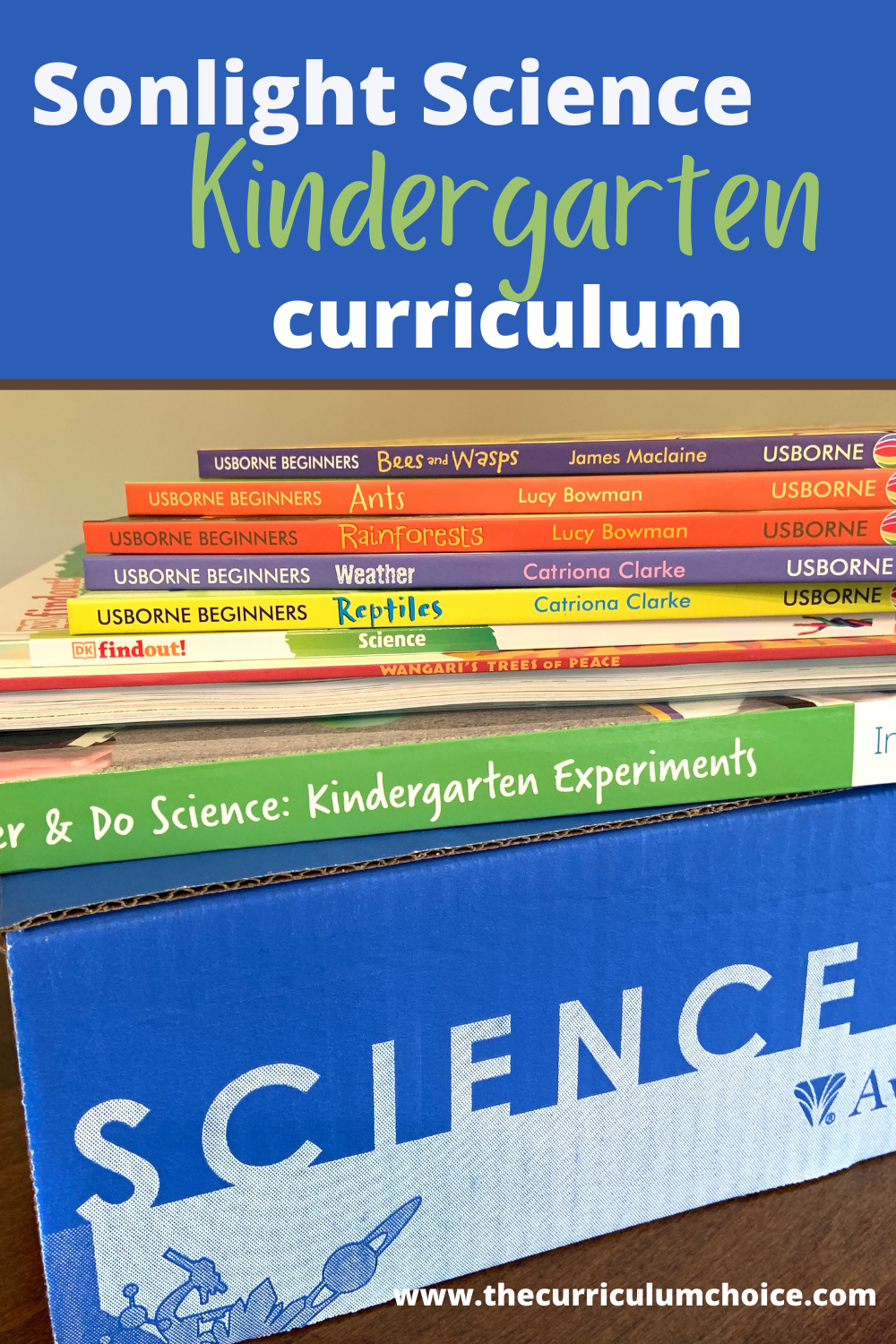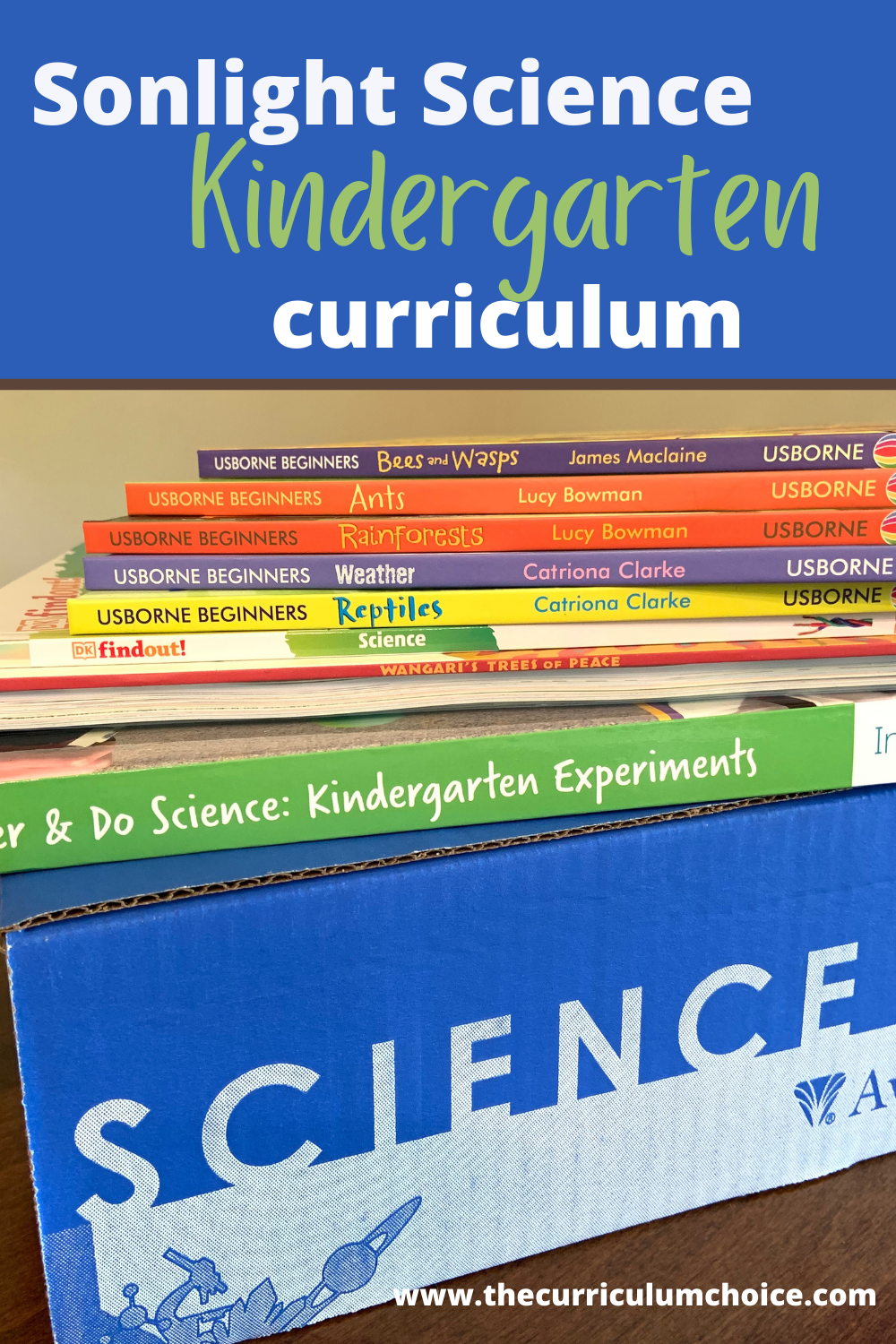 Imagine preparing for your homeschool year in a relaxed and inviting way.
For starters, all books arrive at your doorstep.
They are high-quality, beautiful, and cover a subject you want to teach.
Next, you receive instructions – step by step, week by week info – guiding you through an entire year with notes and lists.
It keeps getting better. Almost everything needed for hands-on discovery and exploration arrives: worksheets, activity ideas, and supplies.
In the end you realize the only prep work left is deciding which bookshelf to store everything. And, you might want time to sit and pour over it all. It's all ready to go.
Welcome to this reality with #SonlightScience Curriculum!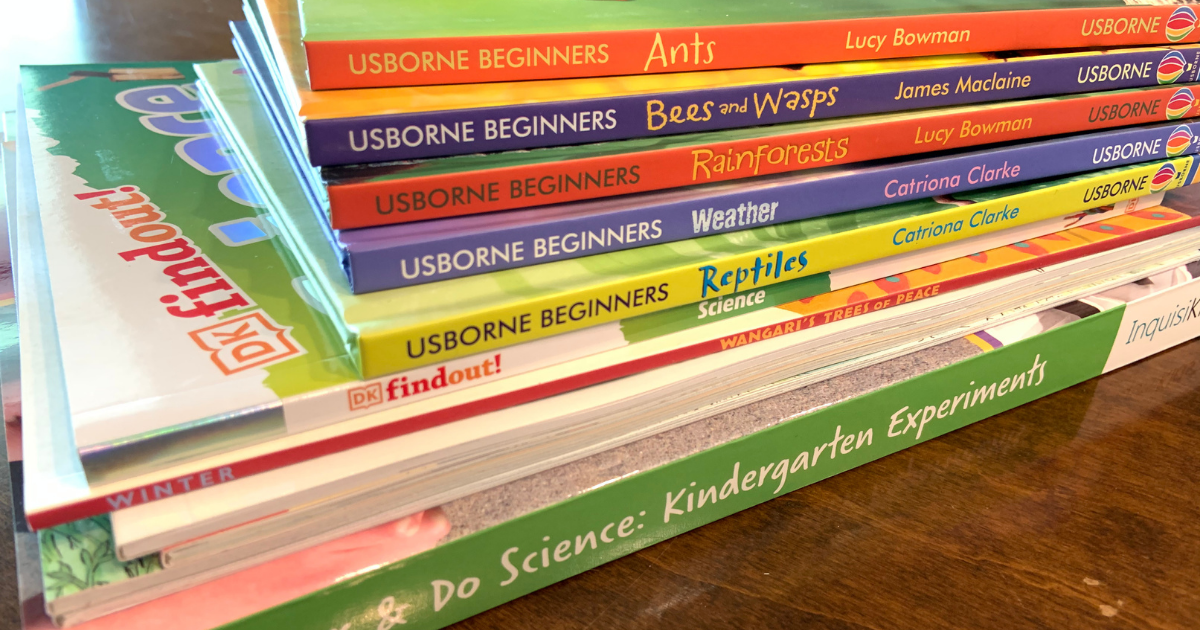 Kindergarten Curriculum with a #DiscoverandDo Focus
Our family received Sonlight's Kindergarten Science Kit on ecosystems, meteorology, physics & engineering design.
Sounds like a mouthful! Most importantly, these are really fun topics for young kids to explore. I was compensated for my time to review this product. Between the video below and a detailed post, I hope you'll consider this kit for your youngster.
To begin, #SonlightScience curriculum relies on three areas: reading, discussing, and doing. All three find space in their activities. Sonlight's new curriculum includes more about doing! As a result, your kindergartener's experiments directly tie to content learned during the week.
Reading + Doing = students exploring the science process.
Basically, students learn through conversation and action. It's less about memorizing science facts. But, MORE about exploring what science has to teach them.
This focus Sonlight calls #DiscoverandDo. Learn more HERE.
Kindergarteners learn to:
find information on their own
observe, brainstorm and draw their own conclusions
use the scientific method for discovery
meet a science challenge by designing their own solution
Again, this might sound too good to be true for kindergarten! But, Sonlight makes things super fun for young children to enjoy.
Let's take a look at what's included in this Christian homeschool science kit on ecosystems, meteorology, physics & engineering design!
What's Included with #SonlightScience Kindergarten Curriculum
Sonlight Science is ready-to-go curriculum. Remember, everything is already planned for you. Not to mention, the relaxed and inviting way described earlier actually feels possible. Included in the kit we received:
Instructor's Guide for parents with a 5-day or 4-day format
11 read-aloud books, all full color stories
36 #DiscoverandDo experiments to apply learning
supplies needed for experiments (you supply everyday items like cups or food coloring)
student worksheets and activity sheets
additional videos for each experiment
Seeing the kit may be the best way to showcase this Kindergarten curriculum!
Request samples of the Instructor's Guide and lessons HERE. I love the full-color outline of the guide. Take a closer look at the setup below. Check out a sample activity worksheet too: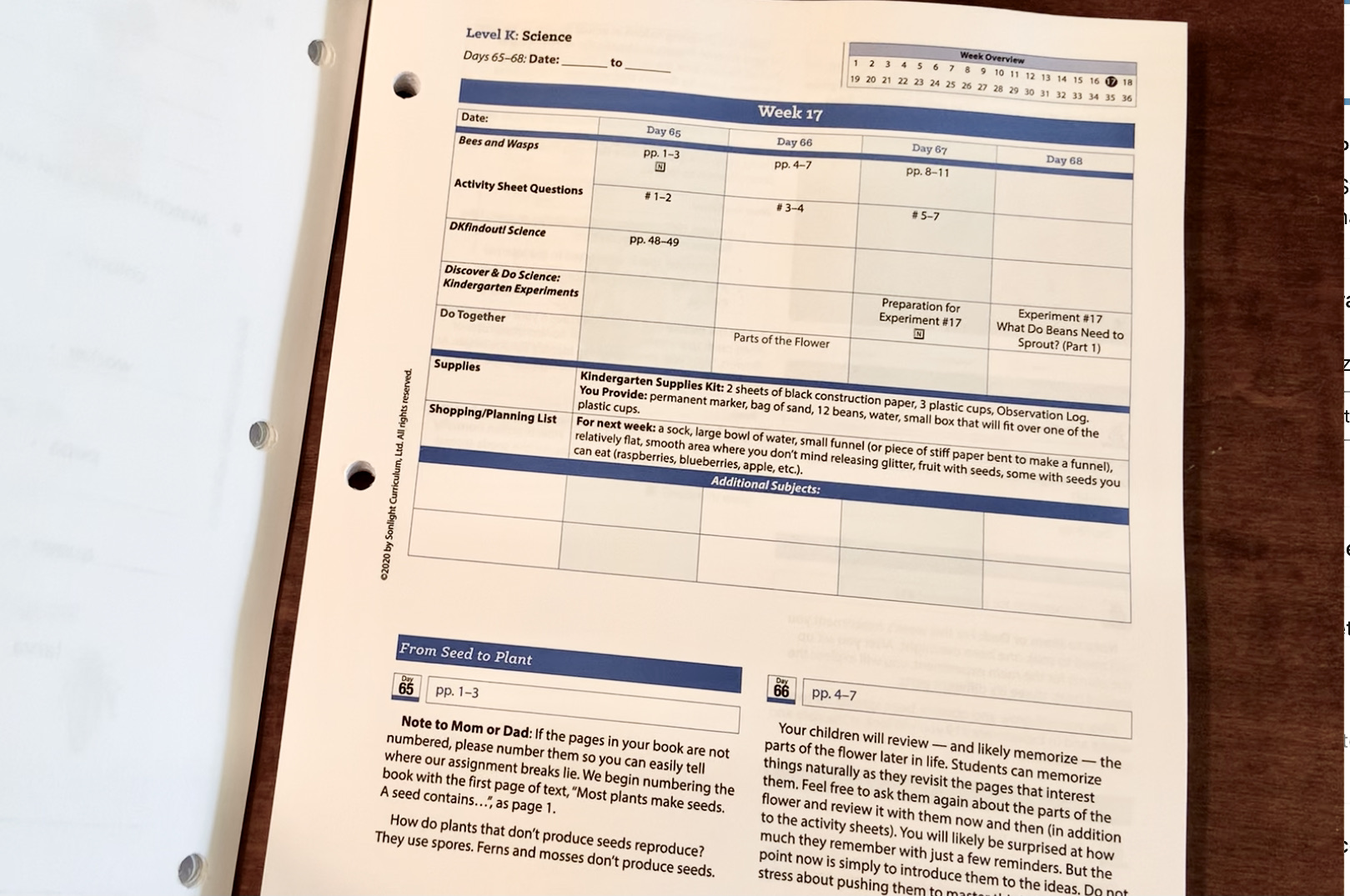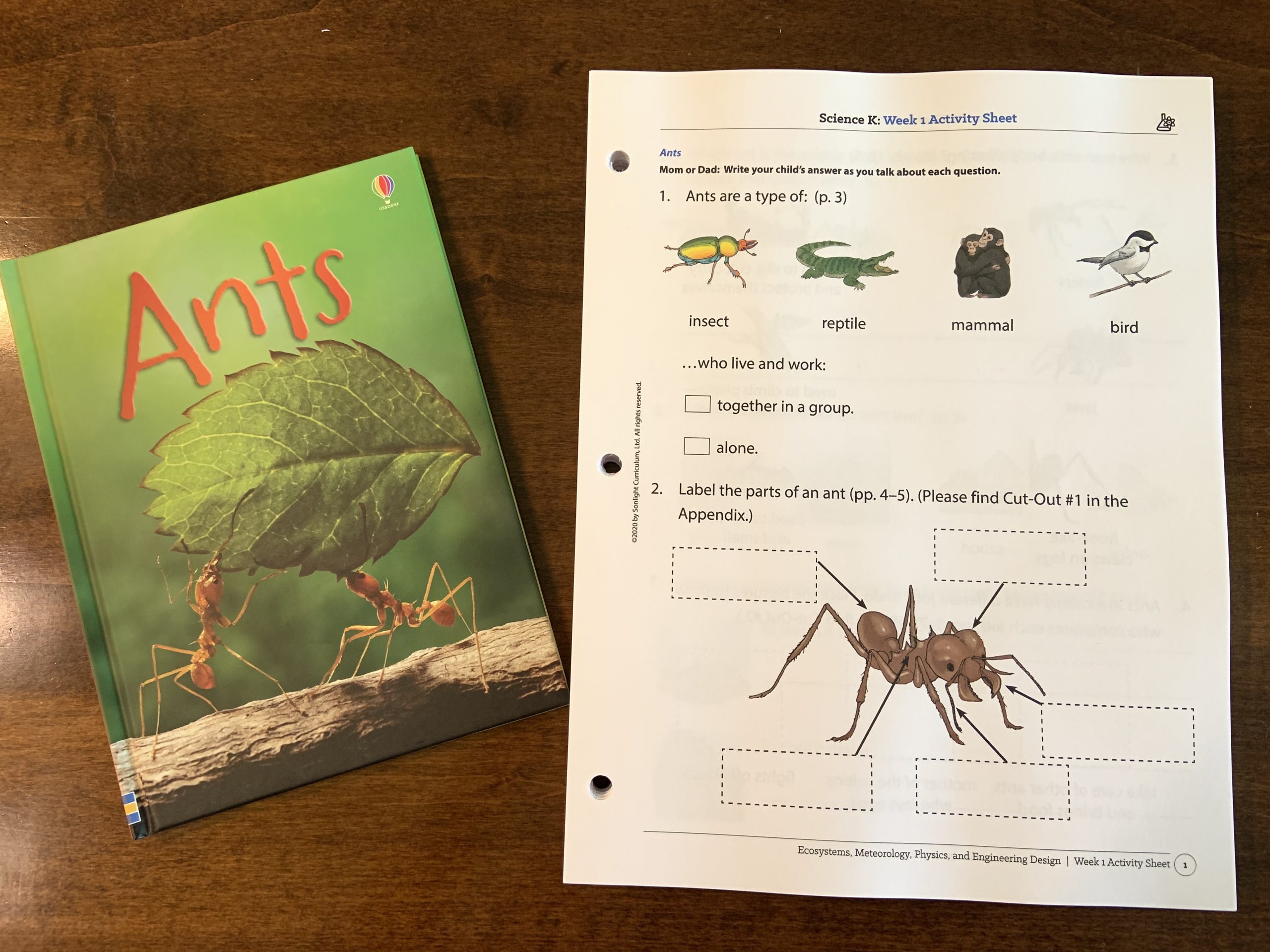 Why #SonlightScience?
Obviously, homeschooling in any season is work. Sometimes it feels awesome to pull together curriculum and manage details. That said, this might not be your teaching style. Your family may need a break.
So then, consider how a well-curated curriculum with almost everything you need could ease the burden. Now homeschooling feels lighter!
Check out Sonlight's Kindergarten Curriculum for Science. Note that NEW science curriculum in other levels is coming soon!
Want to enter to win a #SonlightScience curriculum of your choice? Open to contiguous US addresses only and giveaway closes August 31, 2021. ENTER below or enter HERE at this link.