Are you looking for a simple way to improve your child's spelling?
Looking for an easy to implement spelling curriculum?
Then take a look at the Evan-Moor Building Spelling Skills series!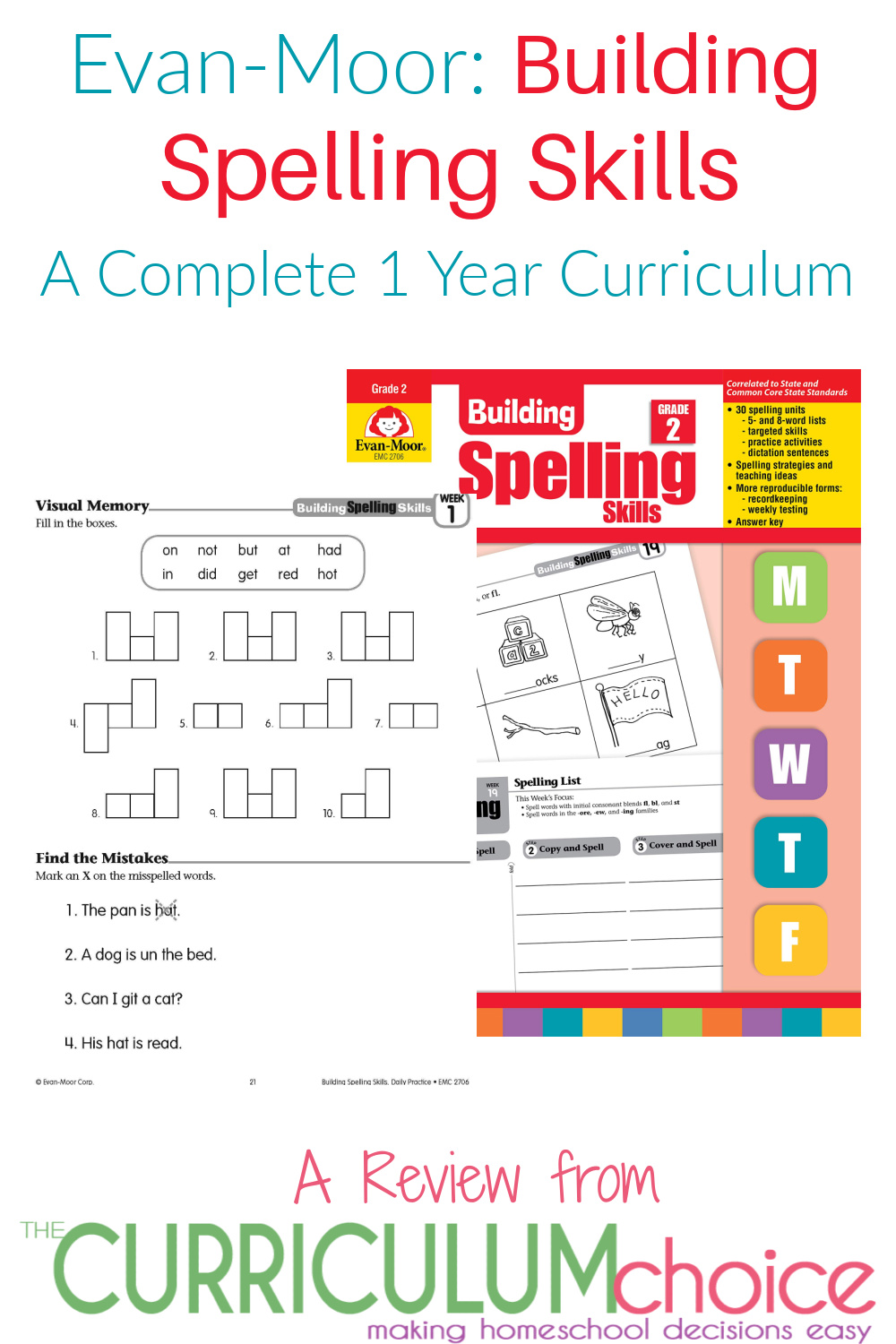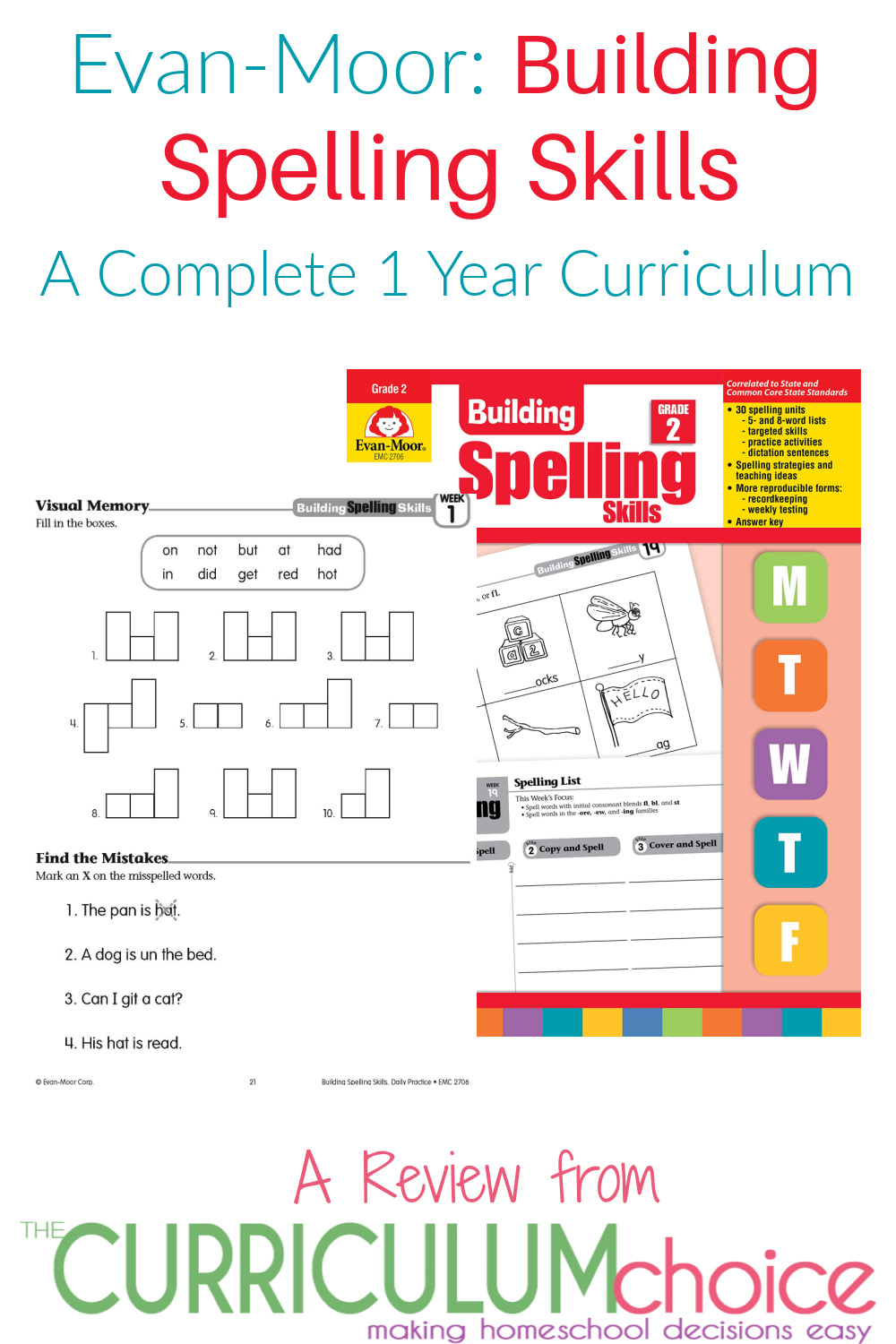 Evan-Moor Building Spelling Skills Review
I was browsing a local children's consignment sale last spring when I came across this Evan-Moor Building Spelling Skills workbook!
I picked it up and browsed through it and immediately knew it was all that I was looking for in a spelling curriculum.
What is Building Spelling Skills?
A one year complete spelling curriculum divided into 30 week-long units.
A systematic approach designed to teach your child 300 of the most commonly used words.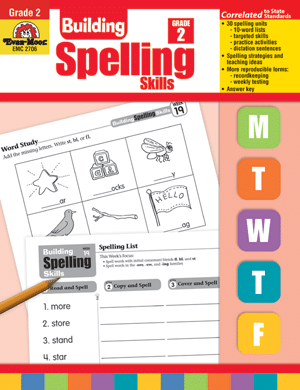 How the program works:
Each week is divided into five lessons.

Day 1 introduces a list of ten new spelling words and two bonus words.
Day 2 focuses on visual memory activities.
Day 3 focuses on word meaning and sentence dictation.
Day 4 focuses on word study acitivities.
Day 5 is the weekly spelling test and another chance to dictate the sentences written on day three.

The book also includes a template for students to make their own spelling dictionaries in which they add to each week.
Reproducible blank spelling test sheets are provided at the back of the book.
An answer key is provided for instructors.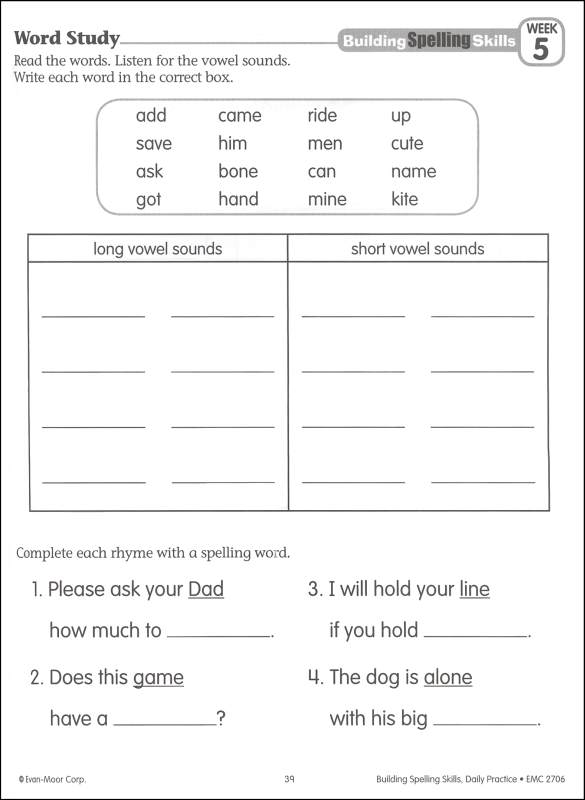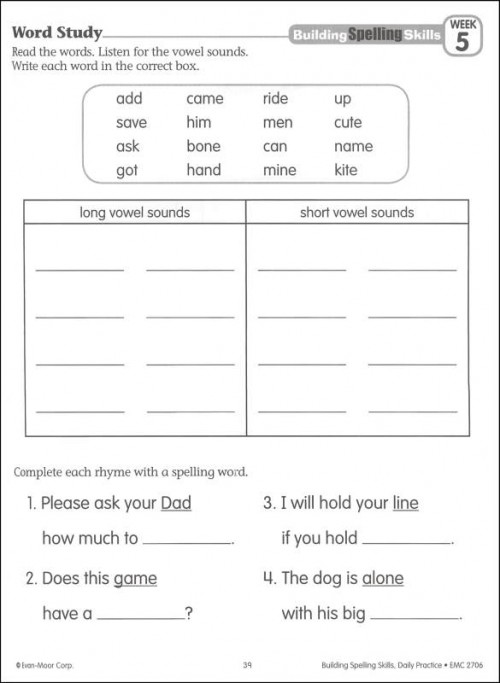 My opinion of Evan-Moor's Building Spelling Skills:
This spelling curriculum has been everything I hoped it would be. My daughters have greatly excelled in their spelling abilities this year. Not only have they learned the words presented in this book, they've also learned how to figure out the spelling of other words.
The lessons are just long enough to keep them interested, but not long enough for them to become bored. It's a great set up!
I love the way the lessons are already organized and set up for me. I only have to pull out the book and get started! That makes this super busy homeschool mom very happy.
Where to Purchase Building Spelling Skills
Building Spelling Skills is available in multiple levels from grade 1 through grade 6. There are two books per level, the Teacher's Edition, and the Student Workbook.
I was confused by this at first so I thought I'd make it clear here, you do not need the Student Workbook. The Teacher's Edition is fully reproducible. However, if you'd rather just have the student pages all printed and together for you, then you can purchase the Student Workbook.
Evan-Moor – On Evan-Moor's website you can view a complete book, and you have the option to purchase the e-book! You can also purchase a Student Workbook bundle if you will be using it with more than one child.
Rainbow Resource Center – If you want to see some more of the pages inside this book then you can head on over to Rainbow Resource Center where they have examples of at least 3-5 pages of each level of this book.
Amazon – Amazon also offers the Teacher's and Student versions of these books.
More Evan-Moor Book Reviews from The Curriculum Choice
~Originally Published April 2013 by Heather, Mom for All Seasons