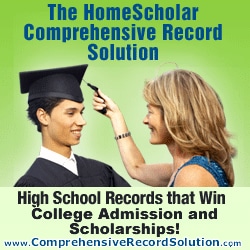 The prospect of getting homeschooled kids into university can seem quite frightening.  I was recently talking with a mom who is going to do online public school so that her children will have 'the right courses' to enter university.  She was cheerfully determined to follow this course, so I didn't try to dissuade her, but really, it's not necessary.
Instead, she could have continued the excellent home education she was giving her children and added a few standard tests such as SAT's or AP's, whatever her chosen universities required.  Using the Comprehensive Record Solution would have enabled her to document her homeschooling so that universities would have been eager to admit her children.
I go to great effort to choose rigorous, quality curriculum for my children.  I consider the worldview of each curriculum, its goals, how easy it is to learn from, and the amount of time and effort it will demand from me.  As a reviewer, I love to evaluate curricula, and I'm excited when something exceptionally good crosses my path.  Of course we want to use these excellent resources to provide the best individualized education for our teens.  We don't want to settle for public school standards and values just to be able to get into university.
And that's why I love the Comprehensive Record Solution.  It gives me both the confidence and the tools for keeping track of my teens' high school learning.  It's clear, organized, effective, and professional looking.  It helps me translate my 'mommy courses' and 'mommy marks' into something admissions officers can understand and get excited about.
I think this resource will help families continue to homeschool though high school Because it builds parental confidence and provides the tools to justify that confidence, it's such a valuable resource that I'm posting a review of it here on the Curriculum Choice in addition to the preview and review posted on my blog.
First of all, the Comprehensive Record Solution is a parental confidence builder.  Lack of parental confidence is one of the main reasons for sending homeschooled kids to public school.  "If I keep homeschooling them they won't be able to get into university," I'm told over and over.
Lee Binz, mom, author, and successful homeschool high school coach, asserts that the quickest and easiest path to college admissions and scholarships is to focus on helping the student become the person God created them to be.  She does not advocate a rigid, stressful style of high school at all.  In fact, she says that a big advantage of homeschooling is the opportunity to enjoy life-defining experiences during the school year. This is our family's style, too.  Although we encourage thorough and rigorous courses, we also allow ample opportunity for exploring personal interests.  Knowing that Lee's philosophy is similar to ours makes me feel more comfortable with her suggestions.
Furthermore, the Comprehensive Record Solution provides helpful tools to prepare high school records.  It consists of four modules:
Module 1: Encourage, in which we meet Lee and her family, understand the importance of record keeping, and see the records of her sons and of some other homeschooled students.
Module 2: Equip, in which Lee shares a thorough record template as well as all you've ever wanted to know about course descriptions, including many examples.
Module 3:  Educate, in which Lee gives wide-ranging video and audio advice to help prepare your teen's comprehensive record.
Module 4:  Empower, in which Lee will personally help you, hands-on, with four individual course descriptions you develop.
The backbone of the program is the Comprehensive Record Template from Module 2.  This well-designed document includes transcript forms to help organize and record students' work in a format which universities and colleges appreciate.  It has prompts to record textbooks, grades, course descriptions, and more.  Because of the template, I could focus on just one step at a time, and that really reduced my stress level.
The program also includes a wealth of helpful information in E-books, audio downloads, videos, templates, and documents.  I loved Lee's course descriptions, and used them to make my own…and I really enjoyed her empowering and helpful input on four of them.
We used the Comprehensive Record Solution for Miss 18 who is entering her chosen university in the fall, and I am also using it for Mr. 16 and Miss 13.  Although the thought of preparing adequate high school records used to keep me awake at nights, I'm now confident and relaxed about it.  Of course, there's still work to do, but the stress is now gone.  I am pleased to be able to homeschool right through high school using our own style and top quality resources…and still get my children into university.
As mentioned, more information is available in my earlier preview and review, as well as on the Comprehensive Record Solution webpage.  You can purchase the program there as well.
Disclosure:  I received The Comprehensive Record Solution in order to review it and give you my honest opinion.  I do not receive any compensation for any of my reviews, and my opinions are entirely my own.
–Written by Annie Kate, a Christian homeschooling mom of five, who reviews and blogs at Tea Time with Annie Kate.  You can read her other Curriculum Choice reviews here.