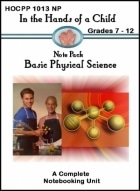 In the Hands of a Child has done it again. Basic Physical Science Note Pack, a complete notebooking unit for older students (grades 7-12), includes everything your student needs to complete a physical science notebook.
The 16-page Research Guide provides a basic but solid foundation in physical science subjects. General topics consist of:
Matter, Non-Matter, Properties of Matter, and Changes in Matter
The Seven Base Units of the Metric System
Compounds and Elements
Chemical Changes
Energy, Motion, and Work
Machines, Heat, Light, and Light and Color
Sound, Electricity, and Magnetism
Associated activities and core concepts are presented as notebooking pages. The note pack includes 24 reproducible graphic templates to be used for the pages. The templates are black and white but quite varied and more than adequate for notebooking purposes.
Additionally, the unit provides lists of related books, websites, and other related In the Hands of a Child project packs to explore. We will be reading some books from the Related Books list to round out our studies. And the websites (internet linked and listed under the Bibliography) are also valuable for more information. I wouldn't be surprised if we were inspired to attempt an experiment! (Not my forte at all.)
Also included:
60-word vocabulary glossary to use with the Vocabulary pages
Planning Guide for organizing your child's lessons
Answer Key (yippee!)
Bibliography, in case your child takes a particular interest in a topic and you want even more research options
In the Hands of a Child makes it beyond easy to tailor a physical science course for your children. You could opt to use the unit as it's written, or you can avail yourself of the wealth of additional resources offered. I appreciate that kind of flexibility — and the reasonable price makes me happy, too!
PLEASE NOTE: Since publication of this review Currclick closed, thus to access this lapbook/notebooking study and any In the Hands of a Child Lapbook/Notebook Units please visit their site directly at In the Hands of a Child.
~written by Ellen