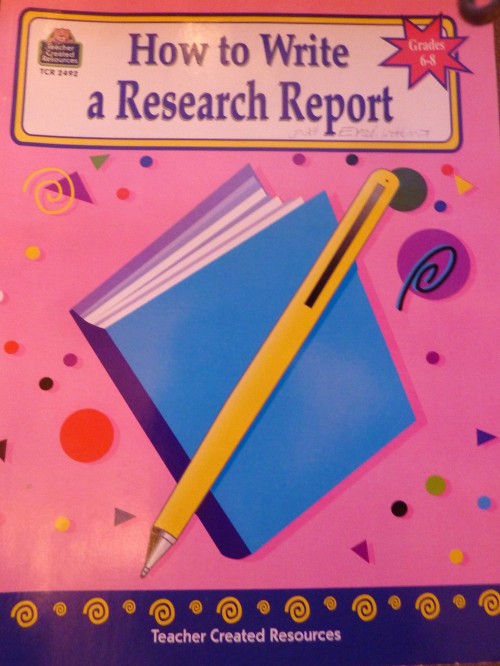 In our homeschool, my middle school daughter was all about story writing. She loved to read and write mysteries and adventure stories. One day, while we were studying science together, we saw that her curriculum called for a research report. My daughter was not confident in her nonfiction writing skills. So we searched the shelves of our local bookstore, the Children's Bookshop (www.childrens-bookshop.com), and found the book How to Write a Research Report. This book turned the process of report writing into a series of easy steps!
How to Write a Research Report is divided into four sections as follows:
Getting Started
Finding and Organizing Information
Prewriting
Writing
Each section included clearly written instructions, with a worksheet for each step in the ressearching and writing process.
Step 1. GETTING STARTED – which included:
brainstorming
how to chose a topic
types of research reports
a "getting started checklist"
We spent a lot of time choosing the topic. My daughter chose to do something on animals then narrowed it down to penguins. Since this has been a favorite of hers for a long time, she had the motivation necessary for the research and writing what was involved.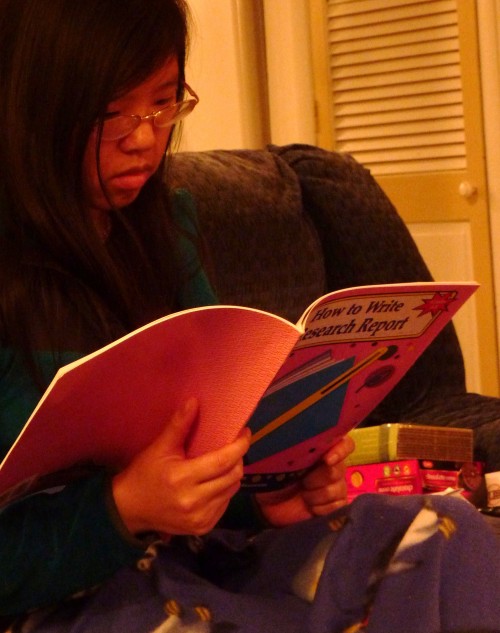 Step 2. FINDING AND ORGANIZING INFORMATION
This section reviewed how to do research at the library, on the internet, through search engines and subject directories. It also included "how tos" for evaluating the information, taking notes, and collecting information for the bibliography. Then when it was data collecting time, we used index cards to record the information.
Step 3. PREWRITING-which included:
"how tos" for writing a thesis statement
a checklist for prewriting
We began to write a thesis by discussing, "What is the point about penguins that you want to make?" That question helped my daughter to narrow down the focus of her report. "That the antartic needs lots of ice for the penguins," she answered. Now she was ready to write her thesis.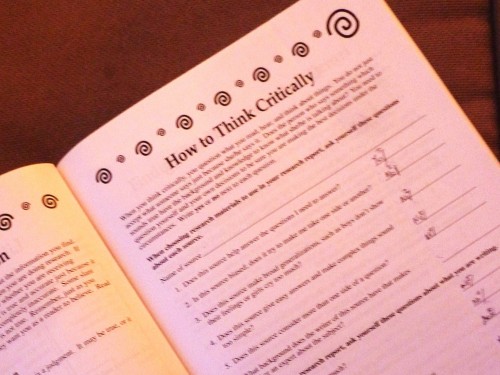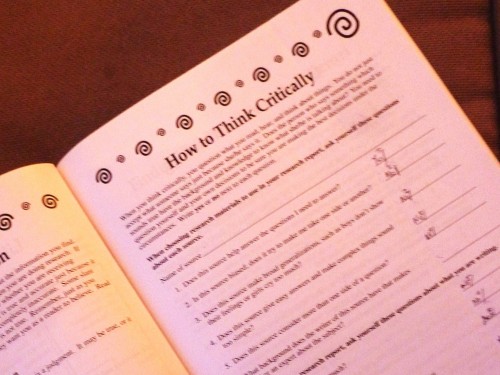 Sample Thesis: Penguins in the Antartic need ice to survive and thrive.
Now she wasn't just writing about penguins, but about a specific need of the penguins that live in Antartica. Her report would show why the ice is needed for their survival.
Step 4. WRITING – which included:
a helpful format to follow when organizing the data (notecards)
making transitions from one paragraph to another
how to write a bibliography
My daughter liked using the forms in this book as she began writing. One worksheet led to the next, complete with checklists to fill out. By following these worksheets, all the essential steps of report writing were covered.
Sometimes the hardest part of report writing is just getting started. The worksheets in How to Write a Research Report could be much less daunting than staring at a blank page! When my daughter finished working through this book, she had written her first middle school research report! And she came away with a good foundation in report writing, which she would use in high school writing the following year.
In Summary
If you are looking for an easy way to teach report writing skills, my family recommend How the Write a Research Report by Teacher Created Resources, at www.teachercreated.com. Please look for reviews of other Teacher Created Materials, by this writer.
Betsy is mom to her now college senior, whom she homeschooled from day one.  She blogs at BJ's Homeschool, about the early years, high school & college and wrote the book – Homeschooling High School with College in Mind.   She offers FREE homeschool help through messages at BJ's Consulting.