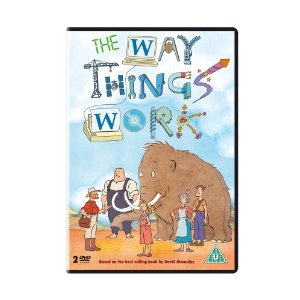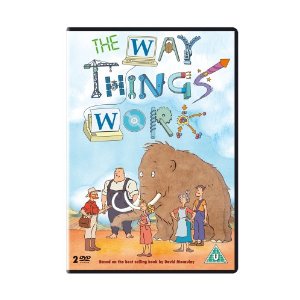 For years we, like many homeschoolers, have enjoyed David Macaulay's book The Way Things Work.   Recently we discovered that portions of this book have been animated! The movies give you both the science and the big woolly mammoths of the book.
Originally produced for the BBC, this set of 26 videos, each 13 minutes long, is aimed at grades 3-6.  Even though the series won a Gold World Award for Children's Programming at the New York Festival in 2004, few homeschoolers know about it because it was sold primarily to schools and libraries.  However, it is a very worthwhile series for homeschoolers as well.
In these movies, quirky characters, a visiting inventor, and large numbers of mammoths learn about science on Mammoth Island.  Each of the 26 episodes focuses on a single topic such as springs, sound, magnets, light, or electricity and follows a similar pattern:
There's a problem on Mammoth Island, and everyday attempts to solve it just are not working, even when the mammoths are called in to help.  Bright 14 year-old Olive and the Inventor, who's just visiting the island, have some ideas.  Olive's cousin Troy provides the muscle power.
But Olive, her relatives, and the inventor often disagree about new inventions.  Are they worthwhile?  Can they do the job better than the mammoths?  And exactly how do they work?
Solution after solution is attempted, and finally, after quick, clear, and upbeat scientific explanations, the new machine works and all the problems are solved.  All the problems, that is, except for Brenda, Troy's mother, who causes plenty of her own.
What sorts of topics are covered?  Balloons are used to move a mammoth that is frightened, microphones help gather mammoths lost in a network of canyons, brakes are developed to slow down a cart containing mammoths, and so on.  A complete list of topics is available here.   You can find out more about the series here.
We use these DVDs both as entertainment and as an introduction to basic science ideas.   During our annual Reading Week we ordered the entire 26-volume set from our library.  Miss 10 and Miss 12 would settle down to watch a DVD and soon the rest of us would drift over and enjoy it as well.
The Way Things Work DVDs are an excellent introduction to basic concepts in science and technology.  They are an easy and effective way to give elementary students a basic understanding of the world around them.  However, they can also introduce and clarify concepts for middle school children and teens.  Even I, with a doctorate in physics, learned a few things.
Although the presentation of scientific ideas is clear and humorous, I do not always appreciate the characters, especially Brenda.  If, however, your kids focus on the science and the humor rather than the family relationships, they will benefit from this series.
Where to get them:  These DVDs should be available from most large libraries or perhaps from a local school that's clearing out resources.  In the UK, they were sold to the public as a single package.  They are difficult to find (currently none are available on eBay or YouTube), but if you can find a used series, do snatch it up.   It is definitely worth the effort.
Disclosure: We have owned the book for years and borrowed the DVDs from our library.  I am not compensated in any way for telling you about this resource.
Written by Annie Kate, a Christian homeschooling mom of five, who reviews and blogs at Tea Time with Annie Kate.
Unit Studies by Amanda Bennett: Your Passport to Learning Adventures!