A Journey Through Learning is a fairly new lapbook company to me.  This year, I've completed two of their units and used a third for reference – and I have to tell you how impressed I've been!
Lapbooking is something I've been doing for quite some time, but I've never come across a pre-made unit organized quite so well.  This is especially helpful for those who have never used lapbooks before, but much appreciated by seasoned lapbookers alike!
I'd like to take you on a brief tour to show you just how well-designed the units are…
A short and sweet description is given about lapbooking and supplies needed.  The instructions aren't overwhelming and are very clear.
A color diagram showing where all the mini-books are to be placed is followed by full-color photographs of the finalized lapbook.
A cover page is included for your child to color and add to the front of the lapbook.
A table of contents is supplied for mom.
Before each lapbooking acitivity, a study guide is placed that includes all the necessary information needed to complete the mini-book.  (In other words, everything you need to complete the mini-book is placed together in the unit, so there's no searching for pieces and parts.)
The mini-book lapbooking activity follows directly after the study guide page(s).  What I love most, is the small diagram located at the top corner of each activity page reminding you where the mini-book should be placed in the lapbook folders.  Clear directions for completing the mini-book are included on the page as well.
Additional pages follow at the end of the units such as a bibliography, a research organizer, narration notebooking pages, book report forms and graphic organizers.
The entire PDF file is in color, which makes for a nicely finished product if you have a color printer.  If not, the pages will print just fine on a black and white printer.  Actual photographs and professional illustrations are standard in these units and are often "built in" to the mini-books as covers.  This adds a wonderful touch to the finished product.
A decent amount of study guide information is included for each lesson.  However, depending on the age of your students, you may choose to add to the info with library books or online research.  As with any unit study, you sometimes have to beef them up a bit for older students.
The company offers many units in all subject areas and for a variety of ages.  I've only had experience with the PDF e-books, but CD's, printed versions and/or pre-assembled versions are available, too.  Most units run around $14.00 for the PDF file which I feel is a very fair price.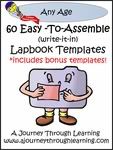 Another book I've enjoyed from A Journey Through Learning is their 60 Easy-To-Assemble Lapbook Templates.  This is a super resource for do-it-yourself lapbookers who would like one handy place to go to find blank mini-book templates.  Just as I mentioned above, all the directions are very clear.  All you have to do is print and assemble –  then complete on any topic you'd like!
-Written by Cindy, eclectically Charlotte Mason mom of 3.  You can find her blogging at Our Journey Westward and Shining Dawn Books.