Classical Academic Press is a fabulous resource for homeschoolers — and not just for those that follow the classical method! You'll find wonderful programs for grammar, foreign languages, poetry, Bible study, and, of course, writing.
We've tried a handful of writing programs (with varying success) but the one program that we always return to is the Writing & Rhetoric series from Classical Academic Press. We've been working our way through the series over the last few years — here's a look at the fifth book in the series — Refutation & Confirmation.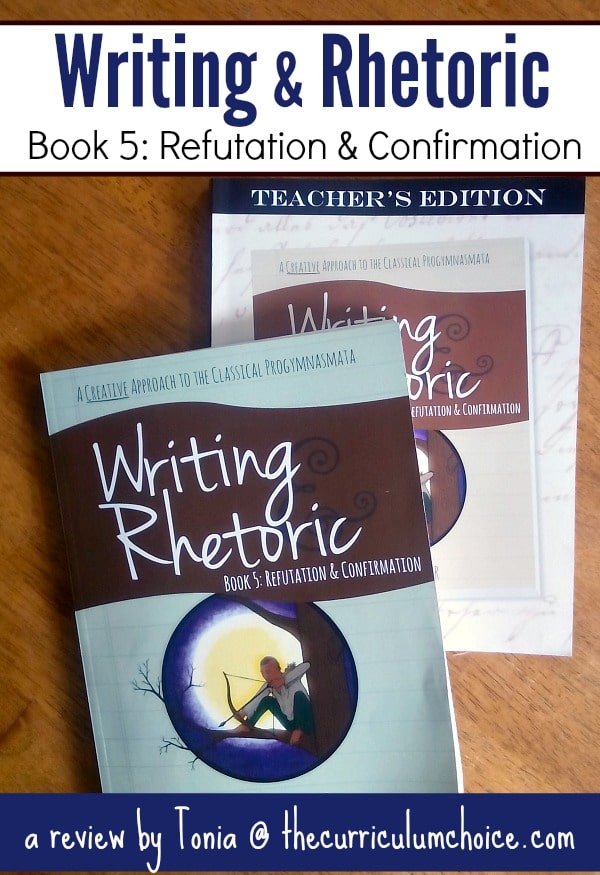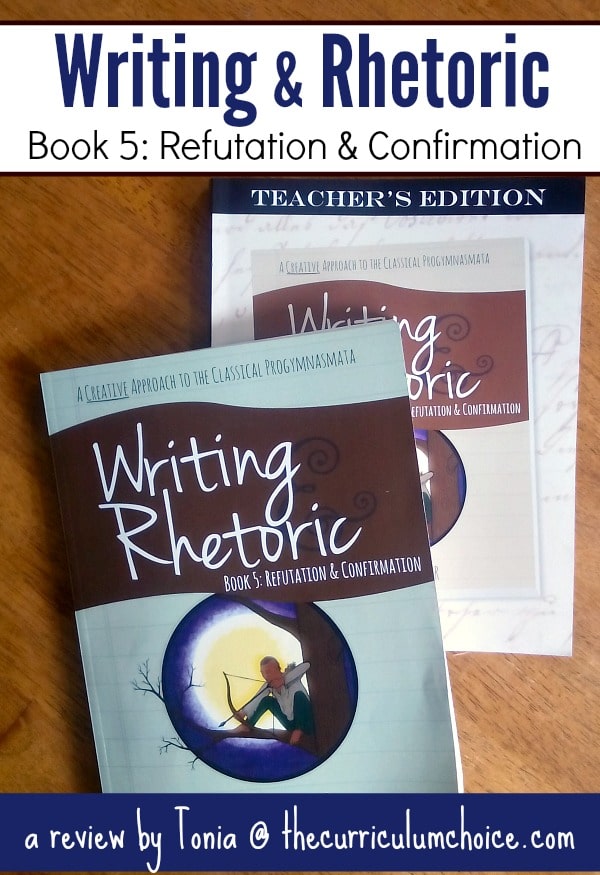 Writing & Rhetoric from Classical Academic Press
The Writing & Rhetoric series is modeled after the ancient system of the progymnasmata (which means 'preliminary exercises') — a series of exercises used to teach students how to write and speak in a persuasive manner. Each of the books in the series focuses on one step in the progymnasmata. But, no worries, homeschool mom — you don't actually need to know anything about the 'progym' and how it works to use this program. The teacher's editions provide plenty of instruction – you'll always know exactly what to do.
Each book in the series builds on skills learned in previous levels (depending on the age and ability of your children, you can skip levels — just get in touch with Classical Academic Press and they'll help you figure out where to begin).
Writing & Rhetoric Book 5
Refutation & Confirmation, the fifth book in the series, follows a similar format as previous books but, as with other levels, the focus shifts to a new topic. In this book, the focus is on four-paragraph persuasive essays. Students learn to write refutations – looking for elements in a narrative that are unbelievable, improbable, unclear, or improper and writing an essay on the topic they choose. They will also learn to write confirmations — looking for elements that are believable, probable, clear, or proper.
If this all seems difficult, don't worry! Students aren't expected to begin writing these essays without any preparation. The first few lessons provide a solid foundation before students are expected to write their essays.
Like the others in the series, Refutation & Confirmation includes two books — a student workbook (assignments are completed right in the text) and a teacher's edition that includes sample answers and everything you need to know to teach the material effectively. There are twelve lessons in the book, and it can easily be completed in one semester. While older students can work independently, we find that this program works best with discussion.
Classical Academic Press recommends students begin book five in fifth or sixth grade (or older) and I think that recommendation is perfect. My daughter was in 7th grade when we used the book and it was a very good fit for her.
The lessons in book five follow the same basic format as previous levels but there is more variety and assignments that will take more thought and discussion (which fits with the age of the students who will be using the program).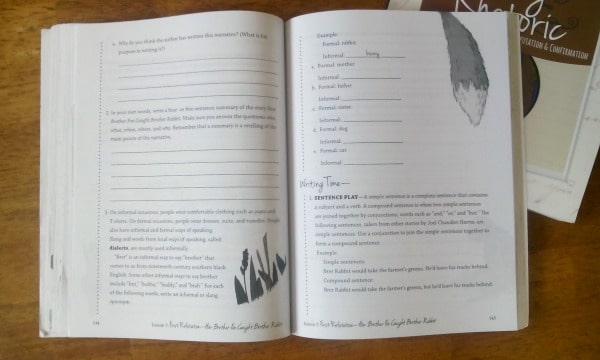 Here's the basic format of each lesson:
Introduction about the topic or the story
Chapter Story (adaptations and short historical or fictional narratives)
'Tell It Back' – narration exercises (oral, written, outlines)
'Talk About It' – discussion about the story
'Go Deeper' – comprehension questions and exercises that ask the student to think more critically about the chapter story
'Writing Time' – variety of writing exercises to encourage clear, creative writing including four-paragraph persuasive essays
'Speak It' – a time for students to practice oral presentation skills
'Revise It' – students learn to edit and revise their own writing
How we're using Writing & Rhetoric: Refutation & Confirmation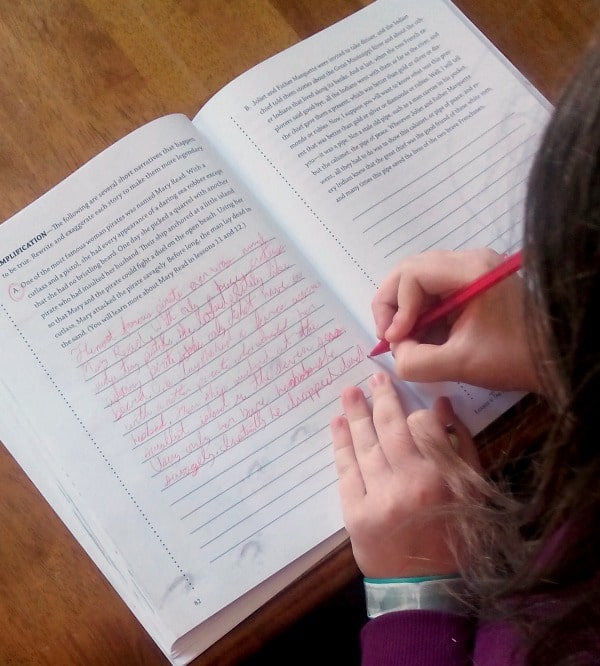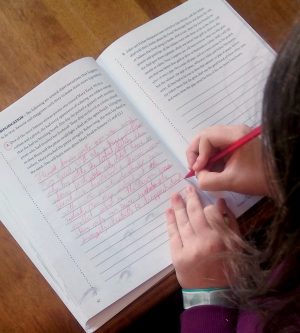 We take about a week to cover each lesson in the book. If there are writing assignments in other subjects, we spread the work out over a two-week period. But here's how it usually looks:
Day One: We read the introduction and story. My daughter narrates the story (we alternate between oral narration, written summaries, and outlines) and we discuss the questions in the 'Talk About It' section.
Day Two: On day two we work through the 'Go Deeper' section of the chapter before my daughter works independently on the Sentence Play & Copiousness assignments in the 'Writing Time' section.
Day Three: We move on to writing the first draft of the four-paragraph essay (a confirmation or refutation, depending on the lesson).
Day Four: We finish the week by working on the 'Speak It' and 'Revise It' sections together and my daughter types a final draft of her essay.
This really is a wonderful series. I'm impressed with the growth and progress my daughter has made in her writing skills (and how she's learning the important skill of editing and revising her work). If you're looking for a solid writing curriculum that moves in incremental steps to teach these classic skills, take a look at the Writing & Rhetoric series from Classical Academic Press.
If you want to learn more about the series, here are a few more reviews about the Writing & Rhetoric series:
~ written by Tonia from Happy Homeschool Nest
Save