**The publishers (Frances Lincoln Children's Books) of Wild Adventures have very kindly offered a copy of the book to one of our readers, please be sure to enter the giveaway at the end of the post. **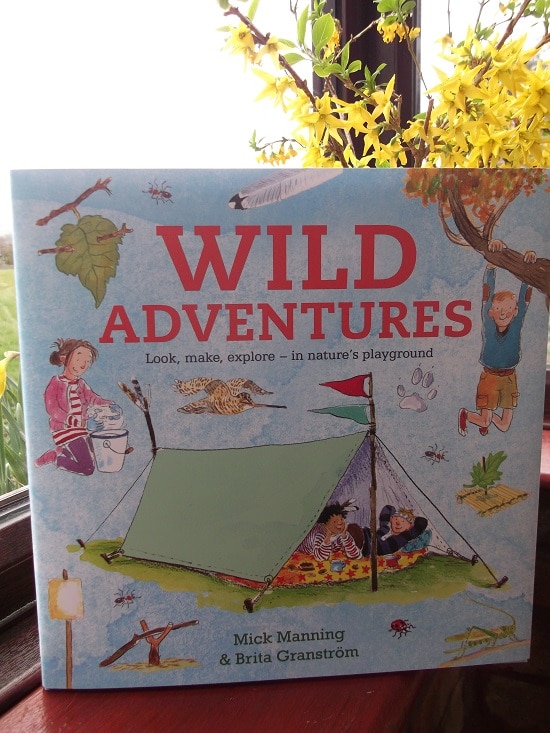 Wild Adventures has been written by Mick Manning and Brita Granström. They are a husband and wife team with a series of delightful nature books, Nature Adventures and Nature School,  which have been inspired by their own experiences out in nature with their four children. I thoroughly enjoyed reviewing their two previous nature books (click on the links above if you missed them) and am happy to say that to review their latest book has been an absolute pleasure once again.
Wild Adventures, published by Francis Lincoln Children's Books,  has taken nature study outdoors one step further. This book is filled with things and ideas to do and make, explore and play out-of-doors.  These ideas and activities have come from the real-life experiences of the authors and their children so all the activities are easily 'doable'. The book travels through all the different things you can do, see and get in touch with throughout the different seasons of the year although it has been arranged by various habitats and themes.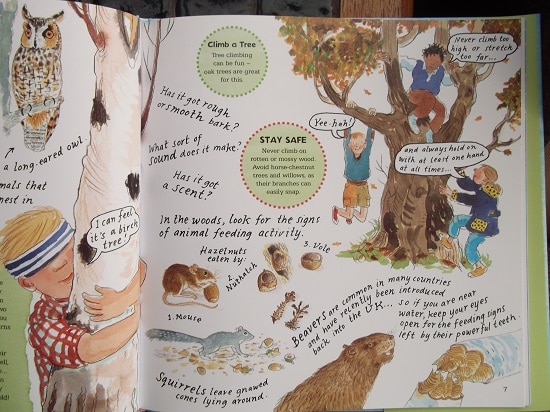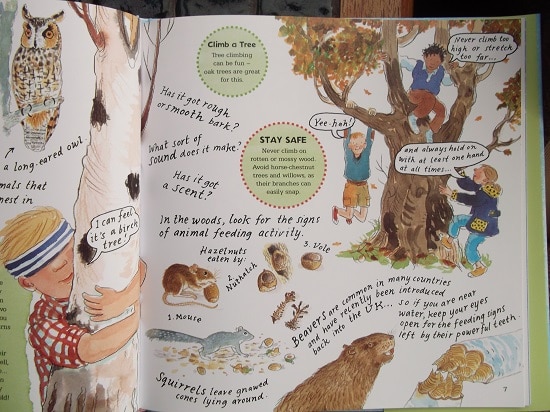 The first habitat we are introduced to in the book is a woodland. As you can see, the illustrations and layout of the page is appealing and inviting. I loved reading all the little snippets and examining the illustrations that they described. It has a bit of a 'nature-journal' type feel to it. On this double-page spread we are introduced to some of the animals and birds we might find in a woodland. Some games are suggested to the little reader; climb a tree (with the obligatory health and safety warnings lol), drum on a hollow log, play a fun game with your friends (step-by -step instructions given) involving trees and some signs of animal feeding activity to be on the look-out for.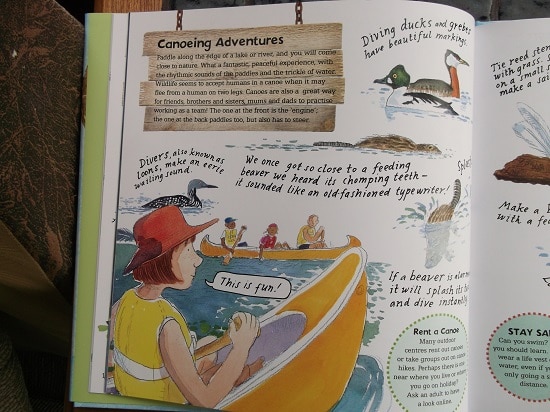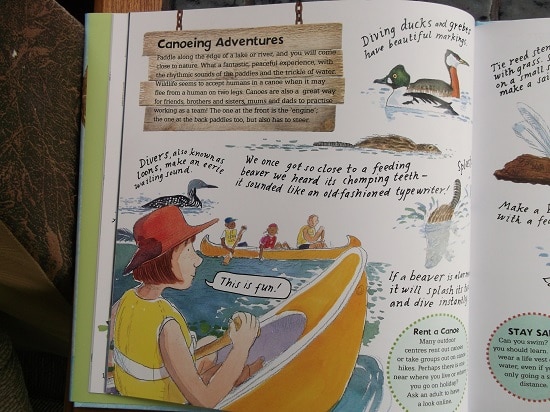 After having read through this book the first thing that struck me was that you could use this book as an adventure guide for a whole year. Your family could look at the pages that are relevant for the season and choose to take the challenges, play the games and embrace a new experience perhaps. The section 'Canoeing Adventures' quite appeals to me. It's not something that is a part of our lives so to try this activity out in the summer holidays would be fun.

The campfire pages have some delicious recipes to try out on your camping trips this summer! I think we might just have to have a campfire in our own backyard to try them out even if we don't managed to actually get the tent out 🙂
Want to see what else you could be feasting on in Wild Adventures?
*Woodland Adventures *Games in the Woods * Shelters* Camping * Evening Serenade & Dawn Chorus *Campfires *Canoeing Adventures *Fishing *Animal Tracking *Picking Berries * Nettles and Dandelions *Sandy Shore Adventures * Rocky Beach Adventures * Night Sky * Cloud Watching * Rain, Wind and Kites *Bows, Catapults and Whistles * Skulls, Pellets and Plaster Casts * Backyard Adventures * Nature Tables and Collections.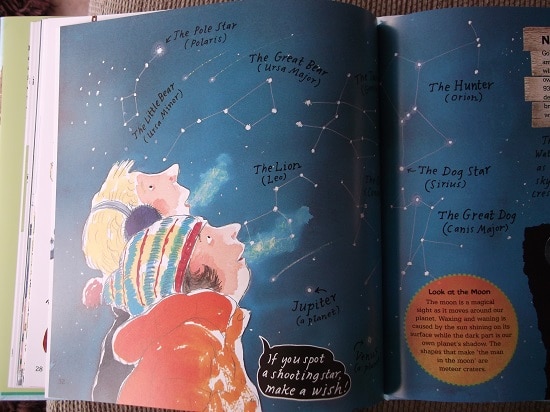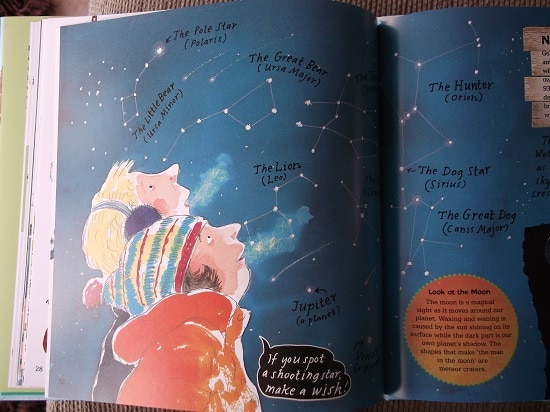 Doesn't it all just sound like a whole load of fun? I feel a little envious of the authors children actually – what a childhood their parents have given them! We are not all blessed with a natural ability to embrace all things 'outdoorsy', but I am very pleased that there are people out there like Mick Manning and Brita Granström who have a talent in writing and illustrating and who inspire me with easy-to-do ideas. They help me to create a magical, never-to-be-forgotten childhood for my children to cherish.
Be sure to visit the authors' Facebook page, Mick Manning and Brita Granstrom, to keep up with the latest news. You can lay your hands on a copy of Wild Adventures from Amazon. If you are in Europe or the UK is will cost you £12.08 from Amazon.uk and if you are from the U.S.A you can get it from Amazon.com for $14.79.
Now for the Giveaway!
Like I mentioned at the beginning of the post, you can also stand to win a copy for Wild Adventures just by entering your details into the rafflecopter below. Best of luck! 🙂