Introducing A Plan in Place Homeschool Planners. A guest post by Kim Lopez…
Because we are home with our kids all day, every day, organization for homeschool families is not just an option, it's a necessity. School books, papers, and science kits all need to have a proper place. Similarly, the WAY school is conducted must be organized, and there are about as many homeschool organization systems out there as there are homeschool families!  Some systems take a great deal of effort, giving mom a nightly workload of filling boxes with assignments, labeling workbook pages, or re-writing a dry-erase list of assignments.  These types of systems can feel overwhelming and exhausting to an already tired mom at the end of each day.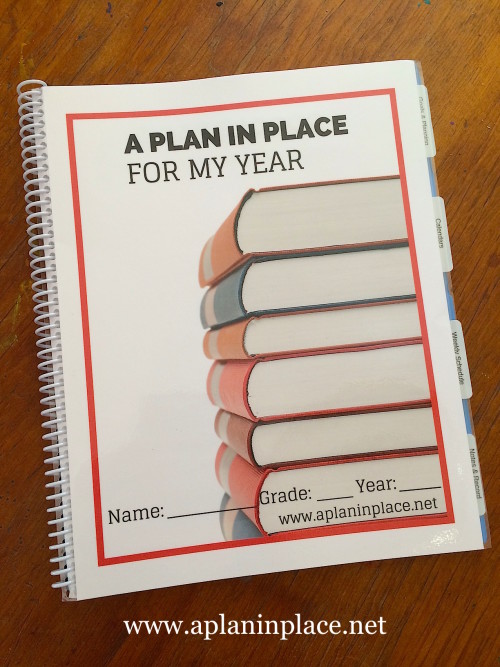 ~ Receive a free, small accessory pack! Don't miss the details at the end.

After trying several of these type of systems in my own homeschool family, several years ago I stumbled onto something new:  Student Planners.  When I mentioned my brilliant new idea to my best friend, Suzie, she informed me that she had been using planners for years!  Soon after, we had come up with the preliminary idea for our business:  A Plan in Place. We now sell our customized homeschool planners nationwide, helping hundreds of families become – and stay – organized all year long.

The best part of most homeschool organization systems is that students know what they need to do, when they need to do it.  However, student planners from A Plan in Place have this same result, but with the following added benefits:
Time saver – I fill out my kids' planners once a week and keep all their school books on one shelf. That's it! No need to move things around, write out assignments, or tear out workbook pages each day. I just write out which pages or lessons they are to do (once a week, remember!) and each kid pulls the appropriate books off his/her shelf for each subject each day.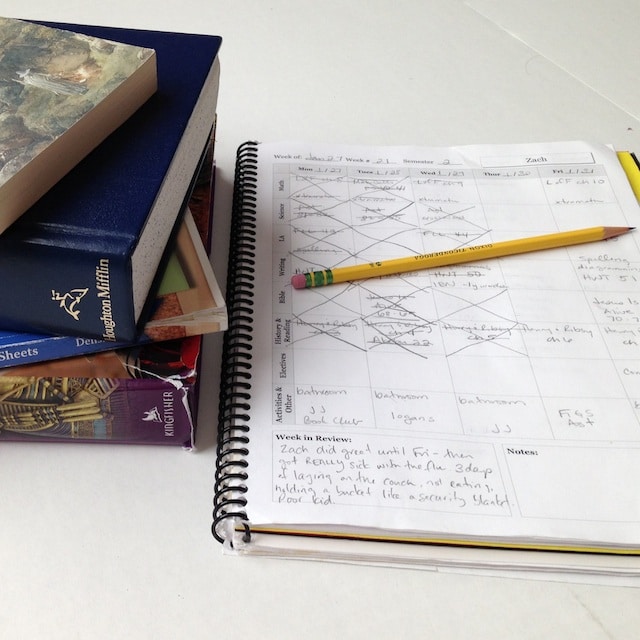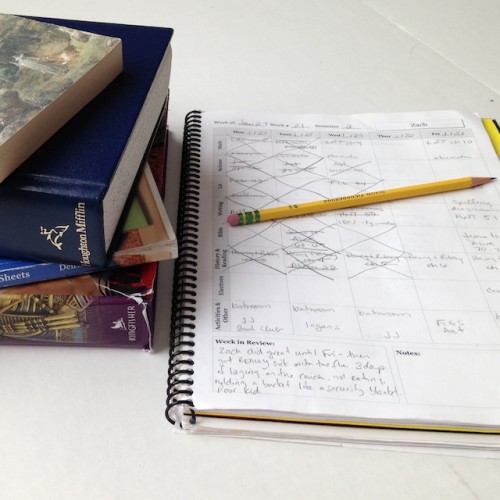 Transportable – Planners are just one spiral-bound notebook per child.  Wall charts, dry erase boards, and file cabinets cannot be easily moved.  But if you will be out of the house for the day, each child can easily bring his or her planner and the appropriate books in the car, to wherever your day takes you.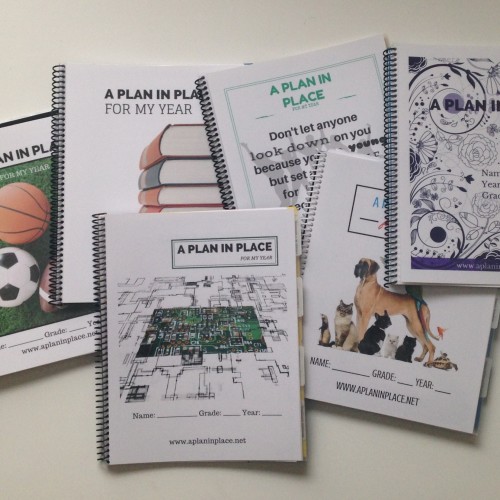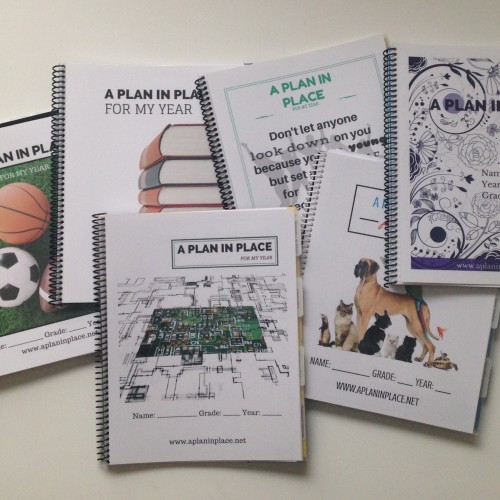 No other system allows for any tracking of progress or gives a permanent record of the year. You are simply stuck with a pile of completed workbooks, papers, and tests. However, with a student planner, you have one compact and complete record of your student's schoolwork each year.  Work samples filed in the back pockets (a great feature of our planners), resource lists and progress reports (see all our great record keeping forms) contained within.
When college application time comes around, you'll be prepared for any question about curriculum, test scores, or resources used.
Student planners from A Plan in Place are an organizational system and a permanent record of your students' progress all rolled into one. Don't get caught feeling like a complicated, time-consuming system is the only one out there. Planners may sound too simple to work…but give them a try and you'll see that the simplicity is what MAKES them work.
Free Small Accessory Pack from A Plan in Place Homeschool Planners
With the purchase of any customized planner you will receive a free Small Accessory Pack through April 30, 2015. Simply use coupon code SmallAP15 at check out: A Plan in Place.

How could a Student Planner help you homeschool more efficiently?