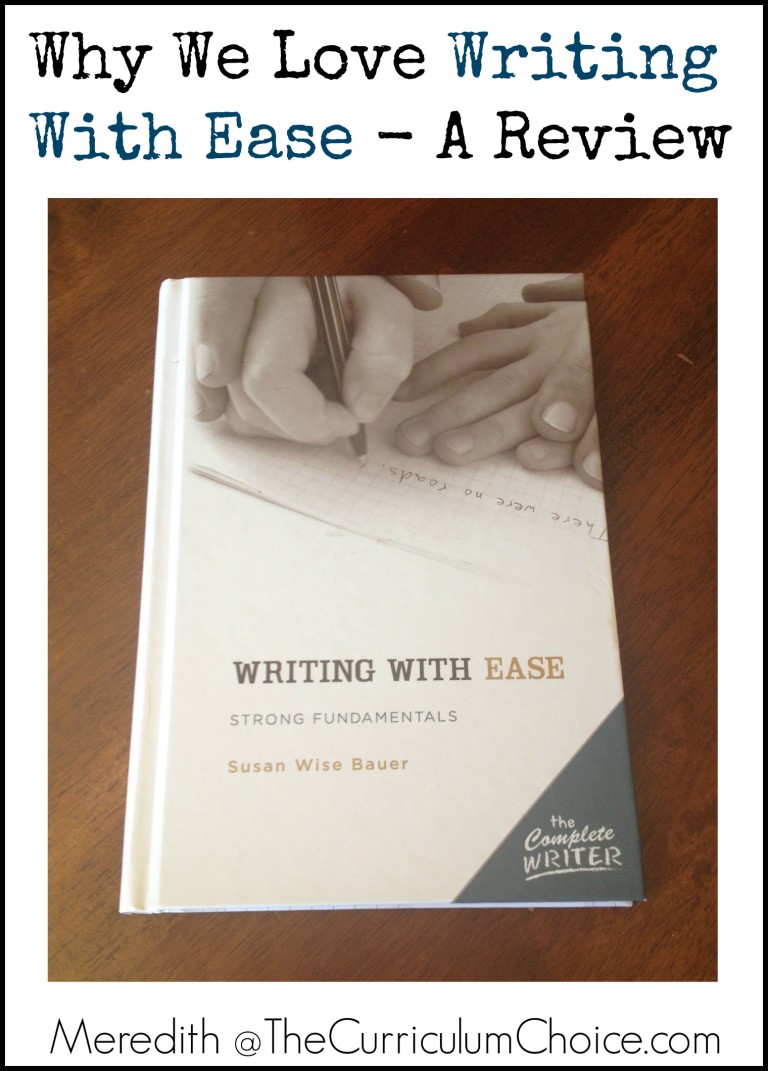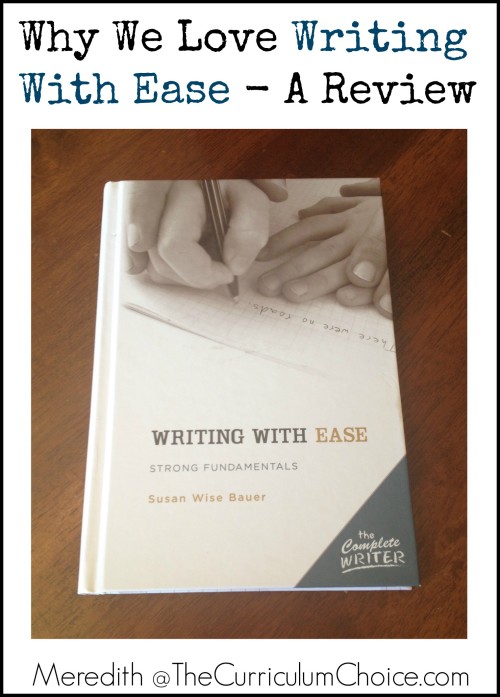 Why We Love Writing With Ease – A Review
Writing With Ease – Strong Fundamentals, The Complete Writer by Susan Wise Bauer has been a welcome addition to our Homeschool Curriculum.
The program was created and published in 2008 by Peace Hill Press as part of the growing resources available to parents who enjoy following the teaching ideas set forth in The Well-Trained Mind, also by Susan Wise Bauer.
We like to infuse many different aspects of the Classical teaching model into our learning and this series has allowed my elementary and middle school children to gain confidence and necessary skills towards becoming proficient writers, a little at a time.
Let me break down the approach for you and then tell you how we like to use it.
Writing With Ease – Strong Fundamentals contains four levels. You can begin with your 1st grade student and continue through the 4th grade.
Alternatively, if you have a little bit older student, you can shift the levels to use with a child that either didn't begin with level 1 in first grade, or to help prepare a later elementary child for the middle school writing years series called Writing With Skill, also created by Susan Wise Bauer.
The introductory portions of the book give detailed information about the process, why it's presented in this way and why it works. The author clearly explains why other writing programs fail and breaks down the three stages of the Writing With Ease process.
There is also an excellent section about explaining where to begin if you're not starting with Level 1 and how to progress through the levels.
Break down of the Levels
Level 1 – Students work on the two most basic skills of writing, that of taking thoughts and putting them into words, and then taking words and putting them down on paper. This is done separately in the form of narration and then copywork.
Narration is the oral retelling of a short passage from memory.
Copywork is the reproduction of a written model containing a sequence of written skills: correct punctuation, capitalization and proper sentence styles.
Level 2 –  Builds upon the Level 1 mastery with the addition of beginning to identify more specific information about a particular passage. In addition to continuing with copywork exercises, the student is introduced to the idea of dictation.
Dictation is the ability to reproduce a copywork selection by hearing it read aloud and copying it from memory. This skill allows the young writer to develop the habit of connecting his grammar and style without having to first come up with what to write.
Level 3 – The students in this level will begin to read the narration passages themselves. The selections have increased to about nine paragraphs. Copywork and dictation will begin to increase in difficulty and students will learn to write them after only two repetitions.
Level 4 – At this point in the progression, the 4th grader is probably ready to work mostly independently.
This final level is a great refresher or warm-up for older students in the art of creating sentences in the mind and then putting them down on paper. Dictation moves into short paragraph writing and narration passages are much more lengthy than in previous levels. This level could easily be used over two years for a well rounded writing program before the middle school years.
*There are student workbooks to go with each level if you choose to use them.
How We Use Writing With Ease in Our Homeschool
First of all, let me mention that I have used this program intermittently since my oldest son was in 4th or 5th grade, he is now 17 and graduating this year. The middle son benefited from a year or so of warm-up with Level 4  before we began to dive into the Writing With Skill series this year.
For my youngest, he is honing his narration skills, mastering excellent copywork with beautiful handwriting and managing longer dictation sentences with a combination of Level 2 and 3. I chose to use both levels simultaneously for him this year beginning with our Winter term after a really great refresher of English Grammar from Intermediate Language Lessons by Emma Serl in the Fall.
Here's an Example of a Sample Week Using Writing With Ease
NB: We do not use the accompanying workbooks for each of the levels as I choose the materials for narration, copywork and dictation from excellent literature off our shelves after going through the provided lessons included in each Level in the book.
We use a simple spiral notebook for the copywork and dictation exercises and I type the narrations on the computer for him to insert into the language arts section of his notebook.
Day One: Narration Exercise
The passage comes from a chapter in Five Children and It by Edith Nesbit. It's about 3 – 4 paragraphs long containing some dialogue and narrative about the children's adventures. There are comprehension questions already listed for the instructor to ask the student in helping them recall important details. After determining appropriate comprehension of the passage, the student is asked to narrate back some details to you in about 2-3 sentences that you write or type for them.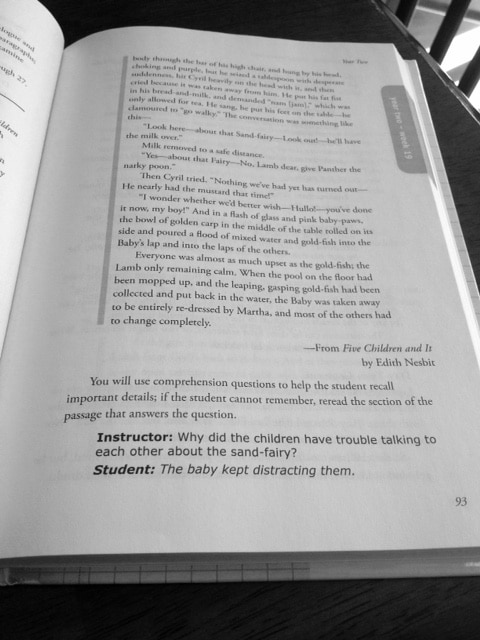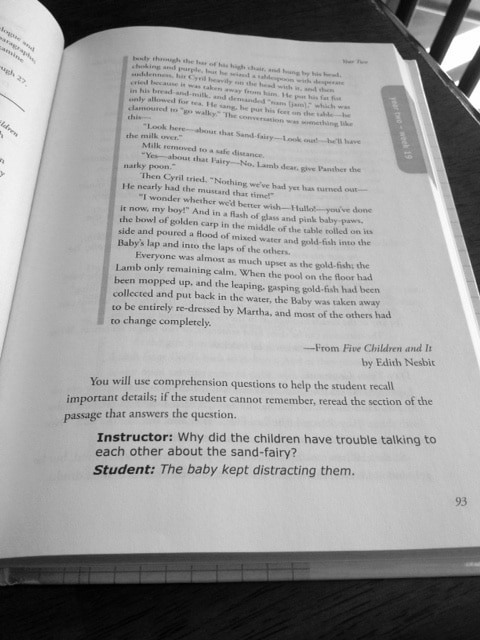 Day Two: Copywork Exercise
The copywork is a few phrases or sentences from the previous day's narration passage. For this lesson it's two short direct quotations.
"Good morning," it said. "I did that quite easily! Everyone wants him now."
Day Three: Dictation
This couldn't be any easier. You use the previous day's copywork for dictation. As the teacher, you will read the dictation exercise aloud several times until they can repeat it back to you without any mistakes before they begin to write. The student is already familiar with the short passage and will begin to get the hang of the flow of writing and what it should look like when they write it down from memory. This does take a LOT of practice, especially for the first several weeks, so be patient with your little person and know that this will get easier each week they work on their dictations.
Day Four: Narration & Dictation
Now we put the two main skills together. The student listens to the narration passage and you write down their narration for them to use as the dictation passage. Encourage them to give just a few details until they are ready for dictating a longer passage in the later levels.
Writing With Ease, Strong Fundamentals gives your student an excellent foundation in writing, reading comprehension and language skills to prepare them for more difficult writing as they approach the middle school and high school years.
Find Writing with Ease at Peace Hill Press.
Have you used this writing program in your Homeschool?