Our elementary children were ready to explore homeschool astronomy. So this year that is just what we did. We have been learning from Apologia Exploring Creation with Astronomy – another text in the Young Explorer series by author Jeannie Fulbright.
You might be wondering what the difference is in this Astronomy 2nd edition. I share more about that, below…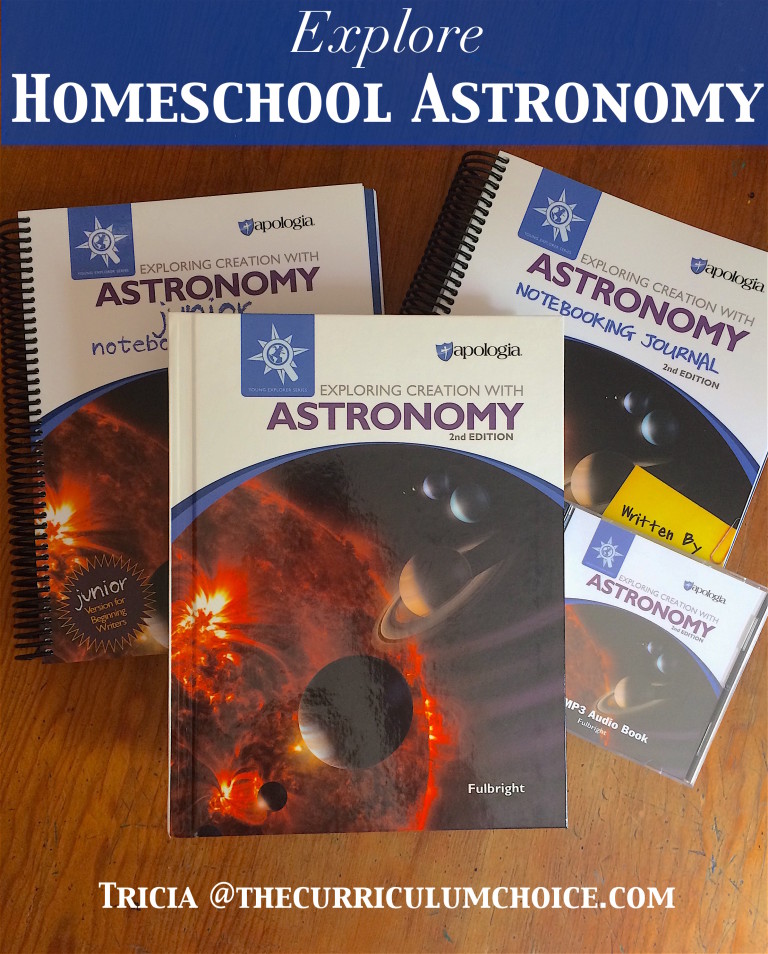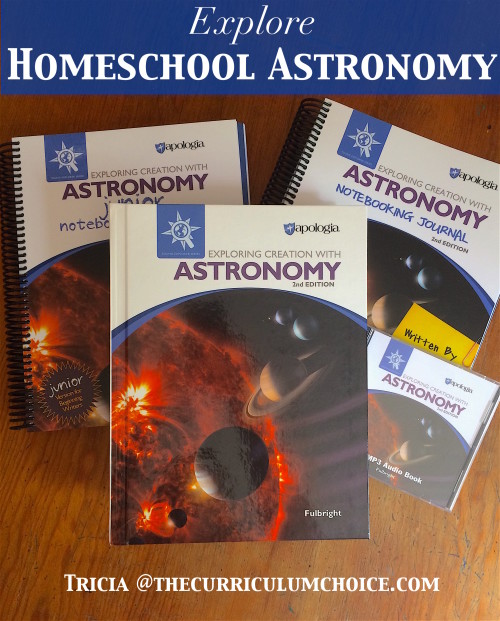 ~Don't miss the giveaway at the end!! We received these Apologia Homeschool Astronomy resources in exchange for an honest review. Any affiliate links included are for resources we absolutely love. All opinions are our own and we love the benefits and blessings we are continuing to see from this homeschool astronomy study. Please see our disclosure policy.
Our Studies Include These Apologia Homeschool Astronomy Resources
We are enjoying these resources with our elementary-aged children. Today I want you to know about:
Exploring Creation with Astronomy
This text uses an immersion approach. "A child that has focuses on one subject throughout an entire year is being challenged mentally in ways that will develop his ability to think critically and retain complex information."

The Young Explorers series offers a Charlotte Mason approach. The textbooks in the Young Explorer series, like this Astronomy, have these components:
Lessons
Narration
Notebooks
Projects
Experiments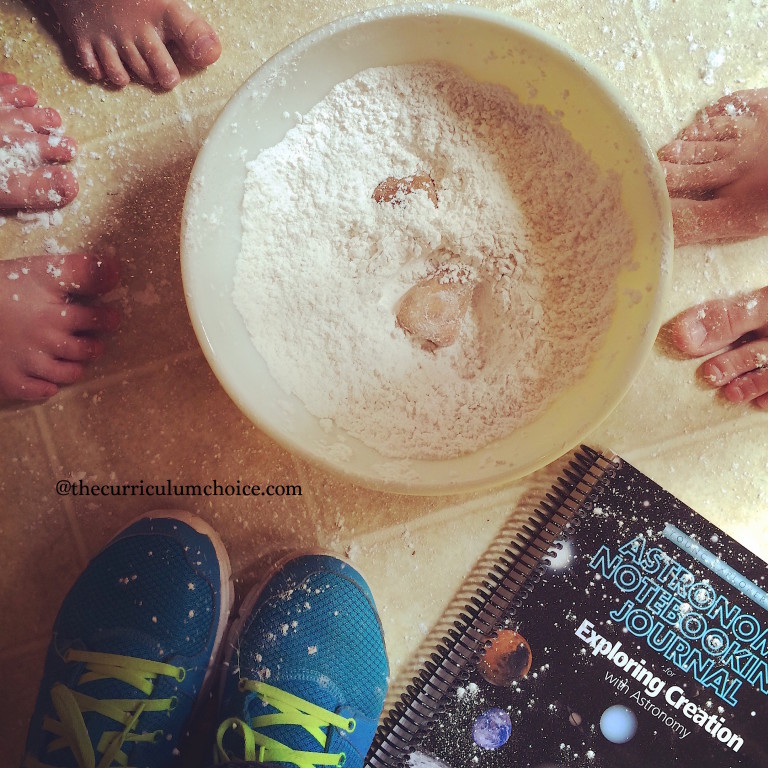 Making 'craters' on 'Mercury' with 'asteroids' – Apologia Astronomy awesomeness.
Which also includes:
Instructions for the teacher and a suggested schedule (e.g., a two week schedule for each lesson: reading and notebook assignments during the first week and the experiments and data recording during the second week).
Gorgeous photographs of space, planets and more with interesting facts in the captions
Prompts for the student to complete the accompanying notebook pages
What do you remember? discussion questions
Suggested project or experiment
What is better about the new 2nd edition of Apologia Astronomy?
I think that the updated, 2nd edition of Exploring Creation with Astronomy will especially appeal to your visual learners. It is simply beautiful!
Updated scientific information (last edition 2004)

Larger headings and subheads

Beautiful graphics

More charts/graphs

More "think about this" features from the Bible

MORE activities, more how to photos for the activities as well.

Additional, updated and expanded information from technical editor and content contributor Damian Ludwiczak of NASA.
MORE – Astronomy 2nd edition is simply so much more. Additional sections, expanded information incorporated. Definitely bigger, better!
Astronomy Notebooking Journal
The contents follow along the studies of the textbook.
Take it with you in the car, pull it out at the kitchen table.
Do you know what is the very best for the teacher? All the pages are in one spot. This is a spiral bound notebooking journal.
My 2nd grade son appreciates the Jr. Notebooking Journal – just enough writing for him. Not too much!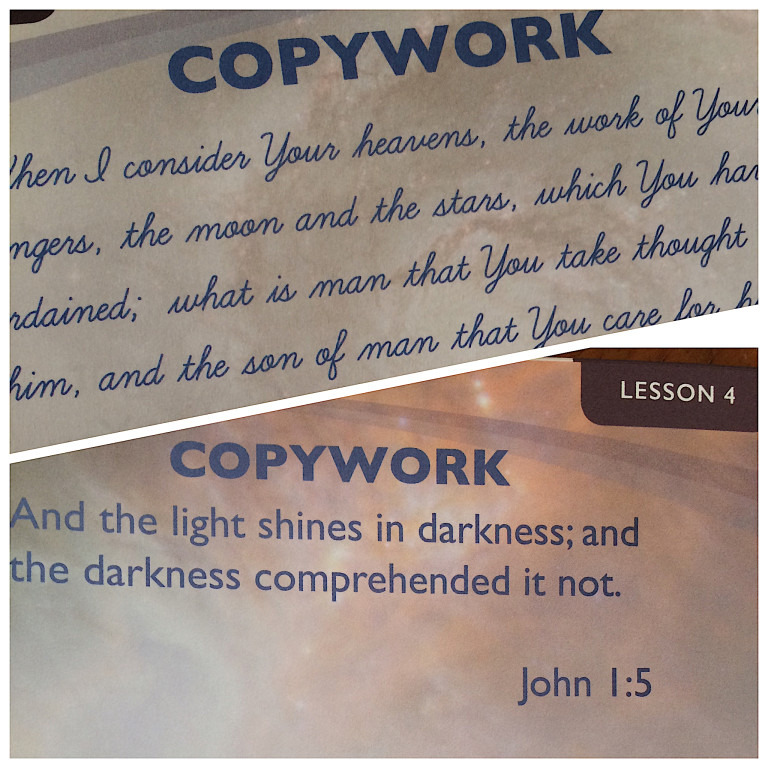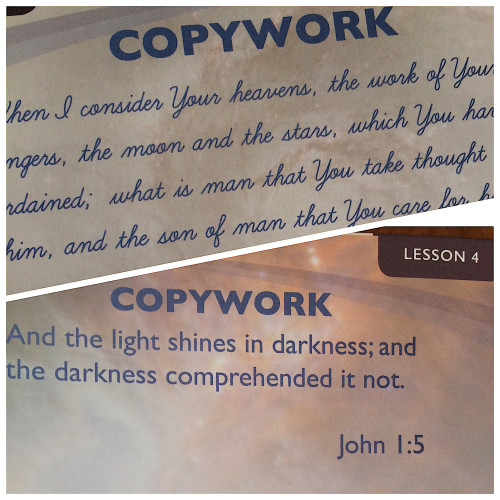 Example of copywork in Notebooking Journal (top photo) and Jr. Notebooking Journal (bottom).
Bible verses on all coloring pages.
Pre-lined notebooking pages.
Vocabulary crossword puzzles.
Directions for land animals projects including lapbooks, mini books.
Scientific speculation sheets.

We have already made it as far as the Kuiper Belt with Apologia Asronomy ⭐️☄? 2nd and 4th graders and I have been learning so much (and doing some astronomy art – love science and art!) Today's Apologia Real Refreshment Instagram Share the Love challenge is 'Scripture that you Love' and so we picked "You are the light of the world." Matthew 5:14
Astronomy MP3 Audio Book
Do you have auditory learners? We do! This is THE complete audio recording of the course as read by author Jeannie Fulbright. My techie husband put this on a memory stick for us so we can listen to it in the car. Astronomy on the go. Road school! Find more at Astronomy 2nd Edition Audio CD.
What Topics Does Astronomy Include?
Lesson 1: What is Astronomy?
Lesson 2: The Sun
Lesson 3: Mercury
Lesson 4: Venus
Lesson 5: Earth
Lesson 6: The Moon
Lesson 7: Mars
Lesson 8: Space Rocks
Lesson 9: Jupiter
Lesson 10: Saturn
Lesson 11: Uranus and Neptune
Lesson 12: Pluto and the Kuiper Belt
Lesson 13: Stars and Galaxies
Lesson 14: Space Travel
What Age is the Young Explorer Series For?
We are using Exploring Creation with Astronomy with our 2nd and 4th graders. "The elementary series is designed for grades K-6." (Although when I start reading aloud, the older three seem to suddenly appear 🙂 )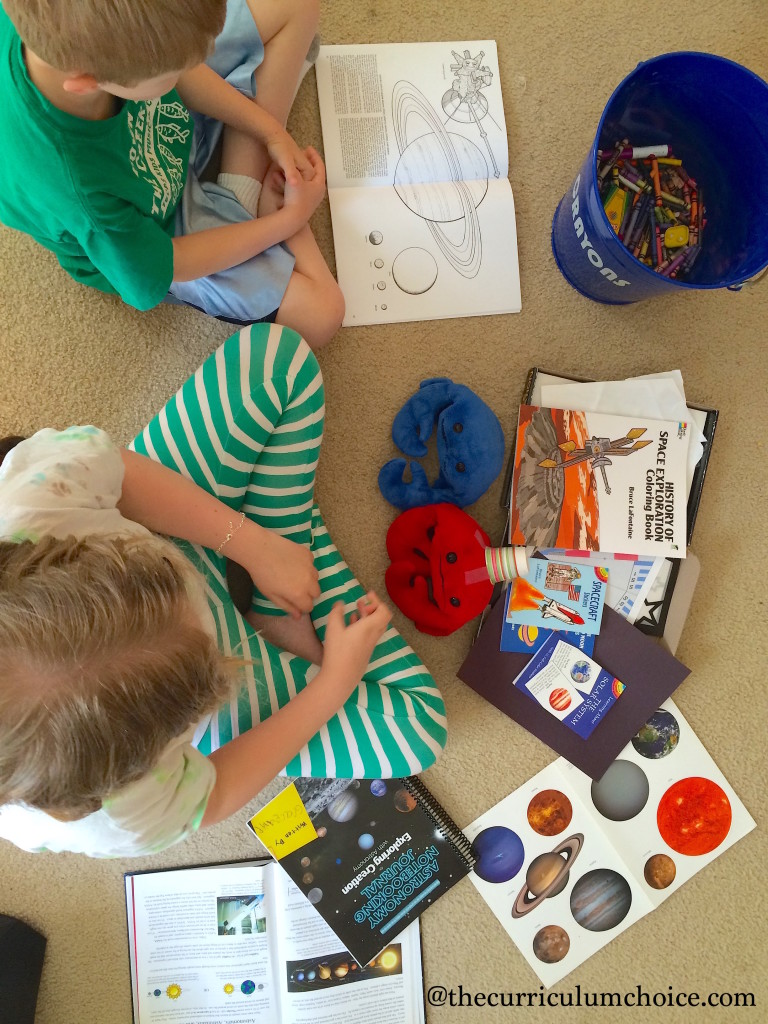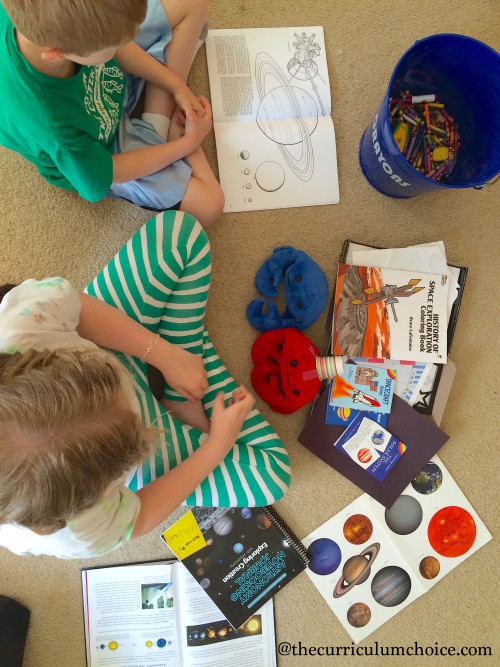 We have already finished our Apologia Astronomy studies for the year! But 2nd and 4th graders are working on an end of the year project suggested in the Notebooking Journal. Plus they are having fun with Dover Publications' Space Exploration Fun Kit (all those out of this world stickers! And blue and red crab are joining in the fun too.)
How We Use Apologia's Astronomy in our Homeschool
I have found that I can be very flexible with these resources. We use them for: Read Aloud Time – we have a good habit going of spending some time just after lunch when I read aloud the text and the children work on their notebooking journals. Independent Reading – my fourth grader can pull the textbook off the shelf and read her lesson – and even sometimes read aloud to her brother while I clean up lunch dishes.
What We Love About Homeschool Astronomy Studies
This time with Astronomy has honestly been a fantastic family study – spilling over from our elementary students. You know you have a curriculum that your children love when they ask for you to read it every day! This Apologia Astronomy study has also inspired field trips and further study – including a family membership to the local science museum and planetarium.
The heavens are telling of the glory of God; and their expanse is declaring the work of His hands. Psalm 19:1
You might also be interested in all our Favorite Homeschool Astronomy Resources. Including how Apologia Astronomy inspired space art at Hodgepodge and our Chalk Pastels: Art in Space book!

More of Our Apologia Studies
"I LOVE new school books. They are my favorite thing!" exclaimed rising 9th grader as we opened this big box from Apologia. I am in LOVE with Astronomy 2nd edition, Writers in Residence by Debra Bell – well, every bit of these resources. Elementary, middle and high schools. More to come, more to share over this next homeschool year!

Apologia Resources We Love

Where can you find the Apologia Science Young Explorer series?
Find each of the titles at the Apologia website. There you can view experiment materials, lab list, FAQs, sample notebooking pages and more.
Now for the giveaway!
Apologia is offering one
(1) Young Explorers title
of the winner's choice. In addition, the winner will receive either one (1) Notebooking OR one (1)  Jr. Notebooking Journal of choice and the MP-3 audio book (if available for the topic).
Simply follow the instructions in the rafflecopter widget below:
a Rafflecopter giveaway

Heading into her 16th year of homeschooling, Tricia faces a daily dose of chaos with five children. She shares a mixture of art lessons, recipes and helpful homeschool habits at Hodgepodge. She and her husband, Steve are owners of Curriculum Choice.