We were given a copy of the Benjamin Franklin Lap-Pak earlier this year to try out. I was pretty excited about this because, as you probably know, I'm a huge Homeschool in the Woods (HSITW) fan. We've used a vast majority of their products and several of them more than once or twice.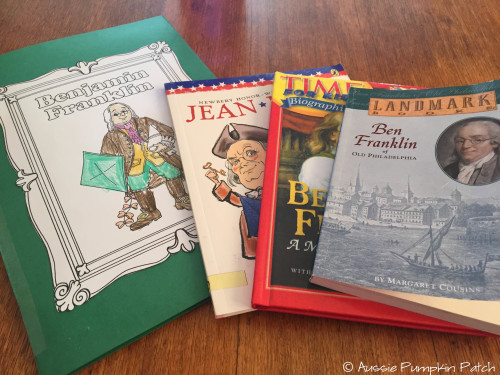 It took us much longer then anticipated to get to our Benjamin Franklin study but I have a little boy who is very much into this well known American. He's read about him many times over and spouts out random Ben facts throughout the day. I figured he'd really enjoy using this Lap-Pak.
The Lap-Paks are aimed at the younger crowd starting as low as Kindy. This particular Lap-Pak is aimed at the K-2 group of children. I know my boy would have loved having his own special Lap-Paks years ago when his older brother was doing many of the more grown up versions.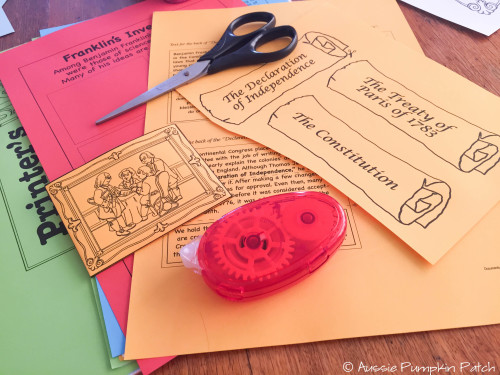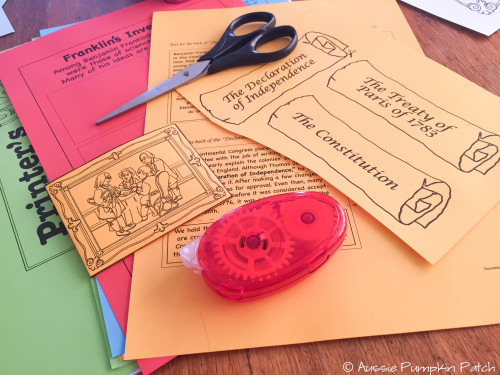 The Lap-Paks are pretty open and go once you print everything out. You can choose how much or how little to do in any given day. The instructions that accompany the Benjamin Franklin Lap-Pak have 12 different activities included, all of which are print, cut and paste type activities. I feel the need to clarify that as these lovely kits differ from the Time Traveler and Project Passport series which include recipes, games and art projects.
The Lap-Paks are much more simplistic and are perfect for handing to the younger crowd so they can have their owns special projects to do with little need for Mamma to help them out. Worried about their ability to read the provided material? Not a problem, HSITW covered that too!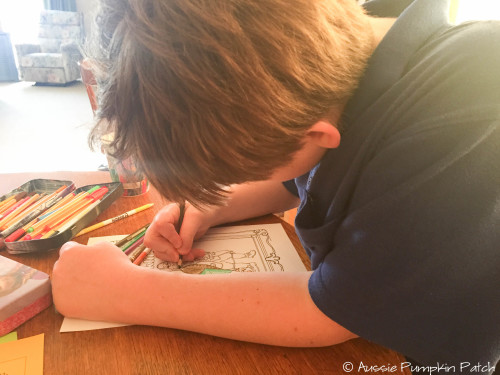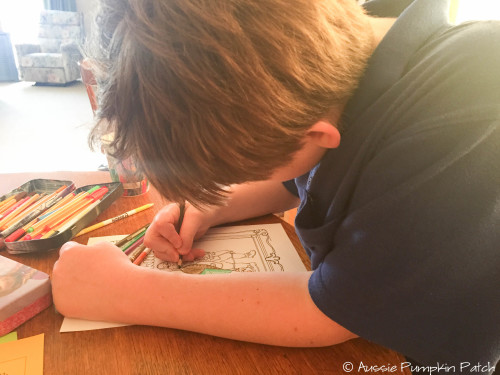 The booklet that has all the historical information also comes as an audio! We tend to be pretty snobby, in our home, about audios. As the mother of a child with a vision disability we've listened to hundreds, if not thousands, of books in audio format. We can flip on a book and say, "Oh, hey, this is the same person who read us…" and come up with a handful of books. So when I say the narrator on this audio is sublime and awesome, I really REALLY mean it! Seriously, the voice was fantastic, clear to understand and downright lovely to listen to.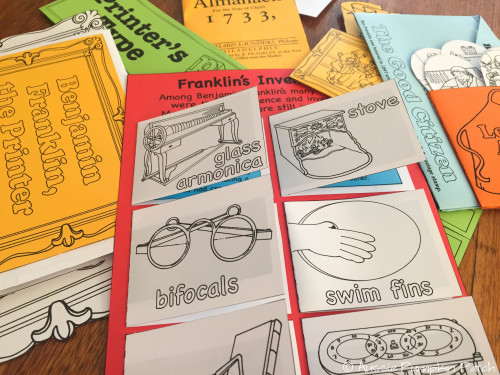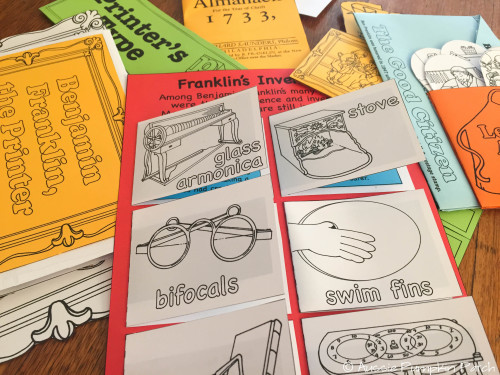 How We Used Homeschool in the Woods Lap-Pak:
My student was considerably older than the age range intended for this particular Lap-Pak, but it didn't stop us from enjoying it. Once everything was printed out we enjoyed listening to the audio and working through some of the booklets provided. We did not complete them all in one day, but pulled out more to do on another day while my boys watched Ben & Me via YouTube.
He also read through several biographies, on his own, about Benjamin Franklin. Some were better than others. He's a huge Jean Fritz fan, boy after my own heart and others were so-so. He didn't rank the Landmark book as high, but by then he'd probably covered all that information in other books he'd enjoyed including a few not pictured.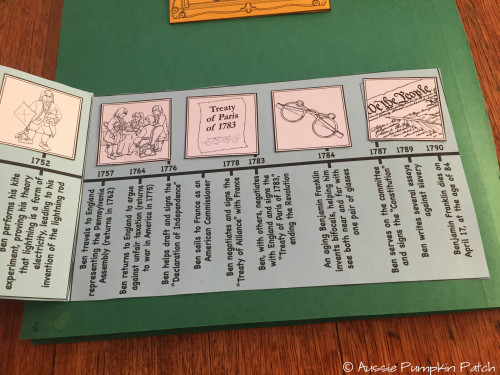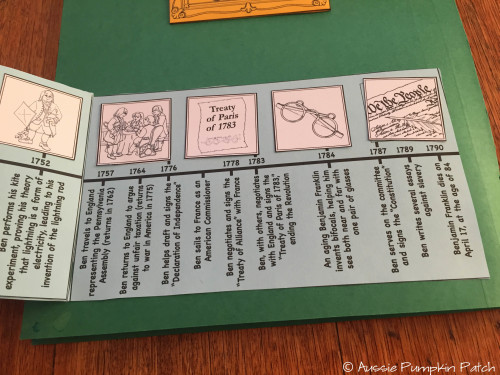 We ended up assembling our lap-pak slightly differently than the picture and instructions provided with the kit suggested, but it all works. I actually considered just having him put the little booklets on coloured paper to slip into his timeline notebook, but he was keen to make his a proper Lap-Pak.
Things I love about Homeschool in the Woods Lap-Pak:
Absolutely adore the audio files. I so, so, so wish that had been thought of when my eldest was that age. What a sense of freedom it would have given him!
Love that it's very open and go. If you're looking for a specific schedule it's not there, but I was content with the simple instructions and dividing up the booklets over as many, or as few, days as I wanted.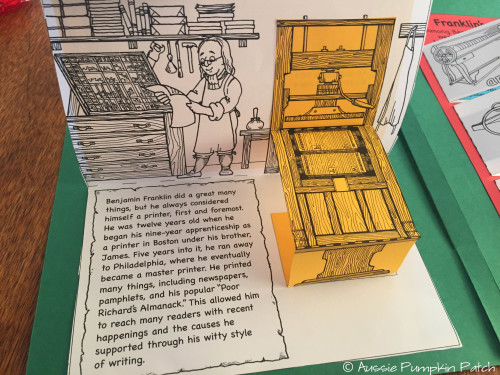 I loved the variety of choices when it came to some of the booklets. Many have differing pages depending on your students ability to write or not. Again, something I would have craved when my eldest was at this level!
I LOVE that these are downloadable. That's HUGE for international customers with the constant rising prices of fuel which affects shipping prices.
Thing I don't love about Homeschool in the Woods Lap-Pak:
Okay, so I really REALLY wish this had been around about nine years ago so I could have used it with my eldest. Seriously, but that's not a very fair complaint is it? Really though, we loved everything about this little Lap-Pak.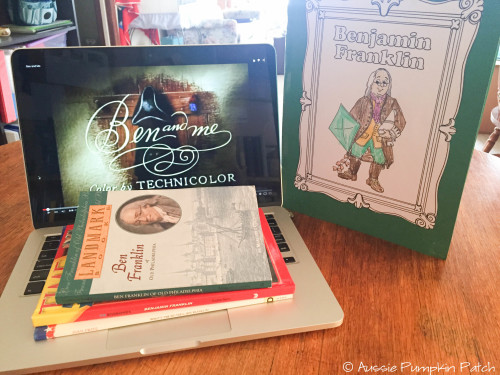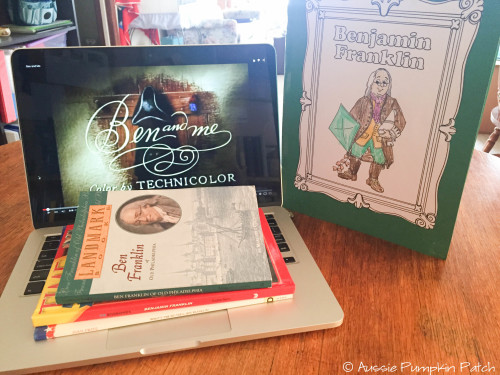 Bottom Line:
We enjoyed this Lap-Pak and I'd have no hesitations recommending it to anyone!
To check out other ways Kendra has used HSITW products check out her blog at: blog.aussiepumpkinpatch.com