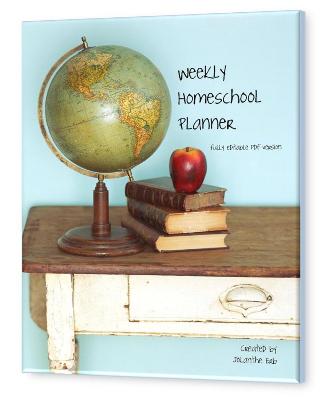 As homeschool parents, we have so much to focus on: preparing for our days being a huge responsibility.
Being an eclectic type of curriculum user, I typically make up my own planner and haven't invested in purchasing one through the years.  I appreciated the idea of customizing and tailoring to my needs.
Introduce the Weekly Homeschool Planner.
Jolanthe of Homeschool Creations has made available a planner chock-full of pages any homeschool mom could find use for.  What I first thought might only to apply to general weekly planning has turned out to be so much more!  The best part?  It's a fully editable PDF.
Customization at your fingertips…
The Weekly Homeschool Planner contains:
138 planning pages ~ 8 1/2″ x 11″ sized
12 blank month-at-a-glance pages
40 weeks of weekly planning and journal sheets: each page can be customized to the subjects that your family studies and can be saved to your computer!
Preschool planning sheets
Field trip/Event plan sheets
Yearly curriculum planning sheets
Yearly planning and evaluation sheets
Yearly attendance tracking sheets
Field trip/Event plan sheets
Daily to-do lists
Main dish menu planner
Customizable chore charts
Important contacts info
Additional note space
Standardized testing and yearly assessment result tracking
Homeschooling requirement planning
Each and every page is editable and can be saved repeatedly to your computer with various information for year-after-year use.  I like the idea of saving my planning from previous years – helps when the younger ones grow up!  And, there no need to take up shelf space keeping hard copy planners on hand.
However, if you enjoy actually writing in your own info, the Weekly Homeschool Planner can be printed off and bound, or even used in a binder to create a personalized home management system.
Using a curriculum that already offers week-by-week organization?  There are still so many pages for homeschool use such as tracking attendance or field trips.  The beauty of this planner is that it also fits much of 'other life' besides homeschooling (because there is other stuff going on!)
A one-time purchase to serve your family for a long time.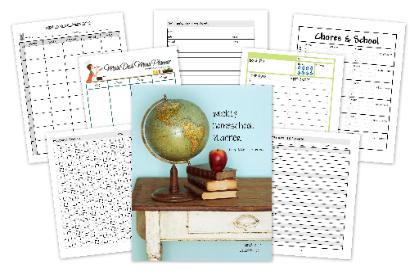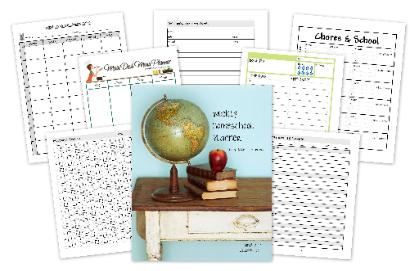 Like a present at the bottom of a Christmas stocking, this editable PDF is complete with a gigantic list of over 35+ links to additional resources for planning and homeschool use.  You'll find a babysitter's guide, links to geography printables, info on how to set up an emergency family folder, preschool ideas and so much more!
I'm thrilled to have this planning resource and the flexibility and variety it offers.  I encourage you to try it out for your family.