We have had the Thinkfun Roll and Play game in our house for a couple of years now. I got it for Ladybug when she was just a wee toddler. It has been a delightful addition to our homeschool days. When we pull this game out, we all get involved. Even though it is a game for preschoolers, older siblings can still have fun playing along with their young siblings.
To play the game, pull out the 48 game cards and have your preschooler stack them by color. There are eight cards in each category, and each category is a separate color.
Emotions
Body Parts
Animal Sounds
Counting
Colors
Actions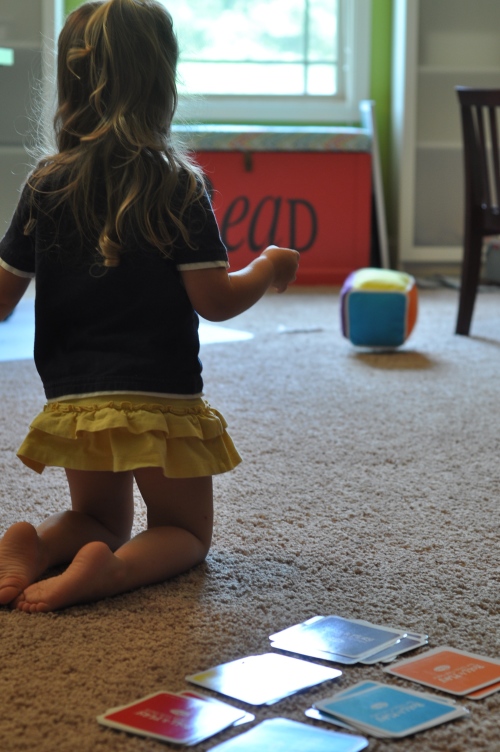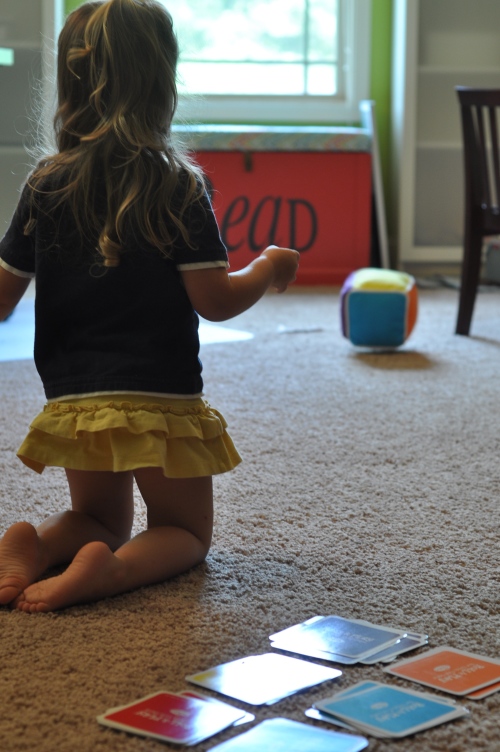 The first person rolls the cube and identifies the color it lands on, then draws a card from the stack that corresponds to that color. Then they have to complete what the card tells them to do. This is where older siblings can be a big help. Although the pictures on the cards are pretty simple, having an older sibling help their young siblings understand the directions brings them into the game too.
The actions on the cards are fun and educational! It might direct the child to locate something in the room that is red, make a lion sound, make a sleepy face, do simple counting, or rub their belly. Each card has a different activity, all designed for preschoolers. This is a game that keeps the kids physically active while they are learning, which is great for a game geared at preschoolers!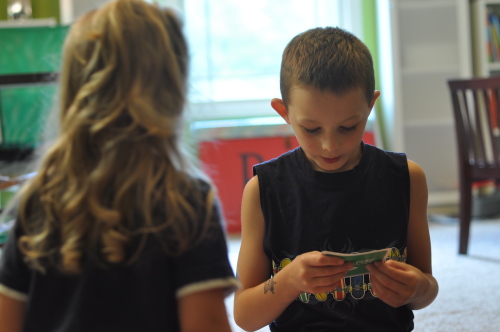 What is included:
Large Plush Cube
48 Cards – 8 in Each Category
Storage Pocket for Cards (on the cube itself)
Parent's Guide
How we use it in our home/what we like about this curriculum:
This is an active learning game for preschoolers. But we most often use it to bring the kids together for a group activity. This game helps re-energize my kids when they need a fun boost to our homeschool day. I've also used it with a group of preschoolers. If you teach preschool at church or a homeschool co-op, you could use this game for double duty – at home and away.
Active learning game
Integrates 8 different categories
Fun for preschoolers to play with older siblings
Has a handy storage pouch right on the cube for the activity cards
Durable – holds up to the active play of my kiddos
Thinkfun Roll and Play Board Game is available at Thinkfun.com. You can also find additional reviews and video at Thinkfun.com. This would be a great gift for any toddlers or preschoolers in your life!
In summary: If you have a toddler or preschooler, this would be a fun addition to your homeschool. You won't be disappointed!
~ Written by Amy Matkovich who blogs at A Journey of Purpose about striving to live the life God has intended through homeschooling, living life simply, managing finances well, and parenting. She is passionate about homeschooling and encouraging families to boldly follow God's path for their lives.