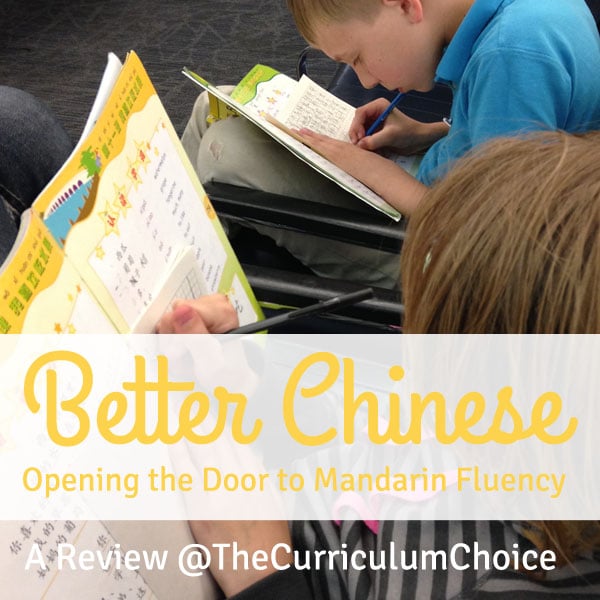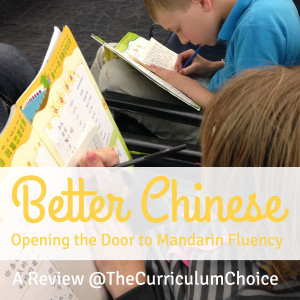 We first started using Better Chinese curriculum when my five-year old daughter expressed an interest in learning to speak Chinese. At the time, it was the only curricula that I could find that was aimed at the English speaker. As I don't speak or read Chinese myself, this was critical. I wanted something that be easy to follow for me but fun and interactive for my daughter.
We began with My First Chinese Words and she quickly moved through the readers, catching on to vocabulary with ease. Thereafter, we moved on to My First Chinese Reader and her younger brother joined in on lessons around this time.
Now that my kids are older (ages 9 and 12), they have moved on to Discovering Chinese which is targeted at middle school. While much of the content vocabulary is familiar to them, the activities encourage greater interaction between one another and provide opportunities for them to put their skill to use in real-life applications.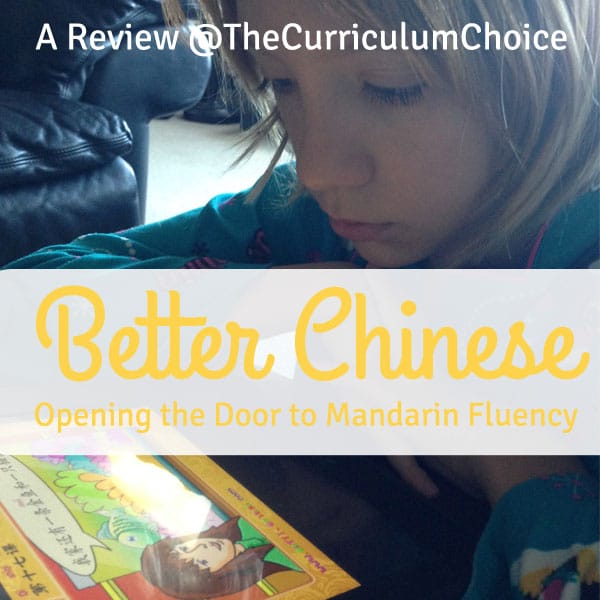 My First Chinese Words series is for kindergarten and 1st grade learners with no prior exposure to Chinese. The 36 mini-storybooks are designed for young children – short, engaging stories relevant to their everyday lives, which makes learning fun and exciting.
The stories contain meaningful sentence structures, teaching students to communicate in full sentences as opposed to have them memorize individual characters. The series also uses a spiral approach, overlapping content in a predictable narrative. This provides a springboard for creative role-playing and acting.
Often times, when my children are asked to, "Say something in Chinese," they will repeat the sentences from these books.
My First Chinese Reader
is a series is for the elementary student, again with no prior exposure to Chinese.
 It is written as a 4-volume curriculum (12 lessons in each for a total of 48) that builds Chinese language and culture skills in a spiral-up approach. The illustrations are fun and the context is relevant to their daily lives. 
The emphasis of the elementary series is building vocabulary and competency reading the characters. As my kids advanced, they began to discover a pattern and predictable sentence structure.
Available in Traditional or Simplified Characters and Pinyin
Discovering Chinese, also a 4-volume curriculum, is continues to build the students' language skills, but emphasis on conversational skills. The projects and in-class dialogues provide ample opportunity for students to converse with one another and utilize the vocabulary they have worked so hard to master. 
The 48 lessons also incorporate many relevant Chinese cultural lessons such as idioms, origins of Chinese characters, and typing Chinese characters. 
One of the things I like best about Better Chinese is the wealth of supplemental resources and enrichment material. Some of the resources include:
Multimedia CDs – Storybooks, Songs & Rhymes, Chinese Festivals, Folktales, etc.
Vocabulary Flash Cards
Activities & Games
My First Chinese Dictionary
Online Learning Environment for Desktop or iPad
Online Lesson Planner
Supportive Teacher/Parent's Guide
Better Chinese publishes Chinese language learning materials for all grade levels. It is an integrated curriculum designed to motivate students in non-native Chinese environments to start speaking Chinese. Through the use of traditional workbooks, an iPad, and a variety of multimedia resources, students can learn Chinese anywhere.
~ Eva is a veteran educator whose homeschool motto is "Homeschooling. Naturally." She uses a unique blend of materials and methods suited to their active lifestyle. Her family's favorite subjects to study together are science, history, geography, and literature.  Eva shares her family's educational adventures at Academia Celestia and writes middle level science curricula, Science Logic.