This month we've found that Dover Publications adds the fun to homeschool science and writing! Would your children like to make a bouncy ball? Maybe build writing skills (and laugh!) with Create Your Own Story? Let me tell you more…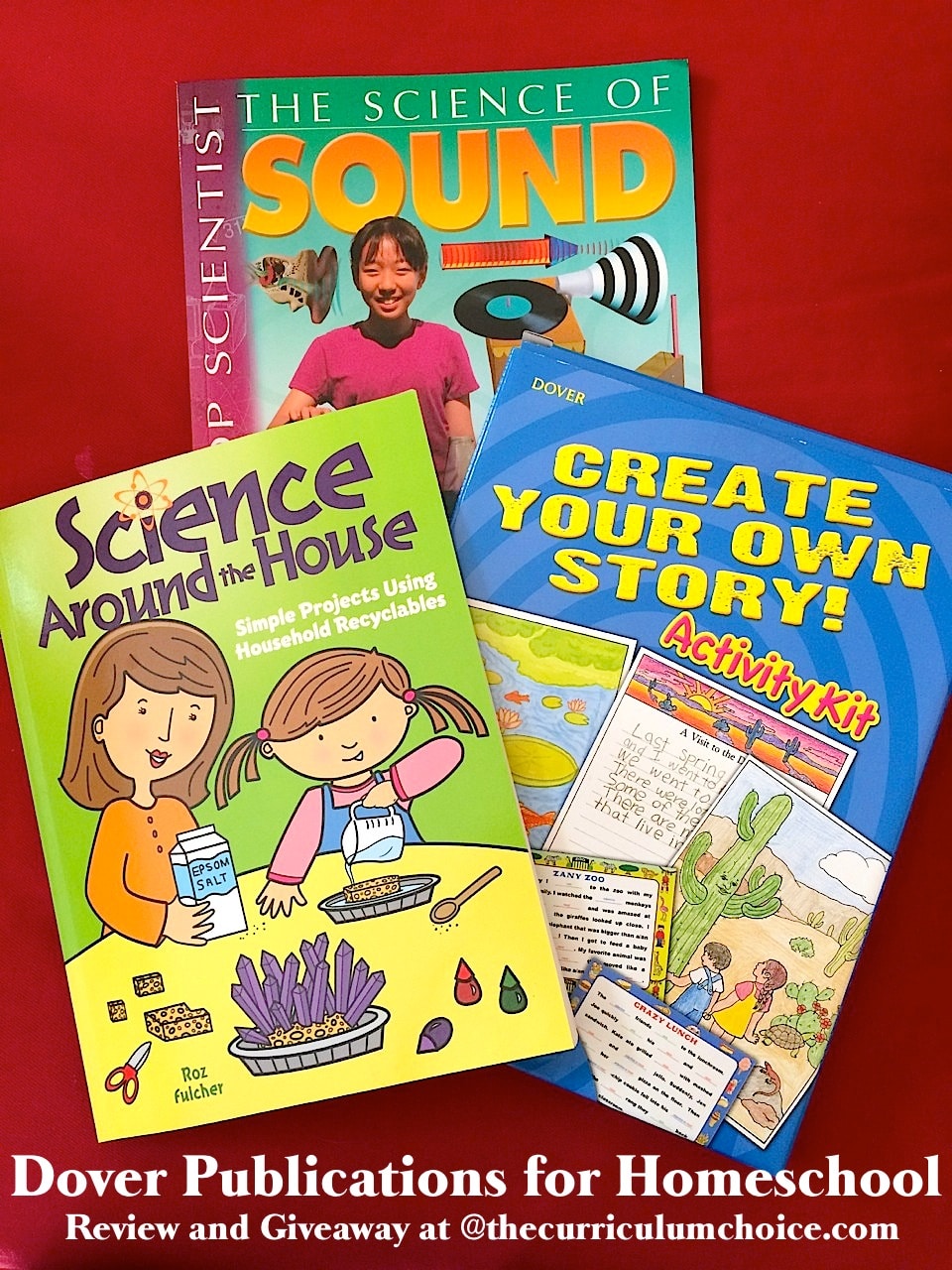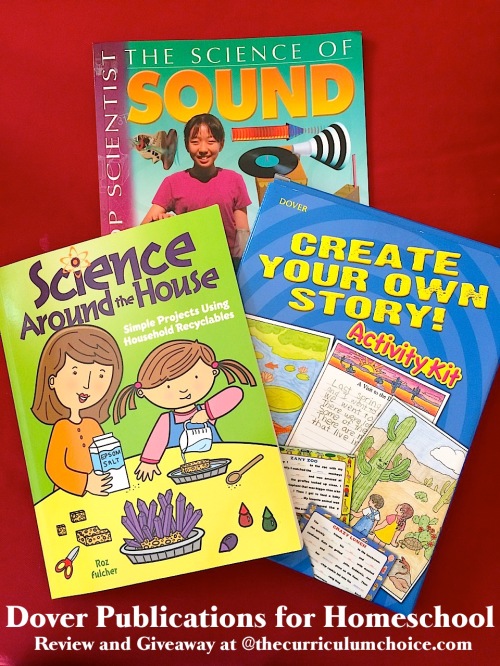 ~Don't miss the giveaway at the end!! We received these Dover Publications resources in exchange for an honest review. All opinions are our own and we love the benefits and blessings we are continuing to see! Please see our disclosure policy.

Remember, doing our studies together means less work for mom! Let me tell you about three Dover Publications we've been enjoying the last few weeks.
Dover Science Publications for Homeschool
We have been enjoying some fun science at our house with household items and recyclables we've had on hand. Science Around the House offers step-by-step, easy instructions for learning fun.  Now we also have musicians so The Science of Sound has been a great bonus learning activity.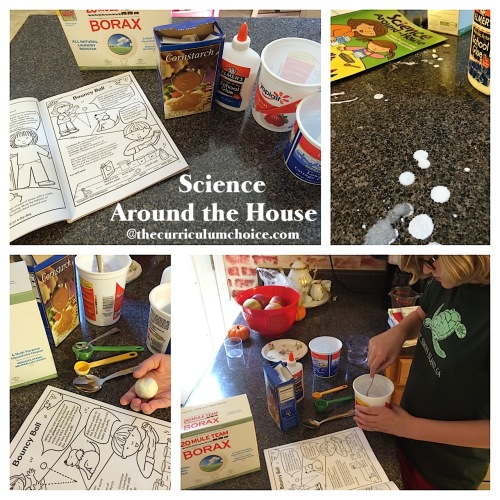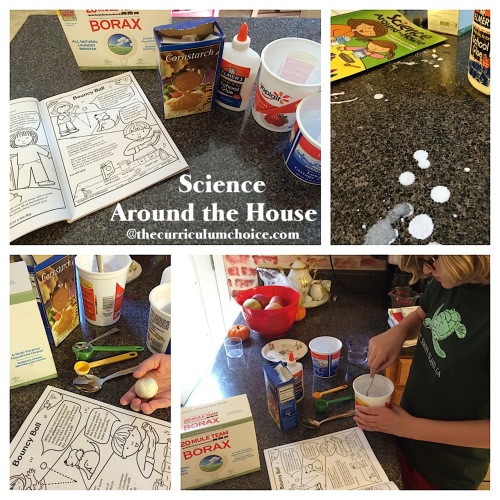 Science Around the House – as you can see, above, my middle schooler was able to gather the items needed and follow the instructions for making a bouncy ball. If you have a hands-on learner too, you and your child will love this. Note: many of the projects in the book do require adult supervision and these are indicated with a caution symbol on the top left or right of the page.
Science Around the House includes —> 57  <– learning projects for:
Acid Rain
A'MAZE'ing Plant!
Bending Water
Bouncy Ball
Bud Study
Cloning Plants
Crayon Melts
Digeridoos & Kazoos
Eating Iron
Building a Battery
Egg Arch
Egg Spinning
Butterfly Feeder
Eggshell Planters
Fake Snot
Fall Forecast
Magnet Fishing Game
Edible Insulation
Thirsty Flowers
Gummy Science
For the Birds (making all sorts of bird feeders)
Ice Melting Race
Ice Cream in a Bag
Invisible Ink
Picture Magic and many, many more!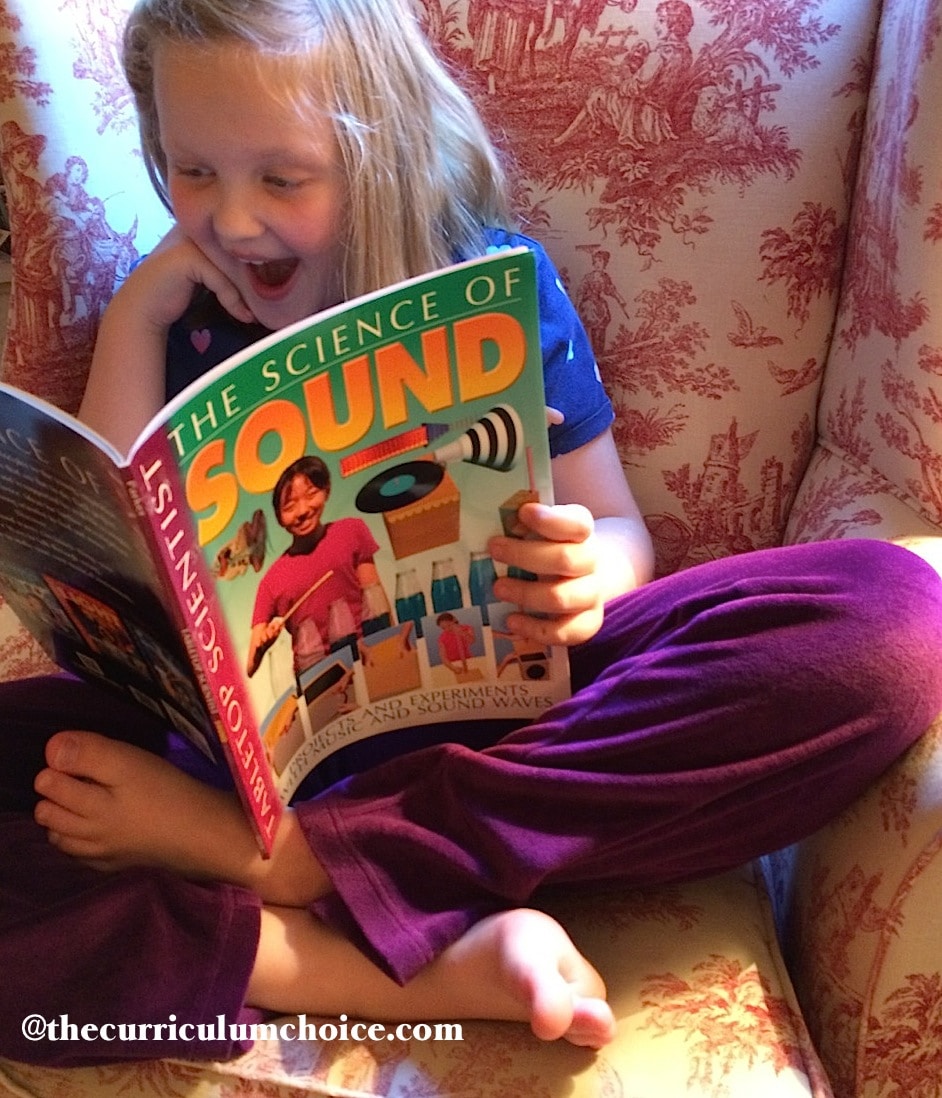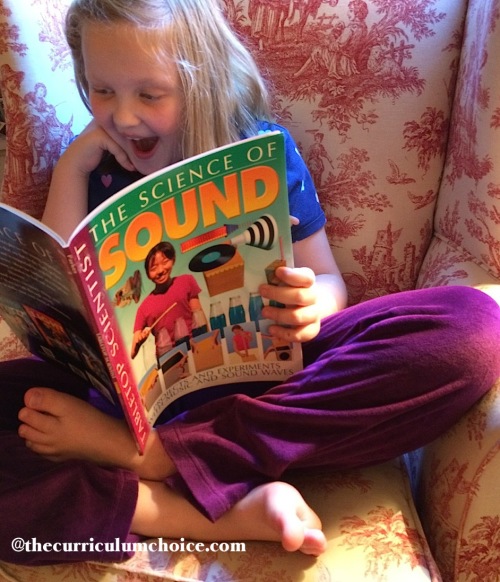 The Science of Sound – this resource is from Dover Publication's Tabletop Scientist collection and includes projects and experiments with music and sound waves. Music is a very big part of our house so this book has been a welcome addition.
The Science of Sound includes:
What is Sound?
Sounds Underwater
Quiet…or…Loud!
High or Low
Hearing Sounds
Where's that Sound?
Speed of Sound
Bouncing Sound
Making Sounds
Soaking Up Sound
Sound along a Line
Recorded Sound
History of Sound
Dover Writing Resources for Homeschool
Create Your Own Story activity set is a ready-made, open-it-up and go way to guarantee building writing skills in a fun way. (As you can tell from the smiles I captured, above, after my girls opened up the box!) "It's just awesome!" – eight-year-old
When we opened up the box, my two younger girls spread it out and spent almost an hour creating stories and doing the silly stickers. Then I found my first grader making a comic strip (all on his own) a little bit later. The next afternoon, third grader was on the couch and finishing Create Your Own Pictures.
Create Your Own Story activity set includes:
Write Your Own Story Coloring Book – 23 illustrations to color and write about
Create Your Own Pictures Coloring Book – 45 unfinished picture to complete and color
Crazy Lunch: Silly Sticker Story – 165 reusable stickers to create your own story
Zany Zoo: Silly Sticker Story – 168 reusable stickers to write about the zoo (great follow up to our recent field trip!)
bonus jumbo drawing pencil
How We Use Dover Publications in our Homeschool
These Dover Publications products complement and enhance what we are studying!
Boosting writing skills – yes, we have writing assignments that coincide with our history and language arts studies. But the Create Your Own Story kit is something new, something fun and it has been great to break up the routine. (I love that it comes in its own storage case – pictured above)
Hands on science fun – My middle schooler has been opening up Science Around the House and just doing the simple projects herself. It's that simple! Plus, there are enough activities for at least once a week – many seasonal.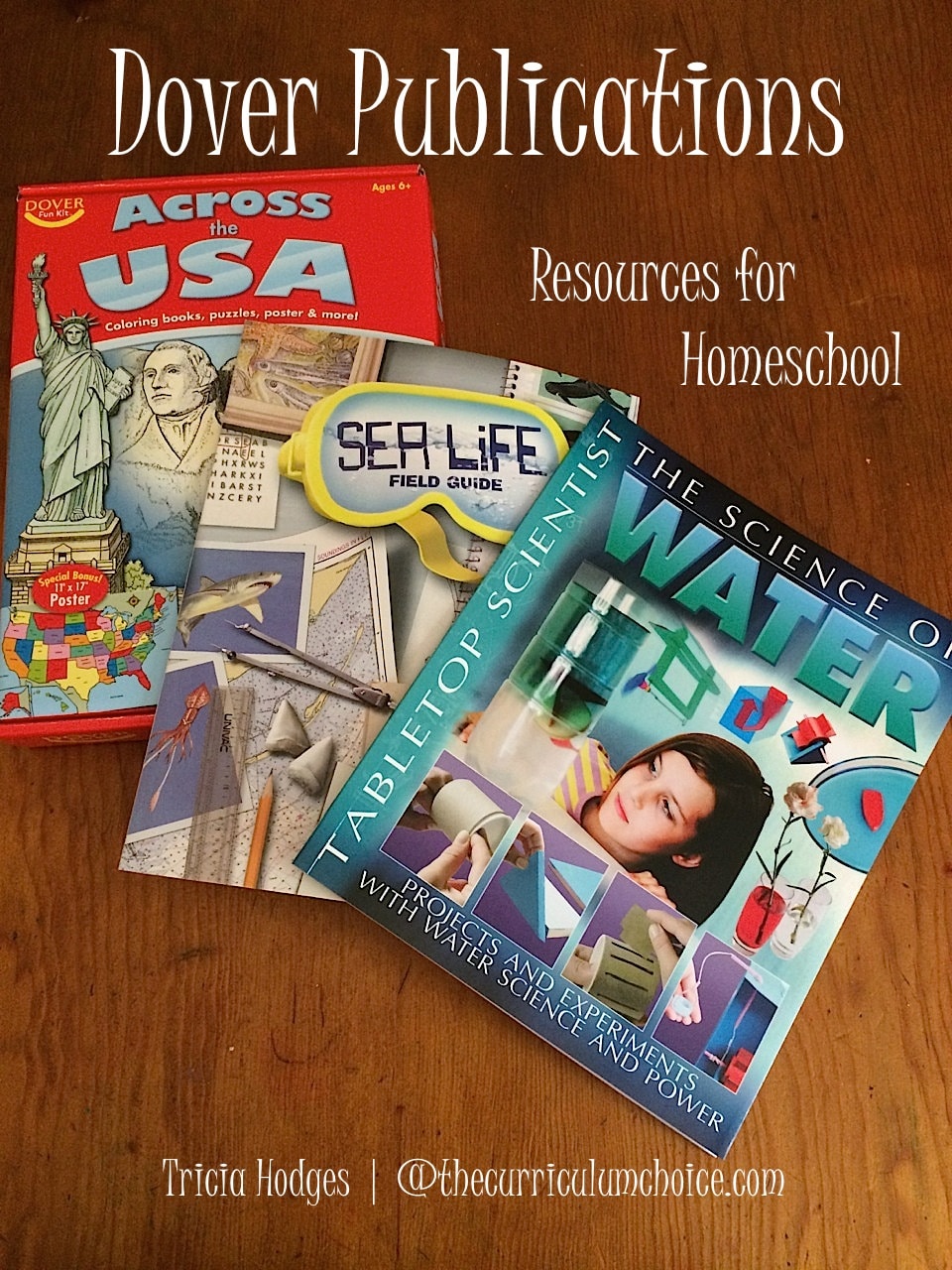 Where can you find Dover Publications? Special Discount!
Find each of the titles at the Dover Publications website. Plus for a limited time, you can get 25% off your order. Just use code WHAL through 11/1/14. There are just SO many resources for your homeschool. Be sure to visit Dover Publications and browse their teacher resources section.
Now for the giveaway!
Dover Publications is offering the set of resources pictured above to one Curriculum Choice reader. The set includes:
(1) The Science of Sound
(1) Science Around the House
(1) Create Your Own Story Activity Set
Simply follow the instructions in the rafflecopter widget below:
Homeschooling for over fourteen years now, Tricia faces a daily dose of chaos with five children. She shares a mixture of art lessons, recipes and helpful homeschool habits at Hodgepodge. She and her husband, Steve (who writes app and technology reviews), are co-owners of Curriculum Choice.