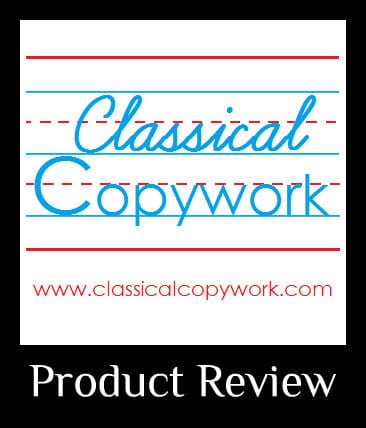 Our family has used the classical homeschooling method in various forms for over a decade. My boys grew up listening to the Story of the World and learning about great thinkers in history. They read poetry, Shakespeare, the Bible, and living history as they connected all aspects of history together in their minds and on paper timelines.
One tool that we used in the early years of their classical schooling was the tool of copywork, or writing quotes, facts, poems, and scripture in their very best handwriting as practice for the hands and the mind. I would write a portion of something they had read that day on the whiteboard and they would copy it down neatly in their notebooks. I would have loved to have a premade set of copywork quotes to work from and all planned out for me.
Classical Copywork from Amy at Living and Learning at Home is just the perfect product for your younger classically homeschooled children to work from as they complete their copywork each day. She has selected a nice variety of text to include and it works along with Primary Language Lessons, McGuffey Readers, and the Bible.
Open, print, and go! Love how easy it is!
Nicely formatted and illustrated
Several topics to choose from
Each set labeled with B, E, I, A (beginner, elementary, intermediate, or advanced) to help you choose an appropriate set for your family.
Inexpensive (Free to $3 per set)
Now for the Giveaway! One Curriculum Choice reader will receive a $10 credit to Classical Copywork!
a Rafflecopter giveaway

Written by Barb-Harmony Art Mom.  I also blog at Harmony Art Mom and my business is found at Harmony Fine Arts. I would love for you to join us for the Outdoor Hour Challenges at Handbook of Nature Study.