Whenever I ask my husband what should be a priority for our homeschool, he mentions logic, so the children study logic every year from about age 11 and on. Some years it's a great learning experience, and some years it's fun. When we study The Fallacy Detective by Nathaniel Bluedorn and Hans Bluedorn, it's both. In fact, these Thirty-Six Lessons on How to Recognize Bad Reasoning are so delightful that my teens have each read the book for fun several times after studying it formally.*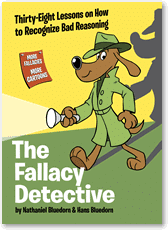 I myself am going through it for the third time with Miss 12 this year, scratching my head and chortling over the questions.  It's good to recognize, once again, the name for the children's response that drives me nuts:  subtly changing the subject by introducing a "red herring" into our discussion.  It's good to realize that when people talk circles around me they may just be using "circular reasoning".  And it's a thrill to have the children point out fallacies to each other when they are having a discussion, inadvertently reviewing many of them as they try to slip them into a conversation to confuse each other.  They also enjoy finding them in politicians' statements; the presidential debates were a lot of fun that way.
The Fallacy Detective by the Bluedorns
The Fallacy Detective, written to define good reasoning in a truly biblical way, focuses on teaching practical logic from a Christian worldview.  Although it is meant to be self-teaching, it was written for children and parents to use together, and it's also good for siblings or classmates to enjoy together.
First the Bluedorn brothers discuss what an inquiring mind is and how to exercise it.  Then they discuss four kinds of bad reasoning:
avoiding the question,
making assumptions,
statistical fallacies, and
propaganda.
Each of these is broken into a handful of lessons, each complete with definitions, explanations, and amusing examples.  The exercises are rather informal and a lot of fun, but they do effectively reinforce the concepts.  To add to the appeal of this course, each question can be answered orally; no writing is required.  Answers given in the back of the book are clear and often generate a chuckle or two.
Rarely is such crucial subject matter taught in such an enjoyable way.  As mentioned before, our kids read and reread The Fallacy Detective for fun.  I'm glad, because review is necessary for anyone to master the skill of recognizing bad reasoning.
Not only is The Fallacy Detective full of fun and logic; it also contains a gems of wisdom.  "If someone is deceived, he is thoroughly convinced that he is not deceived…." P 81 That would, of course, explain why no amount of discussion, exhortation, or convincing can lead a deceived person to the truth; only God can do that.  However, the ability to clearly understand fallacies may help people not become deceived in the first place.  With prayer, of course.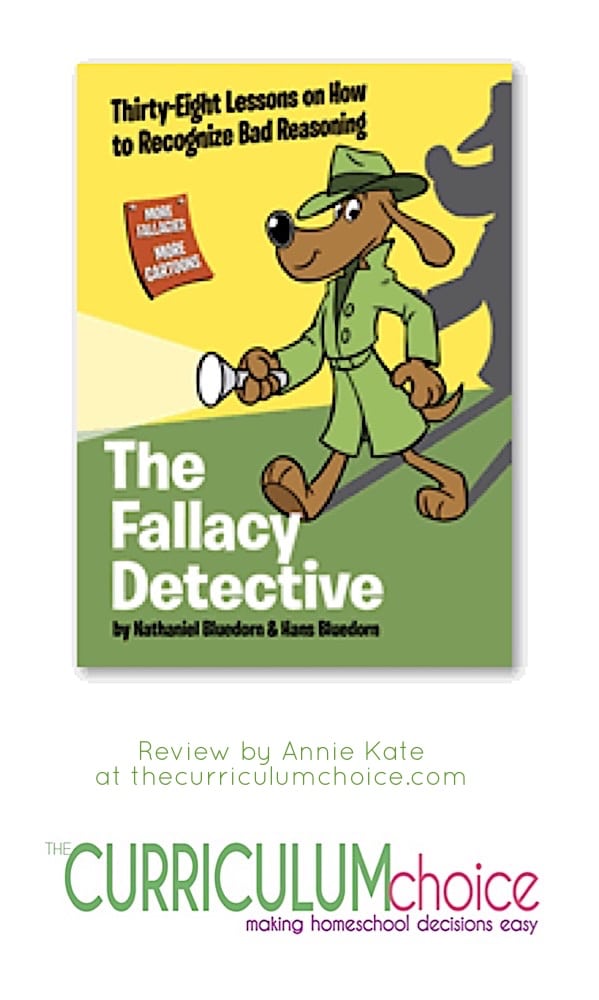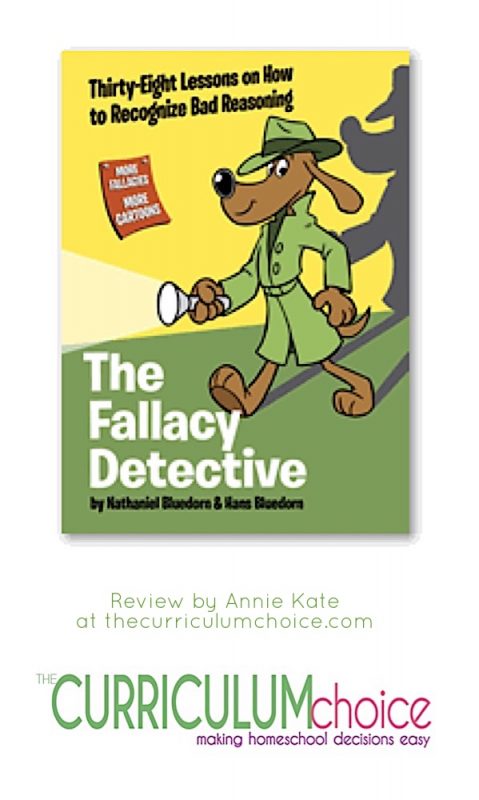 You can find a sample lesson here.  Cindy of The Curriculum Choice has also written a review of this book.  The Fallacy Detective is available from the authors and elsewhere.
*We have an older edition of the book.  The new one has 38 lessons rather than 36.
Disclosure: We have owned this book for many years and are pleased to share our honest opinions with you.  I was not compensated for writing this review.
 -Written by Annie Kate, a Christian homeschooling mom of five, who reviews and blogs at Tea Time with Annie Kate
-originally published November 2012